The one-horned rhino is an animal that can easily be called India's pride as it is largely endemic to the country and is a unique story of successful species conservation. In 1985, Kaziranga in Assam, home to the largest number of one-horned rhino, was declared a UNESCO World Heritage Site.
I wanted to visit Kaziranga on my maiden trip to Assam. However, persistent rain threatened to play spoilsport and fortunately, many fervent prayers after, I found myself on a safari at the park.
While the rain continued, oscillating between a drizzle and a steady downpour, I knew I had to have luck on my side for a sighting. As we progressed deeper into the park, I saw many elephants, barking deer, sambhar, as well as several birds. The rhino, however, was elusive. A stop at one of the designated viewpoints, with shallow water, was where a small group of rhinos finally made the safari a success.
The massive one-horned rhino whose scientific name is Rhinoceros unicornis is the second biggest rhino species that weighs between 1,800 and 2,700 kg and is listed Vulnerable on the IUCN Red List.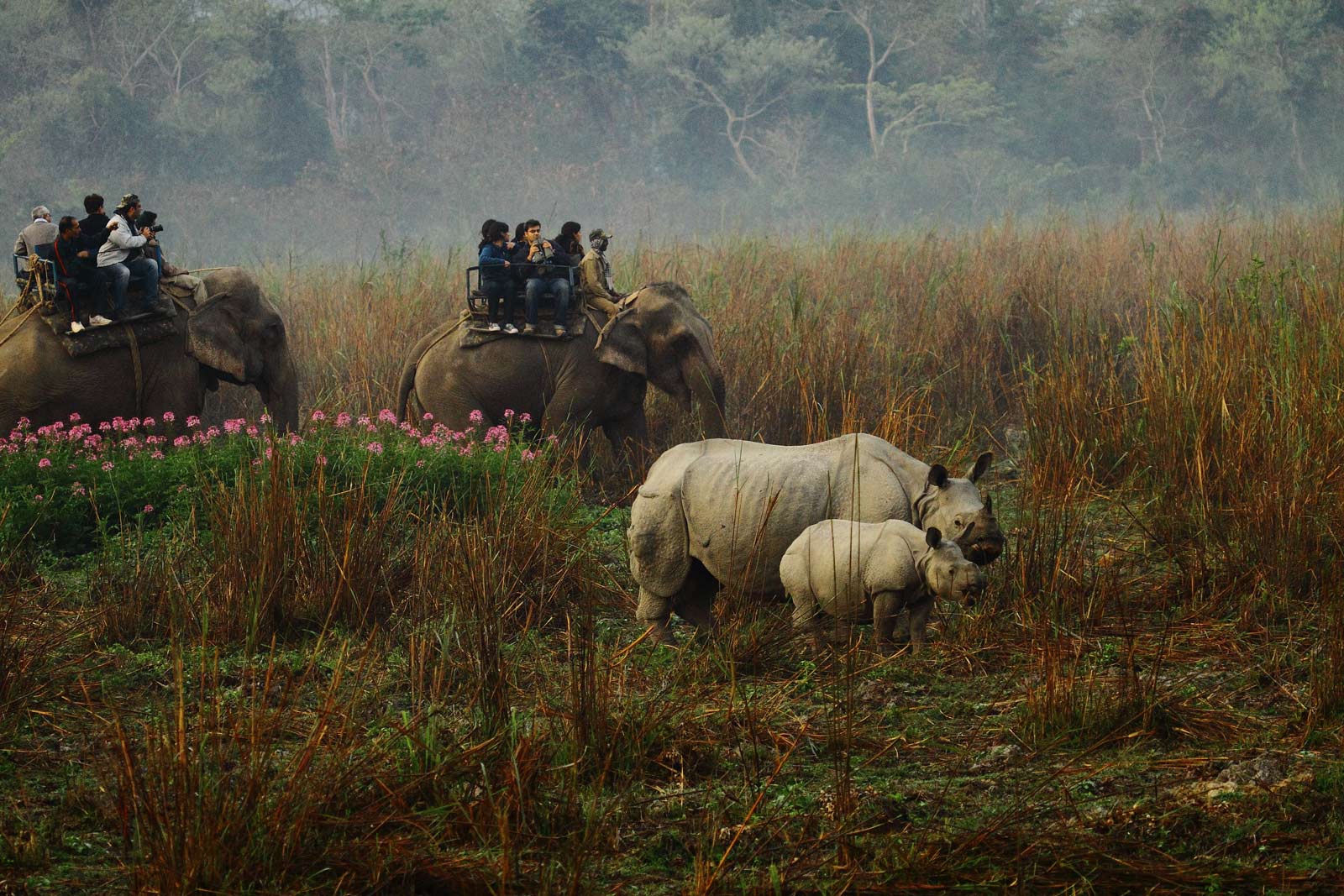 Assam today has about 2,700 rhinos and about 2,500 of them live in Kaziranga. About 100 years ago, there were hardly any rhinos, so this is the greatest conservation success story in Asia that has been made possible due to frontline staff, local population, and conservationists.
Dr Rathin Barman, joint director, Wildlife Trust of India explains, "Some international illegal markets value the rhino horn, but in Assam, our pride is the rhino not the rhino horn. Poaching is a challenge but over the last two years it is under control. The bigger challenge we have today is the need for more space for the rhino under the protected area umbrella. We have to look at translocating the rhinos into some potential areas to create more rhino habitat."
And while Kaziranga has seen so much success, Manas National Park too, has its own conservation story. In the 1990s the small rhino population here was completely wiped out as the rhinos were poached and their habitat was destroyed by insurgents.
From 2006, alongside its long-term partners IFAW and the Assam Forest Department, the Wildlife Trust of India started work to repopulate the park with key wildlife, including rhinos, and expand protected land for these animals. Between 2006 and 2020, they moved 16 flood-rescued and rehabilitated rhino calves from Kaziranga to Manas where they have bred and added to the rhino population of Manas. This year they moved three more.
India Rhino Vision 2020 (IRV2020) aimed to increase the rhino population to 3,000 by establishing populations in new areas in Assam. The program successfully re-established a new population in Manas National Park, which now numbers 47 animals. As part of its final operation, two rhinos were translocated from Pobitora Wildlife Sanctuary to Manas National Park. The operation was delayed for a year because of the pandemic, which continues to have a significant impact in India. Building on IRV2020, a coalition of government, non-profit organizations, and community partners, including the International Rhino Foundation (IRF), are developing a new strategic program for India's rhinos to increase the population to 4,500 in the coming decade. The plan will be released later this year," says a spokesperson from the International Rhino Foundation.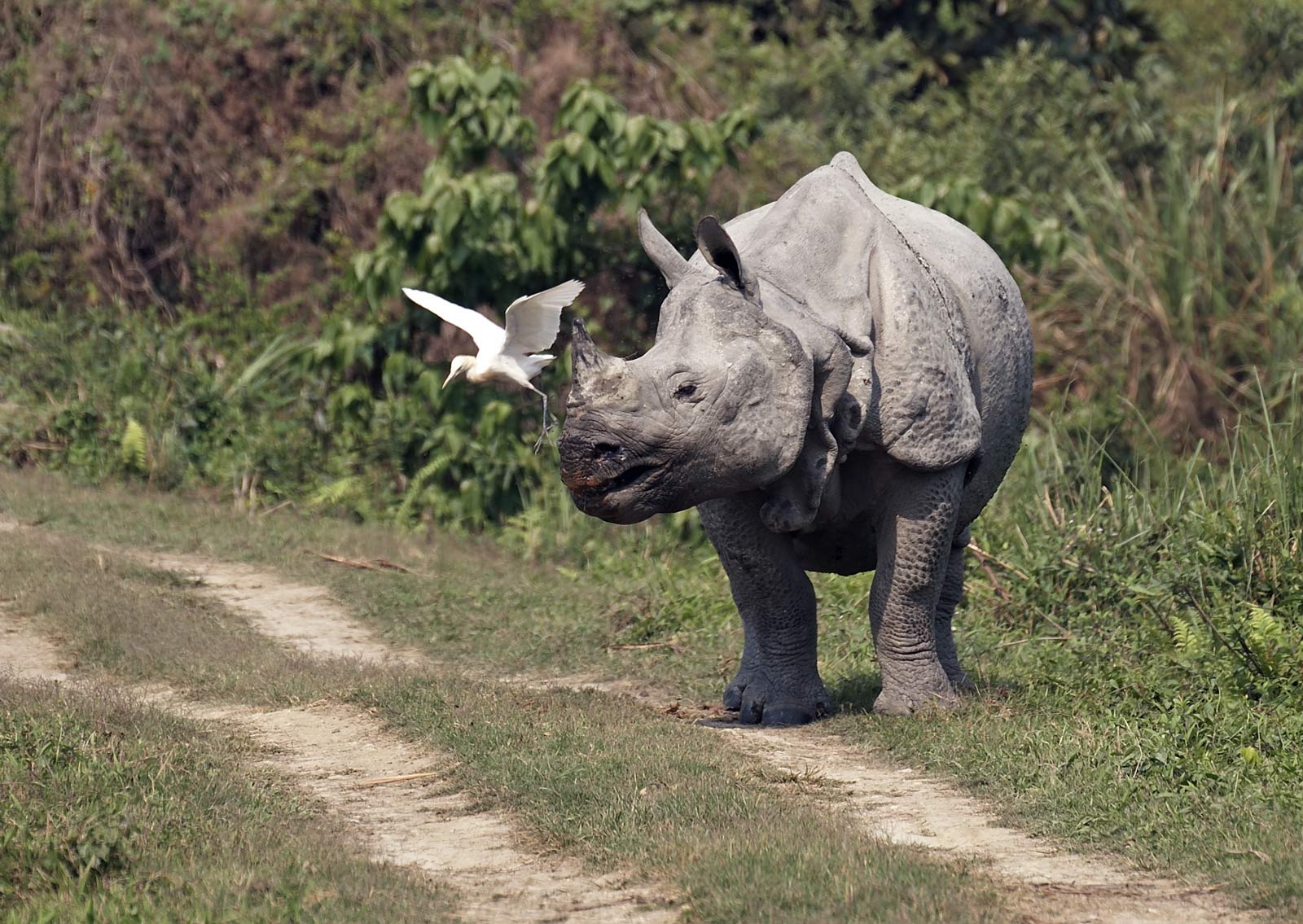 "Poaching has reduced by 86 per cent in the region and Assam's rhino population is in a much stronger state, knowledge has been gained, and the team will be looking at what can be accomplished over the next decade," says a spokesperson from Save the Rhino International.
Protection continues to be a key focus for increasing populations. Additionally, habitat management, including the development of new areas and the removal of invasive species, is necessary to increase food sources and the overall health of rhinos. So, on your next visit to Assam, make the time to visit the one-horned rhino, you will do your bit to help these giant mammals whose spirit is endearing.
10 National parks to spot the one-horned Rhino
Kaziranga National Park, Assam: The best place to see the one-horned rhino, there are both jeep and elephant safaris here. Asiatic water buffaloes, gaur, swamp deer, hog deer, sambar and Indian Muntjac are also spotted.
Manas National Park, Assam: Apart from the rhinos, you can also spot some endemic animals like the Assam roofed turtle, golden langur, pygmy hog and hispid hare here. Apart from a jeep and elephant safari, there is also river rafting here.
Pobitora Wildlife Reserve, Assam: This reserve is home to over 190 species of birds like the Lesser Adjutant, Swamp Francolin, and Greater Adjutant among others. You can book elephant rides, jeep safari, and boat cruises here to view the mighty rhino and the birds.
Rajiv Gandhi Orang National Park, Assam: The Asiatic elephant, pygmy hog, hog deer, migratory birds and wild boar are seen here apart from the rhino. A jeep safari can be booked here.
Jaldapara National Park, Alipurduar, West Bengal: The elephant safari is organised by the forest department every day and you can see Asian elephants, bisons, peacocks among other animals and birds here.
Laokhowa reserve forest, Assam: This is a notified buffer of the Kaziranga Tiger reserve and you can see barking deer, fishing cat, leopard cat, civet and wild pig. Nature trails and trekking are offered, and you will need prior permission to enter the park.
Gorumara National Park, Dooars, West Bengal: The national park at the foothills of the Himalayas is home to Asian elephant, sloth bear, chital, and sambar deer. Elephant safari is available if you stay in the Kalipur, Dhupjhora or Rhino Camps in this area.
Dudhwa National Park, Uttar Pradesh: Home to over eight species of mammals, 16 species of reptiles and 90 species of fish, the swamp deer is the main attraction here. The best part is that this park is home to over 400 species of birds. Jeep safaris are conducted by the forest department.
Dibru Saikhowa National Park, Near Dibrugarh, Assam: Apart from the rhino, the park has the jungle cat, slow loris, Assamese macaque, rhesus macaque, capped langur, hoolock gibbon and feral horses. Boat safaris are available, and you can also sight several species of birds here.
Royal Chitwan National Park, Nepal: Striped hyenas, Bengal foxes, spotted linsangs and honey badgers are some animals spotted here. Apart from the jeep and elephant safari, a Canoe Ride, jungle walk, and birdwatching tour are also conducted here.
Photo: Shutterstock