The Rhododendron flower characterised by its bright reddish-pink, almost ruby red petals is a pleasing sight, as they sit on a bed of long, tapering leaves. Also known as Rhododendron arboretum or Buransh in the local Pahadi language, they normally start blooming in March or April. However, because of the onset of high temperatures in the mountains, they had started to make an appearance in January this year. The rhododendron ensures verdant foliage all year round and offers protection to watersheds, as well as shelter to wildlife. 
Prepping for the tour of a lifetime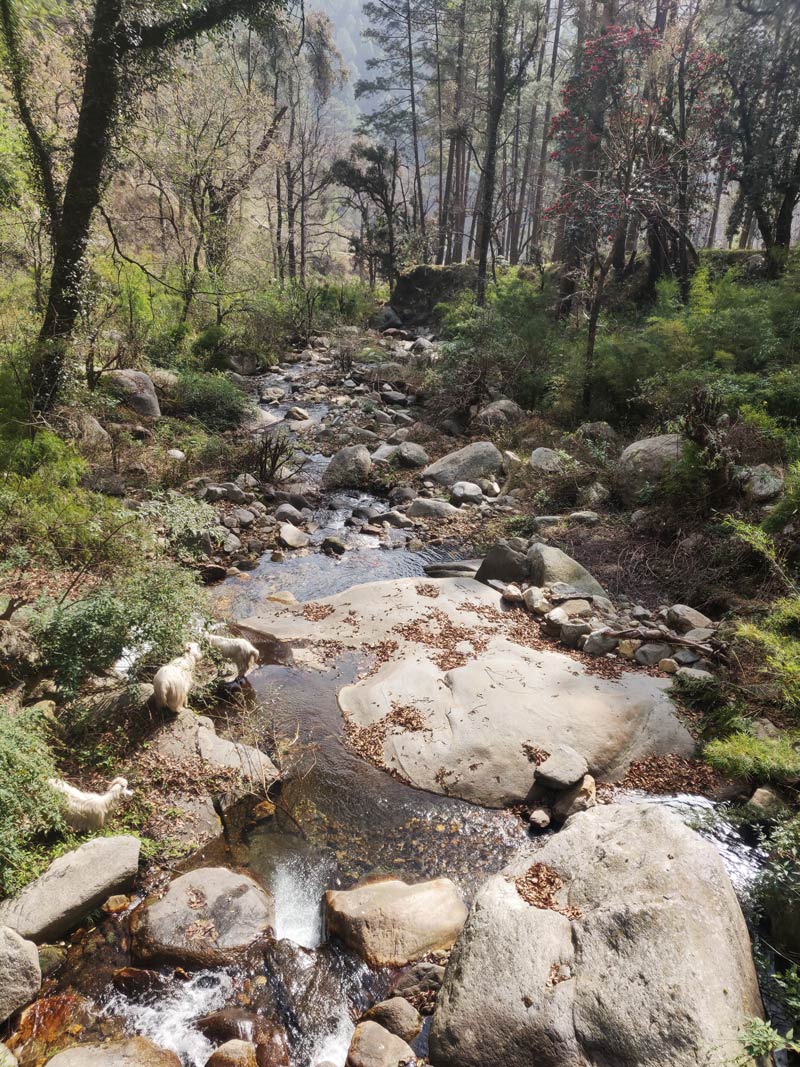 When the tour was announced in January by Tons Trails, a social enterprise promoting sustainable tourism in the Ton valley in Uttarakhand, on their website, I am not exaggerating when I say that it was a case of the 'fastest finger first' because it was limited to 12 people per tour and was much sought-after. Especially when the opportunity to travel had been compromised due to the ongoing lockdown since last year. The enterprising couple behind this tour, Anand Sankar Iyer, who owns Tons Trails and his wife, Shubhra Chatterji, an award-winning filmmaker were reason enough to travel all the way up there. It was going to be worth it to meet them, experience the excitement of roughing it out, trying out local, regional Pahadi cuisine and enjoying the company of other like-minded people on the trip. The tour was sold out within two days and they had to announce another one because of the demand.  The trip was scheduled from March 14 to 17, 2021 starting from the time we were picked up and dropped off in Dehradun.  Some of us on the tour knew each other and the others indulged in ice-breaker sessions on the bus ride to the valley. 
---
All about rhododendron 
The scarlet hued flowers are a common fixture in the Himalayas. They grow at an altitude of 1500-3000m and are an integral part of the local indigenous culture and ecosystem. It is the state tree of Uttarakhand and state flower of Nagaland. The locals make tea, juice, jams and even wines, with rhododendron blossoms. These flowers bloom for a short time between February and Aprthe il, covering the hills in glorious pink, making it a sight to behold.
---
Arriving in the Upper Tons Valley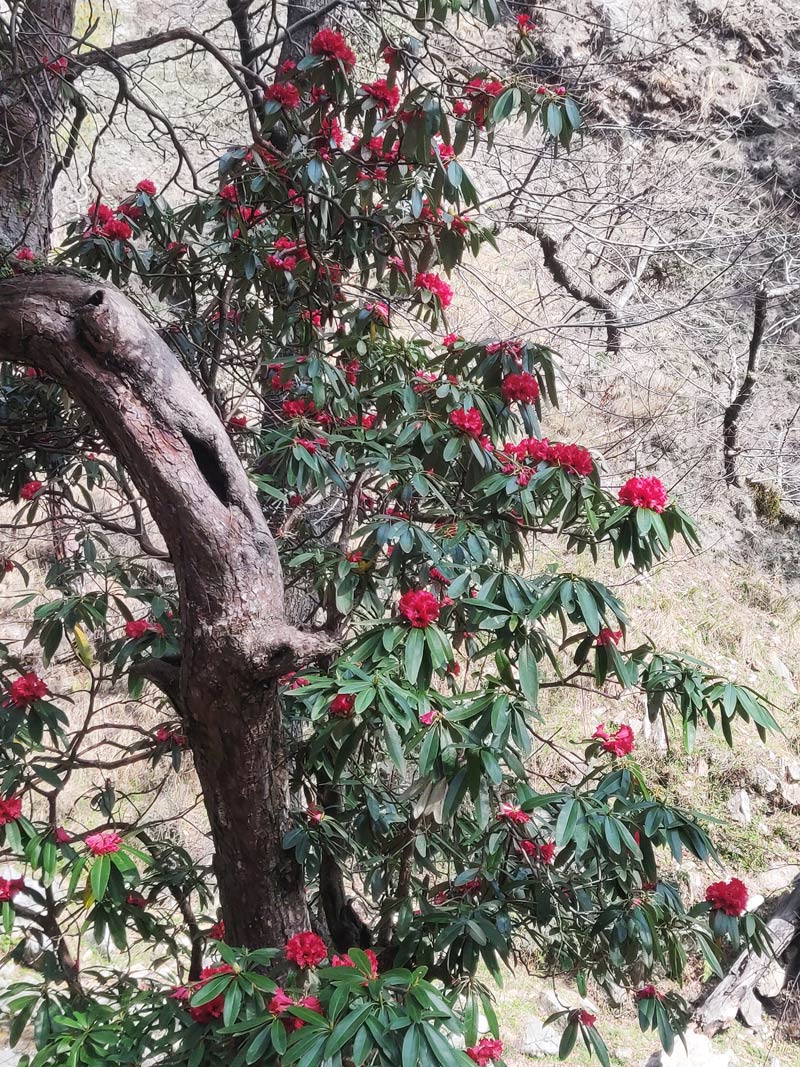 It takes roughly seven to eight hours by road to the Upper Tons Valley or in this case, the Rupin Valley, where our campsite had been set up, from Dehradun. We took a stop each for breakfast and lunch.  It was one of those road journeys, where I was engrossed in watching the breath-taking scenery, as it flitted past all of us on the way to the valley 9,000 feet above sea level. I soaked in the sights of the verdant flora, the rugged mountains, the numerous trees, shrubs and the mighty Rupin River cutting a swathe through it all. As we reached the designated spot and walked to our river campsite, all of us were stunned into silence at the virgin beauty that enveloped us. Everything and I mean everything,  was a shade of green, blue or brown. The green grass, the tall coniferous trees that grew on the mountains and seemed to touch the skies, the mountains themselves that stood like silent sentinels and the gurgling Rupin River that beckoned us and gave us a roaring welcome with its rushing rapids that felt like shards of ice when you took a dip in it. 
Each day felt like it came with new hope and new experiences to look forward to. Everything from sleeping in a tented camp, wearing three layers of clothes, using a mobile toilet, getting woken up by the pleasant twittering of various birds and watching them flit from tree to tree, the first sights of the green grass, the clear blue skies and the roar of the Rupin River flowing past us and breathing in the fresh alpine air, was an experience. We also tried and loved local delicacies like Lalouti (Mandua or Himalayan ragi dosas or pancakes) slathered with fresh fruit jam and ghee, Baadi (a thick ragi cake consumed with a rivulet of ghee), unfiltered honey or fruit jam, a side dish made up of stinging nettles, also known as Kandali that tasted like cheesy ravioli, hot jacket potatoes made right in front of us on smouldering coals, comforting Schezwan fried rice with scrambled eggs and vegetable Manchurian on the last night. Not to forget the endless rusk and chai sessions each evening. 
Surrounded by Himalayan rubies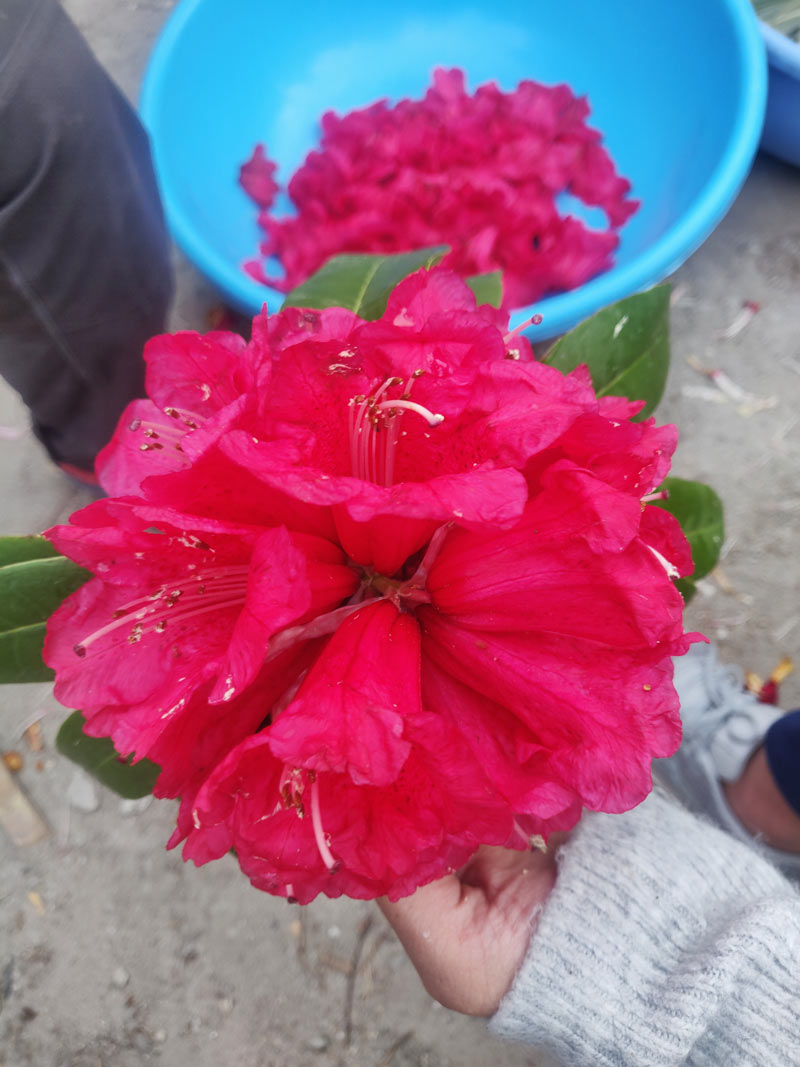 The trail was strenuous, but eventful trek that was 10 km in distance from our campsite all the way up to the village of Nuranu. We came across many mini waterfalls along the way, a small hut which housed a flour mill grinding local ragi, rows and rows of Rhododendron trees, the friendly villagers who passed by with their smiling faces, the huge and furry local Bakharwal dogs called Och in the local language, paths strewn with pine cones and horseshoes and endless wild, but edible plants like mint, agave, cactus and fiddlehead ferns. The trail though started getting quite steep halfway through and most of us made our way back. 
However, there were two, who almost made it to the top and one girl who actually did. When they returned to the camp, they were welcomed by incessant applause and raucous cheering. The Upper Tons Valley, and its flora and fauna, is relatively untouched by commercialisation. The locals there are simple and hardy and make do with whatever grows there.  They expect little and remain content in their peaceful mountain lives.           
Photo: Banner - Shutterstock; Inside - Aseem Hattangadi