Kashmir is often referred to as heaven on earth. The valleys, the scenic landscapes, and the beautiful colours of the flora in full bloom — all add to the charm of the area. However, any trip to Kashmir is incomplete without a houseboat experience on the Dal Lake. And so, here's a list of all the houseboat options for you to consider as you plan your next trip to Kashmir.
1. Montreal Group Houseboats
Montreal Group of Houseboats is located on Ghat No. 9, Dal Lake, opposite New Park Hotel in Srinagar just 4.2 km from the centre. The boat is just 12.5 km from the Srinagar Airport. This is the top choice for houseboats if a scenic, luxurious experience is on top of your mind. There are five super deluxe houseboats with 23 rooms in a single row. All rooms include separate sitting areas.
2. Apollo Eleven Group Houseboats
With a stay at this houseboat in Srinagar, Dal Lake, you'll be within a 15-minute drive of Lal Chowk and Shankaracharya Reserved Forest. Each boat has been built by hand, its interiors are intricately carved from cedar wood, and decorated using beautifully carved walnut wood furniture, hand-woven wool and silk rugs, and khadi embroidery.
3. Houseboat New Suzan
Installed on the Dal Lake, Houseboat Suzan has spacious rooms with private bathrooms. It has a free shuttle service from the airport, a sun terrace and massage services. Houseboat New Suzan offers accommodation with a terrace, a private beach area and extremely amazing views of Dal Lake.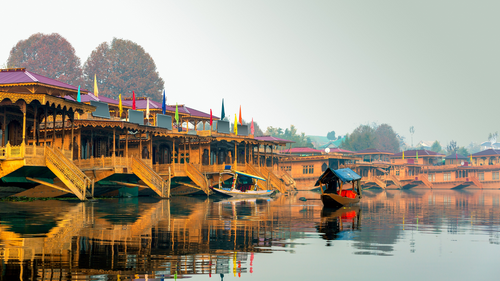 4. Kolu Group of Houseboats
A stay at Kolu Group Of Houseboats places you in the heart of Srinagar, steps from Dal Lake, and four minutes by foot from Nehru Park. This is a 4-star hotel inside a boat and offers amazing amenities that will make you feel like the best of both worlds as you'll be on a boat but have the vibes of a luxury hotel.
5. Swan Group of Houseboats
Swan Group Of Houseboats, Srinagar, is a luxurious houseboat accommodation that is ideally made for people who love to enjoy their days in the arms of nature. The best thing about this place is that it can be used to host parties or events as there are no noise restrictions on this houseboat.
6. New Bulbul Group of Houseboats
The New Bulbul group of houseboats is ideally located on Ghat 17 Boulevard Dal Lake in the Dal Lake district of Srinagar just 7.2 km from the centre. There are many reasons why you would choose this houseboat among the various options. For one, there is a golf field located within a range of 3km from the hotel. Fishing is one of the pastime options offered to the guests. There is a parking lot provided for those who travel by car. And most importantly, the hotel offers a shuttle service from/to the airport.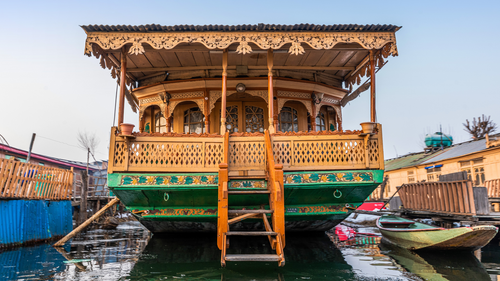 7. Manila Group of Houseboats
Manila Groups of Houseboats allows you more time for skiing with ski-in/ski-out access. Another plus point of this place is that it offers absolute privacy, so you don't need to share the houseboat with other strangers. Guests who don't want to hit the slopes can enjoy the outdoor pool, and free cooked-to-order breakfast is available daily between 7:30 AM and 10:30 AM. 
8. New Bombay Group of Houseboats
New Bombay Heritage Group of Houseboats is located in Srinagar. At New Bombay Heritage Group of Houseboats, you will find a hot tub and a 24-hour front desk. Other facilities offered at the property include a ticket service, a tour desk and dry cleaning. The property is within a range of 12 km from Srinagar Railway Station. Rooms with wooden furnishings are fitted with the required conveniences. Each room includes LED TV, fan, telephone, and attached bathroom.
9. Taj Mahal Houseboats
Taj Mahal Houseboats is located at Nehru Park Gate No 14, Dal Lake, The Dal Lake which has a length of 8 Km long and a width of 4 Km, spreads over a total of 26 Sq. Km. The fascinating Dal Lake is divided into two smaller ones, the Lokut (small) and Bod (big) Dal. The southwestern part of the lake has a maximum depth of approximately 12 m.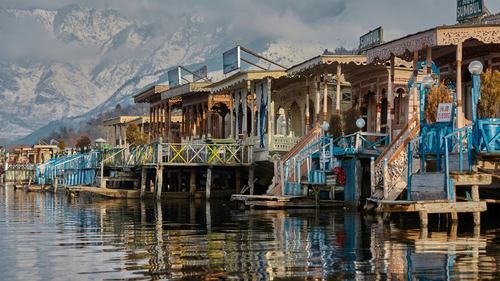 10. Boston Gulistan Houseboats
Bostan Gulistan Houseboat is a reasonable option for travellers looking out for houseboats in Srinagar. It is located in Dal Lake. The property enjoys a great location advantage and provides easy and fast connectivity to the major transit points of the city. Some of the popular transit points from the houseboat are TRC Bus Station (2.7 km) and Srinagar Airport (14.7 km). The Houseboat is in proximity to some popular tourist attractions and other places of interest in Srinagar. Some of the tourist attractions include Sher-i-Kashmir Stadium (3.5 km) and Shankaracharya Temple (5.1 km).
---
Photo: Shutterstock