Ever since the pandemic, the whole concept of well-being and rejuvenation has changed. It's all about being holistic now, and all most people want to do is escape from the monotony of life to a place that calms our mind, body and soul. While travelling to a new destination might be the cure, an even easier escape would be to fix an appointment for a rejuvenating spa session.
The newly opened Cinqtuair Spa at The Claridges Hotel in the heart of Lutyens' Delhi is one of those spas where you do not want to miss out on a Zen experience. So we booked an appointment and checked it out.
Beginning of the enchantment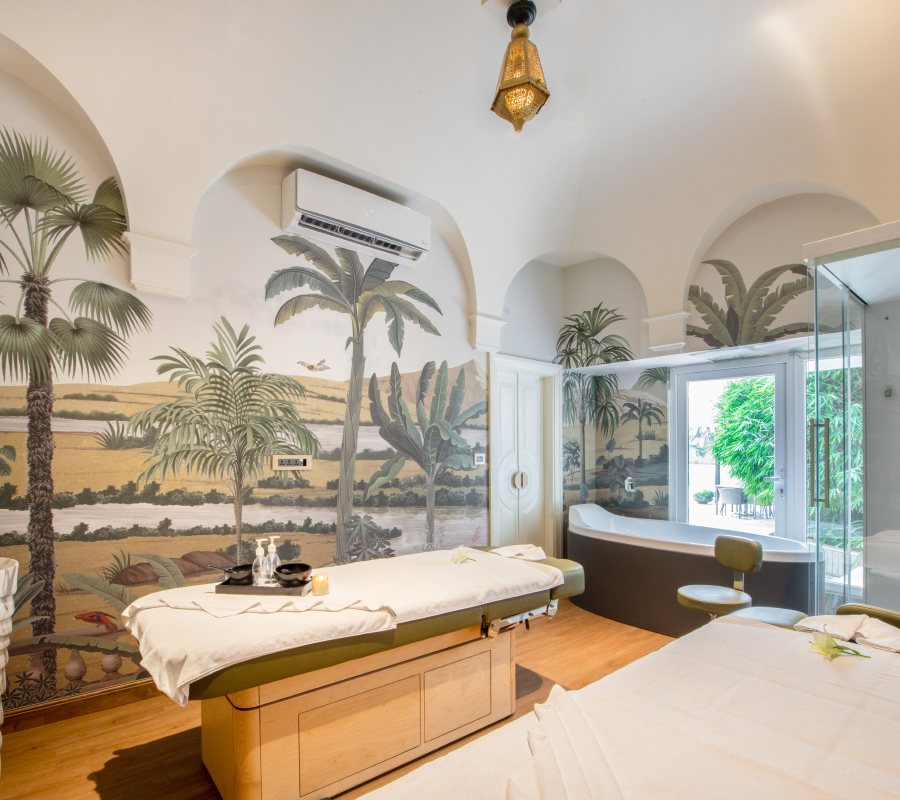 Those of you who reside in Delhi are well aware of the fact that the Claridges enjoys a central, yet peaceful location. Pulling into the impressive driveway of this mid-20th-century retreat, the lobby greets you with live music on the piano and classic décor combined with contemporary furnishings.
Inside, the Cinqtuair Spa is a blissful and expansive abode, away from the hustle of the lobby and rooms. A luxurious escape, its services and experience are designed to transport you into a world of tranquility with relaxing treatments that are a gateway to commune with nature and experience therapeutic rituals. Bathed in green and ivory hues, you feel as if you're in the middle of nature the moment you walk into the spa.
The name itself is inspired by the five basic elements of nature - earth, water, air, fire, and space. The treatment rooms at the spa were more like mini-suites packed with steam, shower rooms and a jacuzzi, which were all designed keeping nature in mind and ample use of wood for décor. Their signature treatments include Cinqtuair Signature Massage, Ying Yang Aroma Therapy, Balinese Traditional Massage, Thai Yoga massage and even, Ayurveda treatments like Shirodhara, Kizhi Potali and Pizhichil treatment to give the body a natural medicinal therapy.
As soulful music sets the mood, the team at the reception greeted me warmly. After browsing through the menu and having a small discussion, we zeroed in on the Abhyanga treatment. It's a full body oil massage with light-medium pressure that promised to de-stress, diminish pain and regulate the circulatory and the nervous system in the body. Furthermore, Abhyanga is credited with accelerating the release of metabolic waste from the body and improving physical consistency. The therapy induces relaxation by increasing peripheral circulation and improves nutrition by stimulating blood flow through the tissues during and after the session, thanks to its unique massage technique.
I had to fill up a mandatory sheet with the usual questions about allergies and body concerns. Shortly after, I was introduced to Ally, a cheerful therapist who ushered me toward my treatment room.
Let the Zen begin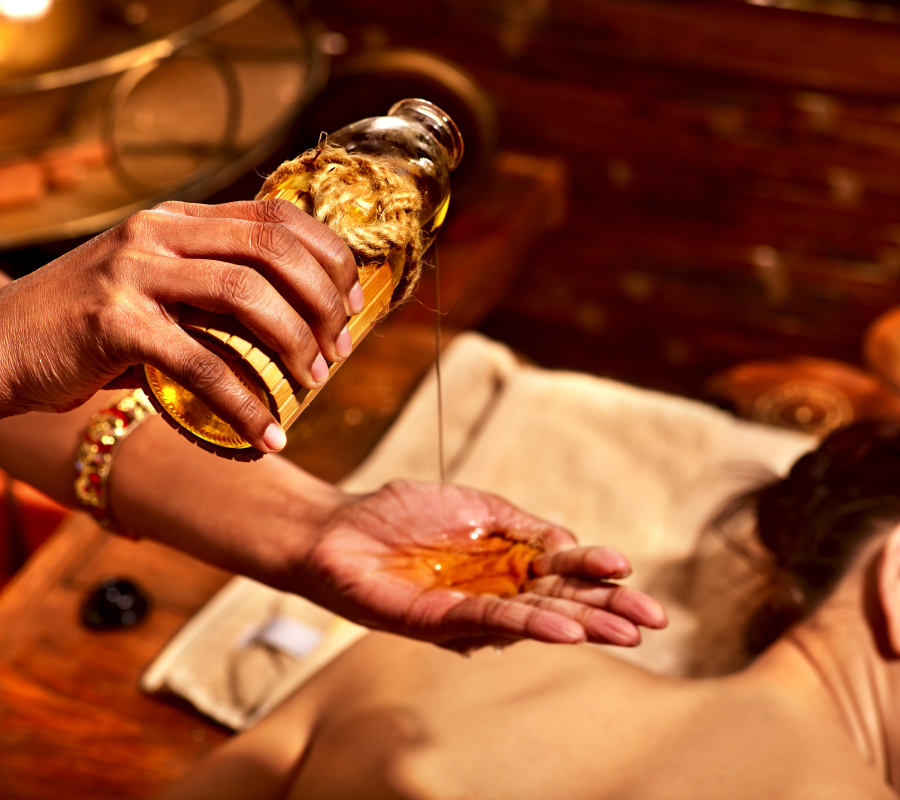 My therapist instructed me to take a steam bath after changing into the spa attire since it facilitates oil absorption. The treatment began with a foot massage or Pad Abhyanga with invigorating eucalyptus and lavender oil mixed with water that instantly made my feet feel relaxed. With calm and serene music in the background, I was ready to begin the body massage.
Considered such a significantly beneficial therapy, Ally tells me that Abhyanga is recommended daily for those experiencing stress, insomnia and is excellent for pain relief and healing. Guiding me throughout the session, she explains that the treatment is done with traditional oil made from herbs and medicinal plants to balance and calm the human mind and pacify the aggravated Vata Dosha or imbalances. Ayurveda works on the principle of balancing Vata, Pitta and Kapha doshas, representing the elements of air, fire and water respectively.
Using a warm Ayurvedic oil comprised of sesame, she administered strong, powerful strokes with medium pressure. The massage strokes are different from the regular treatments, characterised by long, sweeping movements using copious amounts of warm oil. Applying adequate pressure onto the stress points of my shoulder to relax my stressed muscles, I could find myself loosen up. As opposed to feeling drowsy like you usually tend to during spa treatments, I felt wide awake, discerning every movement. This was proof of the fact that the lukewarm oil was meant to detoxify the body, nourish it and promote healthy blood circulation and joints.
In addition, Ally explained how this unique massage technique works toward the heart centre, reducing the heart's workload, as well as how the herb-infused oils nourish and regenerate skin cells, which was evident when I found that my skin deeply hydrated afterwards.
Following the body massage, she began with a head massage or Shiro Abhyanga, applying long strokes to my hair, explaining how the oil is beneficial to treating hair loss, scalp dryness and dandruff. Also, she told me how we may be doomed to neglect our bodies with our hectic lives, but each of us must do our best to care for ourselves for at least one day each week. I agreed, wishing it was that simple. Taking my face next, without using any oil, she massaged a few pressure points, which instantly felt very relaxing. 
Towards the end of the treatment, I was slathered in a thick layer of oil that she had used. Ally guided me towards the steam area, where the mild steam (not too suffocating) would help to open my skin pores. After a few minutes, I moved towards the shower area and was absolutely refreshed after. Be rest assured, the Zen moment arrives when you sip on the lavender tea after the session, suddenly aware of your body, with all the stiffness seemingly gone.
But know this, it's a lot of oil that's being applied. If you have dry skin, you will absorb all the oil quickly. But the final scrubbing, cleansing and flaunting of that glow eventually is heavenly. After that, I had to stroll towards their patisserie to appease my ravenous hunger.
The verdict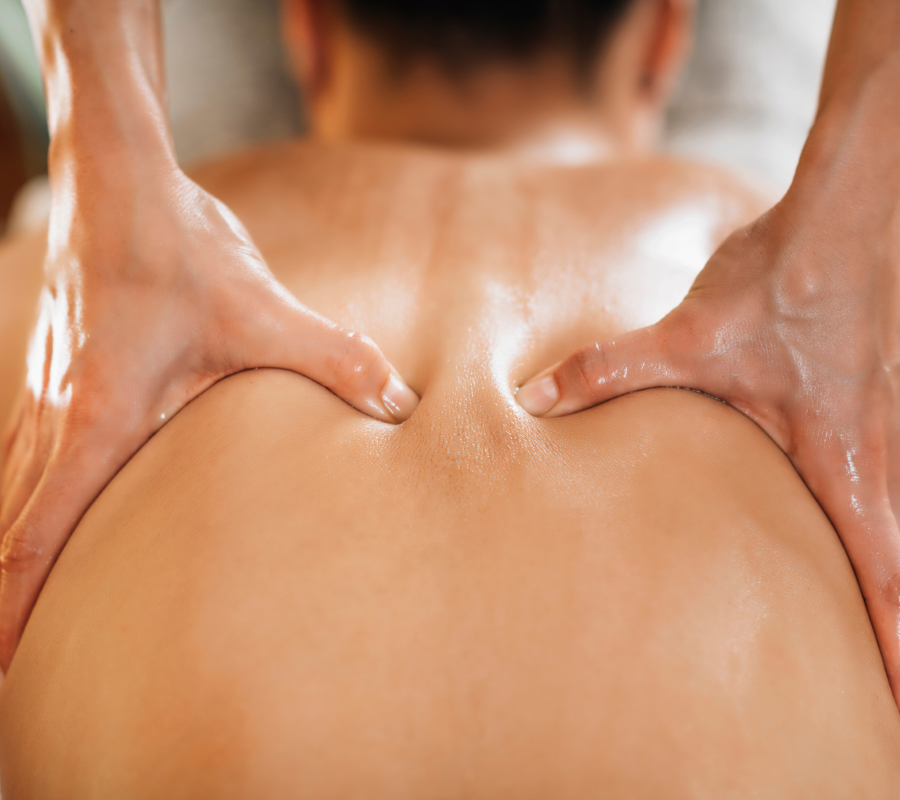 Will I be taking the Abhyanga massage again? Having read and come across different Ayurveda treatments and the several health benefits, these massages do not get their dues if you go for it just once. Even Ally advised how one must take these sessions at least twice a month to reap the benefits. A massage such as this can set you back by Rs 7,000 for 60 minutes and above, therefore one should think twice before investing in it, as the results can vary.  
On the other hand, Cinqtuair Spa passed all the tests a good spa should. Clean, hygienic, and of course, good with services and techniques and not to forget the general calming experience.
Address: 12, Dr APJ Abdul Kalam Rd, Tees January Road Area, Motilal Nehru Marg Area, New Delhi
Timing: 9 am to 9 pm
Contact: 011-41335041; healthclub@claridges.com
How much: Massage and spa therapies start from Rs 3,000 up to Rs 24,000
Photo: The Claridges, Delhi; Shutterstock