'I have enough clothes or diamonds' said no woman ever, especially while visiting the city regarded as the hub of these.
Nestled in the bustling state of Gujarat, Surat is one of the most dynamic cities in India. Known as the centre of textiles in India, the Surat market is famous for its food, fabric, and diamonds. Now, a city selling each of the things widely loved by women makes it an ideal place for every shopper to indulge in shopping.
Whether you have lived in the city for a couple of years or are a tourist, here is a list of 9 brilliant places to shop in Surat. From street shopping in Surat to upmarket places to the coveted local market in Surat for shopping, we've covered them all.
Nine best places to shop in Surat
1. Sahara Darwaja
Regarded as one of the best shopping places in Surat, the Sahara Darwaja is a hotspot for shoppers in the Surat market. If you prefer traditional stuff such as salwar kameez and sarees or wish to purchase the fabrics of your dreams, this is your place. From textile and saree manufacturers to wholesalers, you can find a wide range of variety to choose from. Everything is available at wholesale prices, so you can buy good quality in high quantities without spending much.
Timings: Open throughout the week, timings depend on the individual outlets
Famous for: Suits and sarees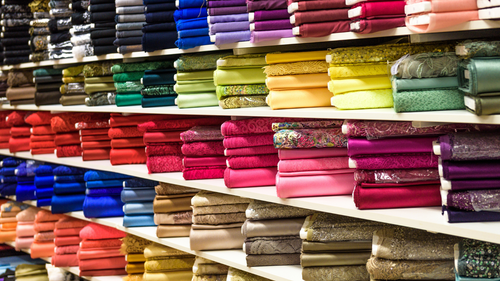 2. Shanivari Market
If you hail from Surat, then the Shanivari market needs no introduction. The name explains the market quite well. This street market in Surat is only open on Saturdays. Set up on a bridge between two bridges across the river Tapti, there is something for everyone here. Fancy kitchenware, modern home decor, trendy clothes, watches, fashionable footwear, handbags or antique items, or branded cosmetics you can find everything here at throwaway prices. Shopping at Surat can surprise you with unbelievably low prices yet the best quality.
Timings: Saturdays from 6 am onwards
Famous for: Home decor, kitchenware, clothes, and much more.
3. Old Bombay Market
Said to be one of the best places to check out for wedding shopping, Old Bombay Market is another gem in the Surat market where you will find a wide range of textiles. More famous for its saree shops, you can find every type of saree here from cotton to bandhani, silk to net sarees, designer stuff, and party outfits for men, women, and children at wholesale prices. The Old Bombay Market is a go-to spot for the locals and tourists alike.
Timings: Monday to Saturday from 10 am to 9 pm
Famous for: Saree shopping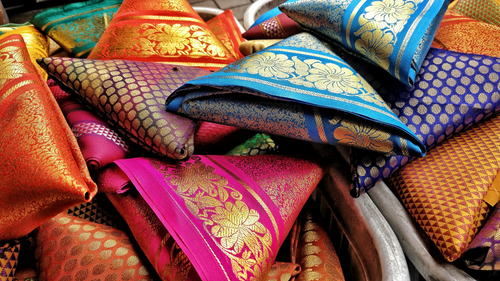 4. Universal Textile Market
Want to shop for everything fancy and classy? Universal Textile Market is the best place for shopping in Surat. Boasting spectacular ornamental sarees that are exported to Middle Eastern countries, the Universal Textile Market has over 4000 shops to explore. If you like to design your own clothes, you are in for an array of choices of laces such as fancy, saree borders, crochet, zari, and much more at absolutely affordable prices here.
Timings: Monday to Saturday from 10 am to 8:30 pm
Famous for: Sarees and fancy laces
5. Baroda Prestige
From high-end imitation jewellery to trendy, chunky stuff, you will find everything in this market. Known as the imitation jewellery market of Surat, Baroda Prestige is a place full of glittery artificial imitation jewellery items and is frequented by women of different age groups. Feel free to bargain at this Surat shopping market while buying jewellery such as necklaces, rings, and earrings.
Timings: Monday to Sunday from 10 am to 8 pm
Famous for: Imitation jewellery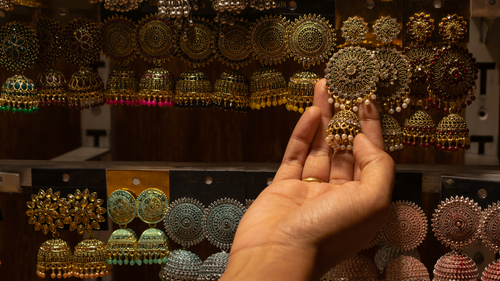 6. Chauta Bazaar
Also called the Chauta Pul, the Chauta Bazaar is situated in the centre of the city and sells all sorts of necessary stuff. Being one of the oldest markets in the city, Chauta Bazaar sells everything from groceries to kitchenware, from cosmetics to imitation jewellery, and from casual wear clothes to occasion wear.
Timings: Monday to Saturday from 10 am to 9 pm
Famous for: Fashion and home essentials
7. Rander Road
Another textile market in Surat, the Rander Road is full of designer dresses and boutiques. With top-quality stuff available at reasonable prices, the market is full of locals and tourists alike. You can try bargaining your pick at Rander Road, who knows you may just strike a steal deal with the shopkeepers here.
Timings: Monday to Friday from 10 am - 9 pm
Famous for: Designer clothes
8. Ghod Dod Road
One of the most posh localities of Surat, Ghod Dod is home to many shopping malls and business complexes. Ghod Dod means horse racing in the Gujarati language. This place dates back to the 1900s when horse racing events were common here. It has some of the most renowned women's boutiques along with famous shopping centres like Jolly Arcade, Sarela Shopping Center, Regent Mall, etc. Apart from branded outfits, you can find ordinary yet exclusive clothes here. And while you are shopping, do not forget to treat your tastebuds with delicious food served at restaurants here.
Timings: Monday to Sunday from 10 am to 9:30 pm
Famous for: Shopping malls and complexes
9. Dumas Road
Are you looking for chic dresses to wear at parties? You must check out the malls on Dumas Road. A gem of the Surat market scene, Dumas Road is home to some of the best malls in the town - Iskon Mall, VR Mall, Central Mall, and Imperial Square Mall to name a few.
Timings: Timings differ for each outlet/mall.
Famous for: Malls
Known as a place full of the finest stuff at the most affordable rates, the Surat shopping market scene is every shopper's dream. Besides being a great marketplace to shop, it offers a range of delicacies and Gujarati snacks to hog. 
---
Photo: Shutterstock