Gujarati cuisine is considered one of India's oldest culinary styles and is mostly vegetarian. Gujarati food consists of distinct flavours from four different regions — Kathiyawad, Kutch, Surat and Ahmedabad. Each of these four regions has its own distinct culinary style and flavours that makeup Gujarati cuisine. For instance, Kathiyawad's Sev Tomato Curry is famous and widely emulated in different parts of the world. 
Here are 4 delicious Gujarati recipes that you can easily try at home.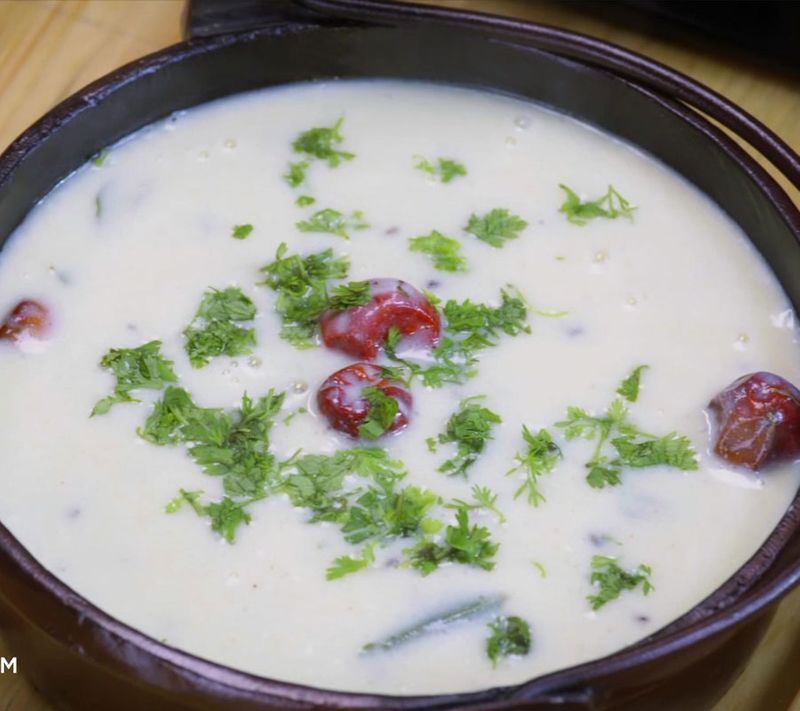 Gujarati Kadhi is a popular yoghurt-based dish that has sweet and tangy undertones. It is easy to cook and packs in a lot of flavours. There are many variations to this Gujarati recipe. However, here's Chef Ajay Chopra's interpretation of the Gujarat famous dish.
Ingredients
For Kadhi 
1 cup fresh yoghurt

4-5 tbsp gram flour (besan)

2 cup water
For tadka 
3-4 tbsp ghee 

1 tsp jeera

½ tsp methi seeds 

3-4 cloves 

1-inch cinnamon stick

A bunch of curry leaves 

5-6 whole red chillies 

¼ tsp asafoetida

1 tsp ginger-green chilli paste

Pinch of sugar

Salt to taste
Preparation
Take curd, water and gram flour in a deep bowl and mix to form a smooth mixture. 

Heat the pan and pour in 3-4 tbsp of ghee in it. Add jeera, methi seeds, cloves, cinnamon sticks, curry leaves, whole red chillies and sauté. 

Add the yoghurt-gram flour mixture into the pan with asafoetida and sugar. 

Mix well and cover it with a lid for 7-10 minutes. Keep stirring occasionally to avoid lumps. 

Add curry leaves, ginger-green chilly paste and mix well. Cook the kadhi for 10 to 15 minutes. 

Garnish the Gujarati recipe with coriander leaves and serve with hot khichdi or rice.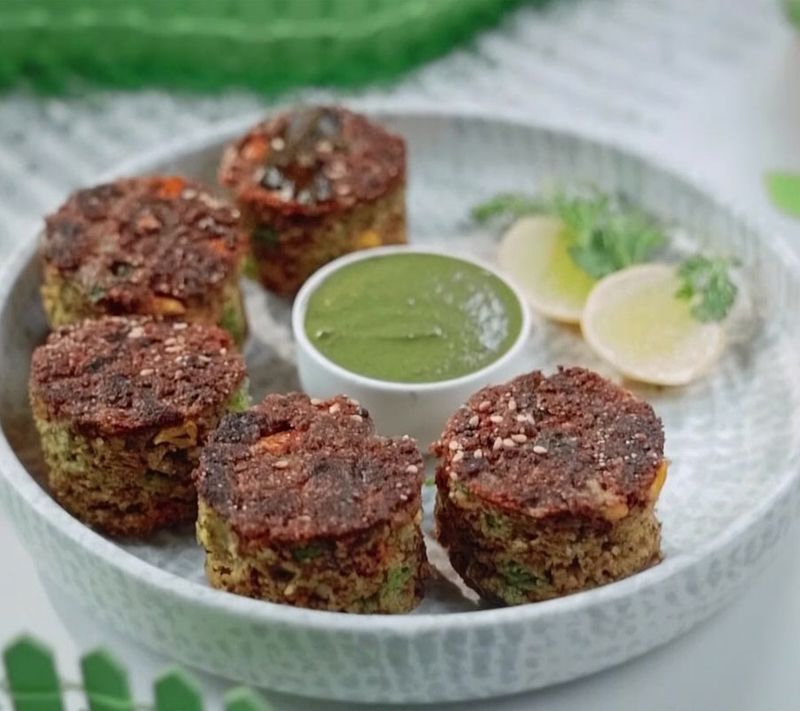 Handvo is a Gujarati dish made with fermented rice and lentil batter. The Gujarat famous food is a savoury item that makes for a protein-rich and healthy breakfast or snack. There are many variations of this Gujarati food, but Chef Pankaj Bhadouria's version is healthy and can be prepared in a jiffy. Here's the Gujarati food recipe:
Ingredients 
2 cup moong beans sprout

½ cup chopped spinach

2-3 green chillies

½ cup grated carrot

½ cup chopped green capsicum

¼ cup boiled peas

¼ cup frozen corn 

1 cup chopped onion 

11-12 curry leaves 

¼ cup coriander leaves

¼ cup semolina

2 tbsp gram flour

¼ cup curd

1 tsp baking soda 

1 tbsp oil

1 tsp mustard seeds

1 tbsp white sesame seeds
Preparation 
Grind sprouted moong, spinach, green chillies along with water. Make into a coarse paste. 

Take a bowl, add semolina and curd. Mix it well and let it rest for 15 to 20 minutes. 

In another bowl, add the moong paste along with carrot, green capsicum, boiled green peas, corn, gram flour, curd and the semolina mixture. Add coriander leaves, onion and water to the bowl and mix it well. 

Add baking soda to the bowl and let it rest for 3 to 4 minutes. 

In a pan, heat oil, add mustard seeds, curry leaves, asafoetida and white sesame seeds. Allow them to splutter. 

Now pour the moong dal mixture and spread it evenly in a pan. Cover it and cook it on low flame for 20 to 25 minutes. 

Flip it and cook the other side for 5 to 10 minutes or until it is golden brown. 

Once the handvo is cooked, remove it from the pan and cut it into different shapes. You can serve this Gujarat famous dish with green chutney.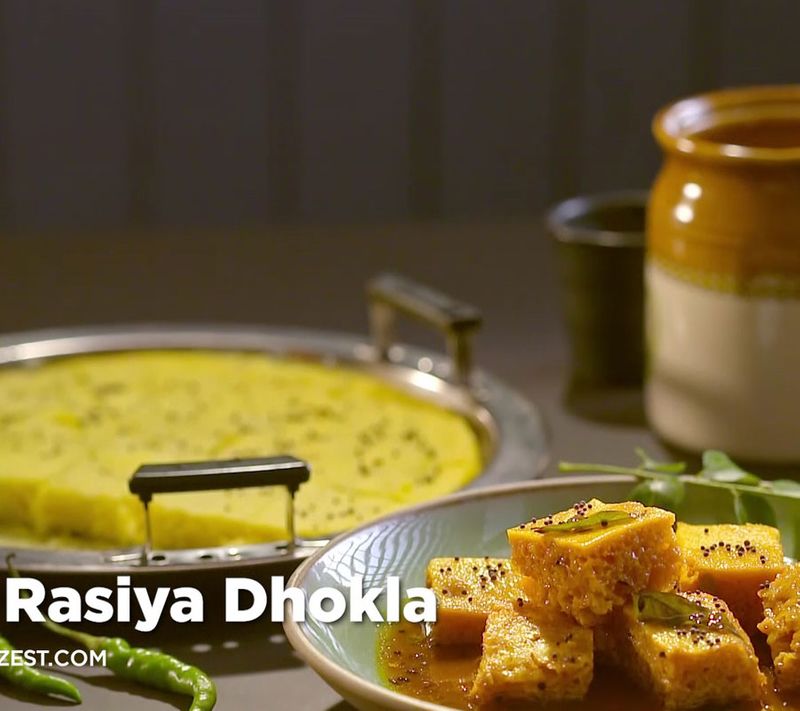 Rasiya Dhokla is a Gujarat famous dish that is similar to another popular Gujarati snack, Khaman Dhokla. However, Rasiya Dhokla has a gravy-like texture and is made with the fermented batter of Chana Dal and rice. Chef Pankaj Bhadouria demonstrates an easy way to make this Gujarati recipe at home.
Ingredients 
1 ½ cup soaked split chickpeas or Chana dal

1 cup soaked rice

1 tsp chopped ginger

2 chopped green chillies 

¼ cup curd

1 tsp turmeric powder

1 tsp mustard seeds 

1 tsp cumin seeds 

A pinch of asafoetida 

1 tbsp fruit salt

2 tbsp tamarind pulp

2-3 curry leaves

3 tbsp oil 

Some chopped coriander leaves
Preparation
Grind the soaked split chickpeas, soaked rice, chopped ginger, chopped green chilli and water in a blender. Make it into a smooth paste.

Put this mixture in a bowl and let it ferment for 8 hours. 

Add turmeric powder, salt, sugar, curd, fruit salt to the batter and mix well.

Grease the steamer plate with oil and pour the batter into the plate.

Steam it for 20 to 25 minutes. Let it cool and then temper the dhoklas. 

For tempering, heat a pan, add oil, mustard seeds, cumin seeds, asafoetida, curry leaves and tamarind pulp.

Add water gradually and then add powdered jaggery, salt, turmeric powder, red chilli powder and mix. 

Cut the dhokla into cubes and add it to the pan. Your steaming hot dhoklas are ready to serve.
Gujarati Khatti Meethi Dal is a popular dish prepared with Toor Dal (Pigeon Pea Lentils). The traditional Gujarat famous dish is part of everyday meals. Chef Kunal Kapur shared his recipe for making authentic Khatti Meethi Dal. Check it out:
Ingredients 
200 gms Toor dal 

5 cup water

½ tsp turmeric 

½ tsp asafoetida 

1 tsp mustard seeds 

½ tsp fenugreek seeds 

1 dry red chilly

5-10 peanuts

Some curry leaves 

1 tbsp ghee

Salt to taste
Preparation 
Wash and soak the dal for 20 minutes.

Put the dal to boil in 4 cups of water. Add salt and turmeric powder. 

Take a pan, add ghee, asafoetida, dry red chilly and sauté for some time. 

Add fenugreek seeds and mustard seeds. Once they pop, add curry leaves. Now add peanuts and cook them for 2 minutes.

Add tomatoes and stir them for 3 minutes. Add turmeric, salt and chilly powder. Stir and add tamarind water and jaggery.

Give it a boil and then add the boiled dal and cook to get a good consistency. Your Gujarati dal is ready to be ser

ved.
Gujarati food combines different flavours and cooking styles from several regions. It's hard to grasp the essence of the cuisine if you are making it for the first time. However, these easy Gujarati food recipes could be a start to your exploration of the cuisine. 
---
Photo: Shutterstock