Having passed the daily humdrum of Dharamshala, I can see white clouds hovering over dark mountains as I approach Palampur. Everything is green. Moss seems to have claimed a kingdom of its own; tiny bright wildflowers still popping up here and there in rebellion. The clear gurgling streams are adding music to the picture. In awe of such flush meadows, I am tempted into a forever-here.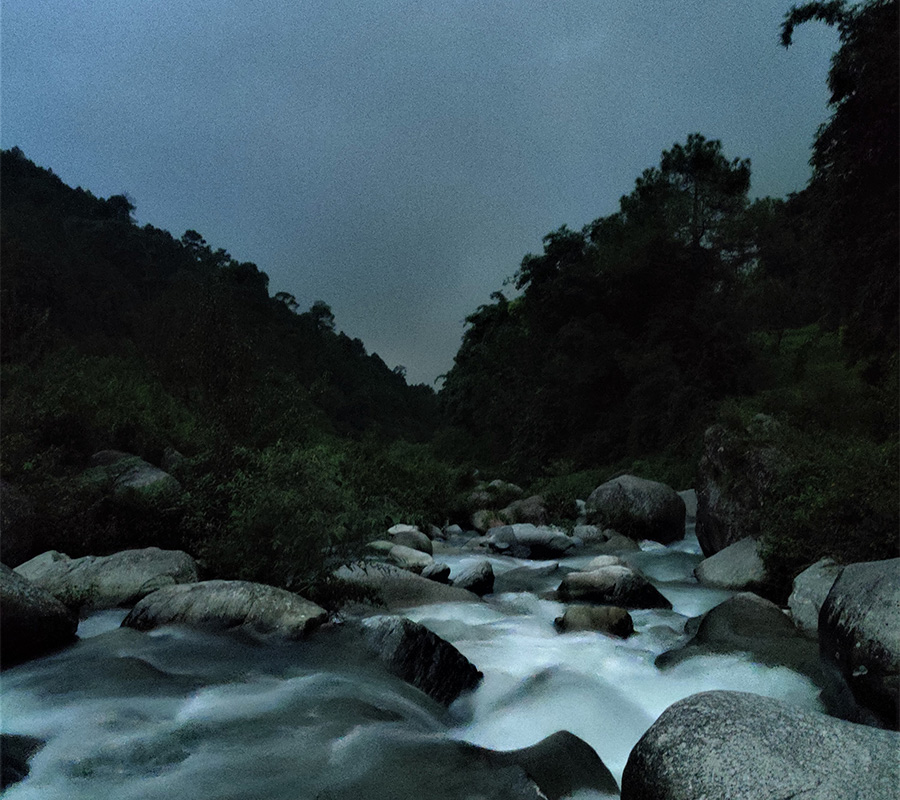 The journey has amplified my expectations of the destination. The lovely red rhododendron tea at Rakkh furthers my already spirited self. So much so that the staff suggests a cart to reach the cottage uphill. The heightened self-belief and enthusiasm, however, are soon found to be grossly misplaced. The frequent halts under the pretext of appreciating humorous signages, and spots like banta corner and Maggi station invoking nostalgia, culminate in a Rocky Balboa-like moment on reaching the top.  
The sun's rays, as if signalling my next move, cast a golden limelight on the bowls art installation on the room's wall. It is by Andretta Pottery Studio's Shubham Sankhyan, I am told. "Not many know about Palampur's art and crafts and its produce. We ensure the visitors get familiarised with the local crafts, Kangra's cuisine, weaves, the teas and more at Rakkh, and become curious enough to explore Palampur," adds Suman Rialch, who shuttles between Delhi and Palampur to be a hands-on owner.  
Clay calling at Andretta Pottery
I quickly relish pahadi daal, roti, and lungdu pickle, and head to Andretta village. In one of its narrow winding lanes sits the studio whose story started in the 1920s. Irish theatre artiste Norah Richards was joined by Sardar Gurcharan Singh in the artist's colony. The studio was later established and developed by his son Mansimran Singh and wife, Mary, and their friend Jugal Kishore Sankhyan. It is the latter's son, Shubham, who is carrying forward the legacy.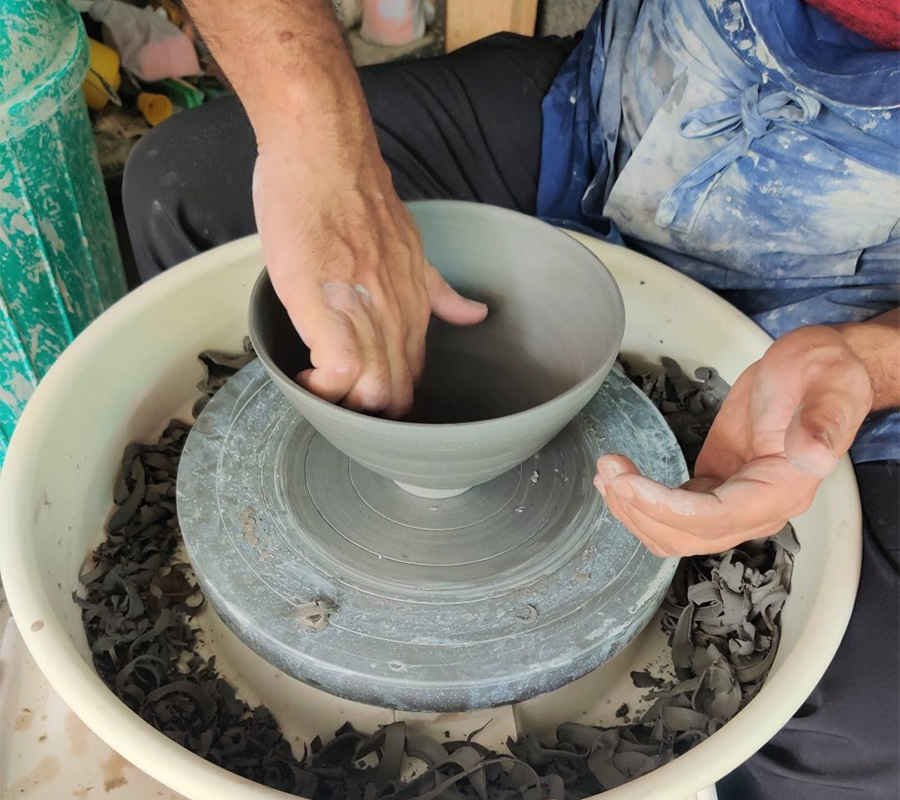 The pathway leads me to the pottery wheels under sheds, some sitting idle and some gently humming songs of creation and creativity. A huge plate in grey and a blue one quickly introduce me to what sets the studio apart – the 1,000-year-old technique of slip designing, using diluted clay to make spellbinding patterns that almost give Andretta a magical touch. The setting, surrounded by raw overgrown greenery, adds to the allure. As if reading my thoughts, that couple perched on the windowsill seems to be affirmatively smiling at me. Their contented disposition, unification of East and West, makes me wish if only they could come to life. The stories they could tell!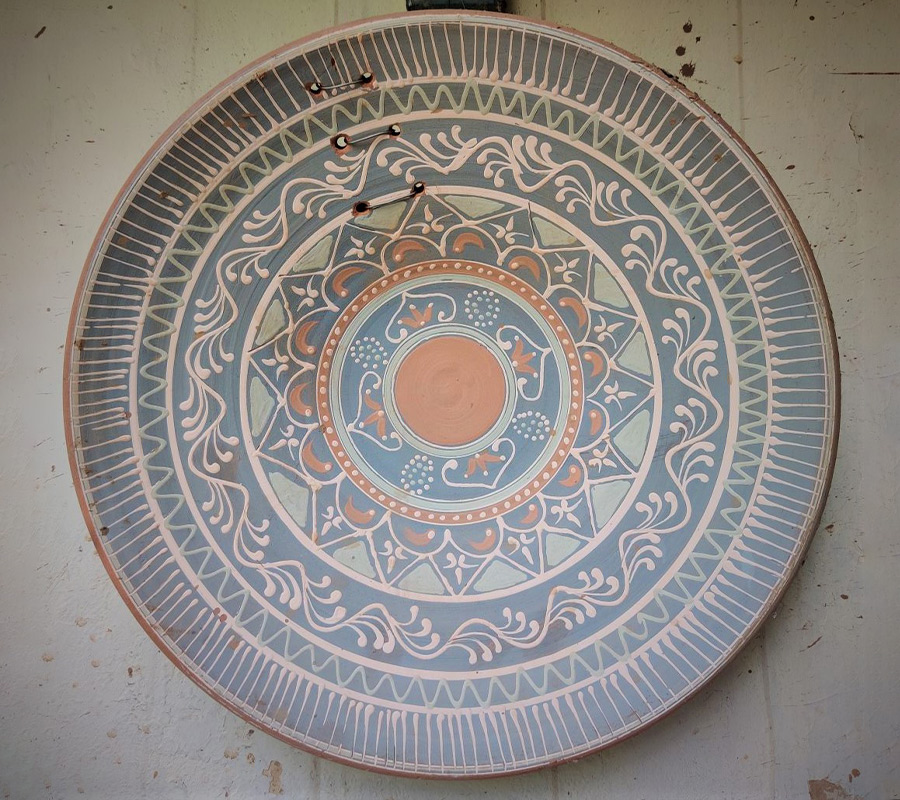 As Shubham dwells on pottery serving as art for some and therapy for others at Andretta, fulfilling "the basic human urge of creating something unique for themselves", he shares his own story. "It was a childhood spent getting dirty in the studio with my brother and creating whatever took our fancy. 'Don't stay at home,' was our parents' order," he says. The mountains and envious views that he wakes up to every day now, played their own part in him bidding adieu to aeronautical engineering and taking to moulding clay and managing Andretta, whose pieces travel the world.
Starry nights and scrumptious food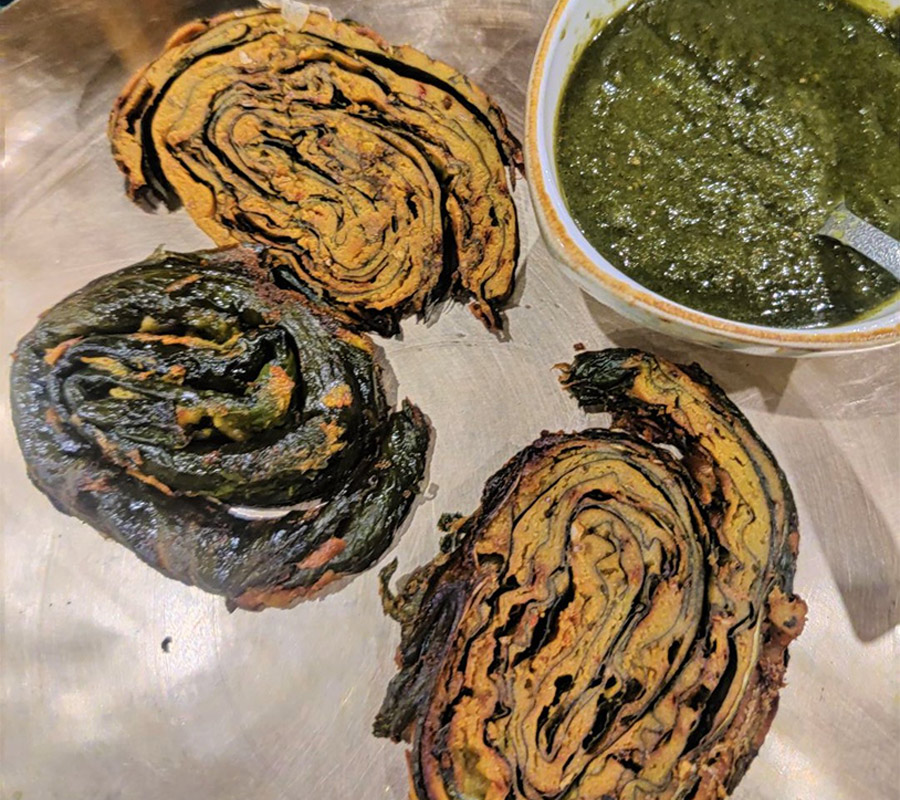 Inspired enough, I test Sunita didi's patience to a hilt, trying to give shape to my imagination on the pottery wheel at Rakkh. An hour-long effort, failed attempts at hands and feet synchronisation for shaping the clay and spinning the wheel respectively, and much encouragement from her, finally result in a creation of my own. I shall paint it red later.
I can see the open-air kitchen becoming the scene of action – wood and shiny brass and copper utensils being brought in. The guests are to be treated to the flavours of rustic Himachali rasoi tonight! Till then, I shall spend my evening by the side of a stream. For, I know the warmth of the wood-fired kitchen later would take all the chill away. The icy-cold water of the stream is white as snow in the twilight, and the hot cup of tea is a perfect companion as I marvel at the billion stars in absolute silence.
Well-famished by the trek, I binge on patrode rather than treating them as appetisers. The Colocasia leaves or arbi ke patte are wrapped around a mixture of gram flour and spices, rolled, steamed, cut into slices, and shallow-fried. The group of teenagers, who had been requesting for room service the whole day to no effect, are struggling yet enjoying, what is perhaps their first experience of having dinner sitting cross-legged on the floor.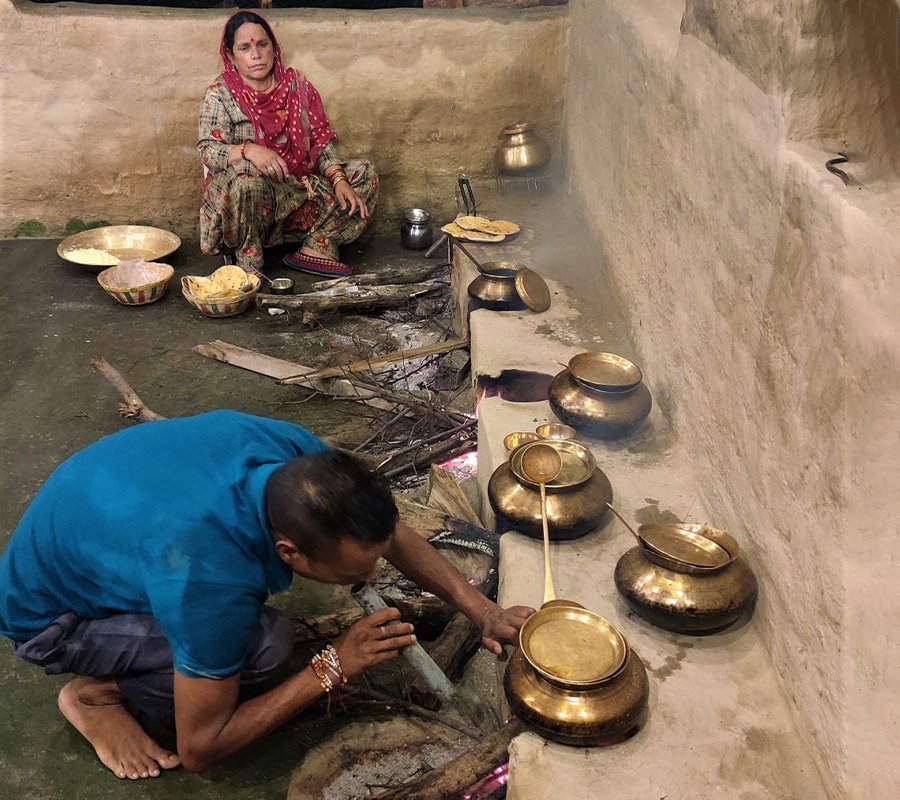 The thali is a generous mix of ancient Kangra Dham-inspired preparations and local flavours. The faded childhood memories of chulha in the ancestral home's aangan suddenly make this rasoi and thali comprising kheru, khatta mutton, madra, kulthi ki daal, saag and makki ki roti all the more special.
Tea tales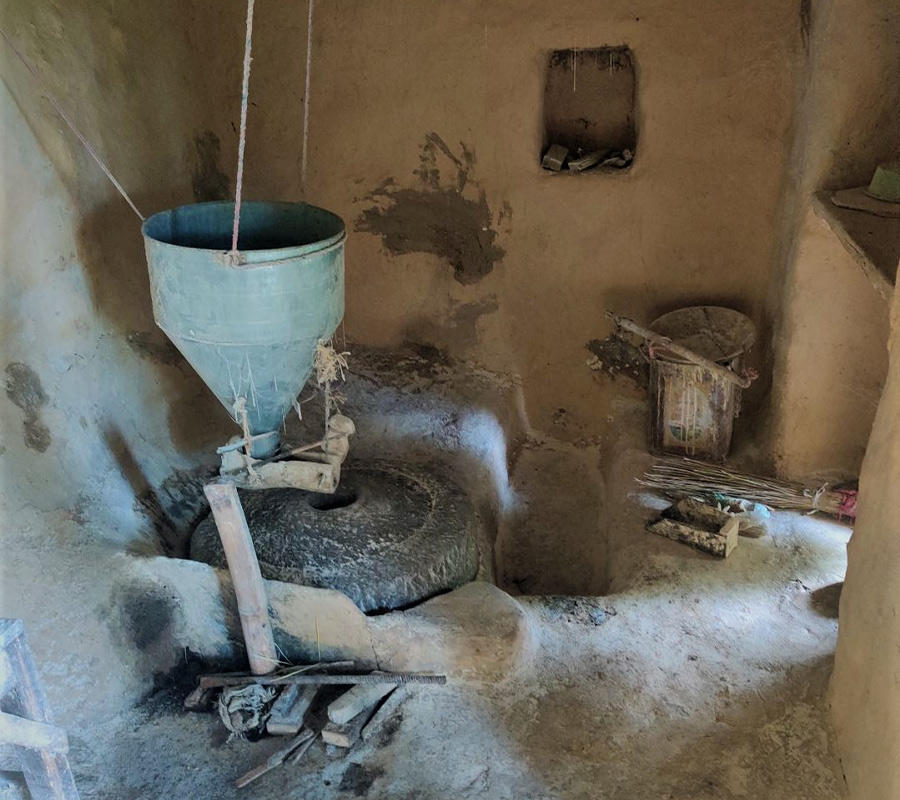 The next morning blissfully starts with a lazy walk through the village lanes, peeking into their lives and marvelling at age-old compact water mills still functioning and pounding grains for the community. The red-cheeked kids are playfully walking to the schools, and the cattle moos and roosters' crowing are heralding a new day. For, this day is made me realise that teas and tea gardens are not just synonymous with Assam and Darjeeling.
"In the late 1800s, Kangra tea from Palampur was hailed as superior to many of its global counterparts, and widely recognised in Europe, America and Australia," Rajiv Sud tells me as I witness the life story of tea leaves at Himalayan Brew Tea Factory. He is the fourth generation since Raipur Tea Estate came into being in 1894. "Kangra tea is not your usual CTC tea (crush, tear, curl) that is made with milk, but black tea. Now, we also experiment with green tea combinations," he adds while I taste a dozen of them.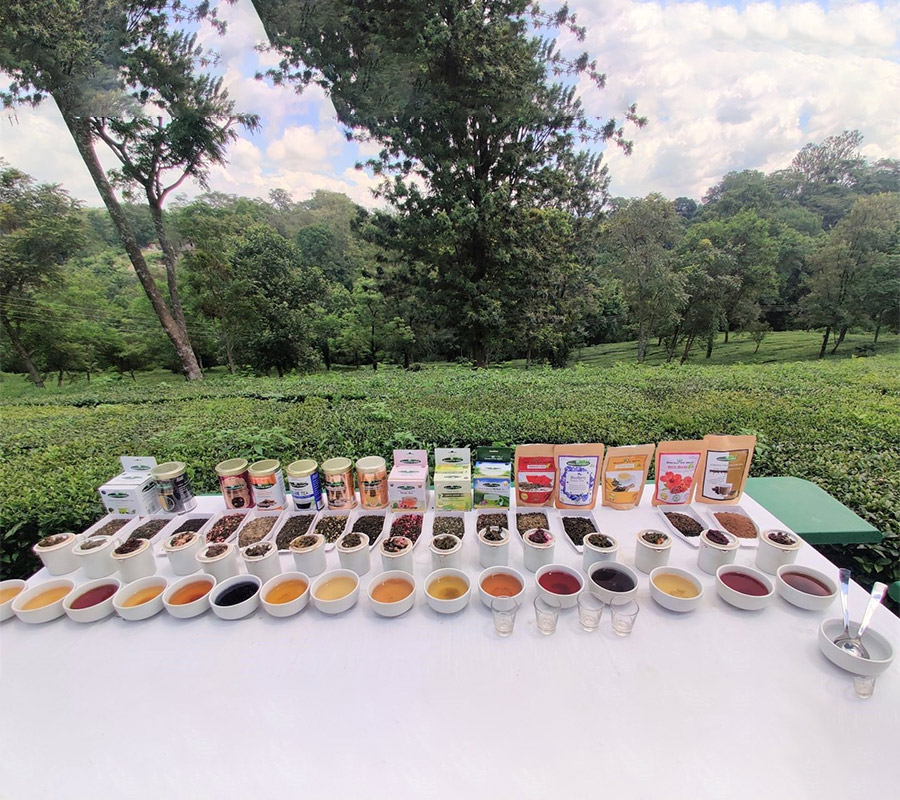 Kangra tea lost the race when the region was hit by a 7.8 earthquake in April 1905. As thousands of lives were lost, the tea factories, most of them British-owned, were wiped out too. While still facing challenges, Kangra tea is steadily making its way back into recognition. It just seems a matter of time before its many hues will again adorn tables around the globe.
Photo: Garima Verma