Sikkim is a beautiful holiday destination in India, but its capital, Gangtok, can be crowded. Tourists flock to the city every year, making it difficult for visitors to fully enjoy the place. If you want to avoid traffic jams and long queues, consider taking a different road. Zuluk is a small village on the eastern border of Sikkim, situated on the ancient Silk Route. Its magnificent hills, winding roads, and landscapes make it an ideal off-beat escape for adventurers looking for snowfall places in India.
Things to do in Zuluk, Sikkim
Ancient Silk Route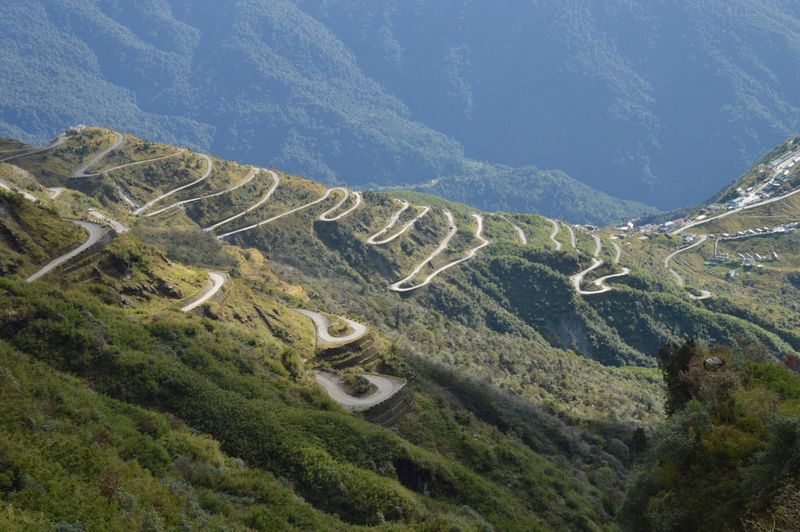 The village of Zuluk is situated on the famous and ancient Silk Route. Hence, driving through it is like walking through history. Located about 10,000 feet above sea level, it offers a winding maze of stunning natural beauty. Since most tourists often head to Gangtok, Zuluk is relatively quieter, providing plenty of opportunities to take your time and explore. You won't be stuck in traffic jams, and you'll find exciting views throughout the drive on this pass, experiencing an offbeat side of places to visit in Sikkim. Zuluk is only the starting point of the entire Silk Route, which extends into China and beyond.
Thambi View Point  
The Thambi Viewpoint is the highlight of your stay in Zuluk, Sikkim. It offers a panoramic view of Mount Kanchenjunga and the famous winding road of the village. Named after the man who built it, the Thambi Viewpoint is a destination worth traveling for. You can take a cab along the Bhulbhulaiya road (the winding road), navigate the sharp hairpin turns, and reach the top to enjoy a lunch with a majestic view. Don't forget to pack something to take along with you. It is recommended that only people who are healthy enough to handle the low oxygen levels at high altitudes should visit the Thambi Viewpoint.
Kupup Lake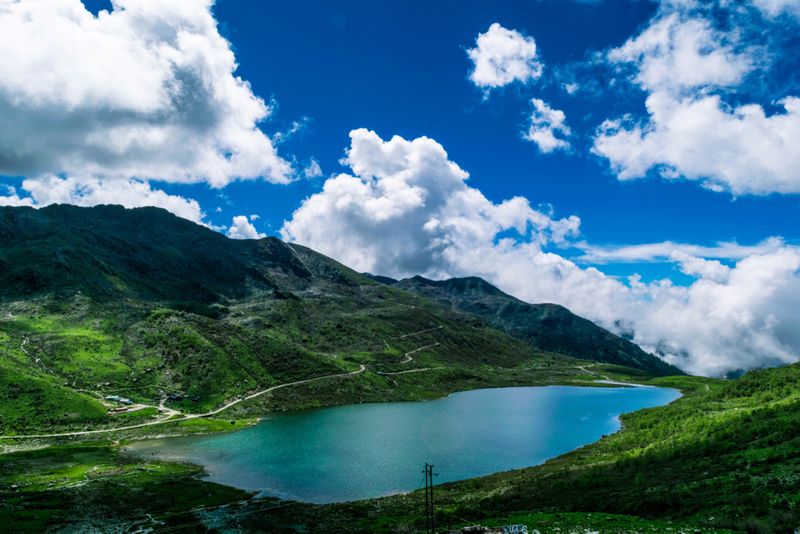 Located about 13,000 feet above sea level is the Kupup Lake. It is a serene sight for nature lovers and a welcome stop after driving through winding mountain roads. Also known as Bitan Cho, the majestic lake resembles an elephant and is believed to be sacred. During winter, it may be frozen, while in the springtime, the lake water sparkles under the warm sunlight. In addition, you can also check out the Yak Golf Course near Kupup Lake, one of the highest golf courses in the world. Kupup Lake, or Elephant Lake, is perfect for a day trip since there is no available accommodation or restaurants around it. Be sure to pack enough supplies when you head out to explore it.
Old Baba Mandir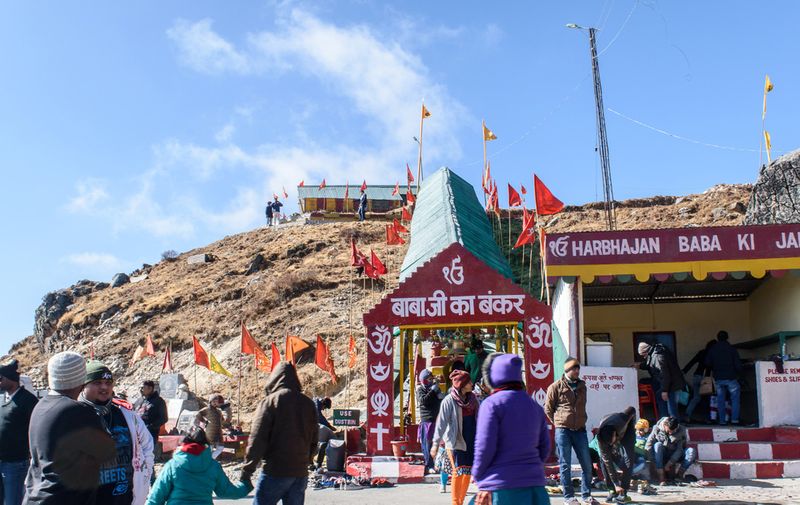 The Old Baba Mandir is not a temple, it is a monument dedicated to a sepoy, Baba Harbhajan Singh. He was a member of the 23rd regiment and gave his life for India during the Indo-China war of 1962. Two shrines were built in his memory, one in Nathu La and the other one near the Changu lake. It is maintained by the Indian army, and soldiers believe that he continues to watch over them. According to legend, Baba expressed his wish for a shrine in the dreams of other soldiers. The place is like a small home where his soul comes to rest. The shrine caretakers have made his bed, placed his shoes, and left an ironed uniform for him as well.
Nathang Valley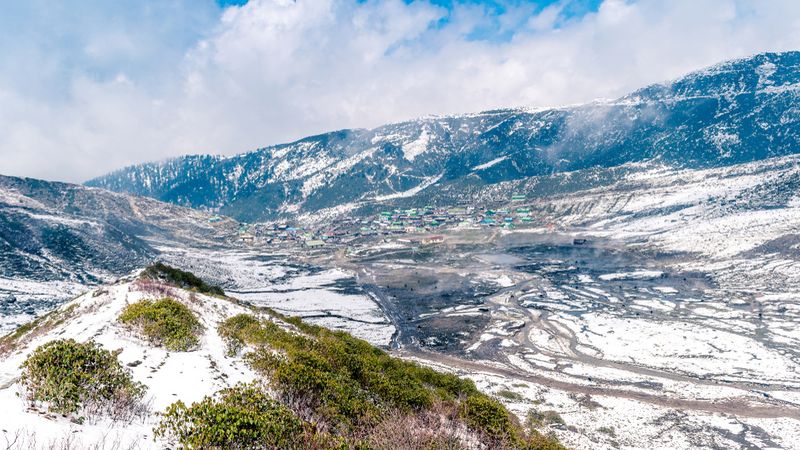 If you like snow, the Nathang Valley is a must-visit. Local tour operators offer skiing and snowboarding packages too so you can experience winter adventure sports in Sikkim. The valley also offers a colourful view during springtime. It is just a 5-kilometre drive from the old Harbhajan Baba Mandir. On the way, you can even stop at Heart Lake and check out Sikkim's abundant natural beauty. The valley is the perfect spot to get a break from all the driving around. There are a few homestays in Nathang Valley where you can stay over for the night before leaving the next morning. However, make a booking in advance as resorts might be booked out in case the demand is high.
Nag Temple  
Like in several towns in India, the locals of Sikkim worship the snake god. The Nag Temple in Zuluk, Sikkim is a beautiful cave temple worth exploring. They have regular aartis and some local prasad for those who visit for blessings. In addition, the cave architecture of the temple can be a feast for the eyes. Locals say that the temple was naturally formed and is not a man-made creation..
Menmecho Lake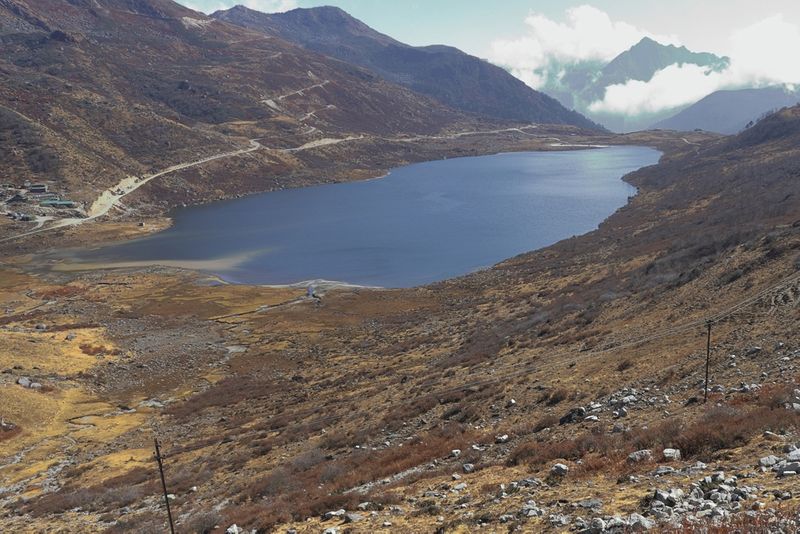 The Menmecho Lake in Sikkim's list of places to visit is known for changing colours every minute. Located about 4 km from the Baba Harbhajan Mandir, it is a stunning sight tucked into majestic snowy mountains. The shrine serves as a starting point for the trek to reach Menmecho Lake, but the breathtaking view makes up for the struggle. It sits at an altitude of 13,000 feet and serves as the source for the river Rangpo Chu. Needless to say, it is frozen during the winter months but in the late monsoons and summertime, it displays a mesmerising display of nature's magic. You can trek to the viewpoint along the lake and even try your hand at trout fishing. A separate permit is needed to visit the lake, which can be obtained from the local police station. Since access to the lake requires trekking, keep in mind to return during daylight hours as the roads are tricky and become difficult to navigate when it gets dark.
Tips to remember
Rent a pair of snow trekking boots in case you are planning to visit during winter. It is also advisable that people who may suffer from breathing issues not take this trek or consult a medical professional before they do. Pack plenty of food and water since you may not find much along the way.
Things to do in Zuluk around Menmecho Lake: 
You can also visit the Rangpo Chu river and bask in its tranquillity. The nearby village of Borong also hosts high-altitude homestays and a hot spring you can check out. Plan the trip in advance if you want to spend the night here.
Jelep La Pass  
As you travel to the north of Sikkim, the altitude keeps increasing. The Jelep La pass is located 14,000 feet above sea level and forms the link between Lhasa (Tibet) and India. The roads are not too sloppy or winding and your drive through the pass will be relatively smooth. If you are planning to visit Changu Lake, you can take this pass and drown in its surreal beauty. There is a lot of history associated with this pass from ancient trade routes to recent wars.  
Things to look out for
The Jelep La pass is known for its rich flora. Its ample display of rhododendrons is in full bloom during the spring months of March and April. Take a walk through the hamlets and experience the humble lifestyle of the locals who live there.
Tsomgo Lake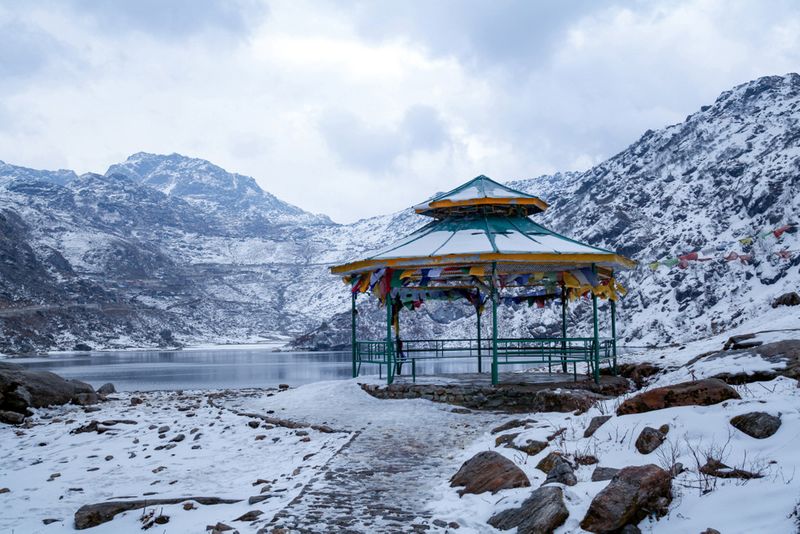 The Tsomgo Lake, also known as the Changu Lake, is a must-visit destination in Eastern Sikkim. Located about 40 km away from Gangtok, it can be easily included in your itinerary on your way back to the capital city.
Like the Menmecho Lake, the Tsomgo Lake is known for its changing colors throughout the seasons, a phenomenon that has been studied by both Buddhist monks and scientific researchers.
Local tour operators offer photo sessions in traditional costumes, which can be a fun activity to do with your family. You can also take a ride on a Yak and capture pictures with it. Additionally, the area is home to unique flora such as primulas, irises, and poppies that you won't find anywhere else.
No matter when you visit, there is always something to do at the Tsomgo Lake, making it a great destination to visit.
Tukla Valley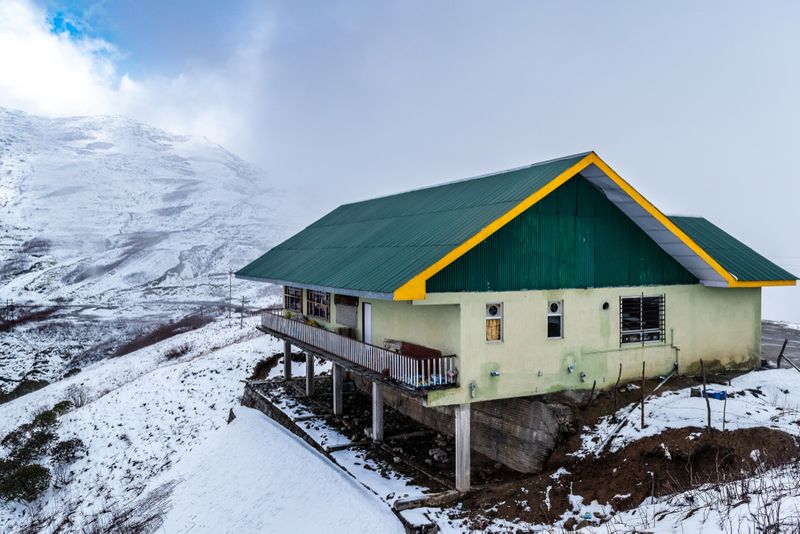 The Tukla Valley is a hidden gem in Zuluk that offers breathtaking views of the majestic Mountain Kanchenjunga. With various viewpoints to choose from, you can take in the natural beauty of the valley and snap some pictures to remember your trip.
But did you know that the Tukla Valley has a rich history too? It served as a battleground during the Battle of Tukla and has a memorial dedicated to the British soldiers who lost their lives. It's a somber reminder of the sacrifices made and a great opportunity to pay your respects.
The Tukla Valley is easily accessible from the Jelep La pass and the Kupup Lake, making it an easy addition to your travel itinerary. So pack a picnic lunch, wear comfortable shoes, and get ready to be amazed by the natural beauty and rich history of the Tukla Valley.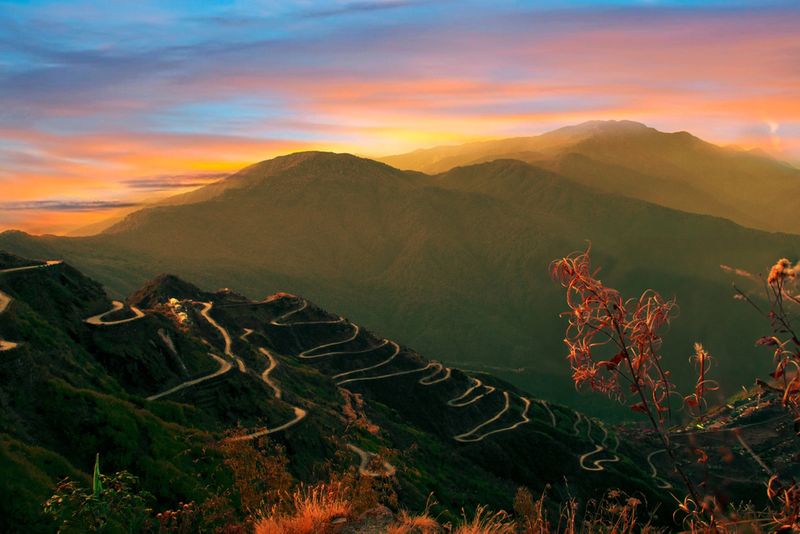 FAQs  
Why is Zuluk famous?
Get ready to add Zuluk to your bucket list! This little village in India is a hidden gem that offers some of the most breathtaking natural beauty you've ever seen. It's the perfect spot for those looking for an offbeat travel experience and a chance to escape the hustle and bustle of everyday life. With so many places to explore, you're sure to fall in love with this charming destination.
Why is Zuluk called the Silk Route?
Zuluk is a tourist destination located on the ancient Silk Route that helped facilitate trade between many nations. It marks the beginning of the route that passes through Tibet and China, which is why it is also known as the Silk Route.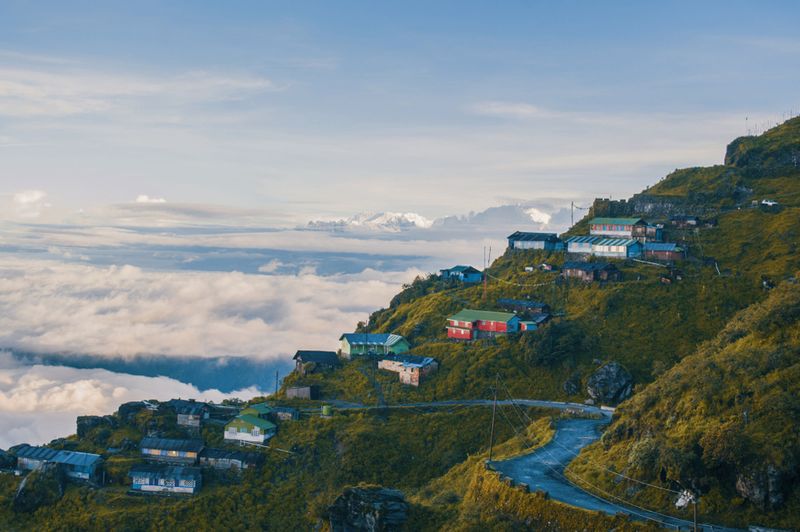 What is the best time to visit Zuluk?
Zuluk is tucked away in the Kanchenjunga mountain range. The terrain blooms with gorgeous flowers in spring and summer and gets draped in a beautiful blanket of snow during winter. Since Zuluk also falls into a protected forest region, you also get to experience unique flora and fauna. The best months to visit are the winters of January to April and the early winter months of August and September. The rainfall can make it tricky to move around in Zuluk on foot due to muddy and slippery roads so it is best to avoid visiting during this time (May to July).
Do I need a permit to visit Zuluk?
Zuluk is located close to the Indo-China border. It is a base for the Indian military and also their transit camp. It is often used as access into the zones of conflict, hence you will need a pass to enter this protected region. Adults need to provide their voter IDs or passports along with a few photos. Children below 18 years of age need to provide their birth certificate, school ID or Aadhar card along with a few photos. The permits for Zuluk can be issued in either Rangli or Gangtok. You can ask your hotel staff to help you with the procedure. Make sure to get your permit from a tour operator that has been authorised by the Government of Sikkim.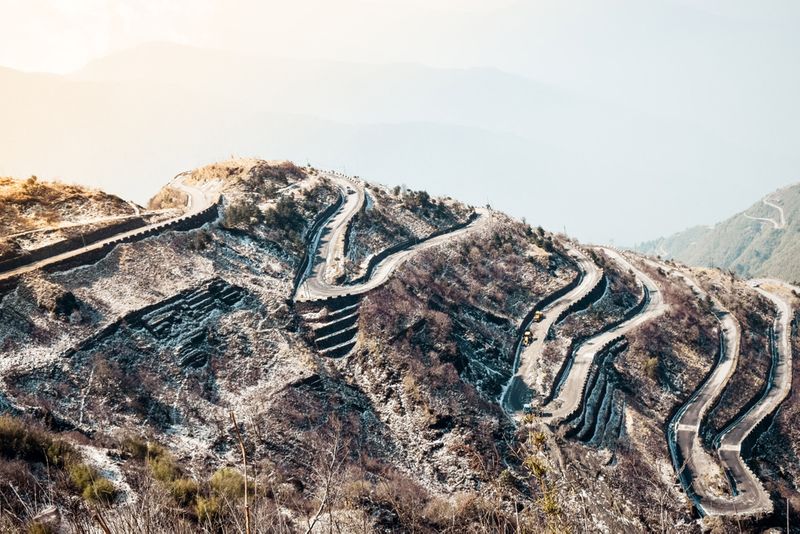 What are the major tourist attractions on the old Silk Route?
Zuluk Valley is a photographer's paradise, a wildlife enthusiast's dream, and an adventurer's playground. With its majestic mountains, sparkling lakes, and breathtaking views, Zuluk is the perfect destination for those seeking an off-beat travel experience.
Take a hike in the mountains, chase the perfect view, and embrace the beauty of nature. Whether you're a bird watcher, a wildlife enthusiast, or a nature lover, there's something for everyone in Zuluk. Discover the old Silk Route, visit the Nathu La pass, take in the stunning Kanchenjunga mountain, explore the Tsomgo lake and Menmecho lake, visit the Nag temple and don't miss the Jelep La Pass. The thrill of adventure and natural beauty awaits you in Zuluk, pack your bags and get ready for an unforgettable trip!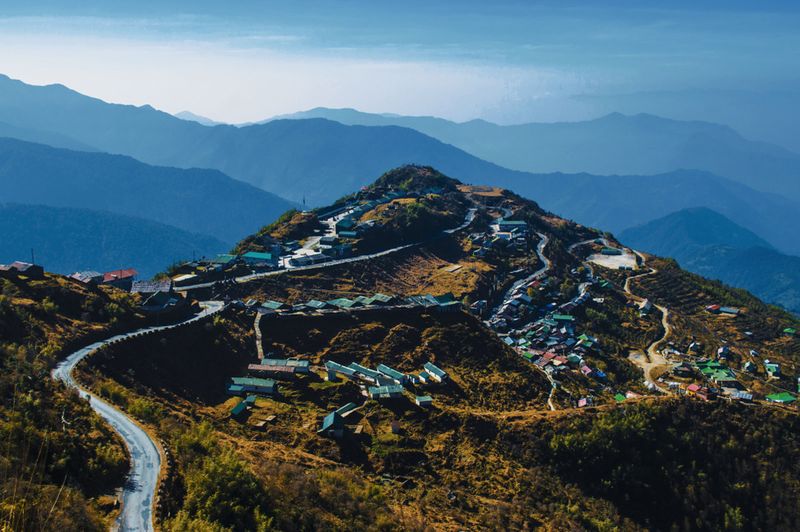 How to reach Zuluk?
Zuluk can be best reached through Gangtok. You can take a taxi from the city since buses can be highly unreliable and affect your travel timelines too. The closest airport to Zuluk is the Bagdogra airport and the New Jalpaiguri Railway Station. Zuluk is about 90 km from Gangtok city and 160 km from Bagdogra Airport and New Jalpaiguri Railway station. You can even travel to Zuluk from Rangpo, Kalimpong (90km), Pelling (150km) and Darjeeling (140km).
Sikkim is one of the coolest places in India. If you truly wanted to explore this abode in the clouds, check out this Sikkim travel guide.
---
Photo: Shutterstock