New Year 2023 is knocking on the door! The last few days of 2022 are beckoning you to slam that laptop shut and just head out. If you're one of those for whom aligning plans with friends and family is tougher than aligning stars, you will find yourself losing out on all the best plans and packages for New Year's Eve.  
And now that you finally have some company, are there any deals left? Worry not, here are 16 listings across India still available. Book now!
NORTH INDIA
1. StayVista The Hideaway Cottage, Kasauli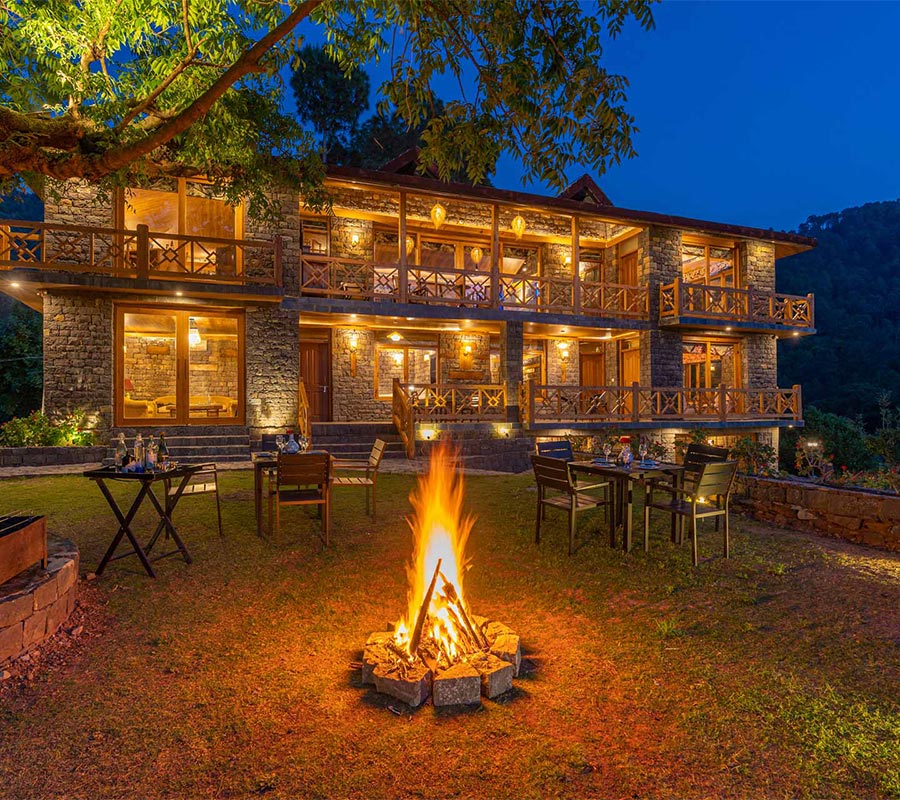 This four-bedroom chalet-style cottage is located in Kasauli, an hour's drive from Chandigarh. Apart from beautifully designed and well-accommodated rooms, The Hideaway Cottage also boasts a spa and jacuzzi. If you're feeling adventurous, you can also check out the nearby treks and trails.
Price: INR 36,690 per night
Location: Village Oal Panchayat Chaamon, Ghaighat, PO, Kasauli, Himachal Pradesh
Book here
2. Avalon Cottage by Lohono Stays, Kanatal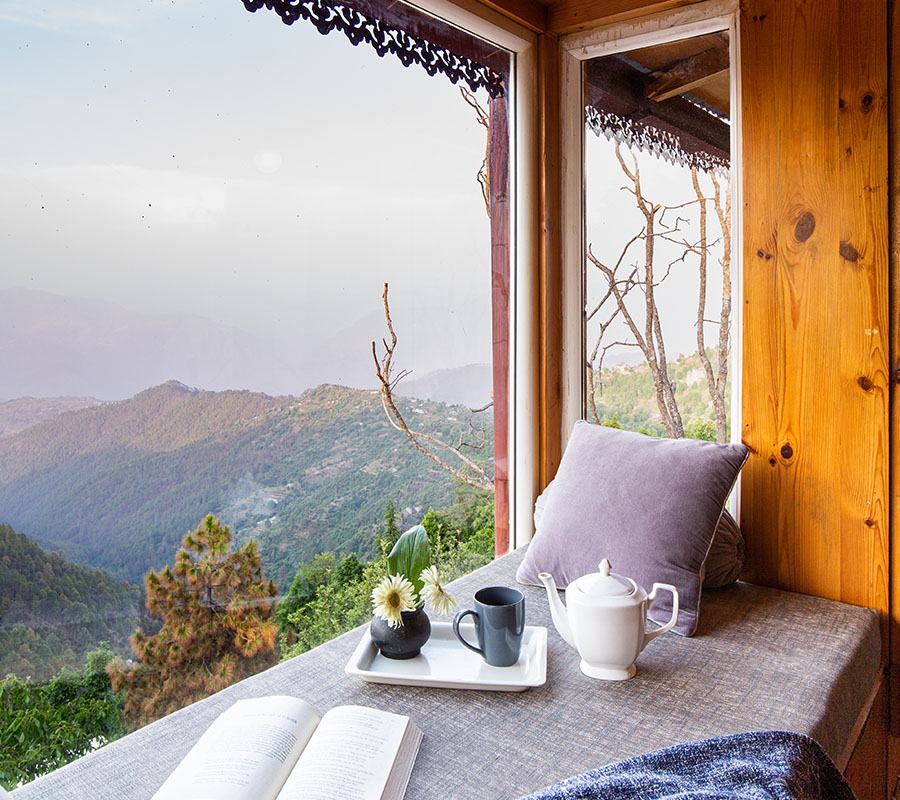 Resting on a mountainside at 8,500 ft, in the town of Kanatal, this five-bedroom villa offers all the cosiness you need on a cold New Year's Eve. The rooms on the upper level and the living room on the lower level open out onto large decks where you can spend hours watching uninterrupted views of the majestic Himalayas while sipping on hot chocolate. You can even plan excursions to Kaudia Forest, Tehri Dam, Mussoorie, Chamba and Rishikesh.
Price: INR 20,672 per night
Location: Kanatal, Tehri Range, Uttarakhand
Book here.
3. Airbnb Log House 2BHK Apartment, Kasauli
This new two-bedroom homestay in Kasauli offers a tastefully designed living area and bedrooms that promise the comfort of home. There is also an outside sitting area to enjoy the real essence of Kasauli.
Price: INR 19,999 per night
Location: Kalka-Shimla Road, Kasauli, Himachal Pradesh
Book here
4. The Homestead by Lohono Stays, Jim Corbett National Park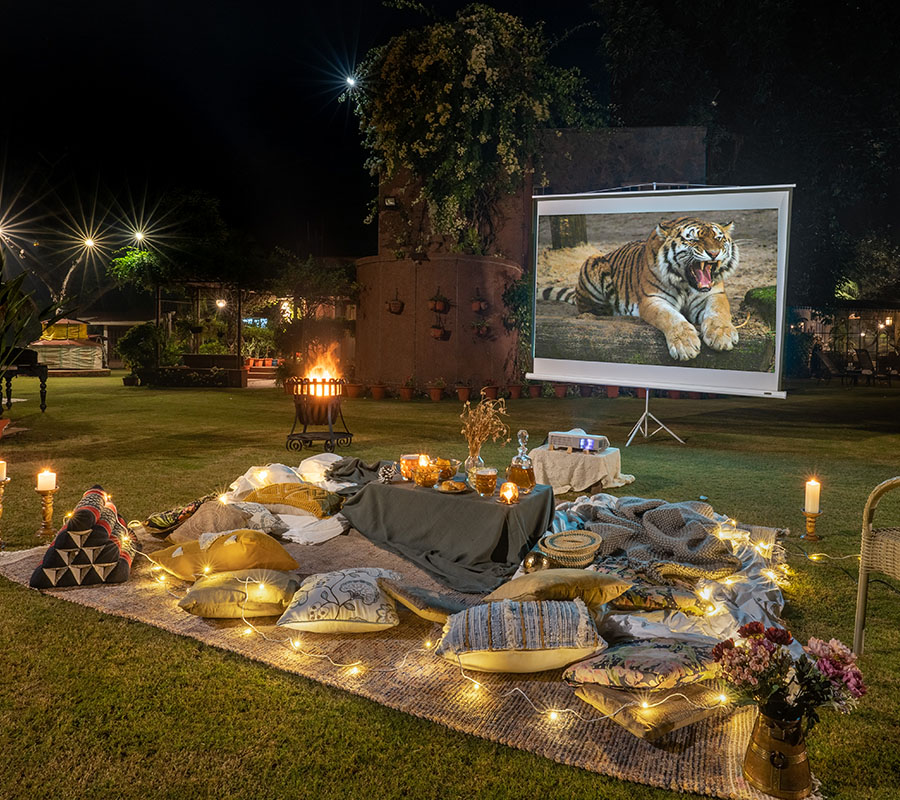 Just 18 km away from the famous Jim Corbett National Park, The Homestead is spread across 170 acres and the accommodation is divided into four tent-like structures. The 12 
bedrooms bring a little bit of the great outdoors inside. While a safari at the tiger reserve is a must-do, you can also indulge in stargazing with a guided telescopic experience at the observatory, TARA.
Price: INR 6,460 per night
Location: Corbett Country, Uttarakhand
Book here
5. Airbnb HomeTales Cottage, Tirthan Valley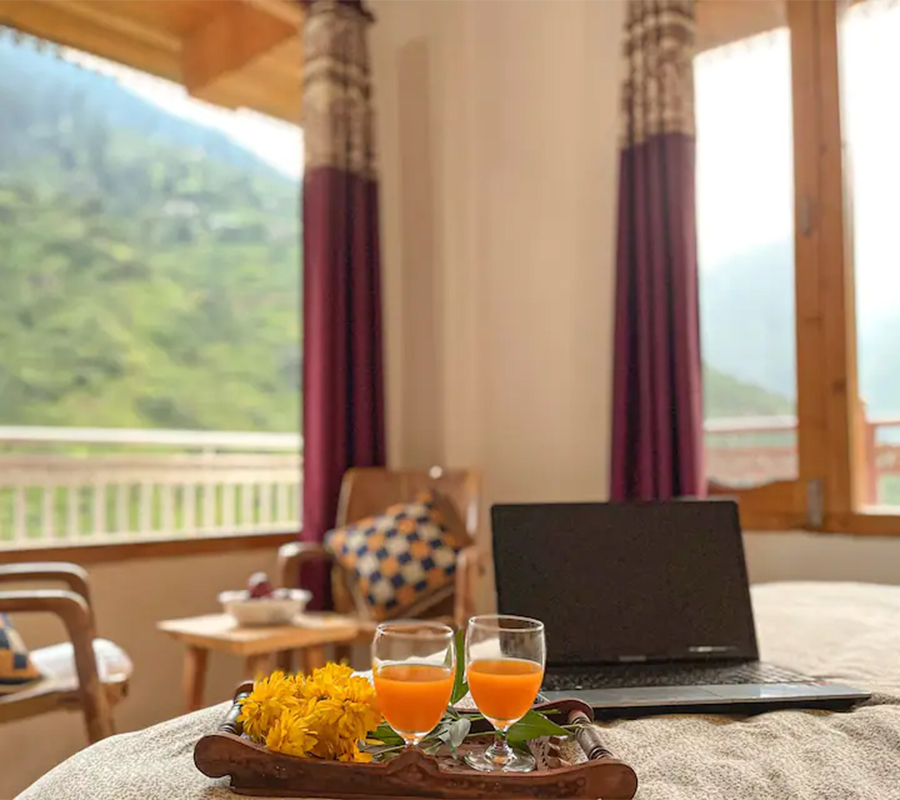 This is a family-friendly cottage, tucked away in a corner of Tirthan Valley with unbelievable views of the mighty Himalayan mountains and river below. It's an independent two-storey home with bedrooms on the upper floors and the kitchen and dining area on the lower floor.
Price: INR 4,950 per night
Location: Jibhi, Tirthan Valley, Himachal Pradesh
Book here
6. Ludlow House by Lohono Stays, Kasauli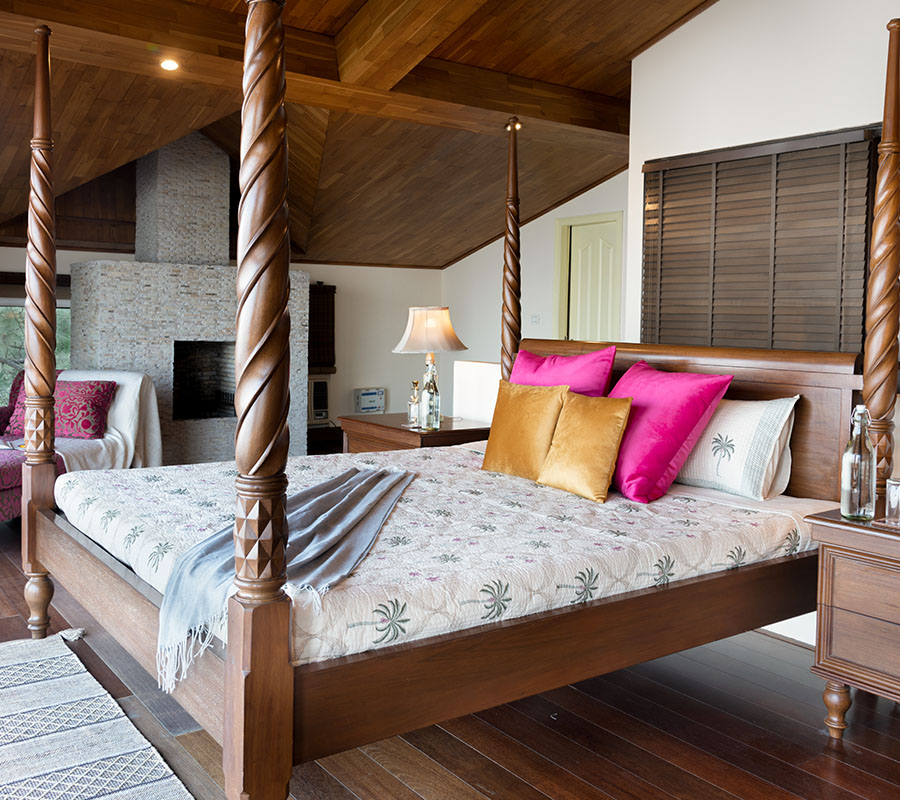 The three-storied Ludlow House is hidden from the crowds in the old part of Kasauli. The fireplace and a common dining table at the home are the perfect spots to catch up with friends and family. If you want to explore the outdoors, try out the treks and nature trails or jump on the ropeway for a bird's eye view of the hill station. Bring home souvenirs like fruit preserves, local wines and trinkets from the bustling Tibetan market.
Price: INR 61,200 per night
Location: Kasauli
Book here
7. The White House at Zaznaar by Lohono Stays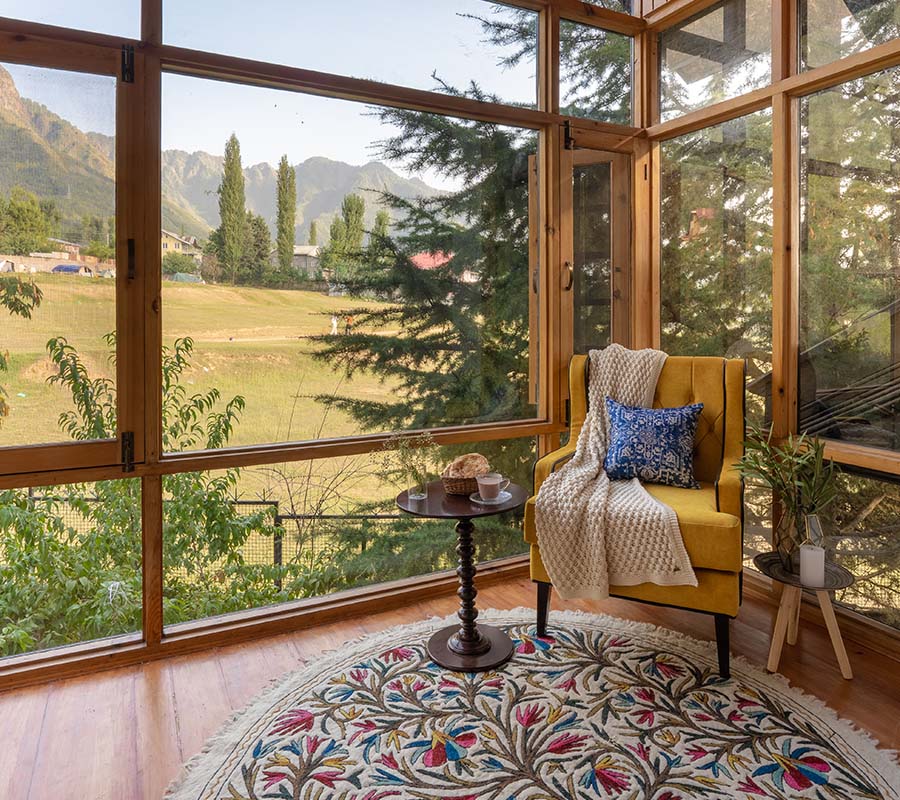 The White House is a luxurious six-bedroom home surrounded by the pristine beauty of nature. The homestay is close to both Dal Lake and Nigeen Lake with breathtaking views of the mountains. A warm cup of Kashmiri kahwa by the fireplace is a must-try experience at The White House. During your time in Srinagar, go for a shikara ride on Dal Lake, paragliding or shopping trips to Kashmiri bazaars.
Price: INR 59,024 per night
Location: Nishat Lane, Srinagar, Kashmir
Book here
WEST INDIA
8. SaffronStays AsanjA Dragonfly, Murbad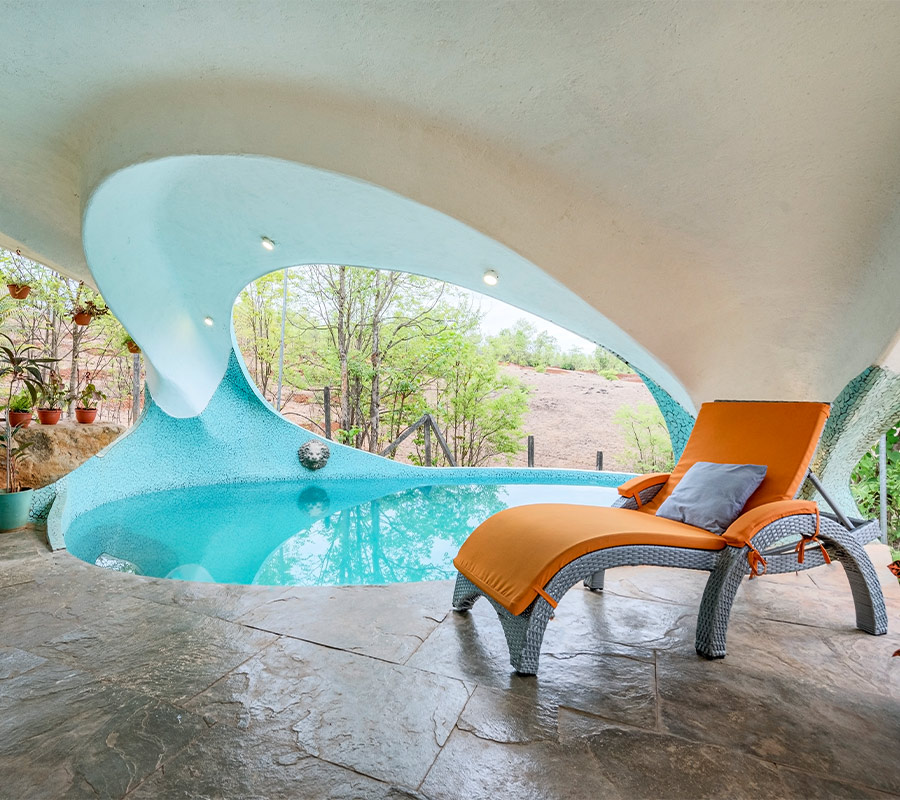 You've seen this unique accommodation make the rounds of social media due to its Hobbit aesthetics. This is SaffronStays AsanjA Dragonfly, an earth-shelter cave home with 360° views of the Sahyadri Hills, located 2.5 hours from Mumbai and Pune. This three-room villa features a pool, living and dining areas, and undulating terrace gardens. You can also indulge in SaffronStays' signature curated menus and engage in activities like board games, carrom, and foosball.
Price: INR 37,500 per night
Location: House no 435 Village Dehari Taluka, Dist, Murbad, Maharashtra
Book here
9. Airbnb Tranquil Forest Villa, Goa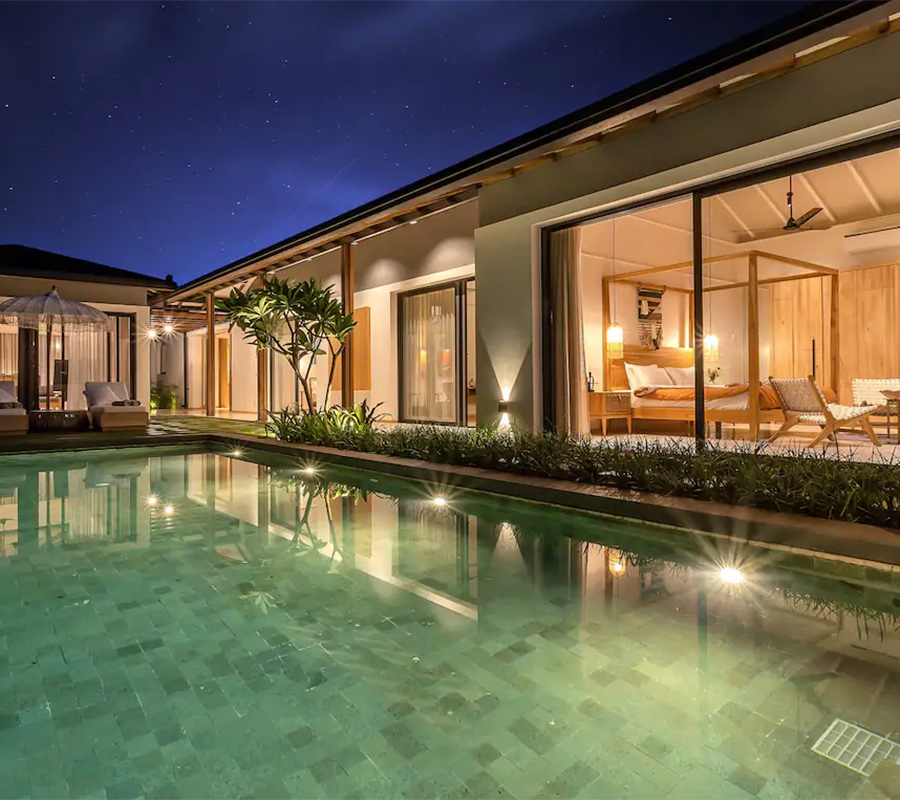 A Balinese-style villa awaits you in Goa. The high-beamed ceilings and modernised details of the three-bedroom villa are exclusively designed for families and couples. There is also a large swimming pool made with shuka bhumi stone. Although shops and restaurants are only a five-minute drive away, the area feels peaceful and secluded.
Price: INR 45,999
Location: Siolim, Goa
Book here
10. SaffronStays Coral Hues By The Beach, Kashid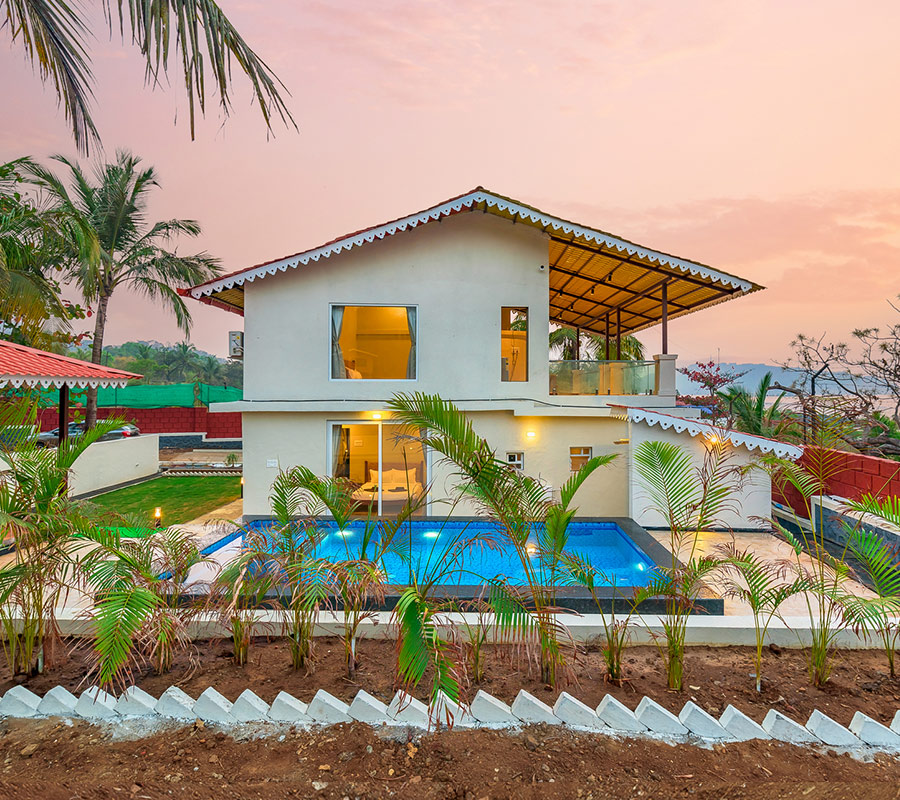 Off the coast of Kashid's Korlai beach is SaffronStays Coral Hues. It is a four-bedroom pet-friendly villa with expansive lawns, a swimming pool, and a gazebo. The villa offers panoramic views of the Arabian Sea from the balcony and home-fresh Alibaug-style meals. Check out the forts of Korlai and Revdanda nearby or just laze on the beaches of Korali and Revdanda.
Price: INR 20,000 per night
Location: Korlai, Alibaug-Kashid Road, Maharashtra
Book here
11. Wildflower Villas, Goa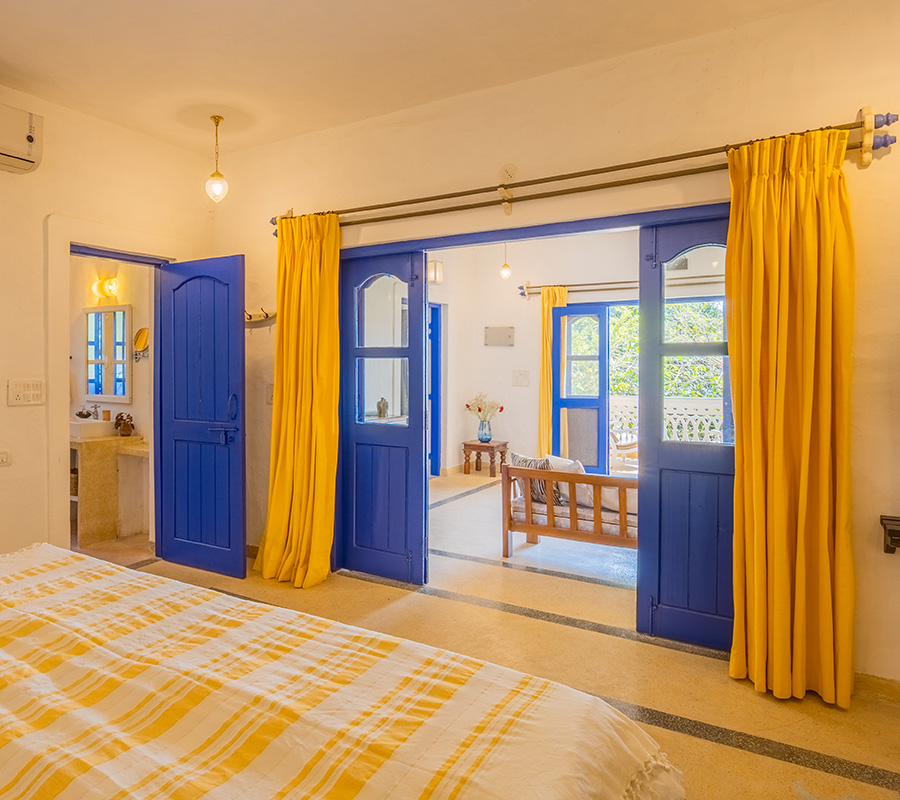 The seven-villa property in Goa is built on a 200-year-old ancestral land on a hillside, 15 minutes away from Candolim. One of the villas, the four-bedroom Morning Glory villa is still available for New Year's Eve booking. Two villas are on the ground floor and two are on the first floor. With interconnecting doors that allow the two rooms on each floor to be converted into a spacious apartment, Morning Villa at Wildflower Villas is perfect for a family or group of friends.
Price: INR 72,000 per night
Location: 1709/A1, Saipem, Candolim, Goa
Book here
12. Woods at Sasan, Sasan Gir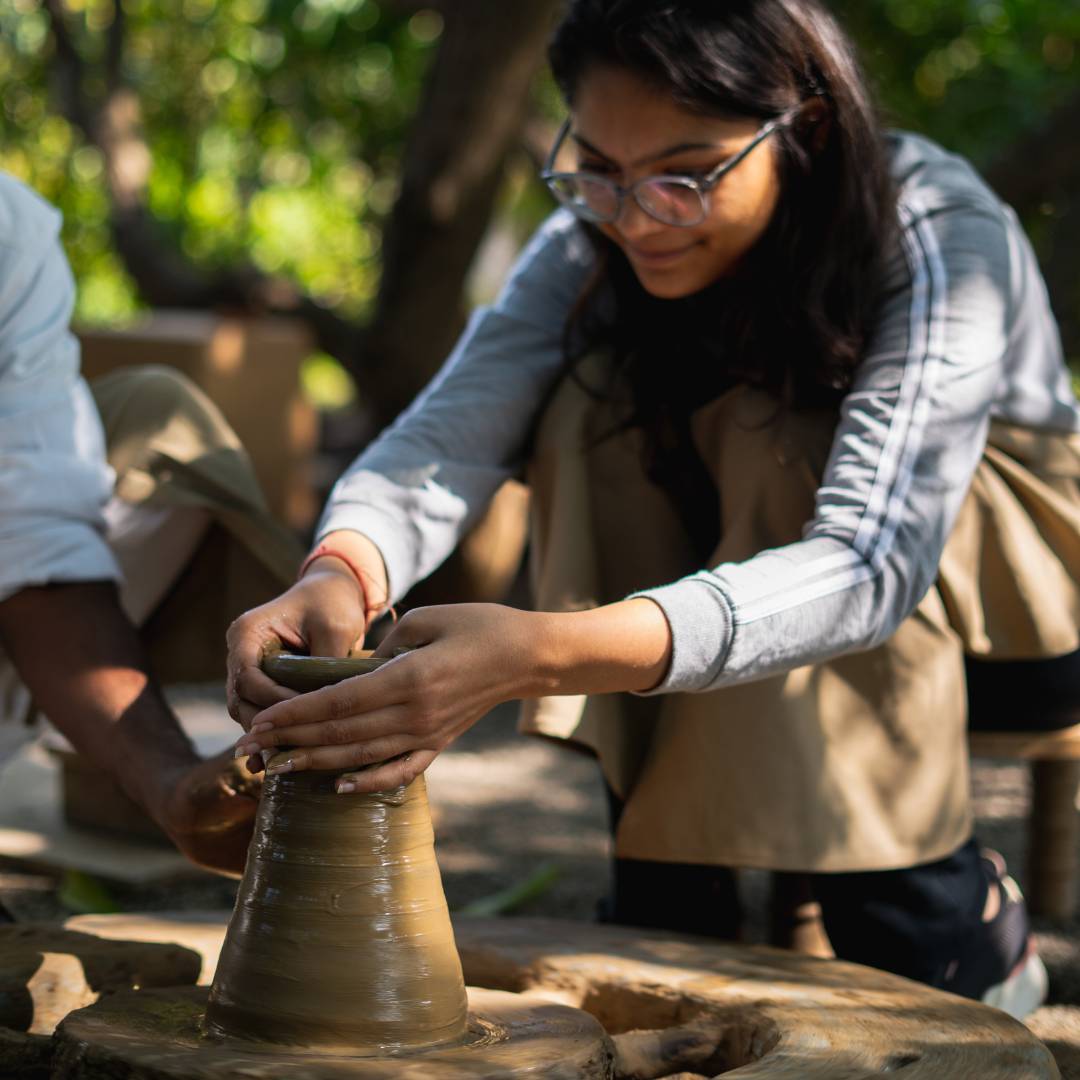 Woods at Sasan by 1000 Island Hotels is a retreat set among 16 acres of mango orchard and lush forest. The property encourages self-exploration in a tranquil and serene atmosphere. Som, the wellbeing chapter at the retreat, offers the best in wellbeing programming and is created to honour a way of life that harmonises mind, body and soul. They are currently hosting a proprietary holistic wellbeing festival, Somras, till January 1, 2023.
Price: On request
Location: Gir Forest, Sasan-Talala Highway, Sasan, Gujarat
Book at reservation@1000island.in; +91 74860 10362
SOUTH INDIA
13. StayVista The Berg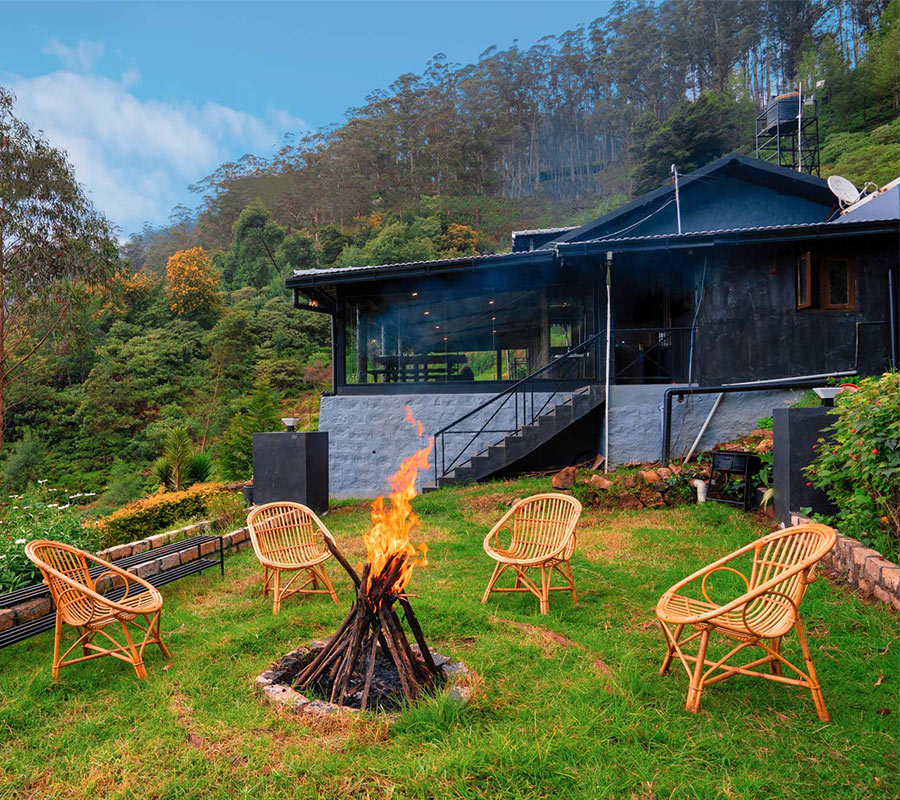 The Berg in Ooty is a two-bedroom bungalow with floor-to-ceiling glass windows. Equipped with modern amenities, the home still has a rustic vibe that is juxtaposed with subtle yet luxe furnishings. The manicured lawns are perfect to soak in the serene natural beauty. You can enjoy beautiful views from the balcony, indulge in the complimentary breakfast as well as venture out on hikes and treks.
Price: INR 21,600 per night
Location: Coonoor road, Manthada, Ooty, Tamil Nadu
Book here
14. SaffronStays Nandanvan Estate, Kodaikanal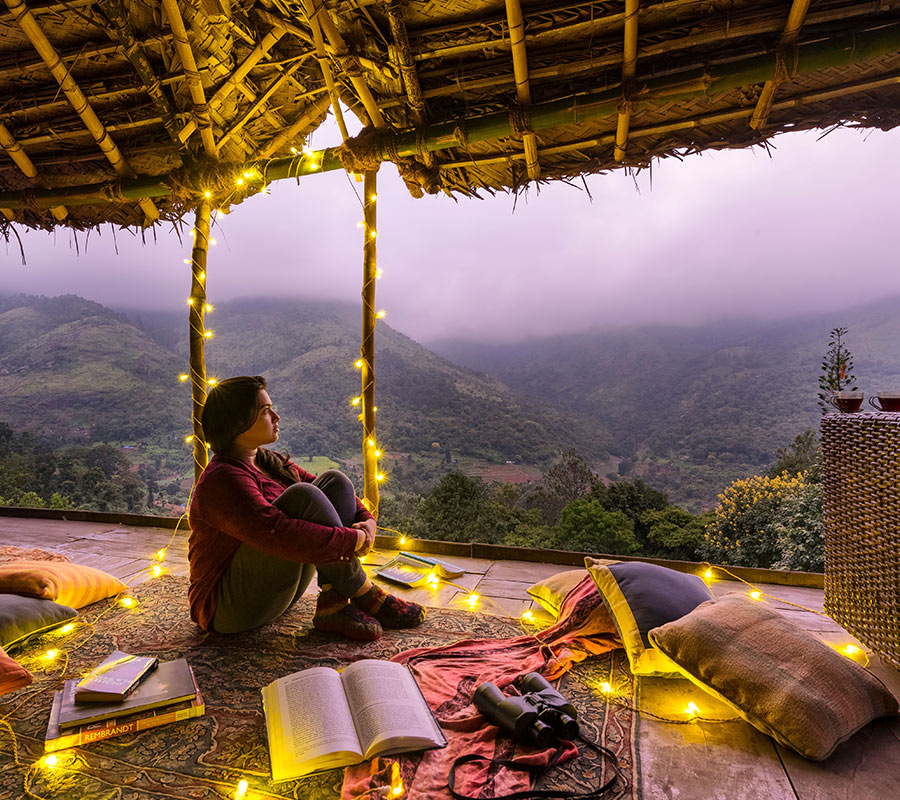 Nestled amidst 35 acres of lush coffee plantations, SaffronStays Nandanvan Estate is a pet-friendly homestay in Kodaikanal. The property has a warm and comfortable living room, a fine study room, and three bedrooms. It is also just a three-hour drive from Madurai Airport. While here, you must go on a tour of the coffee estate as well as a nature walk to spot various species of flora and fauna.
Price: INR 15,000 per night
Location: Pethuparai Palani, Kodaikanal, Tamil Nadu
Boom here
15. Airbnb 2BHK Peak View Villa Wayanad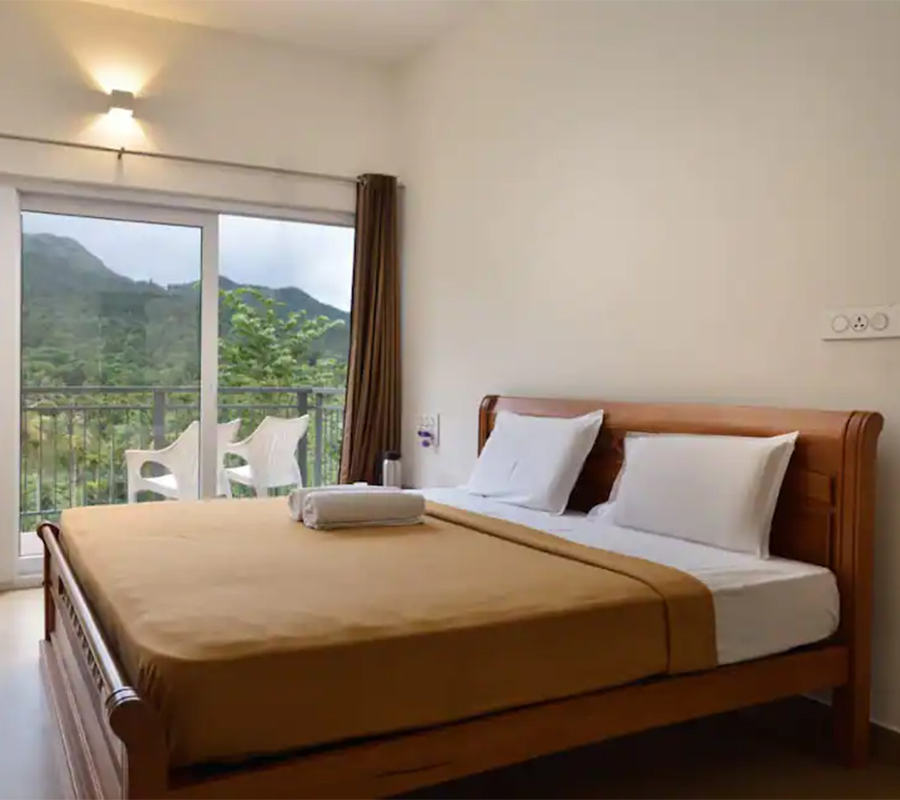 The two-bedroom villa is located in the lap of Chembra Peak in Wayanad surrounded by tea gardens. The spacious balconies and sit-outs are the highlight of this villa. They offer memorable views of the Chembra Peak, the forest, the waterfall and the tea gardens nearby. Guests can order lunch or dinner with their in-house chef. A comfortable living area with an L-shaped sofa leads to an open-plan kitchenette. The villa is child-friendly and also has a small and lovely play area outside.
Price: INR 15,833 per night
Location: Vythiri, Wayanad, Kerala
Book here
16. SaffronStays Amaya, Kannur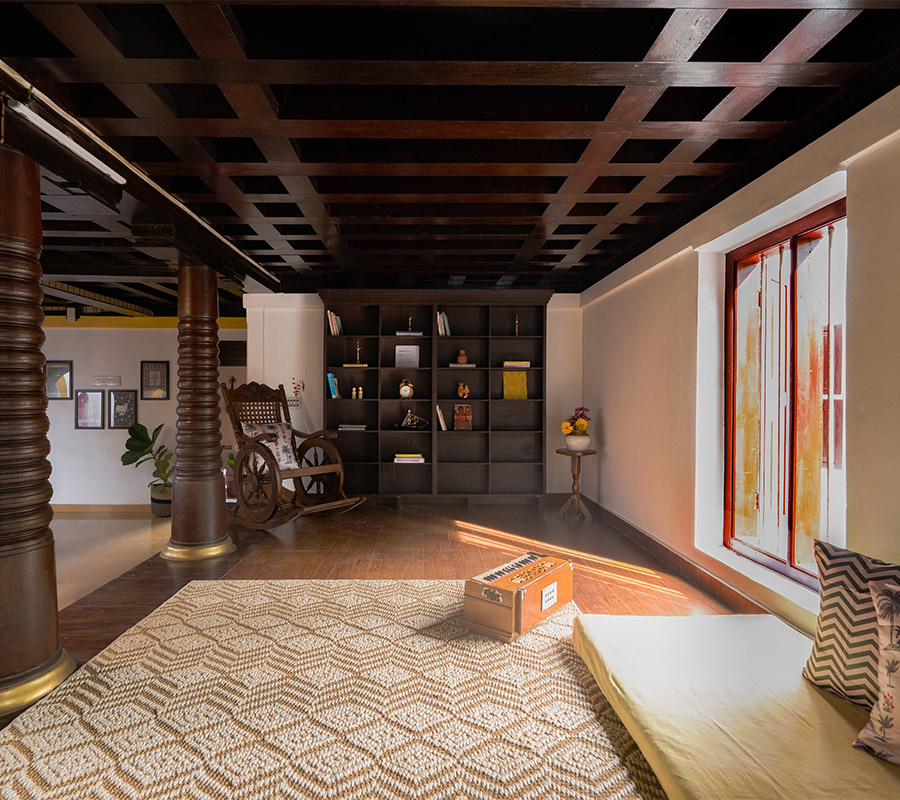 SaffronStays Amaya is a five-bedroom heritage homestay nestled in the calming greenery of Kannur in Kerala. Located just 15 minutes from Kannur Airport, this 300-year-old villa is a perfect choice for travellers looking to explore the local attractions, including Velliyamparamba Waterfalls, Palukachippara View Point, and Pazhassi Dam. Relax in one of the many quaint spots in the home, have a games night with your family and friends, or indulge in a traditional Kalari Ayurveda massage.
Price: INR 7,499 per night
Location: Porora P.O, Kallur Illam, via Maruthayi, Mattannur, Kerala
Book here
Disclaimer: ZeeZest.com is not responsible if these bookings are already sold out. Prices mentioned are excluding taxes.
Photo: SaffronStays AsanjA Dragonfly, Murbad; respective properties