Explorers looking for peace and magnificent beauty will find a hidden jewel called Kaas Plateau nestled in Maharashtra. Welcome to a captivating journey to the captivating Kaas Plateau, a location that captures the senses and leaves a lasting impression on the hearts of those who are fortunate enough to experience its magnificence.
In this article, travel with us virtually to the Kaas Plateau, a hidden ecological paradise. Discovering the mysteries of its flora and fauna, marvelling at its seasonal changes, and savouring the tranquilly that pervades every nook and cranny of this spectacular environment are all possible as we delve into the essence of this natural beauty.
The Kaas Plateau, popularly referred to as the 'Valley of Flowers of Maharashtra', is a hotspot for biodiversity that comes to life in the monsoon season with a riot of colour. This UNESCO World Natural Heritage Site offers an unrivalled sensory feast with its undulating meadows, bright carpets of wildflowers, and a kaleidoscope of colours spanning as far as the eye can see.
We come across a diverse tapestry of local flowers, some of which are indigenous to this area, as we meander over the paths of the plateau. The Kaas Plateau transforms into a live canvas, depicting the harmony and cooperation between people and nature through the vivid purples of the Karvi flowers and the delicate pinks of the Smithia hirsute.
The Kaas Plateau is home to a wide variety of fauna, including several kinds of butterflies, insects, and birds, in addition to its floral wonders. The sound of wings gently flapping fills the air as these creatures seek comfort and nutrition in the abundance around them. The chance to see these tiny creatures in their natural environment will enchant nature lovers and photographers alike.
The Kaas Plateau is not simply a tourist attraction; it is also a place to get back in touch with nature, admire its breathtaking beauty, and to be in awe of the complex web of life that even the tiniest ecosystems contain. It serves as a stark reminder of how crucial it is to safeguard and preserve our natural heritage so that future generations can enjoy and value it.
Join us as we set out on this exciting tour through the Kaas Plateau's stunning scenery. Allow the sights, smells, and colours to excite your senses and inspire a deep respect for nature's treasures. The ethereal splendour that greets us in this natural paradise will amaze and inspire you. 
Here are eight places you must visit when you're in Kaas Plateau
1. Blossom Plateau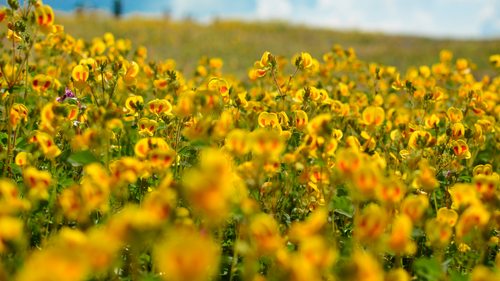 The Blossom Plateau is Kaas's beating heart and soul. As soon as you enter this lovely meadow, you are met with a riot of colour as innumerable wildflowers cover the ground. The plateau transforms into a living tapestry of natural beauty as the brilliant blues of the Karvi and the delicate yellows of the Smithia coexist.
Best time to visit: From late August through September, when blossoming is at its height
Timings: 8 am to 6 pm are the hours
Entry fee: Around Rs 100 per person
2. Thoseghar Waterfalls
Just a short drive from the Kaas Plateau is the Thoseghar Waterfalls, which feature a succession of breathtaking cascades. A mesmerising impression is produced by the sight and sound of the pouring water amid the beautiful surroundings. The best time to see waterfalls in all their splendour is during the monsoon.
Best time to visit: The monsoon season, from July to October, is the best time to travel
Timings: From 8 am to 6 pm
Entry fee: Entrance is free
3. Chalkewadi Windmill Farms
Near the Kaas Plateau, the Chalkewadi Windmill Farms offer a fantastical setting with rows of imposing wind turbines rising into the sky. The sight of these massive buildings set against the picturesque surroundings offers a special fusion of unspoiled beauty and renewable energy.
Best time to visit: All year round
Timings: 9 am to 6 pm 
Entry fee: Entrance is free
4. Sajjangad Fort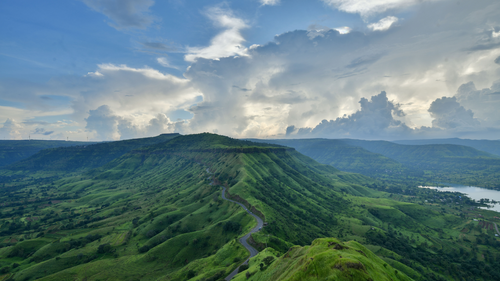 Perched on top of a hill, Sajjangad Fort provides sweeping views of the area. Being the ultimate resting site of the great saint Swami Ramdas, it has historical value. Both history buffs and spiritual searchers should visit the fort because of its historic architecture and serene atmosphere.
Best time to visit: The best months to go are from October to March when the weather is nice
Timings: Visiting hours are from 6 am to 6 pm
Entry fee: No entry fee
5. Koyna Wildlife Sanctuary
The Koyna Wildlife Sanctuary is a biodiverse sanctuary that is home to countless animal and plant species. There are opportunities for wildlife sightings and peaceful nature walks in the sanctuary's lush forests, flowing rivers, and quiet lakes.
Best time to visit: The best months to travel are from October to February because of the lovely weather
Timings: From 6 am to 6 pm are visiting hours
Entry fee: Around Rs 100 per person
6. The Vajrai Waterfall
The Vajrai Waterfall is one of the tallest waterfalls in India, cascading from an elevation of 853 feet. This magnificent waterfall, which is surrounded by rich vegetation, is a spectacular sight that astounds visitors.
Best time to visit: The monsoon and post-monsoon seasons, from July to November, are the best times to travel
Timings: 8 am to 6 pm
Entry fee: Entry is free
7. Kaas Lake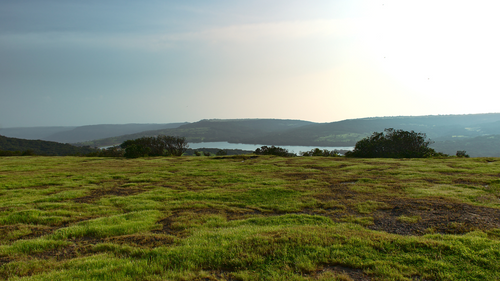 Located in the midst of lush hills, Kaas Lake is a tranquil refuge that provides relief from the dazzling floral vista. The lake's crystal blue waters reflect the surrounding scenery, providing the ideal atmosphere for reflection and relaxation.
Best time to visit: The lake is beautiful all year round
Timings: 9 am to 5 pm are the opening hours
Entry fee: Entrance is free
8. The Thoseghar Plateau
The Thoseghar Plateau is a lesser-known jewel with a gorgeous environment dotted with valleys, plateaus, and bodies of water. This unusual location is ideal for individuals looking for privacy and unspoiled beauty because it offers expansive views of the nearby countryside.
Best time to visit: The best months to go are September through December when the weather is nice
Timings: Open 24*7
Entry fee: No entry fee
Kaas Plateau and Alibag are two breathtaking locations in the state of Maharashtra that provide visitors with unique experiences. Although they are roughly 190 kilometres apart and positioned at a great distance from one another, the allure of both locations justifies travelling there together during the course of a forthcoming long weekend. Alibag enchants with its immaculate beaches and coastal charm, while Kaas Plateau mesmerises with its blossoming meadows and spectacular vistas. Travellers can create a great and varied vacation experience by organising their itinerary wisely and exploring the natural treasures of the Kaas Plateau before retreating to the serene waters of Alibag. Combining these two locations ensures a satisfying trip that highlights the alluring beauty of Maharashtra's various landscapes, whether it be immersed in the beautiful floral environment of the Kaas Plateau or basking in sun-soaked beach bliss in Alibag.
---
Photo: Shutterstock