We hear Goa and our mind wanders off to the beautiful beaches, and a lazy vacation spent facing the sultry sea, lulling our worries away.
Goa is home to a slew of beaches, some well-known, and some hidden. The tranquillity one can experience while visiting each of these off-beat hidden beaches in Goa is sublime. Although we love Goa in the monsoons and how plush green its beauty is, here is a place that sings a completely different tune when in season. It is a hub of tourists visiting from all around the world and the atmosphere is that of a celebration of ending another year with a bang.
So, let us get started with listing the best beaches in Goa and you can mark them for our must-visit list. What to expect from these top beaches in Goa? For your convenience, we're listing our top 10 beaches in Goa separately as North and South Goa beaches, since there are about 100 km between both regions and they are better covered when you can spare 3-4 days for each.
Here are the coolest Goa Beaches that you must visit
North Goa
In season, North Goa is "the" place to find yourself because of so many unique places and its sheer vibrant nightlife.
1. Arambol Beach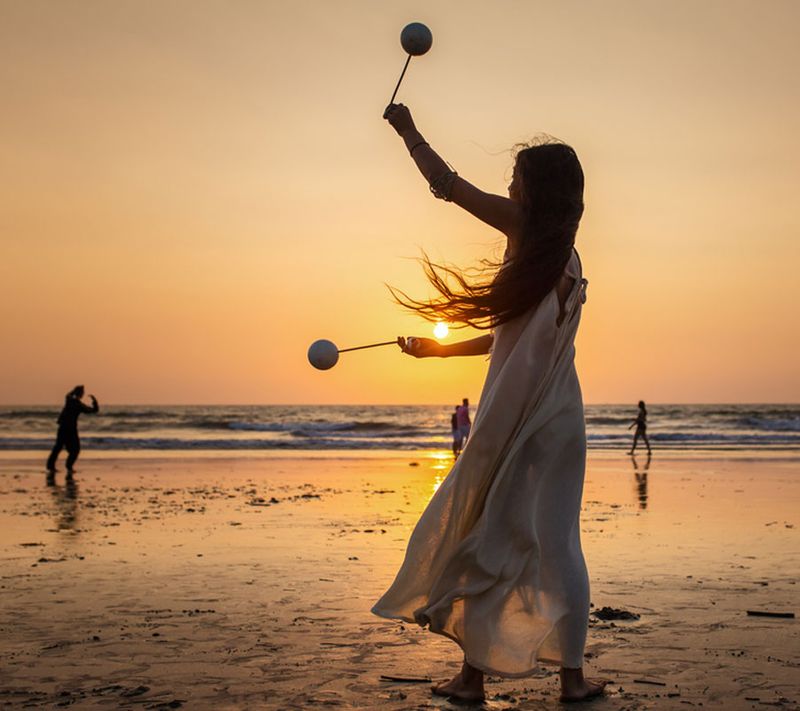 Also known as the Russian Beach, Arambol is located far up in North Goa. It is gaining a lot of tourist attention, which is understandable, but it is still considered one of Goa's best-kept secrets. The little fishing village of Arambol is mostly populated by foreign tourists and has many shacks which are owned by Russians themselves, who have fallen in love with Goa and made it their home. It has quite the party vibe to keep you entertained.
Make a note that it is Arambol beach you have to come to in order to head to the sweet water lake, which is a divine little spot to explore when visiting Arambol. It is a walk from the markets and leads to another small hook of the sea and a lake facing the same. Treat yourself to a dip in the sea and then take a turn in the sweet lake, which is said to have healing powers. The hippie culture which includes late-night parties, parasailing, kite festivals, beach shacks, thrift stores and more, is a beautiful and cultural spot that could keep you on your toes at all times. This beach is a paradise for your bohemian soul if you wish to dip your toes in the waves.
2. Ashwem Beach
Located in proximity to Arambol Beach is Ashwem, an isolated nirvana that is also home to the Olive Ridley Turtles. While they come ashore in the nesting season to lay their eggs, you won't find them all year round. What you will find is a clean expanse of sandy beach that overlooks the alluring Arabian Sea.
The beauty of Ashwem includes some of the most trendy boutiques and thrift markets where you will find some of the finest handicrafts and clothes to shop for. There are many ways to reach Ashwem Beach, such as from Panjim, Dabolim Airport, Mapusa Bus Stand and more. You can also find a buffet of beach resorts in this North Goan paradise.
3. Mandrem Beach
Mandrem has made it to our list of best beaches in Goa because of its white sand and actually clear water. Walking on Mandrem beach, you might forget your worries or even where you are.
In the midst of bustling North Goa, here is a beach which will give you a feeling of melancholy. In between the twin beaches of Morjim and Arambol, lies Mandrem. With many new shacks opening up here, this should be a must-visit.
4. Vagator Beach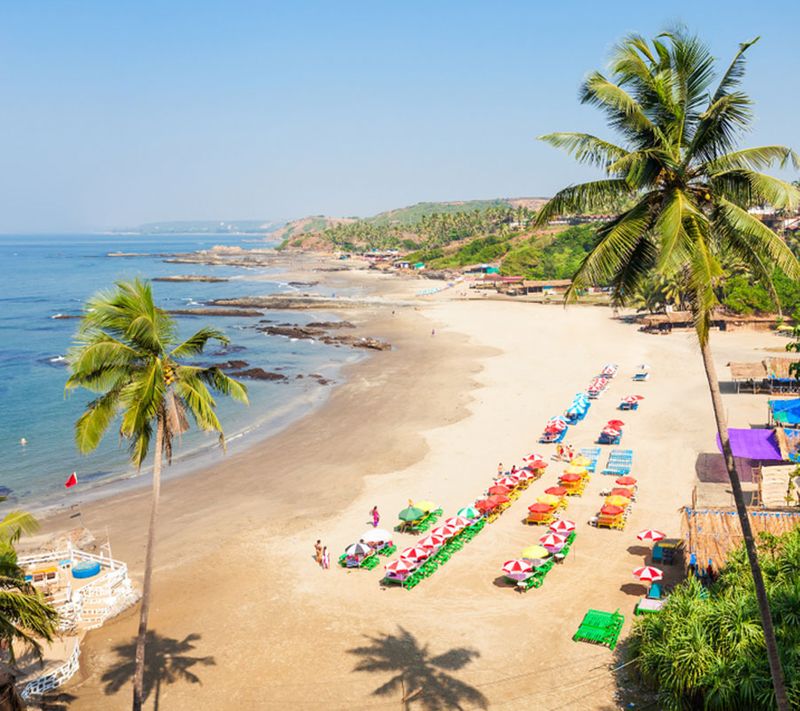 Located in North Goa, it is situated at the end of the Sinquerim, Candolim, Calangute, Baga and Anjuna stretch. It is separated from Morjim by the Chapora River and Ozran Beach, also called the Little Vagator beach.
It has made our list because of the variety of activities that Vagator provides. It is the beach for you when you are in a playful spirit wanting to experience all the water activities of Goa, starting from parasailing, boat rides, jet skis and dolphin watching, to name a few. Vagator is characterised by a combination of its soft white sands and imposing but beautiful rocky cliffs.
5. Anjuna Beach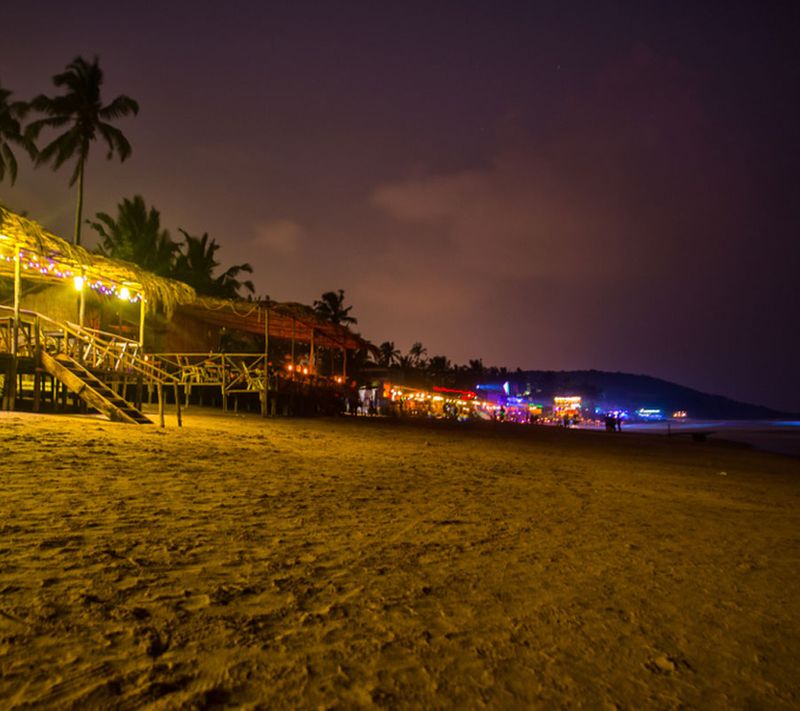 Towards the south of Vagator Beach lies Anjuna, one of the oldest tourist destinations in Goa. If you are a nature lover, this beach is for you to enjoy the full moon parties that are hosted here during Christmas and New Year's. Amongst the most popular beaches in Goa, this one stretches almost 2 km and is also popular amongst families and water sports lovers.
If you are a party person, you must visit this beach for its nightlife. Nightclubs like Paradiso are famous party hubs. There are a number of great eateries as well, like Curlies, that are apt for those daytime brunches. Anjuna is not only famous for its pretty views, but also for its Wednesday Flea Market.
South Goa
Visiting Goa and not visiting the south of Goa for its scenic beaches would be a sin. Let us start with a small hike that leads to one of the prettiest gems tucked away in India.
6. Agonda Beach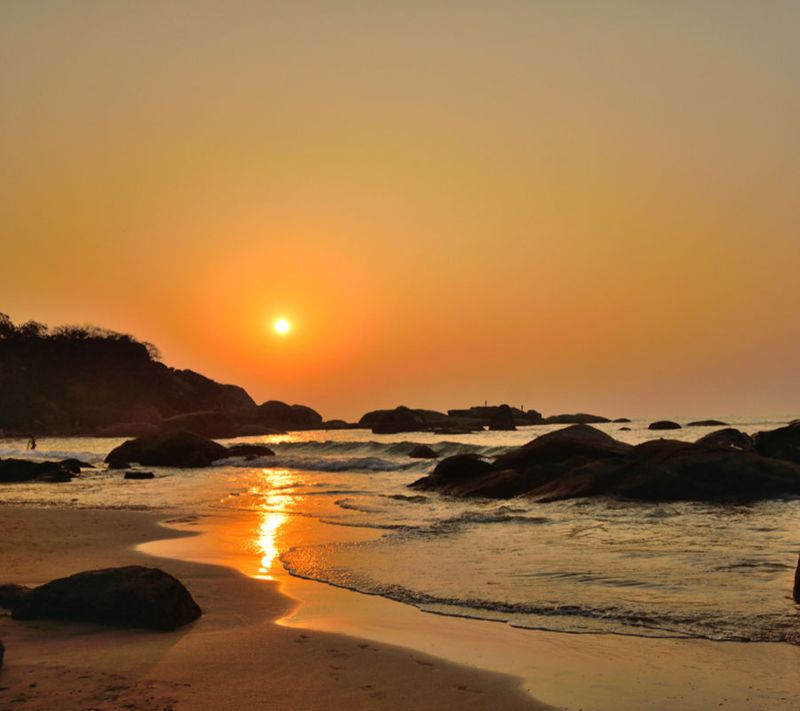 This beach is located in Canacona in the South Goa district, one of the first beaches in the south to be covered. This is a beach for those beach bums who would just want to sit ashore listening to the sound of waves crashing, maybe with a notepad in hand, inspired to write and soak in the beauty of nature.
Agonda is far from the bustle of North Goa and is perfect for the artistic soul. Agonda Beach is for those who want to spend time amidst peaceful surroundings and away from the chaos. Watch a sunset here and see life go by.
7. Butterfly Beach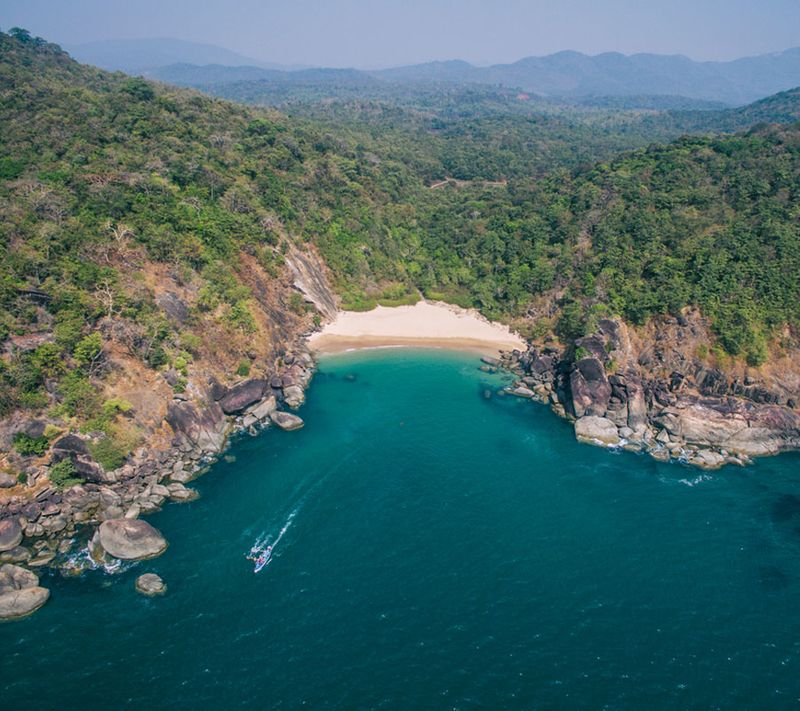 This beach got its name because the surrounding trees on the beach attract thousands of butterflies. Also, the beach is uncannily shaped in the form of a butterfly. The Butterfly beach lies in the Canacona region, to the south of Palolem.
This beach is in the form of a small cove surrounded by dense trees. This beach is one of the most isolated and one that attracts fewer tourists. You can visit this beach by boat or ferry. After this, you would need to do a challenging hike as no vehicles can go there.
8. Colva Beach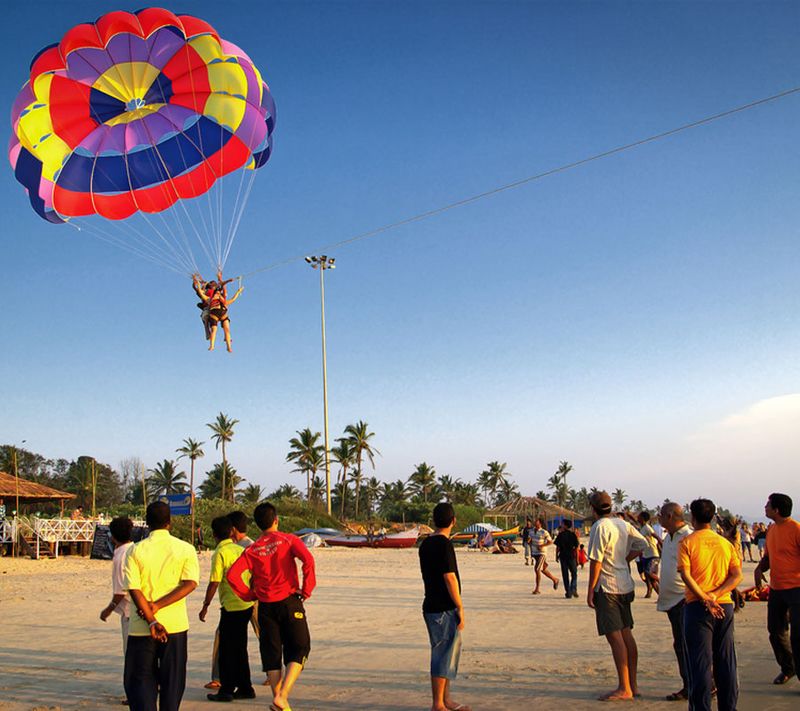 Colva Beach, although situated in South Goa, is easily accessible to most of the major places in Goa. One of the most popular beaches in the south, it deserves all the attention it gets.
All the beautiful Goa pictures with green coconut trees gushing and bending towards the white sands ushering into the pristine blue waters — that is Colva for you. It is pretty as a postcard. Although quite crowded, it is perfect for sea bathing and just chilling with a cold one while enjoying the many shacks lined up during the season.
9. Mobor Beach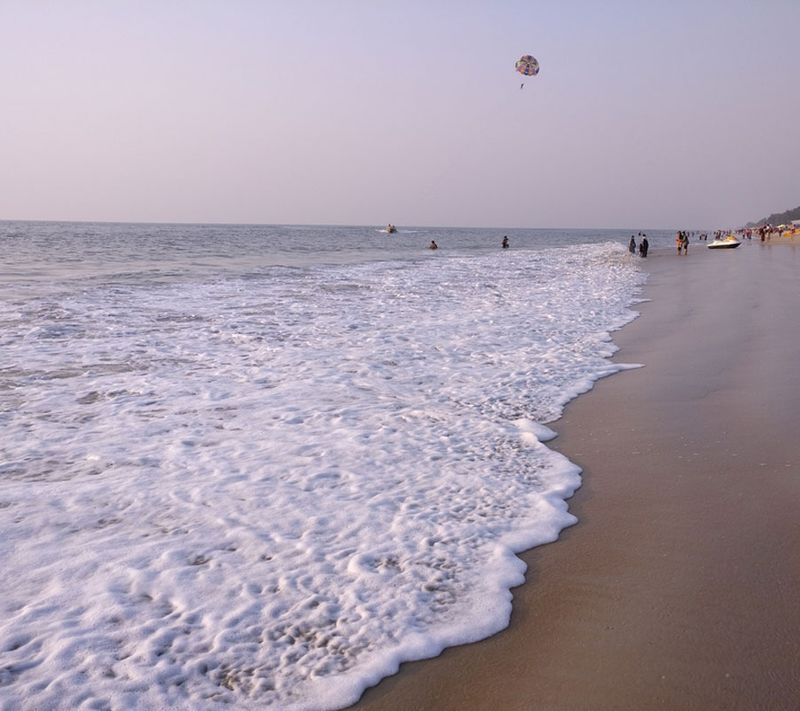 While Mobor Beach qualifies as a private beach because of its association with The Leela, there are still some parts of the beach that can be accessed by the public.
With its impeccable white sands spread across the beach that touch the clean waters of the Arabian Sea, Mobor is perfect for a getaway in Goa.
10. Hollant Beach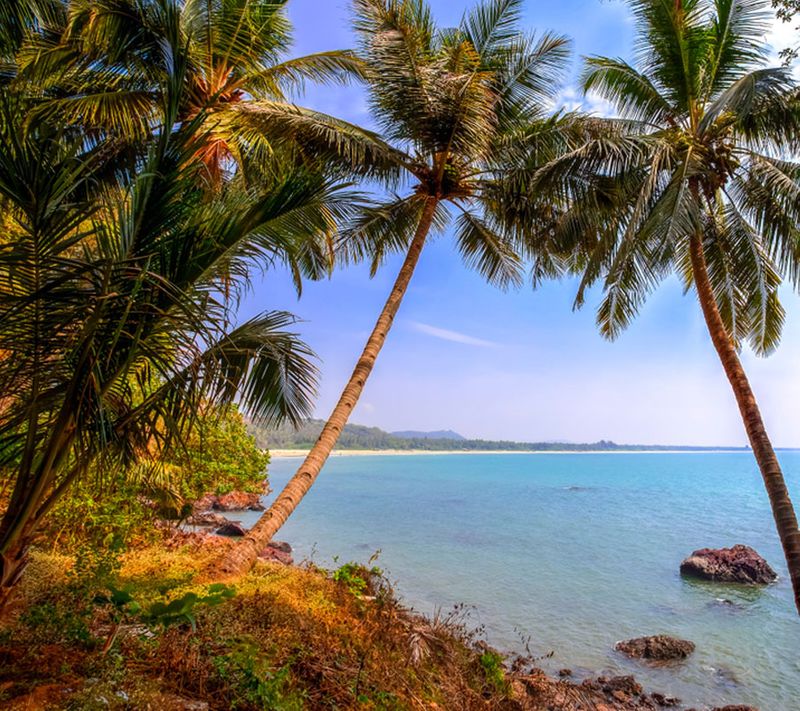 Goa's Hollant Beach is lined with rustic boats and glistening golden sand. It's the best place to escape to if you want to visit a secret beach in Goa. The mesmerising views of the alluring sunset teamed with the scintillating waters that touch the shore make for quite an experience.
It is located in Bogmalo in South Goa. There is no public transportation to the beach, so you must drive yourself. Luckily, you can unwind at the beach and even check into one of the beach resorts in Bogmalo or Hollant. It would be worth all the travel, that is guaranteed!
Since the turn of the century, Goa has earned the title of the party capital of India for its exquisite beach parties all season long. But is that all that it offers? No, there is a quaint charm to the narrow lanes, the architecture with Portuguese influences, the small and nestled towns, late-night flea markets and the fresh seafood — these are just some of Goa's wonders, to name a few. 
So, what are you waiting for? Pack your bags and get that beach body ready!
---
Photo: Shutterstock