India, a land of diverse landscapes and cultures, offers a plethora of tropical destinations that become more enchanting during the winter months. As the rest of the world bundles up in layers to combat the cold, India's tropical paradises attract travellers with their warm temperatures, stunning natural beauty, and an abundance of experiences. These captivating tropical destinations in India come alive during the winter season, making it the perfect time to embark on a memorable journey through this incredible country. From the serene backwaters of Kerala to the vibrant festivities of Goa and the culturally rich landscapes of Rajasthan, India's winter treasures await your arrival. These destinations boast pleasant weather, lush landscapes and a variety of activities to enjoy during the winter months.
Explore these stunning tropical destinations this winter 
1. Goa
Goa is a popular tropical destination located on the western coast of India. It is renowned for its stunning beaches, vibrant culture, and a mix of Indian and Portuguese influences. Goa is famous for its beautiful beaches. Some of the most popular beaches in Goa include Baga Beach, Calangute Beach, Anjuna Beach, and Palolem Beach. Goa is renowned for its vibrant nightlife. The state hosts numerous beachfront clubs, bars, and shacks where you can enjoy live music, dance to electronic beats, and socialise with fellow travellers.
Best time to visit: November to March
Things to do: Parasailing, jet-skiing, snorkelling, scuba diving, windsurfing, banana boat rides.
2. Andaman and Nicobar Islands
The Andaman and Nicobar Islands are an amazing tropical destination located in the Bay of Bengal, part of India's territory. Comprising a total of 572 islands, these islands are known for their pristine beaches, lush rainforests, and vibrant marine life. Also known as Kala Pani, the Cellular Jail is a historic jail in Port Blair that served as a prison during the British colonial era. It is a significant historical site and offers insights into India's struggle for independence. Other famous places include Radhanagar Beach, Elephant Beach, Kala Pathar Beach, Aamkunj Beach, Vijaynagar Beach and Bharatpur Beach.
Best time to visit: October to March
Things to do: Snorkelling, Scuba diving, trekking, Mangrove creek safari, bird watching
3. Gokarna, Karnataka
Gokarna is a beautiful tropical destination located in the southwestern state of Karnataka in India. It has gained popularity in recent years as a more serene alternative to Goa, which is not far away. Gokarna is known for its pristine beaches, with some of the most famous ones being Om Beach, Kudle Beach, Half Moon Beach, and Paradise Beach. These beaches offer golden sands, clear blue waters, and a serene atmosphere, making them ideal for relaxation and water activities.
Best time to visit: October to February
Things to do: Beach hopping, sunset viewing, trekking, yoga and meditation, parasailing, jet skiing
4. Lakshadweep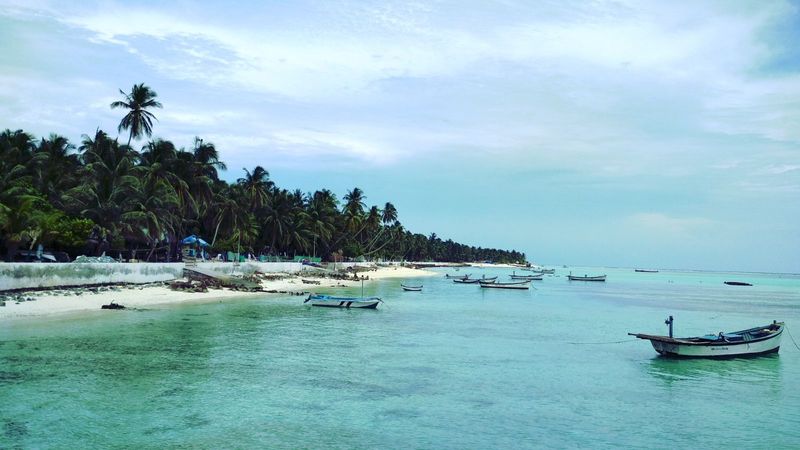 Lakshadweep is a group of stunning tropical islands located in the Arabian Sea, off the southwestern coast of India. These islands are known for their pristine white sandy beaches, crystal-clear waters, coral reefs, and rich marine life. Kavaratti is the capital of Lakshadweep and one of the most popular destinations. It offers beautiful beaches and is known for water sports. Often referred to as the 'Jewel of Lakshadweep', Bangaram Island is a paradise for beach lovers and water sports enthusiasts. It is known for its clear waters, coral reefs, and abundant marine life. Agatti, Kadmat, Kalpeni, Minicoy, Andrott, Amini and Cheriyam are other notable islands.
Best time to visit: October to March
Things to do: Snorkelling, scuba diving, kayaking, windsurfing, parasailing
5. Kochi, Kerala
Kochi, also known as Cochin, is a vibrant and popular tropical destination located in the southern state of Kerala, India. It is known for its stunning natural beauty, rich history, and diverse culture. Kochi boasts several pristine beaches, including Fort Kochi Beach, Cherai Beach, Marine Drive Beach, Kuzhupilly Beach, Veeranpuzha Beach, Munambam Beach and Marari Beach. These beaches are perfect for relaxing, swimming, and enjoying beautiful sunsets. The city is surrounded by a network of backwaters, including the famous Vembanad Lake.
Best time to visit: October to February
Things to do: Sunset watching, jet-skiing, parasailing, sea surfing
6. Chennai, Tamil Nadu
Chennai is a major city located on the southeastern coast of India. It offers a unique blend of culture, history, and coastal experiences that make it an interesting tropical destination in its own right. Its warm climate and proximity to the Bay of Bengal give it a tropical feel for much of the year. Chennai is home to several beautiful beaches, including Marina Beach, which is one of the longest urban beaches in the world. Besant Nagar Beach, VGP Golden Beach, Santhome Beach, Elliot's Beach, Neelankarai Beach, Pebble Beach and Covelong Beach are also popular options. These beaches offer a chance to relax, take a stroll along the shore, and enjoy the coastal scenery.
Best time to visit: October to February
Things to do: Beach picnic, paddle boarding, windsurfing, beach volleyball
---
Photo: Shutterstock