Rishikesh (or Hrishikesh) is in the Dehradun district of the Indian State of Uttarakhand. Located on the right bank of the Ganges river, it is a holy site for Hindus, and a place where ancient sages and saints came to meditate and seek enlightenment. Along the river banks, you can find a wide variety of religious buildings. 'Yoga Capital of the World' and 'Gateway to the Garhwal Himalayas' are just two of the many nicknames bestowed upon this city. From 1999, the city has played host to the 'International Yoga Festival' during the first week of March.
A mere 86 kilometres (53 miles) separate the Tehri Dam and the popular yoga destination of Uttarkashi, 170 kilometres (110 miles) uphill on the way to Gangotri. Rishikesh is the location to visit the four Chota Char Dham sites (Badrinath, Kedarnath, Gangotri, and Yamunotri), making it a popular spiritual destination as well. As a hub for Himalayan tourism, it serves as a gateway to popular summer and winter trekking locations including Dodital, Dayara Bugyal, Kedarkantha, and Har Ki Dun, where visitors may enjoy camping and magnificent views of the mountains.
All the things you must do in Rishikesh
1. River rafting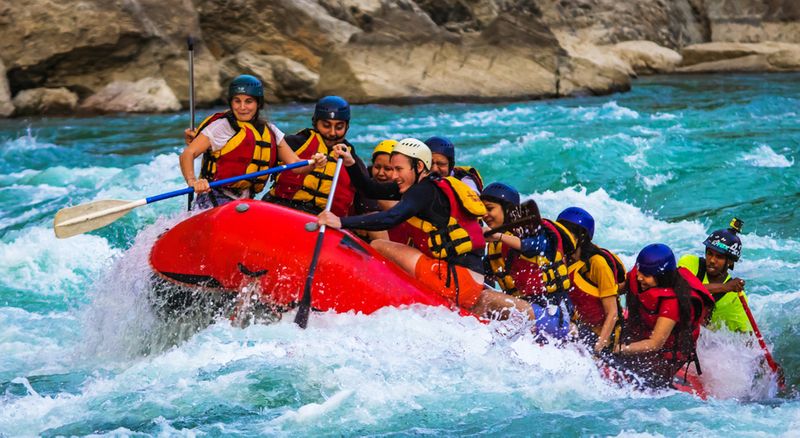 It's impossible to think of Rishikesh without also picturing river rafting, and vice versa. Truly, it is among Rishikesh's most exciting activities for those seeking adventure and thrill. If you're someone who lives for new and exciting experiences, then this is definitely something you should try!
Except for the rainy season, rafting on the Ganges in Rishikesh is enjoyable at any time of year. Rishikesh river rafting is best experienced between the months of October and June.
Timings: Monday through Friday, 9am to 5pm
Why go there: Because the rapids on the Ganges river in Rishikesh are some of the best in the world, making it a top destination for rafters.
2. Bungee jumping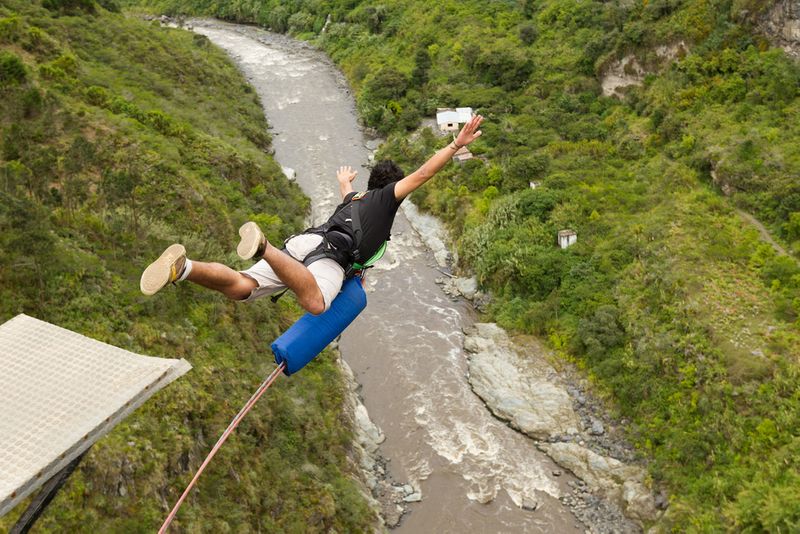 Bungee Jumping, or "adrenaline junkie fuel," is another exciting activity to partake in if you're seeking a sense of adventure close to home. Float at more than 80 metres above the ground and feel your heart race as you drift away into nothingness. If you want to experience bungee jumping in India, Rishikesh is where you need to try it out. It's unique as it's home to India's tallest bungee jumping platform. And, the required weight ranges from 35-110 kg.
Typically, one can expect to spend around Rs 4,000.
Where: Jumping Heights, Mohanchatti
When: January to July and September to January are the best times for this activity
Timings: Monday through Friday, 9.30am-3.30pm
3. Visit the Lakshman Jhula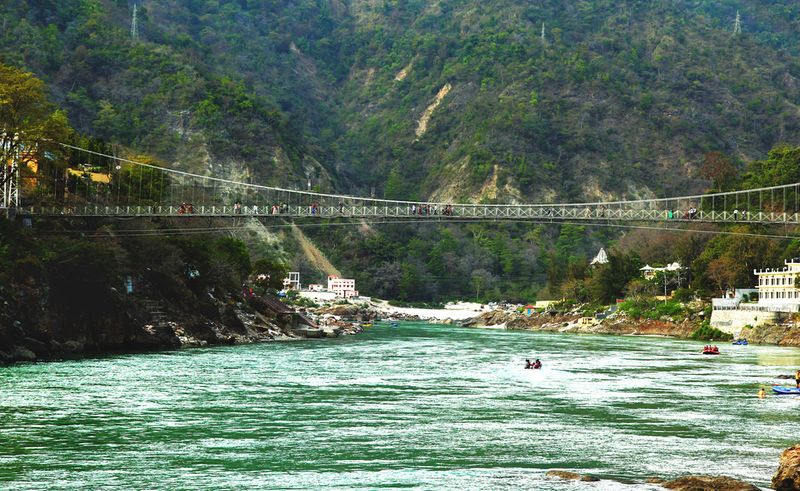 Lakshman Jhula is a symbol of the town and one of its most recognisable landmarks. One of the most enjoyable activities in Rishikesh is simply getting around and going shopping. Constant foot traffic from visitors makes this one of the city's busiest spots. You can go shopping at any of the nearby bazaars or local markets.
What's unique: Legend has it that the Hindu god Lakshmana crossed this route with the aid of jute ropes.
4. Get an Ayurvedic massage
India is the cradle of ayurveda, and the city of Rishikesh is the pinnacle of ayurvedic excellence. Here, the body and soul can relax completely. Different price points are available for ayurvedic massages in Rishikesh. For a fun evening in Rishikesh, this is a great option. This is one of those unusual Rishikesh activities you can't miss.
Hemadri Ayurveda Centre, Ayurveda Bhavan, Ananda in the Himalayas, and Braham Yoga and Healing are some of the best venues to receive ayurvedic treatments and massages.
What's unique: The therapeutic centres that incorporate various ayurvedic methods and provide a view of the mountains.
Price: Rs 1,000
5. Practice yoga at a meditation centre
Though the city is often associated with adventurous activities, yoga and meditation are the true pillars of Rishikesh's culture. Rishikesh is home to a plethora of yoga and meditation centres. Don't think twice about entering; instead, let the peace within you take over. This is without a doubt the most effective method of relaxation in all of Rishikesh.
The top ashrams for yoga and meditation in Rishikesh: Some of the best ashrams in Rishikesh include Parmarth Niketan Ashram, Omkarananda Ganga Sadan, Sivananda Ashram, and Shree Mahesh Heritage School.
What's so unique: The beautiful settings are perfect for both group and private yoga sessions.
Price: Rs 600
6. Mountain bike through a trail
Mountain biking in Rishikesh is an amazing experience for individuals who like to experience adventure on two wheels. The excitement will be pumping as you pedal through the muddy woods and uneven terrains. You and your friends can choose from many different bicycle and bike rental services in Rishikesh. Many Rishikesh hotels and travel agencies include mountain biking in their list of available activities for visitors. There is a mountain riding route that will allow you to see all of Rishikesh and the surrounding area.
7. Visit the Beatles ashram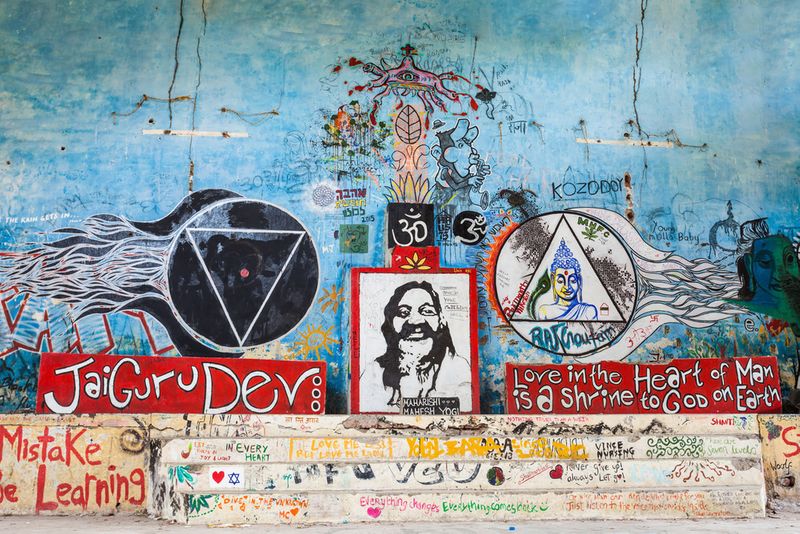 The members of the famous British band, The Beatles, travelled to India to study under Maharishi Mahesh Yogi to gain insight into the practise of transcendental meditation. This ashram has evolved into one of the best spots in Rishikesh to spend time with your friends. With all that amazing graffiti art on the walls, your selfies are guaranteed to turn out beautifully. This is a great example of the unique activities that can only be experienced in Rishikesh.
Where: Swarg Ashram, Rishikesh. Uttarakhand, 249304.
Timings: 10am to 4pm
8. Waterfall climbing
If you have checked rock and hill climbing off your list and are still in the need for activities that satiate your desire for adventure - The time has come to try your hand at waterfall climbing. It's one of the most unique adventure sports in India. And, one of Rishikesh's most popular activities is a trek up a mountain followed by a walk in the opposite direction of the river's flow. And isn't that the coolest idea ever to be able to ascend a waterfall? If you see things our way, put this thrilling accomplishment on your schedule right away. The Need Garh Waterfall is a great place to visit for this activity.
Timings: 5am to 7pm
Price: Rs 1,000
9. Tackle the giant swing
This is a great alternative to bungee jumping if you're looking for exciting and adventurous activities to do in Rishikesh. The name of this particular outdoor pastime alludes to the fact that it entails a good deal of daring. A person is tied to a rope and swung back and forth between the two ends of a precipice. As you swing in the air, take in the breathtaking views of Rishikesh's verdant Himalayan ranges. Mohan chatti is the place to go for a large swing in Rishikesh.
Timings: 10am to 4pm, closed on Tuesdays
What's unique: New Zealand is responsible for the design of the 83-meter-tall big swing.
10. Tour the temples
A trip to Rishikesh would be incomplete without exploring the city's many religious buildings. There are several famous temples in Rishikesh, each of which provides visitors with an insight into the town's longstanding traditions and customs. Do visit the temples if you're interested in religious history and need a bit of tranquilly at the end of a busy day.
Travellers should stop by the Neelkanth Mahadev Temple, the Lakshman Temple, the Raghunath Temple, and the Trayambakeshwar Temple.
11. Camp under the stars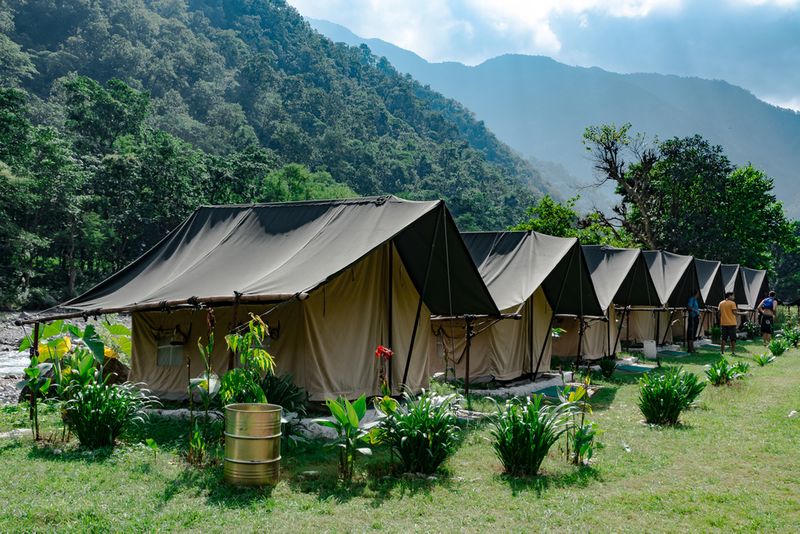 If you're a newbie to adventure, and have been excited to try something out for the longest time, camping is the best adventure activity to start it. Camping in Brahmpuri is only one of the many evening activities available in Rishikesh. Brahmpuri, just a short drive away from Rishikesh, is a great option for those who would prefer to sleep under the stars next to a rushing river instead of in one of the city's many plush villas. A bonfire, a night under the stars, and a morning with crisp mountain air are all possible here.
12. Visit the Osho Ganga Dham Ashram
If you're looking for a place to reflect while taking in the beautiful natural scenery, look no further than the Osho Ganga Dham Ashram. This ashram, which was established by the Indian spiritual teacher Osho, is where visitors can learn the practise of active meditation to enhance their cognitive abilities.
Address: Jaanaki Cottage, Lease No. 52, Badrinath Road, Brahmpuri, Rishikesh, Uttarakhand 249201
Timings: 7.30am to 9.30pm
What's unique: A calming place of worship with a beautiful backdrop
13. Catch a glimpse of the Ganga Aarti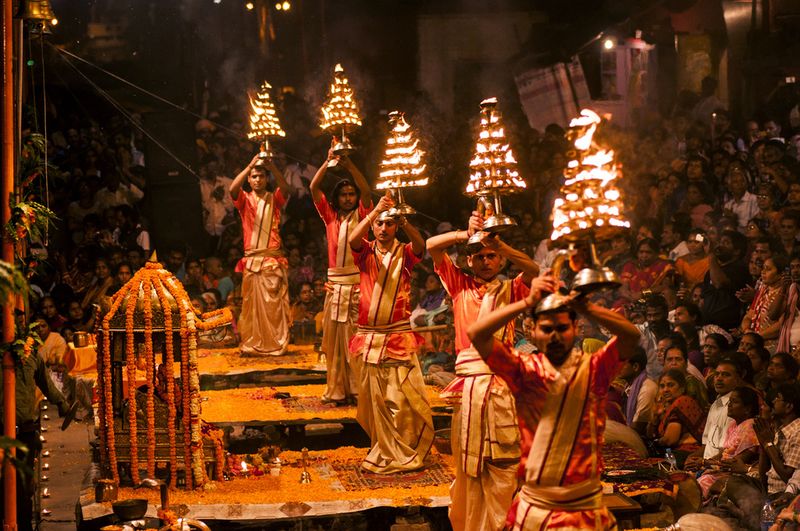 Rishikesh is split in two: one is a constant adventure party and the other is a peaceful sanctuary. Go to the Ganga Aarti in Rishikesh to learn more about the city's other side and the rich Hindu traditions that are practised there. Triveni Ghat is where the Ganga Aarti is held in Rishikesh. After the sun goes down, the ghat is illuminated by hundreds of incensed lights, inviting your spirit to become acquainted with the tranquil side of this action-packed metropolis. Indeed, this is one of the most unusual activities available in Rishikesh.
Timings: In Rishikesh, the aarti on the Ganges takes place between 6pm and 7 pm
14. Try cliff jumping
Cliff jumping in Rishikesh originated due to the city's location in the Shivalik region, which is home to cliffs of varying heights and is encircled by the sacred Ganges river. This activity, like many others in Rishikesh, is accessible to both novices and seasoned adventurers. In the end, though, you'll find that it's one of the most exciting adventure activities available in one of the stunning hill stations close to Rishikesh.
15. Eat at cafes with a view of the Ganges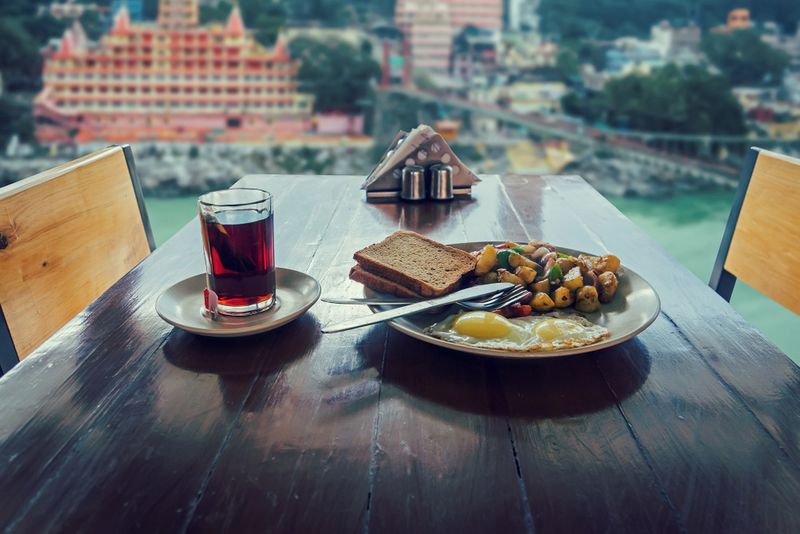 Rishikesh has a rich and diverse culinary tradition, best enjoyed in a cafe overlooking the Ganges in a natural setting. Pasta and Dal Fry are just two examples of the many delicious dishes available in Rishikesh. Many of Rishikesh's eateries provide cheap or even free internet access. The Little Buddha Cafe, The 60s Cafe, Bistro Nirvana, and Ellbee Ganga View are just a few of the many popular cafes in the area. The cafes here offer a laid-back atmosphere, and many of them look out over the River Ganga. What sets it apart is its unique Asian fusion cuisine and stunning scenery.
---
Photo: Shutterstock