"The helicopter approaches closer than any other (vehicle) to fulfilment of mankind's ancient dream of the flying horse and the magic carpet," American-Russian aviation pioneer Igor Sikorsky once said. And I couldn't agree more when I took a ride with Blade India's latest helicopter service that promises a breathtaking ariel view of the sunny state that I had never witnessed before. Now here's your answer to crisis-cross across Goa in a jiffy and make sure you hit all the party spots. 
Touted as the party-state of India, when one says Goa, beaches, shacks, booze, susegad vibes and crazy nightlife are the words that come to one's mind. But if you keep the party scene aside, Goa is buzzing with a host of offbeat experiences. The latest addition to this list is a helicopter service, introduced by Blade India and the government of Goa, which is expected to add an alternative approach to experiencing the state in all its glory.   
Heli tourism in Goa 
Urban air mobility company Blade India, a joint venture between US-based flight aggregator Blade Urban Air Mobility Inc. and India-based Hunch Ventures, in association with the government of Goa announced the launch of three helicopter services for locals and tourists alike on May 20, 2022. These services include by-the-seat flights connecting Goa airport to various parts of Goa – north, south, and old Goa airport – in addition to private charter services within Goa and from Maharashtra and short 10-minute experiential rides. The heli tourism services were announced at a press conference at the Taj Holiday Village Resort and Spa, situated in Candolim, Goa, in the presence of Pramod Sawant, the chief minister of Goa, Amit Dutta, managing director, Blade India, and Karanpal Singh, founder, Hunch Ventures.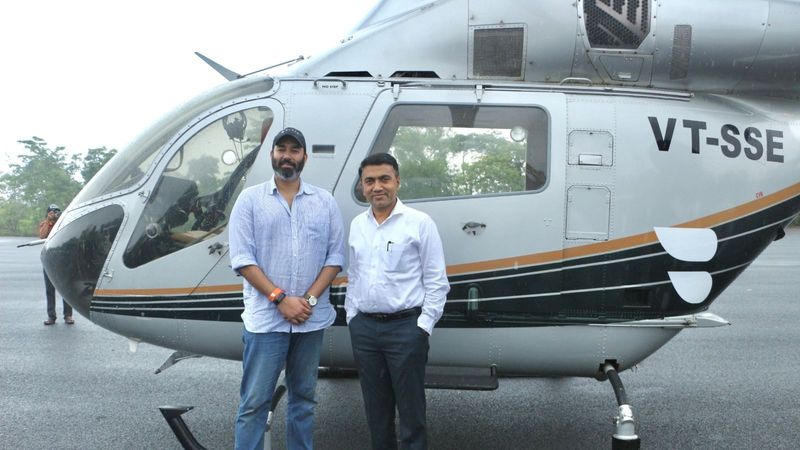 Blade India already operates in Maharashtra and Karnataka and covers destinations including Mumbai, Pune, Shirdi, Bengaluru, Coorg, Kabini and Madikeri. Goa is the third state where it has expanded its services and it will be fully operational in a couple of months, just in time for peak tourist season. 
"Timesaving, connectivity, and convenience are key here. Amid the hustle-bustle of life, today, why would one want to let go off 6 to 8 hours of their leisure time to travel to a destination when it's possible to do so in much lesser time? Blade Indian helicopter services will not only make remote areas of Goa accessible to people, offer an alternative view of the beautiful scenery of Goa but also offer them the convenience of landing in a particular part of the city without taking a trip to the airport and getting stuck in traffic on the way," explains Karanpal. 
From north Goa to Dabolim airport in less than 10 minutes 
The roar of the Airbus helicopter's rotor blades was all I could hear as we – Karanpal and a couple of fellow journalists – neared the Sanquelim helipad, which was about 3km away from Taj Holiday Village Resort and Spa, where the press conference was held. The first-time heli flyer in me was as overwhelmed as it was excited and thrilled to be part of this experience. This was our transport to the Goa airport, so we could board our flights back home. The six-seater vehicle was running full, and our pilots, captain Pradeep Saini and captain Nirmal Singh promised us a bird's eye view of the state's beautiful coastline in the 10-minute ride to the airport. At the beginning of the ride, each passenger was given a pair of headphones with a mic connected, to communicate with each other. These headphones cancelled the noise of the rotor.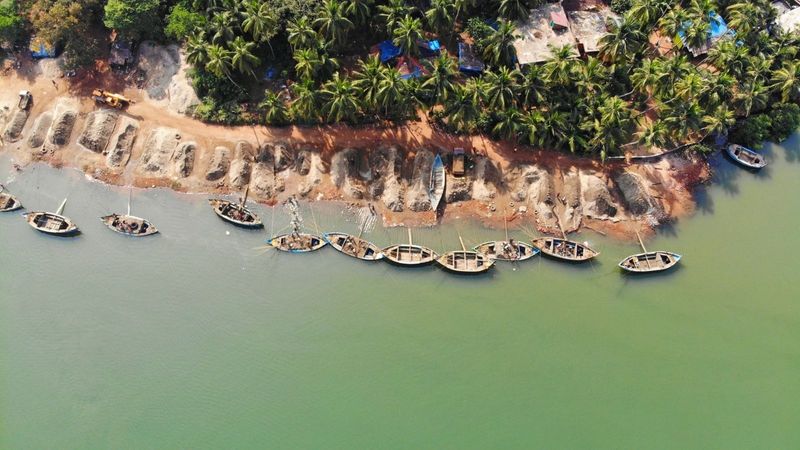 We reached our destination in approx. seven minutes, three minutes early, but had to hover around the airport because there were a couple of flights and fighter planes on the runway, ready to take off. The overall ride was smooth, and I can say that the best way to appreciate the dramatic scenery of Goa is from above.  
We cruised a few 100 feet above the land in the middle of an afternoon, and from that height, I got to an alternative perspective, no shacks and partygoers in sight, I enjoyed the lush green forest patches, tall cliffs, spectacular shorelines that seemed never-ending, and mesmerising waters – the sea as well as river Mandovi. What amped up the whole experience was a pre-monsoon shower, which gave Goa a whole different vibe and a break from the scorching summer heat.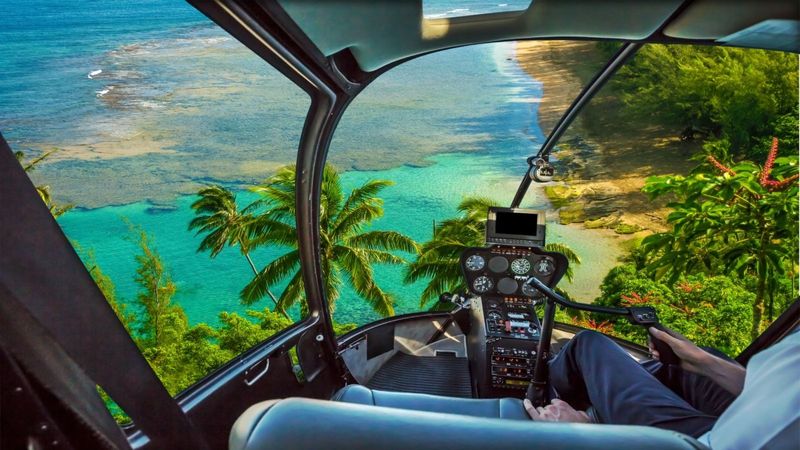 While the endless stretch of water, lush greenery, and later, buildings looking like Legos from the sky, were a treat, the moments when the pilot manoeuvred the helicopter over hills and tall buildings were not for the faint-hearted. Fortunately, it was thrilling for my fellow passengers and me.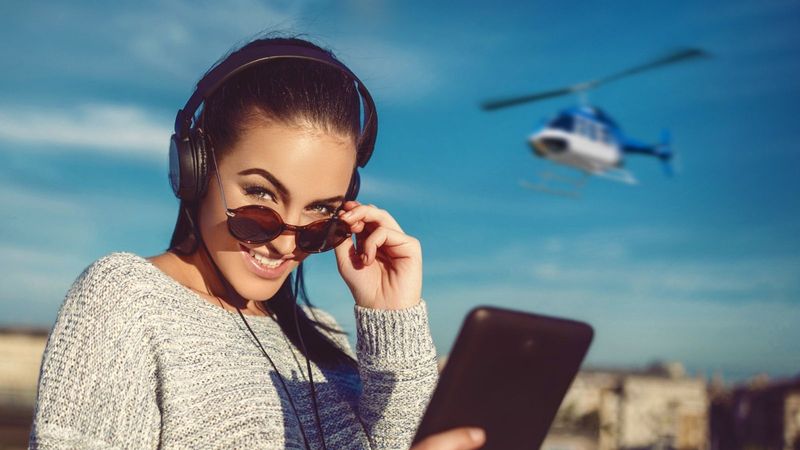 The services have not started fully yet, but a 10-minute experiential ride like this can cost you anything between Rs 3,000 and 4,000 approx., Karanpal informs us. You can book a ride via flyblade.in. 
---
Photo: Shutterstock and Blade India