Almost as if replicating a scene from the popular Bollywood blockbuster Lagaan, we narrow our eyes and look up at the Mumbai sky which is on the verge of turning grey on a Saturday morning. Unlike the film, we are actually hoping that it doesn't rain. It is 7:30 am and armed with our windcheaters we are looking for Royal Cinema — the meeting point for Zoya Kathawala's walking tour of Kamathipura. Kathawala whose family had once lived in the area has been conducting workshops at Mumbai's Bhau Daji Lad Museum as an art and culture consultant. Her family's early connection with the area led her to want to delve into research about the place and look 'beyond the brothels' and she was fascinated with what she found.
A redeveloping Kamathipura
I had walked in the lanes of the city's red light district many years ago. It was 2016 and the talks of redevelopment in the area were ripe. Accompanied by a city-based architect, we met the residents of brothels who were worried about being displaced and getting a raw deal in the redevelopment bargain. It is now 2022 and the skyline of Kamathipura looks quite different.
There are a number of under-construction high rises on both sides of the narrow lanes. "The theatre you're looking at is soon to go in for redevelopment," Kathawala tells us. We are expecting her to tell us how valuable the building is and how the redevelopment will change it all, but she does not. "Some of the buildings are in very poor condition and the people who live here are best suited to decide whether or not they will benefit from this redevelopment," she says.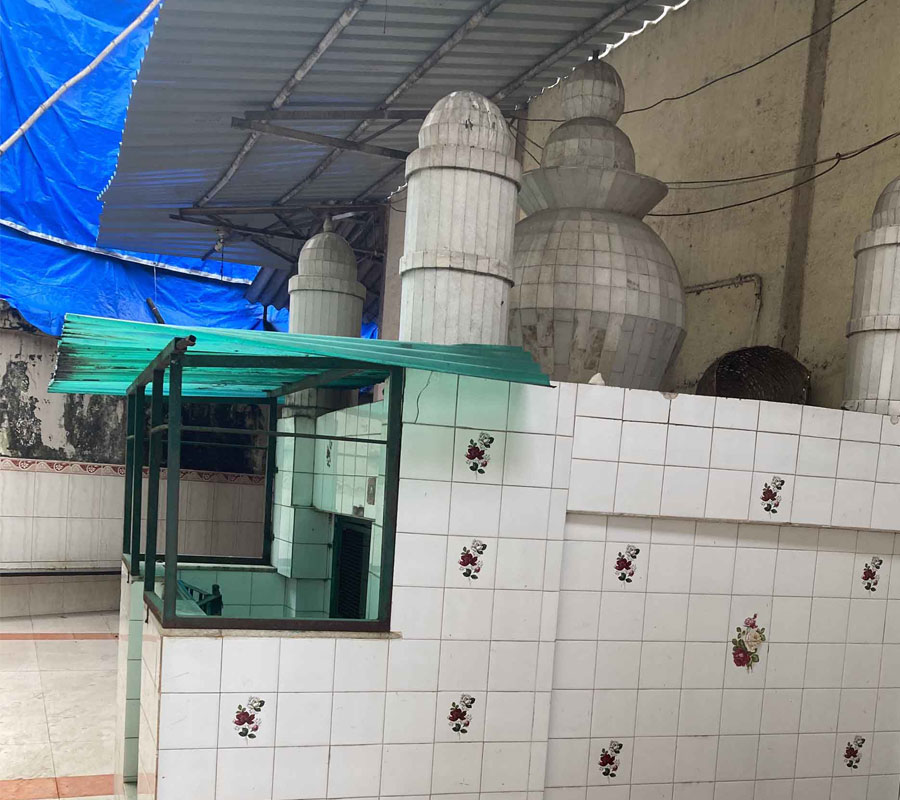 What is not likely to be demolished though is the Islamic shrine located inside the theatre. While Kathawala isn't certain about who built the shrine, the theatre's owners take responsibility for its upkeep. Interestingly, many other theatres located in the area also have a shrine built inside. "The area is full of such fascinating nuggets. It's also full of contradictions, which makes it so interesting. Imagine a shrine being placed inside a cinema hall, when such entertainment is kind of looked down upon in 'conservative' Islam," says Kathawala.
Family connection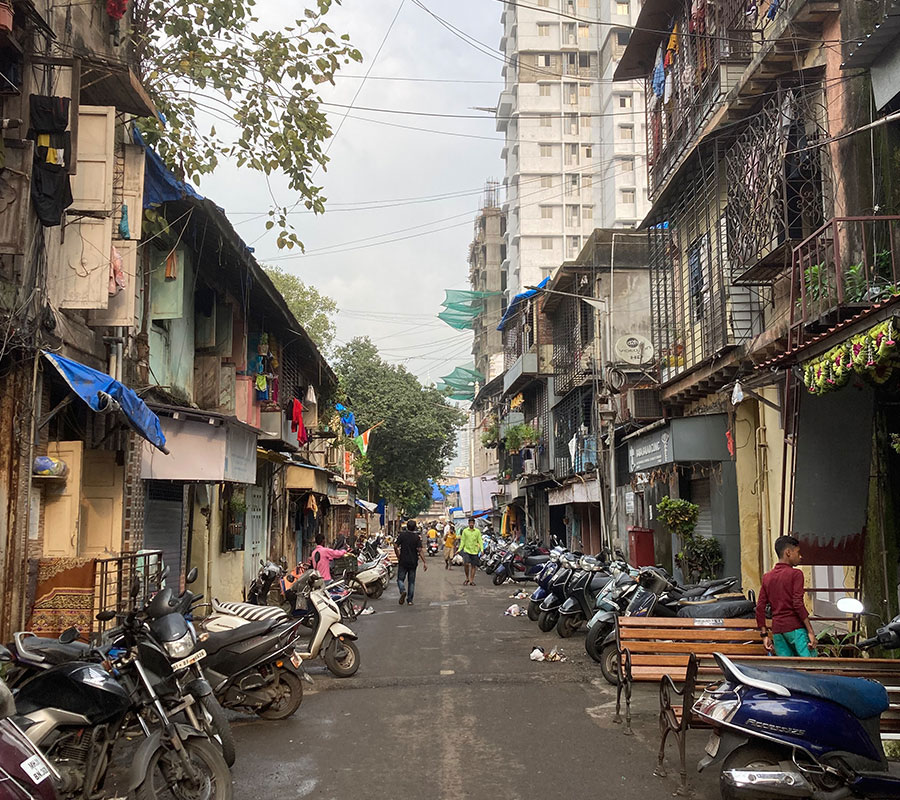 While Kathawala initially considered conducting a walking tour in Cuffe Parade, it was her connection to Kamathipura, by way of her family having lived there, that made her pick this area. "When we think of Kamathipura, we only talk about the red light district — the brothels. While that is an important part of the place, you'll see so much more here," she notes.
"My grandfather's generation remembered the 1944 blast at the Mumbai docks," she says. Going down memory lane, she shares, "The SS Fort Stikine ship was carrying a mixed cargo including cotton bales, explosives, ammunition and gold. A fire on board led to massive explosions killing almost 1,300 people and injuring many thousands more."
"It is said to have rained gold in the city that day, making many people suddenly rich. They witnessed the rise and increasing influence of the notorious Pathan gang and Dawood Ibrahim," adds Kathawala. Many years later when we visited the area, we felt a certain sense of insecurity as we were cautioned to be careful because the place was infamous for being the hub of gangsters. Well, all that was true but the history of Kamathipura is a lot more layered.
Industries of Kamathipura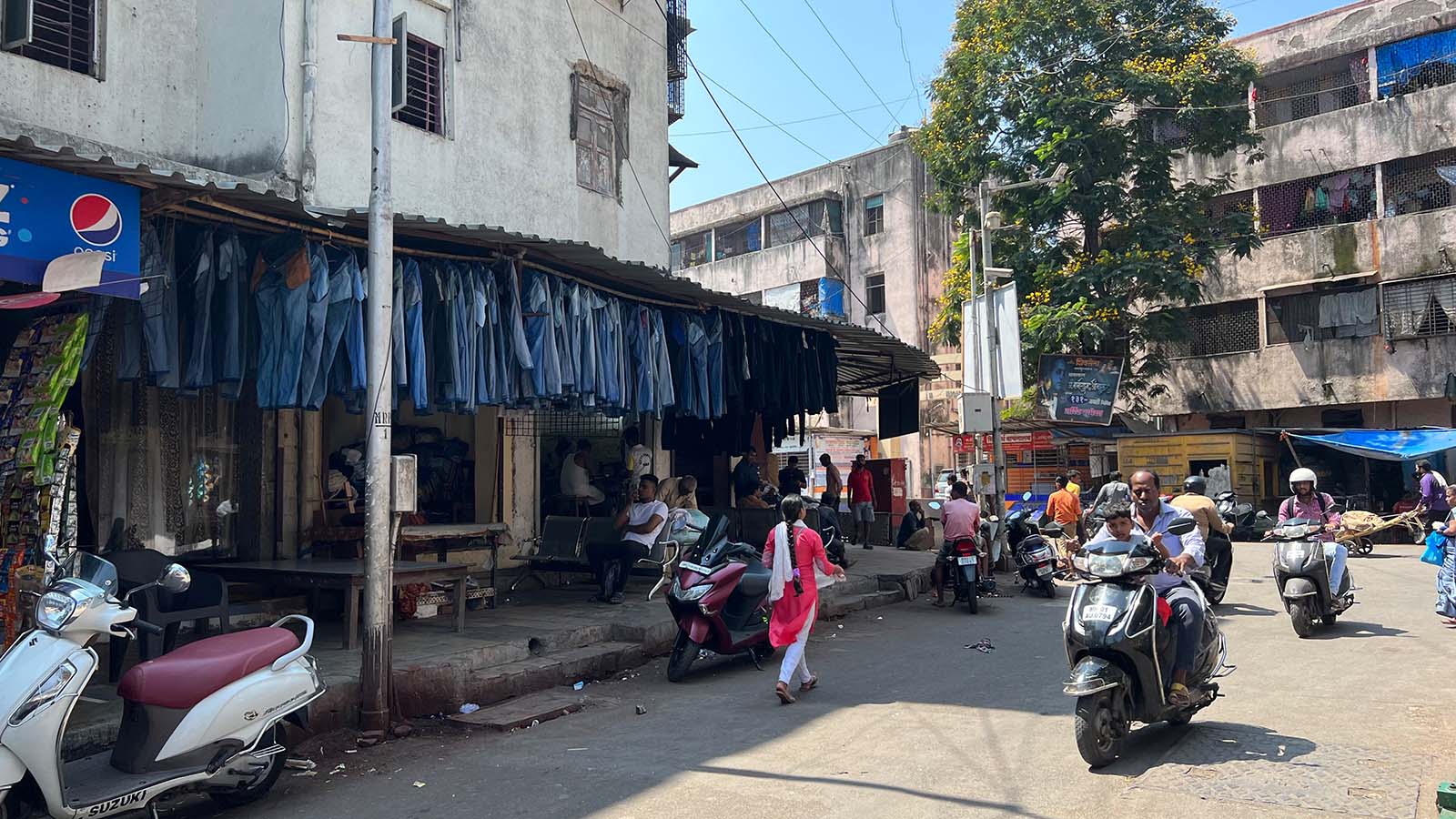 On the walk, Kathawala points out the recent emergence of the jeans dyeing industry in Kamathipura. "It was mainly run by migrants of Bihari origin. The locals didn't like this very much since dyeing uses up a lot of water and also pollutes the environment." She also points to the place where the Dedh Galli shoe market is held early Friday morning. "You'll get every brand, size, colour and style here,'' Kathawala says. Our fellow tourist jokes that we should show up in tattered slippers or else we may find ourselves having to buy our own shoes back.
Unlike popular imagination, Kamathipura doesn't get its name from the Kamasutra. It's actually the Kamathi community — daily wage labourers, construction workers, artisans and small traders, many of whom migrated from present-day Telangana, that the place is named after.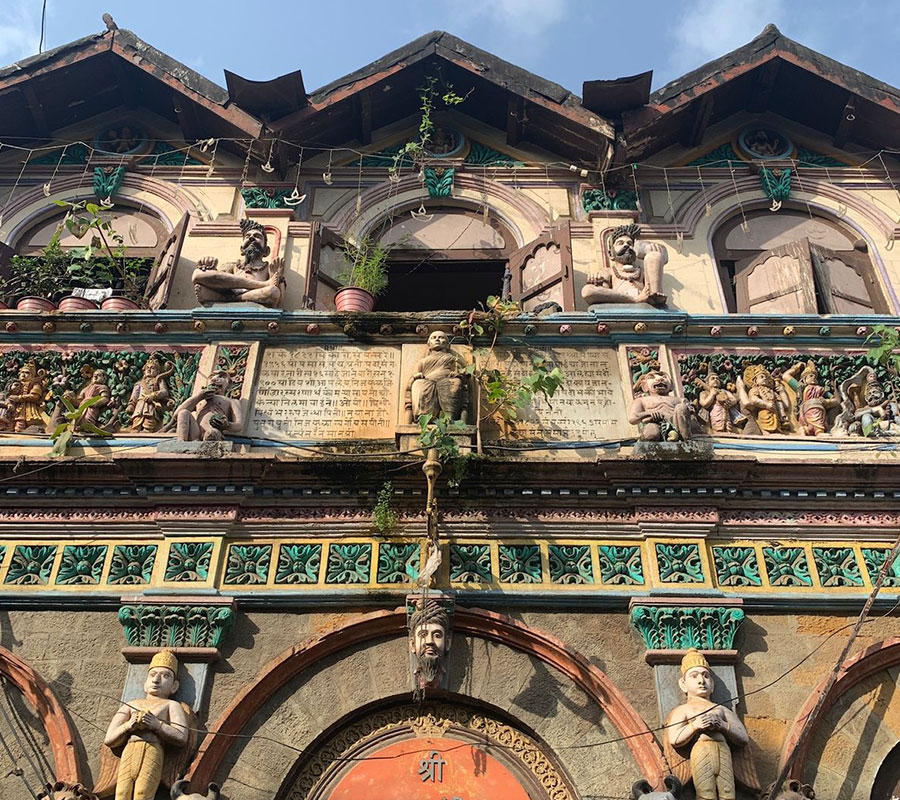 Kathawala's stories of Kamathipura are ones she has heard from her family, researched from archives, and collected from residents of the area. "Sometimes people probably give me vague answers because they don't trust me or sometimes they just don't know enough. Unlike upmarket areas like Colaba and Byculla, not much is documented about Kamathipura. Also, one doesn't usually just walk around this area to explore," she says, as we approach a beautiful Datta Mandir.
A land of contradictions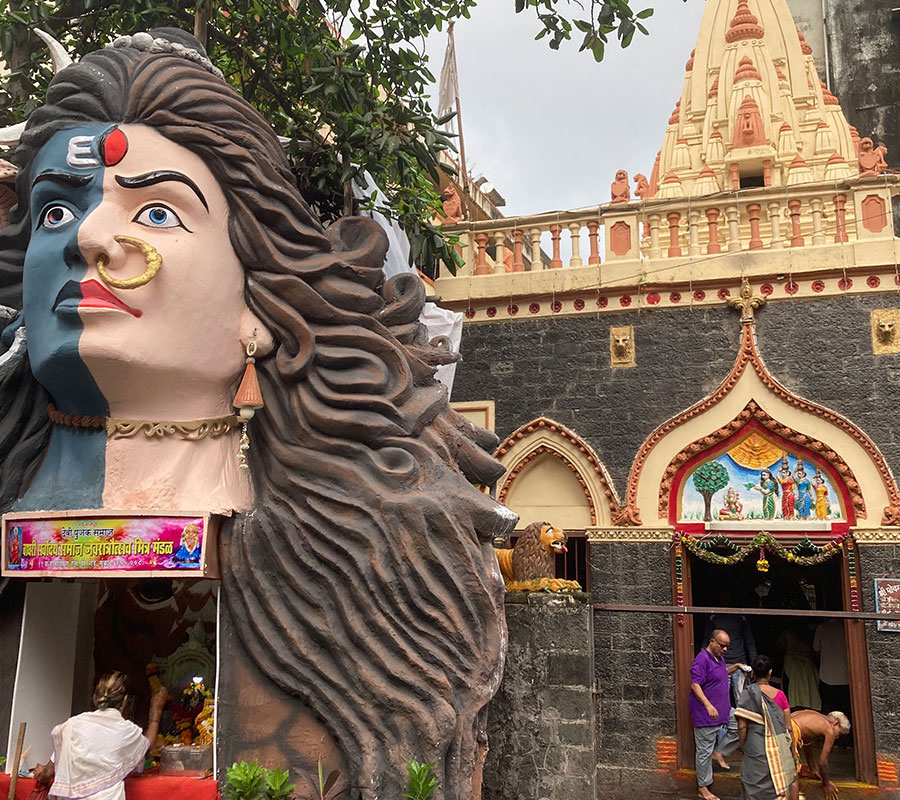 As we walk further, we come across a Pochamma Devi temple (a deity worshipped commonly in Telangana) and a temple dedicated to a buffalo deity, Mhasoba. "Remember what I said about contradictions — a pastoral deity in an urban setting and so many temples in an area otherwise considered impure. This place shows us that humans are contradictory beings. Imagine the fact that we start dying the day we are born."
That's not where the contradictions end. Kathawala tells us that the contractors of the iconic Brihanmumbai Municipal Corporation building and Chatrapati Shivaji Maharaj Terminus, then Victoria Terminus, lived in Kamathipura. It was also home to JV Pawar and Namdeo Dhasal who conceived the Dalit Panthers movement. We passed the entrance to the colony where their meetings were held, back in the day. The irony of a large banner of Maharashtra's current ruling party, displayed prominently at the entrance, was not lost on the group.
"It's our conditioning. You don't associate the place with educated people. It's not a good neighbourhood, I'm often told. But that's not true. You have regular middle-class families living here too. I've never had a bad experience here and neither has anyone else on the walk. Most of the time I just find myself on display because people are curious as to what we are doing here. It just shows us how strong stereotypes can be. Sometimes families don't mention that they are from Kamathipura to avoid social stigma."
While we do not venture into the brothels, it's hard to talk about Kamathipura without a mention of their inhabitants. There are stories of Gangubai Kathiawadia, the way women in the sex trade had a certain authority and power that they exuded owing to their rich and famous clientele and were literate and well-versed in the art of poetry. Over the years that changed. There were new stories about a cottage industry run by 200 women, who rolled beedis (hand-rolled tobacco leaves) and also the recent opening of an all-women post office in an area always spoken about in the context of its cruelty to women.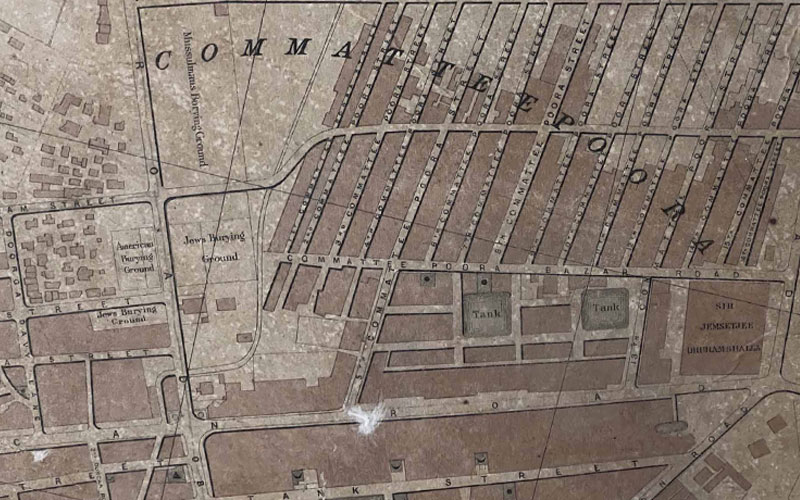 We then reach the Nagpada police station and the writings of the pages of Hussain Zaidi's 'Dongri to Dubai' flash in front of us. At the end of the walk, we stand outside the popular restaurant Sarvi — made famous by Saadat Hasan Manto and his writings. "It's so famous that it doesn't even have a board," jokes Kathawala. We walk in at 10 am to discover that the kebabs are sold out but the soft pav maska dunked in sweet, milky chai is worth all the praise it gets.
Photo: Zoya Kathawala, Suprita Mitter