Narrow alleyways, ornate Havelis, and spicy plates of quintessential Rajasthani cuisine; Mandawa is a must-visit if you are planning to tour Rajasthan this winter. 
Rich with history and colour, the little town of Mandawa sits quietly in Rajasthan's Jhunjhunu district, and is part of the state's Shekhawati region. 
The story of Mandawa goes something like this: In the 18th century, it was home to several rich tradesmen, which resulted in the town earning a name for its traditional houses, better known as Havelis. These are now the prime places to visit in Mandawa. Vibrantly painted, intricately designed, and constructed with well-planned jharokhas and quintessential Rajasthani architecture – the Havelis are the reason Mandawa is the perfect destination for history and architecture buffs alike. But whether you're a fan of history or the food, there are ample things to do in Mandawa if you want to soak in Rajasthani art and culture.
Almost always, the Havelis also have symbols of Surya, the sun god, to whom the Shekhawatis prayed. But the town's beautifully designed homes have earned it the reputation of being India's largest open-air art gallery. Mandawa is where you can feast your eyes on luxury and eat Rajasthan's famous food. The traditional plates of dal baati churma, laal maas, and moong dal ka halwa may seem simple, but each bite is packed with ghee, flavour, and spice, and is perhaps nothing like anything you have tasted anywhere else. 
There are other things you can do in Mandawa too. You could head out for a camel safari, eat Rajasthani cuisine, and of course, shop for souvenirs. Our Mandawa travel guide will help you plan a trip to the 'Open-air Art Gallery' town of Rajasthan.
So, pack your bags and plan your trip to this quaint town in Rajasthan. You can also plan a weekend trip to the town if you are tired of eating at the best restaurants in Jaipur or running out of things to do in Udaipur.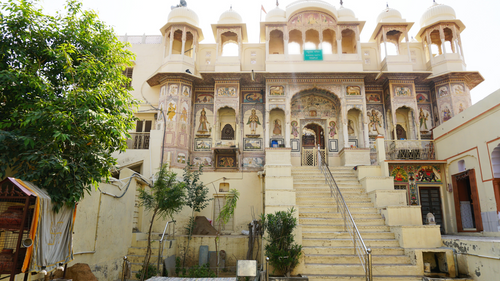 Top Things To Do in Mandawa Rajasthan
1. Tour Mandawa Fort
Now a luxury heritage Rajasthan hotel that's called Castle Mandawa Hotel, this Haveli is the original Mandawa Fort built by Thakur Nawal Singh in 1755 AD, the first descendants of the Shekhawati rulers. If you are not staying at the hotel, you can still tour the fort and pay a visitor's fee of Rs.500 for a tour. You will be in awe of the curious mixture of old and new here, as medieval turreted towers and palanquin rooftops meet modern-day luxury and comforts. You will spot elephant murals and lots of use of blue mosaics in the interiors and exteriors of this fort. And, being able to marvel at the domes and views of the town from the terraces, a classic feature of Indian architecture is, of course, the cherry on top of this wonderful, visually-appealing cake. A visit to this fort should definitely be on your list of things to do in Mandawa.
2. Admire art murals at Murmuria Haveli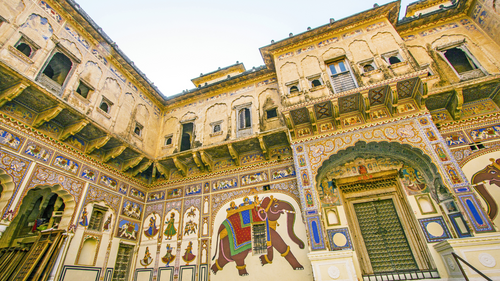 Built in the 1930s, the Murmuria Haveli is a comparatively new structure. But, it has garnered attention for the paintings its walls adorn, which is why it should be on your list of places to visit in Mandawa. Depicting political leaders from an ancient era, each painting is colourful and ornate. Rajasthani influence is prominent in the prints and patterns painted, and the main highlights here include paintings of cars, trains, George V and Venice, Lord Krishna with his cows, Jawaharlal Nehru on horseback holding the national flag. And, a painting depicting a train with a crow flying above the engine.
The Murmuria Haveli, apart from its paintings, is also popular for its sandy courtyard that's beautifully designed and worth walking around while admiring the art on display. We highly recommend you pen this onto your list of things to do in Mandawa.
3. Make a wish at Harlalka Well
Believed by the locals to be a wishing well, the Halalka Well is a tourist place in Mandawa that's worth a visit for its four-pillar structure that embarks you into the main well. But before you lean to peer in, be careful, as the Harlalka Well has no railings around and is said to be deeper than the ocean. The water, too, is cold and clear as a crystal, which is why many visit it to catch their own reflection. It also features an old camel ramp, as historically, camels were brought here to rest and have a drink of water. It's one of the many places to visit in Mandawa that you'll spot on every Mandawa travel guide you come across.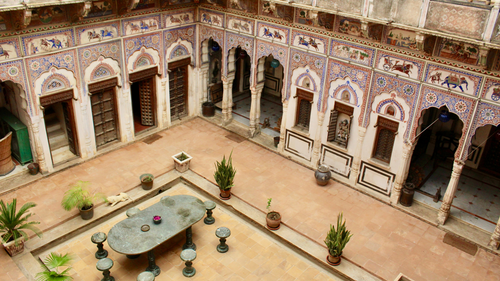 4. Photograph the Gulab Rai Ladia Haveli
Diamond merchant Gulab Rai ji Ladia built this Haveli between 1830-1870. Decked with Fresco art, a Euro-Persian art style, the Haveli's Rajasthani architecture comes alive with the art it wears. You will see an abundant use of blues, greens, and muted reds and browns. In 2021, the Haveli reopened its doors after 151 years as a luxury design hotel experience. After being restored to its glory and being fitted with modern-day amenities, it makes for an indulgent stay, but is also worth visiting to explore its art.
Said to be one of the most palatial Havelis in Mandawa, some images that you will see include a horse riding a tiger, a Greek man, birds tendering their eggs, women giving birth, and various others. It is also home to intricately carved wooden pieces of art that you can spot around the Haveli. Anyone who is an admirer of art must add this to their list of places to visit in Mandawa.
5. Get entertained at Bansidhar Newatia Haveli
A stroll around Bansidhar Newatia Haveli can end up leaving you in splits! This 1920s Haveli is home to a State Bank of India branch. But, that is not what is modern about this luxuriously designed mansion. The Fresco art here comes alive with paintings of the Wright Brothers in flight being watched by women in sarees. In another painting, a strongman hauls a car, and a bird-man flies in a winged device, while another features a European woman in a chauffeur-driven car, and a young boy talking on the telephone. The relevance of each painting remains unclear, but you see some form of technology featured in each. Perhaps the owner of the mansion was in awe of inventions? 
It is because of these paintings and their grandeur that the Bansidhar Newatia Haveli should be on your list of places to visit in Mandawa.
6. Stroll around Chokhani Double Haveli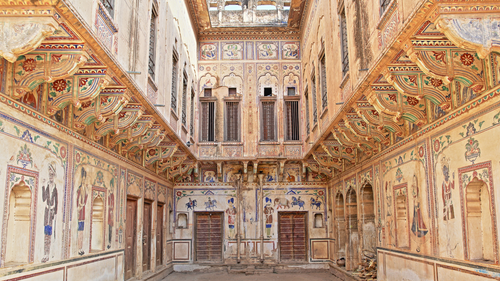 Called Double Haveli because of its two wings built for the families of two brothers, this architectural wonder is quite lavish. Dating back to 1910, it is the perfect example of British influence on Rajasthani art and culture, and Rajput rulers. That's exactly why it's on every Mandwa travel guide you come across. As it is a double Haveli, the courtyard is large, and walking around it is like going on an art walk. Some of the most famous paintings which make this Haveli a must-visit on your list of places to visit in Mandawa are those of lord Krishna, British soldiers, cars, men in Western clothing, peacocks, and floral frescoes.
7. Eat like a local at Monica Rooftop Restaurant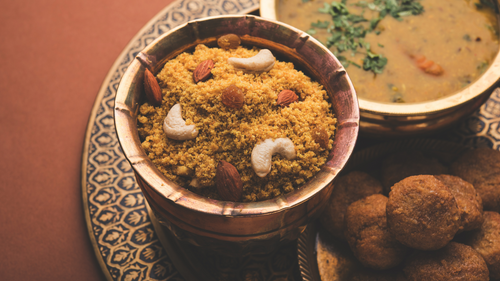 Located on the west side of Fort Mandawa, the restaurant is yet another old Haveli that's been transformed to pose as a dine-in. As beautiful views enthral you, the interiors keep you warm and well-fed on cold nights. Experience Rajasthani hospitality and traditional food of Rajasthan on the terrace. You can dig into gatte ki sabzi, dal baati churma, moong dal halwa, ghevar, ker sangri, and several other sabzi that are cooked Rajasthani-style.
If you would rather dig into the street food of Rajasthan, the Main Bazaar has shops serving kachoris, jalebis, and other chaat items. You can choose to make a few pit-stops at other popular restaurants which are also places you must visit in Mandawa to experience the Rajasthani culture. Rajasthan's famous food. Some of them include Gwala Rooftop Restaurant, Jyoti Chaat Bhandar, Mandawa Bar, Hotel Mandawa Palace and Restaurant, and Galaxy Restaurant. 
8. Pick up souvenirs while shopping in Mandawa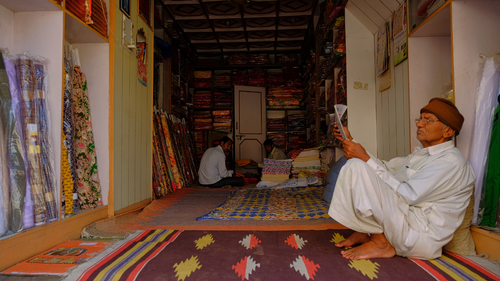 If you're in the state of the Rajput kings, you have to shop like them, right? Walk around the Main Bazaar of Mandawa, which is a great spot to pick up Rajasthani art and handiwork. Local artisans sell their paintings, and clay work and offer several antique wares and jewellery too. You can shop for Rajasthani blue pottery, scarves and stoles, Jodhpurs, and other knick-knacks. There are also several government emporiums that you can visit if you are looking to buy razaai (blankets), sarees, lehenga-cholis, lac bangles, and other jewellery.
Other things to do in Mandawa
Meandering through the little town of Mandawa and admiring its rich heritage and glorious Havelis is going to take up most of your time. But if you are capable of packing in a few more activities during your visit to Mandawa, you can head out for a camel safari or rent a horse and ride around like a Rajput.
You can head to the Main Bazaar and inquire after the local camel and horse rental guys, or you can simply act like a tourist and they are sure to find you! For a nominal charge, you can get an experience that's unique to Rajasthan and strut around the town on camel or horseback, admiring the ornate Fresco paintings and art.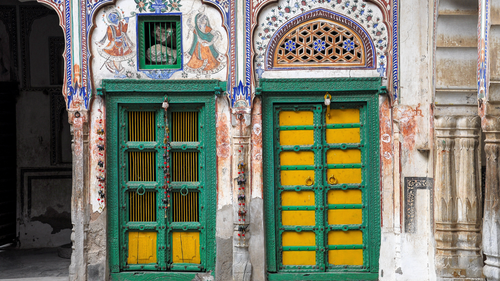 Best time to visit Mandawa
The whole town of Mandawa is rich in culture and art, which makes visiting it quite exciting. We bet history and architecture buffs will be ready to pack their bags and head there soon, but we recommend visiting Mandawa, Rajasthan during the winter months. November to March is an ideal time to visit as the days are less hot and the nights get chilly. If you do decide to visit in winter, don't forget to pack a mixed wardrobe of breezy cotton t-shirts for the day and sweaters and other winter wear for the night.
How to reach Mandawa
Connected by well-maintained roads, you can swiftly drive to Mandawa from Jaipur, which is about 190 kms away. A bus or car can also take you to Mandawa from Delhi airport. As Mandawa is a popular local tourist spot, travelling to and from the town is convenient. Movies like PK, Ae Dil Hai Mushkil, Paheli, Jab We Met, Bajrangi Bhaijaan have also been filmed, here resulting in better tourism activities and ease of travel. 
Once you have reached Mandawa, gawking at the Havelis, admiring murals, and getting lost in the beauty of art publicly on display here should be your top priority.
---
Photo: Shutterstock