Commonly referred to as the 'Queen of Suburbs', Bandra is one of Mumbai's most energetic neighbourhoods. With its busy streets, hip cafes, and well-known sites, it is an area tourists and locals enjoy equally. If you ever find yourself in Bandra, there are many places to go to and things to do. From catching a film or a show to drinking and dining at the trendiest spaces. Get ready to explore Mumbai's swankiest suburb.
Things to do in Bandra
1. Visit Bandra Fort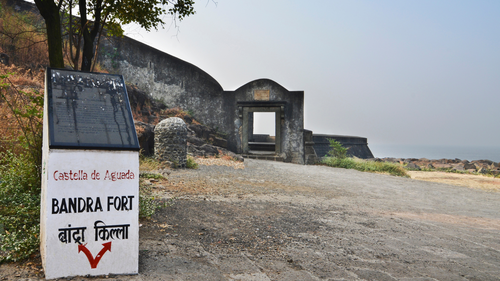 If you're a Bollywood buff, you'll already have a list of movies that were shot at the iconic Bandra Fort. Castella de Aguada, better known as Bandra Fort, is a from the 17th century when the Portuguese had their hold on Mumbai. With fantastic views of the Arabian Sea and the Bandra-Worli Sealink, the ruins of the fort allow for a comfortable place to sit. The Portuguese constructed this fort in 1640 as a watchtower to keep an eye on the neighbourhood. Today, the steps pose as great seats for an amphitheatre. With some moss on the walls around and nooks to rest and read, Bandra Fort should be on your list of things to do in Bandra.
2. Explore heritage villages
Can you imagine rice paddy fields in Bandra? With all the chaos, it's hard to. But Bandra's villages were built around rice paddy fields. And, exploring these villages is the best way to get to know the suburb's history. Walk around Ranwar and Chium village and take in the sights of the beautiful Goan-Portuguese bungalows around. Mostly occupied by the East Indian Catholic community, the villages are a fine example of how Mumbai is trying its best to preserve its heritage. If you're a history buff and want to know more, sign up for one of the many heritage walks hosted by different walking groups in the city. It's definitely a fun thing to do in Bandra whether you're a tourist or a local. 
3. Sit or walk by the sea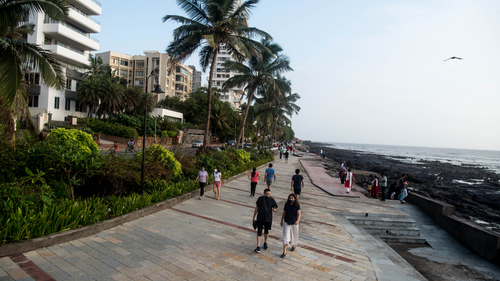 What is a key thing to do in Bandra? Grab some sea views, of course! Offering beautiful and well-kept promenades like Carter Road and Bandstand, Bandra is where you can go for a stroll by the sea. Perhaps, you'd prefer to sit here and do nothing but stare at the horizon. With ample cafes and bars around 9some of which with a peak of the sea), you can spend an evening by the promenades of Bandra. These are truly the best places in Bandra to unwind despite the crowds. 
4. Shop at Hill Road
What's the best place in Bandra to shop? It's the streets! So, put down 'shopping at Hill Road' on your list of things to do in Bandra. The thriving shopping district is where you can find a variety of clothing, jewellery, shoes, bags, and other accessories on a budget. Several stores offer export surplus clothing, so you can grab great finds on a budget.
5. Visit Mount Mary Church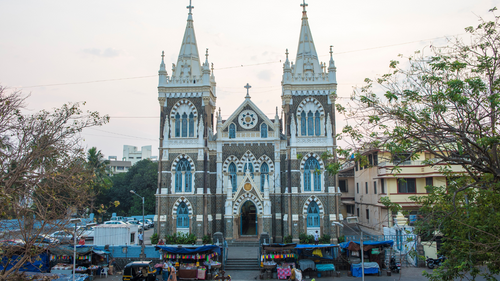 One of the oldest churches in Mumbai; paying a visit to Mount Mary is definitely a thing to do in Bandra. One of the most sacred places, the church was constructed in the 16th century and is well-known for the annual Mount Mary fair. As it sits on a hill, the view of the sea is spectacular and the church has become a popular place in Bandra among tourists.
6. Look for street art
If you walk along Bandra and its villages, you'll find ample bright murals. That's why one of the things to do in Bandra is to look for street art. Lots of graffiti dotes the walls along Ranwar village. Head down Wadora road and you'll find art by Bollywood Art Project, among several other graffiti artists. What's better than spending your day gazing at public art?
7. Grab a coffee or a bite at popular cafes
If you have a list of places to eat in Mumbai, chances are most of them are in Bandra. While the suburb may not play host to too many traditional places, the trendiest cafes almost always open shop here. That's why one of the things to do in Bandra is to try one or more popular cafes. We recommend sipping on coffee at Subko before heading to Veronica's to grab a sandwich. If you're looking for crepes, head to Cafe Condi or dig into vegetarian fare at The Yoga House. If bagels are more your style, grab them at The Bagel Shop.
8. Attend a comedy show
Looking for a laugh? You're in the right neighbourhood as Bandra plays host to several open-mic and comedy nights. One of things to do in Bandra is to head to The J Spot for a comedy gig. There's almost always a comic performing there or you can check out (perhaps even participate) the open-mic nights that the venue hosts.
9. Catch a film at Mumbai's oldest multiplex
At a time when only single-screen theatres existed, G7 Multiplex opened doors in Bandra offering seven screens under one roof. Till date it's one of the most famous places in Bandra to watch a film. Popular as Gaiety-Galaxy, this theatre is now Mumbai's oldest multiplex and watching a film here is a unique experience. Whether you're a fan of Salman Khan or not, you must catch one of his films at this theatre simply to experience the Indian audiences' love for Bollywood and bhai. It's a fun thing to do in Bandra.
10. Discover the nightlife
Bandra is renowned for having a thriving nightlife. That's why one of the things to do in Bandra is to hop into a bar and enjoy a cocktail, a DJ, or even karaoke. From sipping on great craft beer at Hapi Beer Co. and delicious cocktails at The Daily All Day to catching a gig and drinks at Bonobo or belting out tunes at Soul Fry – there are several places in Bandra that you can check out.
11. Eat at centuries-old bakeries
Bandra's heritage bakeries are uber popular amongst locals. Whether you're an early bird who's in line for bread or puffs or in need of a quick snack, Bandra's bakeries have got you. Along Hill Road, you'll find a few bakeries that have existed for decades and still serve great bakes at cheap prices. One of the fun things to do in Bandra is to gorge on the variety of food available in the neighbourhood. So, make your way to Hersch Bakery for their croissant, rolls, and ginger-lemon soda. Across the road, you can grab mutton/chicken cutlet, pan rolls, or a veg/chicken puff at A1 Bakery. And, a few steps away, at American Express Bakery, grab the mutton roast sandwich, apple pie, ginger-lemon tarts, and more.
If you're visiting Mumbai and on the lookout for more things to do in the city, there's a lot you can indulge in.  You can also opt to explore Maharashtra with a quick weekend getaways near Mumbai.
---
Photo: Shutterstock