When it comes to Mumbai's most significant landmarks and tourist attractions, Marine Drive consistently claims a top spot on every list and itinerary. This famous promenade holds a special place in the hearts of Mumbaikars and features prominently in travel guides, owing to its rich history and immense popularity.
A day in Mumbai wouldn't be complete without experiencing Marine Drive's allure. From the early morning, locals can be seen strolling along, savouring the picturesque views of the sea and basking in the beauty of the sunrise that graces the promenade. As the day progresses, Marine Drive transforms into a serene spot where people unwind and revel in the captivating sunset, offering a moment of tranquillity amidst the city's hustle and bustle.
Beyond its magnetism as a local favourite, Marine Drive is surrounded by a plethora of enticing attractions. Museums, historic buildings, and delightful restaurants are peppered around the area, making it a comprehensive destination for travellers. With all these compelling features, it's no wonder Marine Drive should be a top consideration for your must-visit weekend getaway in Mumbai.
Adding to its charm, Marine Drive is affectionately known as the Queen's Necklace, a moniker that becomes evident after sunset. As dusk descends, the promenade lights up like a dazzling necklace, perfectly epitomising Mumbai's glitz and glamour. This enchanting spectacle makes Marine Drive an unforgettable experience for anyone visiting Mumbai.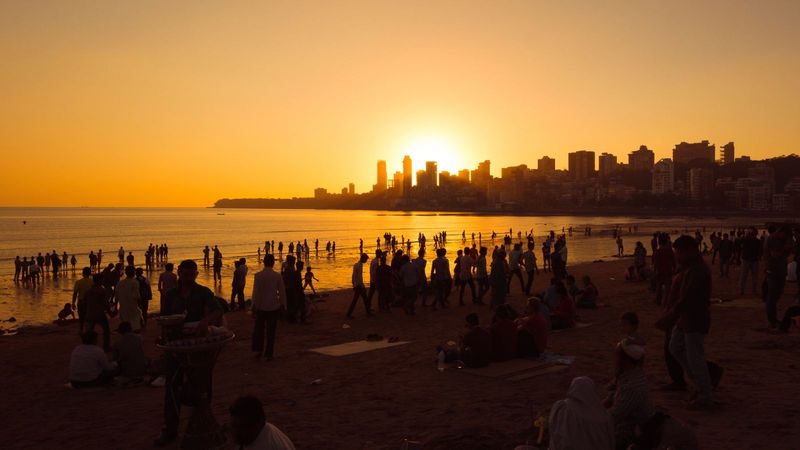 History of Marine Drive, Mumbai
What is Marine Drive and how it came into being? It's all in its history. Marine Drive, Mumbai, a marvel of British planning, was conceived as part of the ambitious Back Bay Reclamation Scheme during the early 20th century. The actual construction of this iconic promenade commenced in 1915, a fact commemorated by a lamp post standing proudly along its length.
Originally, the envisioned length for this picturesque boulevard proved challenging to obtain, leading to the creation of a slightly shorter version of the planned structure that we know today as Marine Drive, Mumbai. The promenade's construction, along with its accompanying pavement, was eventually completed in the 1930s, opening its arms to the public. Alongside the development of Marine Drive, the landscape was adorned with elegant buildings in the renowned Art Deco style. Affluent residents, including Parsis, Hindu families migrating from Pakistan post-partition, and even a few foreign royalty, sought to distance themselves from the traditional British architecture, giving rise to the famous Art Deco buildings that now grace the stretch.
Moreover, several hotels along this scenic boulevard carry intriguing histories that have contributed to their current fame. From the 1930s and 40s, Marine Drive evolved into a posh neighbourhood, attracting the wealthy and influential. However, it was during the vibrant decades of the 60s and 70s that Marine Drive truly came alive as the beating heart of Mumbai's party scene.
Today, Marine Drive stands as a testament to the history, elegance, and spirit of Mumbai, inviting visitors to stroll along its enchanting shores and witness the captivating stories that have shaped this remarkable landmark.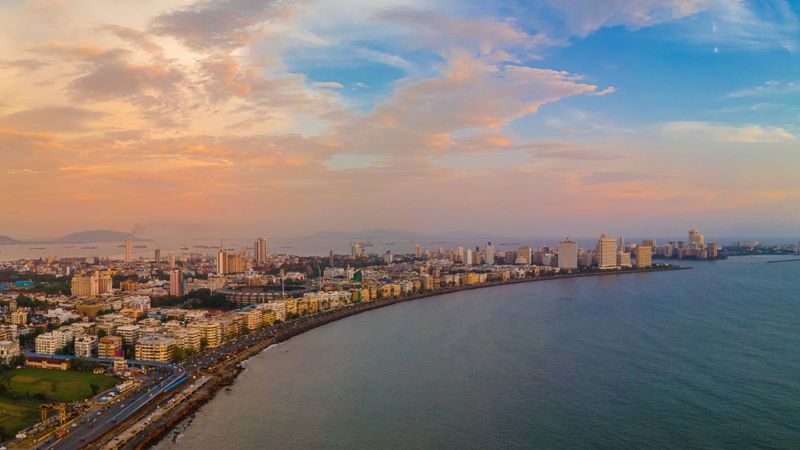 Where is Marine Drive, Mumbai?
Marine Drive's location in Mumbai, Maharashtra, spans a picturesque 3 kilometres. Nestled within the confines of South Mumbai, affectionately known as SoBo among the locals, this scenic stretch winds gracefully along the shores of the Arabian Sea.
Resembling a graceful arc, Marine Drive commences its journey at Nariman Point, showcasing captivating vistas along the way, until it reaches its final destination near the prestigious neighbourhood of Malabar Hills at Girgaum Chowpatty. This enchanting pathway offers both residents and visitors a delightful experience as they immerse themselves in the beauty of Mumbai's coastal charm.
How to get to Marine Drive, Mumbai?
Marine Drive, Mumbai boasts a remarkably convenient location, offering easy accessibility through various transportation options. Whether you prefer public transportation or private vehicles, reaching Marine Drive's location in Mumbai is a breeze.
If you opt for the city's efficient public train system, you can access Marine Drive through three nearby train stations: Churchgate Railway Station, Marine Lines Station, and Charni Road Station. These well-connected stations provide convenient access to this iconic destination.
Alternatively, travelling by taxi offers a flexible and affordable option to explore Marine Drive at your preferred pace. Taxis are readily available and can take you directly to your desired location along the promenade.
For those who prefer the freedom of travelling in their vehicle, getting to Marine Drive is generally hassle-free, except during peak traffic hours. The ease of accessibility ensures that Marine Drive remains a popular and well-loved destination for locals and tourists alike.
At Marine Drive, you have a plethora of opportunities to enhance your experience and create unforgettable memories. Follow in the footsteps of the locals and take a stroll along the pathway, relishing the mesmerising view and the tranquillity it offers. As you amble along, you'll come across small-scale vendors, offering delightful treats like tea, coffee, and tasty snacks. Savour these refreshments while sitting back and immersing yourself in the soothing rhythm of the waves.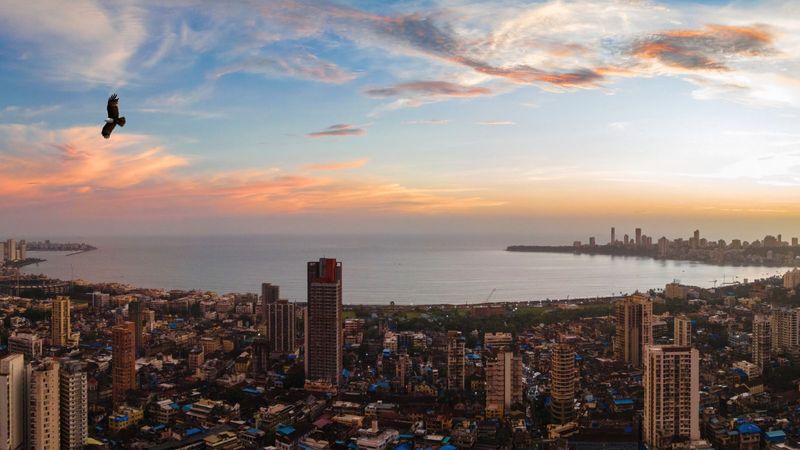 Embrace the vibrant atmosphere surrounding Marine Drive and indulge in the culinary delights of renowned eateries like Pizza By The Bay, among others. Explore the numerous museums and cultural centres that grace the area, offering enriching experiences and insights into the city's heritage. While at Marine Drive, you'll also find other iconic locations nearby, enhancing your appreciation for this Queen's Necklace. Each discovery contributes to the magic of Marine Drive, making your visit truly extraordinary.
The most famous attractions to visit around Marine Drive, Mumbai
1. Girgaum Chowpatty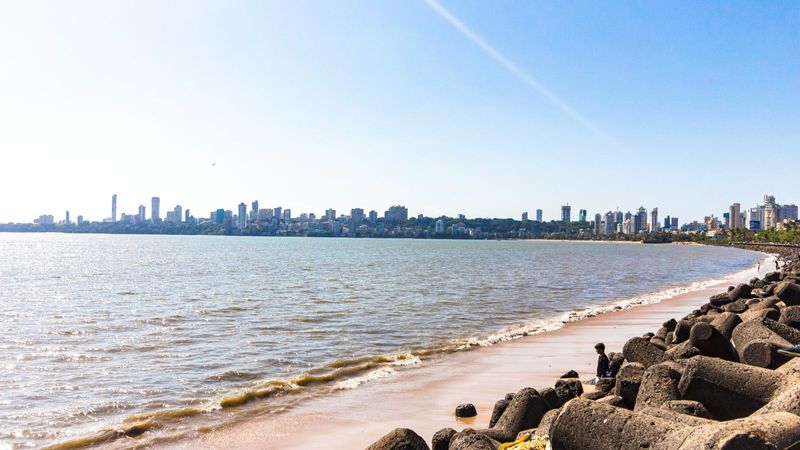 The beach located at Girgaum Chowpatty is often referred to as the Marine Drive beach due to its proximity to the renowned tourist attraction. Just as famous as Juhu Beach, Marine Drive Beach distinguishes itself by being well-maintained and exceptionally enjoyable. 
A visit to Marine Drive beach reveals a bustling scene, with many people gathered to revel in the sea's charm or indulge in a delightful outing, savouring the delectable local street food offered by numerous stalls scattered along the shoreline. 
For a truly unforgettable experience, head to the Marine Drive Beach during sunset to witness breathtaking views as the sun gracefully dips below the horizon. Immerse yourself in the vibrant local life and create cherished memories in this captivating setting.
2. Visit the famous Taj Hotel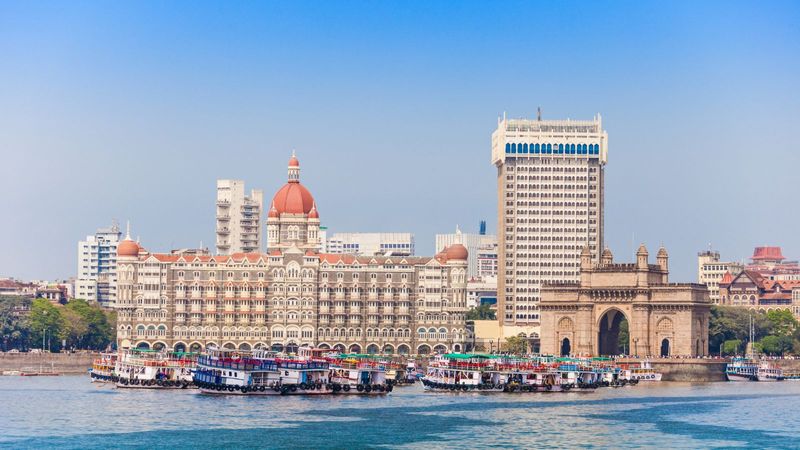 This renowned Taj Hotel stands tall as yet another iconic landmark in Mumbai. Its significance transcends its popularity, especially after the tragic attack it endured during the 26/11 terrorist attack on Mumbai. However, the hotel's remarkable resilience and swift rebuilding have transformed it into a symbol of unwavering bravery and the indomitable spirit of endurance and perseverance of the Indian people.
Venture to this prestigious hotel for a meal, or simply enjoy a cup of tea or coffee, basking in the lap of luxury while being treated to the majestic views of Marine Drive. The experience promises to be nothing short of extraordinary, with the breathtaking scenery complementing the opulence of this iconic establishment.
3. Art Deco buildings
During the construction of Marine Drive, the Parsis and other settlers chose to embrace the captivating Art Deco style of architecture for their homes and businesses along the stretch. This deliberate choice has gifted Mumbai with a treasure trove of prominent and notable Art Deco buildings, renowned both within the city and beyond.
While exploring Marine Drive, make sure to admire these architectural gems, with some of the most famous ones being the Regal Cinema, Taraporewala Aquarium, and more. Each of these buildings offers a glimpse into the rich history of Marine Drive, providing a unique and enriching experience for visitors.
4. Gateway of India
No list of popular destinations around Marine Drive is complete without mentioning the Gateway of India. This iconic structure, built by the British, has evolved into one of Mumbai's major tourist attractions. A visit to the Gateway of India offers a glimpse into the history of India and leaves visitors in awe of its sheer magnificence, serving as a testament to the city's rich heritage.
PS: While exploring the famous Gateway of India, don't forget to make time for a stroll at the iconic Colaba causeway and engage in some quick and chic street shopping. Add a pitstop at the Leopold Cafe or Cafe Mondegar for a quick meal and beer and then head to the suburbs of Bandra to explore so much the Bollywood haven has to offer.
---
Photo: Shutterstock