Horse riding in India has long been a beloved sport for ages. The nation has a long tradition of horse riding that goes back to the Mughal era, when riding a horse was a sign of riches, power, and pride. Horse riding in India has developed over time to become a fundamental aspect of Indian culture, with several regions of the nation having their own distinctive customs and traditions.
In India's past, horses were primarily used for both transportation and combat. The Mughal emperors were well recognised for their passion for horses and skilled riders. They brought in some of the finest breeds from Europe and Central Asia and crossed them with Indian horses to create superb animals who were strong, quick, and agile.
With time, horse riding in India expanded beyond being merely a mode of transportation or a sign of dominance. Horse riding in India took on many different forms as it developed into a sport and spread across the nation. In India, polo, show jumping, dressage, and endurance riding are the most well-liked types of horse riding.
In Indian history, Polo in particular holds a special place. The British brought the game to India during the colonial era, and the Indian nobility and royalty took to it right once. There are numerous clubs and tournaments organised all year long in India, where the game is currently very popular.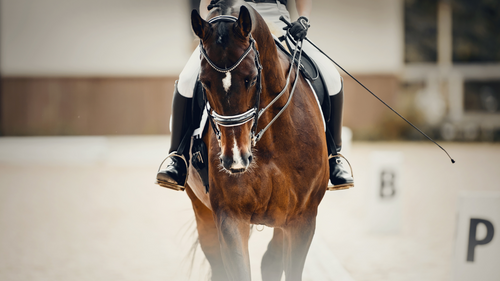 Horse riding is not only a popular activity in India, but it also has cultural value. It is a crucial component of many celebrations and events, particularly in rural regions. For instance, horse races and performances are organised during the Bishnoi festival in Rajasthan, and the top riders receive rewards.
With numerous riding clubs and schools established around the nation in recent years, horse riding has grown in popularity among urban residents as well. These institutions provide a range of programmes, from fundamental instruction in horsemanship to advanced instruction in several disciplines.
Here are eight of India's top equestrian clubs for horse riding in India
1. Royal Western India Turf Club, Mumbai
The Royal Western India Turf Club (RWITC) is one of the oldest and most famous equestrian clubs in India, and it is situated in the busy metropolis of Mumbai. RWITC is home to spectacular horse races, polo games, and prestigious equestrian events because of its magnificent racecourse and cutting-edge infrastructure. 
Location: Mahalaxmi, Mumbai, Maharashtra
How to reach: Mumbai Central is the closest train station, while Chhatrapati Shivaji Maharaj International Airport (BOM) is the closest airport. Once in Mumbai, you can easily get here through any public transport. 
Close to Mumbai, you can also experience horse riding at the popular hill station, Mahabaleshwar! It isn't the only one however, you can also explore riding experiences in other hill stations in Maharashtra, like Matheran.
2. Calcutta Polo Club, Kolkata 
Since its founding in 1862, the Calcutta Polo Club in Kolkata, West Bengal, has been steeped in history and tradition and is known as the oldest polo club in the world. This club, which is surrounded by lush green fields, has superb polo grounds and amenities that have hosted numerous thrilling matches and competitive competitions. One of the most charming clubs for horse riding in India, according to popular opinion.
Location: Maidan, Kolkata, West Bengal
How to reach: Howrah Junction is the closest railway station, while Netaji Subhash Chandra Bose International Airport (CCU) is the closest airport. Once you land in Kolkata, you can use public transport to get to this venue.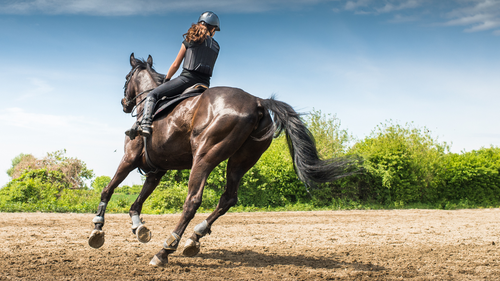 3. Madras Riding School, Chennai
The Madras Riding School, which is situated in the energetic metropolis of Chennai, provides a tranquil haven amidst the natural world for horse riding in India. This club offers excellent instruction in a variety of equestrian disciplines, hosts frequent shows and competitions, and has immaculate stables and a sizable riding ring.
Location: Guindy in Chennai, Tamil Nadu
How to reach: The closest train station is Chennai Egmore, while the closest airport is Chennai International Airport (MAA). Public transport can be used thereafter. 
4. Embassy International Riding School, Bangalore
The Embassy International Riding School (EIRS), a top-notch facility for horse riding in India spread across acres of scenic terrain, is located on the outskirts of Bengaluru. Both novice and expert riders will find EIRS to be a great location because of its extensive equestrian training, horse shows, and therapeutic riding programme.
Location: Tarahunise, Bengaluru, Karnataka
How to reach: Yelahanka Junction is the closest railway station, while Kempegowda International Airport (BLR) is the closest airport. Public transport can be used thereafter.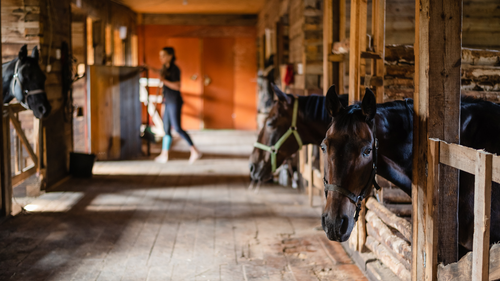 5. Rajasthan's Rambagh Polo Club, Jaipur
The Rambagh Polo Club, located in the regal city of Jaipur, radiates an air of richness and aristocracy. This club, which has a history stretching back to the Maharajas, upholds the regal legacy of polo by presenting thrilling matches and offering a window into India's former polo era.
Location: Rambagh, Jaipur, Rajasthan is the location.
How to reach: Jaipur International Airport (JAI) and Jaipur Junction are the closest railway stations in terms of accessibility. Public transport can be used thereafter. 
6. Indian Polo Association, New Delhi
The Indian Polo Association (IPA) in New Delhi is the nation of India's polo-regulating organisation. This prominent club sponsors and coordinates polo games at various sites across the nation, providing a forum for polo fans to demonstrate their prowess and an immersive experience in the thrilling sport.
Location: Vasant Vihar, New Delhi.
How to reach: New Delhi Railway Station and Indira Gandhi International Airport are the closest train stations and airports, respectively. You can get to your location using public transport.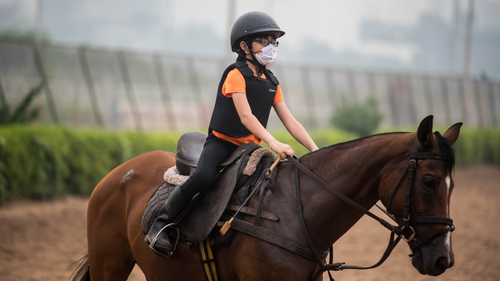 7. Hyderabad Polo and Riding Club
The Hyderabad Polo and Riding Club offers a lovely fusion of equestrian sports and leisure activities. It is located in the city of pearls. This club offers the perfect environment for horse lovers to enjoy the excitement of polo and horseback riding, with well-kept riding grounds, knowledgeable trainers, and a lively social scene.
Location: Hyderabad's Aziz Nagar
How to reach: Rajiv Gandhi International Airport (HYD) and Hyderabad Deccan Railway Station are the closest airport and train stations, respectively. Public transport can be used thereafter. 
8. The Delhi Horse Show Society, Gurugram 
The Delhi Horse Show Society is devoted to promoting equestrian sports and developing fresh talent and is situated in the thriving city of Gurugram in the Indian state of Haryana. With top-notch facilities, precisely planned horse shows, and professional training programmes, this club provides riders with a dynamic platform to display their abilities and take part in competitive events.
Location: Gurugram, NCR
How to reach: Gurugram Railway Station and Indira Gandhi International Airport (DEL) are the closest train stations and airports, respectively. Public transport can be used thereafter. 
India's equestrian clubs offer an enthralling fusion of culture, sport, and leisure, from the historical significance of the Calcutta Polo Club to the regal allure of the Rambagh Polo Club. These outstanding facilities offer cutting-edge facilities, training programs, and the chance to take in exciting contests, making them a haven for equestrian enthusiasts. Whether you are an experienced rider or just interested in watching, these equestrian clubs will enchant you with their love of horses and commitment to upholding the tradition of equestrianism.
If you're not into professional training programs, multiple tourist destinations, like Khajjar in Himachal Pradesh offer short riding services under guidance. While often romanticized for its stunning views, Kashmir is another adventure destination you must explore. Go skiing, horse riding, or mountain biking, Sarbal village in Kashmir offers it all. 
---
Photo: Shutterstock