Nagarhole National Park, one of India's best-kept nature reserves, is a must-see for fans of Indian tigers and Asiatic elephants.  Nagarahole Tiger Reserve (previously Rajiv Gandhi National Park) is a national park in Karnataka, India, located in the districts of Kodagu and Mysore. The park is home to enthralling flora and fauna and nests a diverse range of species. A few of them include:
Sloth bears

Leopards

Tigers

Wild dog

Sambar deer

Four-horned antelopes

Visible deer

Barking deer

Elephants

Wild boars
Here, you can even see a wide range of reptiles and birds. The River Kabini circles the park, forming an aquatic border with the Bandipur National Park. This integrated region has the most extensive forest cover in this portion of the globe. This whole forest cover is home to Asia's highest herbivorous density and houses the world's highest Asiatic elephant population.
In terms of animal sustainability, the park has successfully maintained a healthy predator-prey ratio, guaranteeing a balanced food chain cycle inside its grounds.
The name of the park comes from the words naga, which means snake, and hole, which refers to streams. The park was an exclusive hunting reserve for the erstwhile rulers of the Kingdom of Mysore, the Wodeyar dynasty. It was established as a wildlife refuge in 1955, and its size eventually grew to 643.39 km2 (399.78 mi). In 1988, it was designated as a national park. In 1999, the park was designated as a tiger reserve.
Things to do at the Nagarhole National Park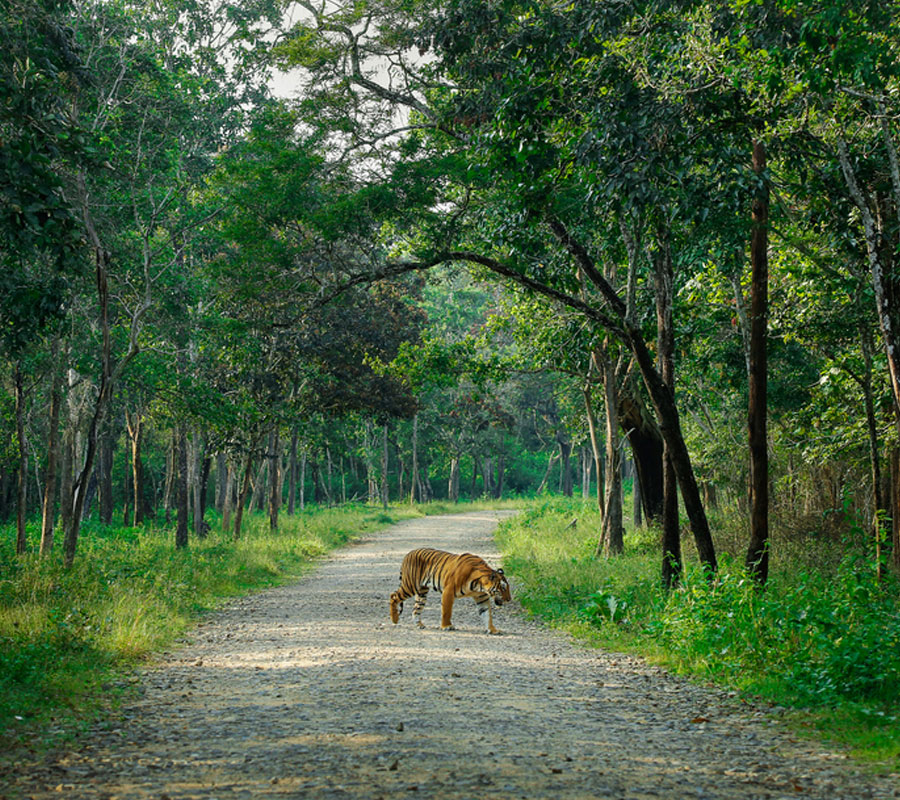 Kutta, named after Kali's son:This location is named after Kutta, the son of Goddess Kali, and lies close to the Nagarahole forest. Goddess Kali is said to have visited this location and lived here with Kurubas. She gave birth to a boy called Kutta here. The journey from Kutta to Nagarhole National Park takes 15 minutes. The distance between Kutta and Nagarhole National Park is approximately 13 kilometres (8.1 miles) or 7 nautical miles.
Irppu Falls, a picturesque spot: Another crowd-pleaser at the Nagarhole National Park, Irppu Falls is exceptionally attractive. As the water cascades down the Brahmagiri range, a waterfall known as Irppu Falls forms at this location. The journey there is breathtaking, passing through foggy mountains and rich coffee fields, and makes for a perfect spot for taking beautiful photos.
Ishwara Temple: This is a prominent pilgrim and tourist location near Nagarhole. Legend has it that Lord Rama personally installed a Shivalinga here. Devotees flock to the temple in the mornings and it is closed during the afternoon.
Safari at Nagarhole
The Nagarhole National Park is without a doubt the centrepiece of anyone's journey to Mysore. It is a site where you may enjoy the world's greatest safari with a lot of surprises, with so much to see and do during the day. To explore the park, visitors can take a jeep safari, coracle safari, boat trip, or bus safari. All of the possibilities are equally gratifying and entertaining.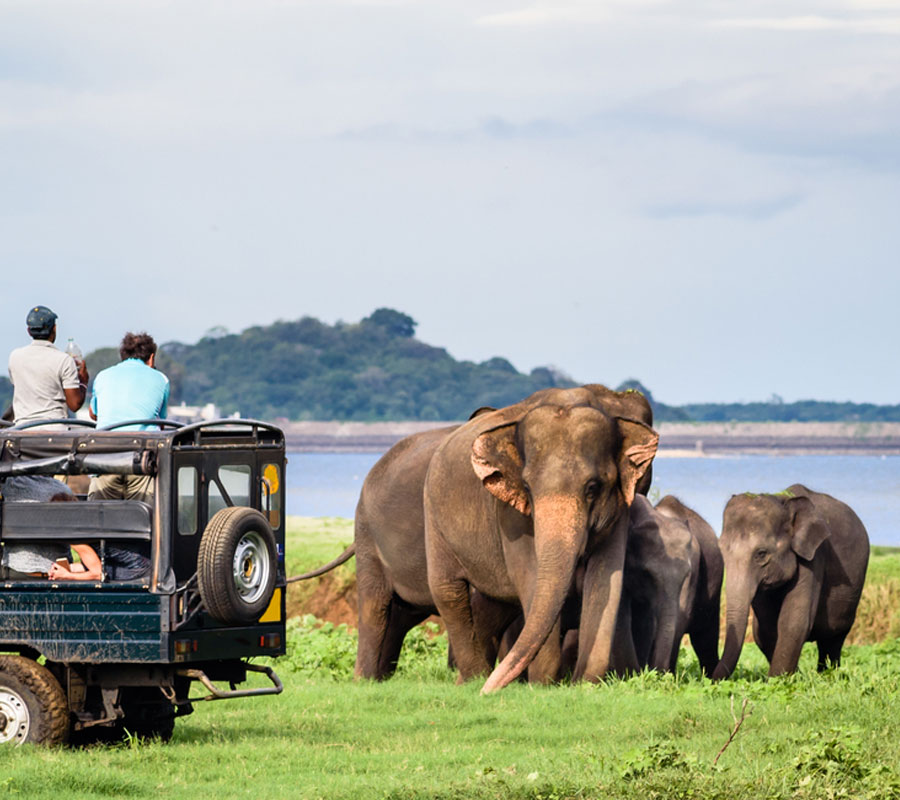 The jeep safari is ideal for singles or small groups going to experience the Nagarhole National Park's solitude. It is excellent for those who want to see a variety of large and small herbivores in their natural habitat. Each jeep can seat up to six persons, including the operator and guide. The Jeep Safari operates from 6:00 am to 10 am and again from 3:00 pm to 7:30 pm
An exhilarating ride awaits you if you opt for the coracle safari, which takes you along the banks of the Kabini River in a classic round-shaped boat. During this exciting voyage, you will see many different moods of the river as well as land creatures. The coracle safari runs from 9 AM to 11:00 AM, and again from 5 PM to 6 PM.
A boating safari is wonderful for anyone who wants to appreciate the water animals at the park. It takes place on the Kabini River, in which you can see many different water birds as well as swamp crocodiles. The boat safari runs from 6:30 AM to 9:15 AM and again from 3 PM to 6:30 PM.
If you really want to maximize your chances of spotting animals at Nagarhole, book a bus safari. It runs in two shifts and can easily handle 20 to 25 people at a time. The bus safari operates from 6 AM to 9 AM and again from 3 PM to 5 PM.
Because only a limited number of safari vehicles are permitted to enter the park at one time, it is best to schedule the safari in advance and be at the gate at least an hour before booking.
Other attractions around Nagarhole National Park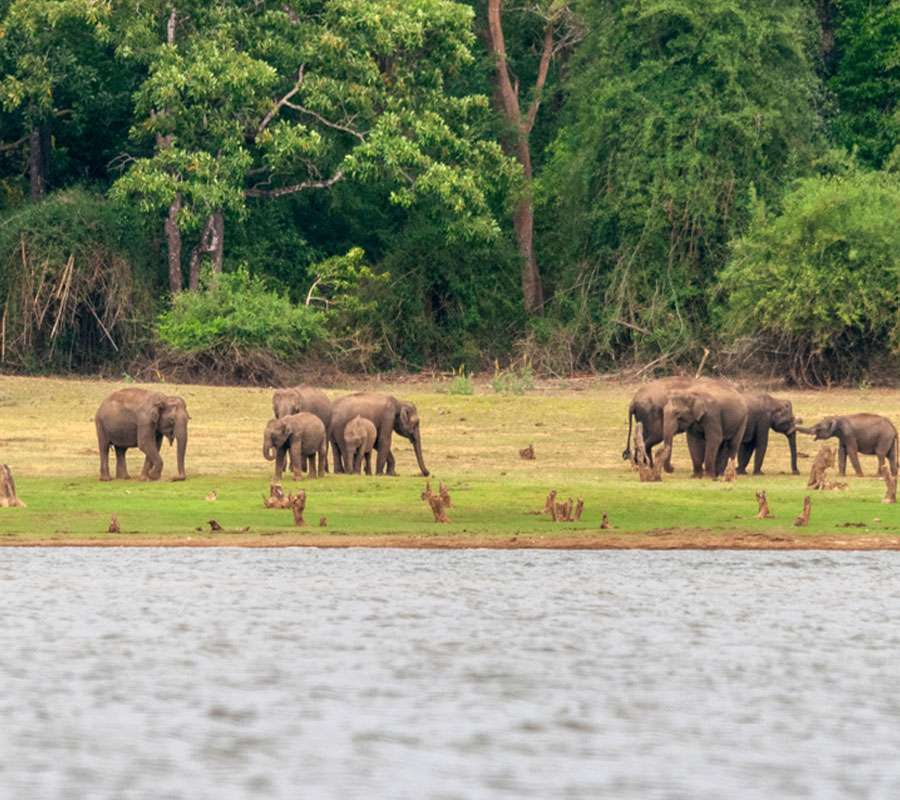 Nagarhole forest is positioned at the crossroads of many other national parks in the vicinity. So, let's look at some other wildlife sanctuaries that you can explore while here:
Bandipur Nature Reserve is well-known for its tigers, but also has a diverse range of unusual flora and species. It is one of the conservation areas of the Nilgiri Biosphere Reserve and is located 123 kilometres from Nagarhole, requiring a two-hour drive.
Wayanad Animal Sanctuary, Kerala's second-largest wildlife reserve, is located only 52 kilometres from Nagarhole. It is home to a diverse range of endangered wildlife species, as well as vast herds of elephants. This nature reserve is also part of Project Elephant.
Ranganathittu Bird Sanctuary, located 80 kilometres from the park, is a tiny sanctuary that is home to some of the greatest avian species like the woolly collared stork

ordinary spoonbill, and 

Asian openbill stork.
Bramhagiri Wildlife Sanctuary is a renowned wildlife sanctuary located along the Kabini River, near the Nagarhole National Park. It is home to a diverse range of vegetation and wildlife. Animals such as the jungle cat, sloth bear, tiger, elephant, gaur, and others can be seen in the park. It is located 4 hr 9 min (131.2 km) from Nagarhole via Kannur.
Madumalai National Park is known for the elephants it houses. It also has a healthy tiger population and has been designated as a tiger reserve.  It is located 3 hr 30 min (120.3 km) from Nagarhole via SH 86.
Other animal species that may be seen in the park include 
panther

sambar deer

spotted deer 

blackbuck, and 

common langur
Interestingly, Mudumalai National Park is home to 13% of all mammal species in India. 
Kabini Lake, located 13 kilometres outside the national park, is another popular tourist destination where visitors may enjoy a pleasant walk as well as create some memorable moments.
Entry fee and permit charges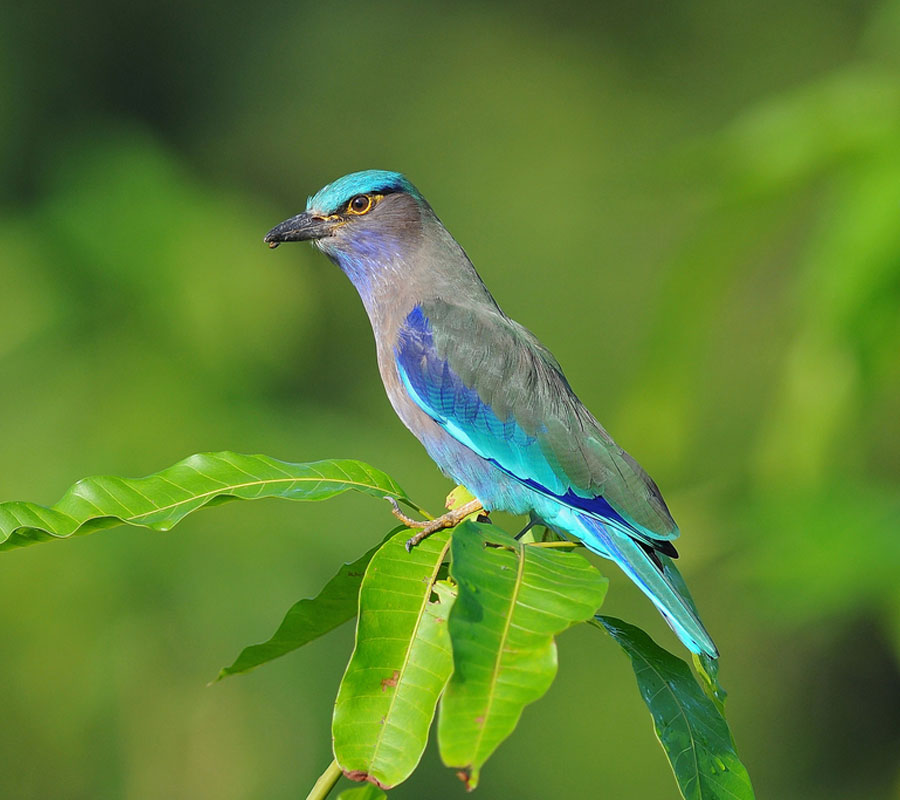 The entrance fees for Nagarhole National Park are Rs 150 per person for Indians and Rs 1,500 for foreigners. It is open from 6:30 AM to 9:15 AM in the morning and 4:15 PM to 6 PM in the evening every week of the year. Keep in mind that if you have a DSLR camera with you, you will have to pay Rs 200 for that too.
What is the best time to visit Nagarhole National Park?
The best season to visit Nagarhole National Park is from October to May. During the monsoon season, which lasts from June to September, the park is usually closed. Summer temperatures at Nagarhole (March-May) do not exceed 33°C. Despite the fact that winter is brief, lasting from November through January, temperatures can drop to 14°C. Monsoon, however, is unpredictable, as it pours from June through September.
Nagarhole Tiger Reserve enjoys a comfortable climate and has plenty of water resources nearby, including four longstanding streams, 47 monsoonal streams, four small perennial bodies of water, 41 artificial tanks, several swamps, Taraka Dam, and the Kabini reservoir.
How to reach Nagarhole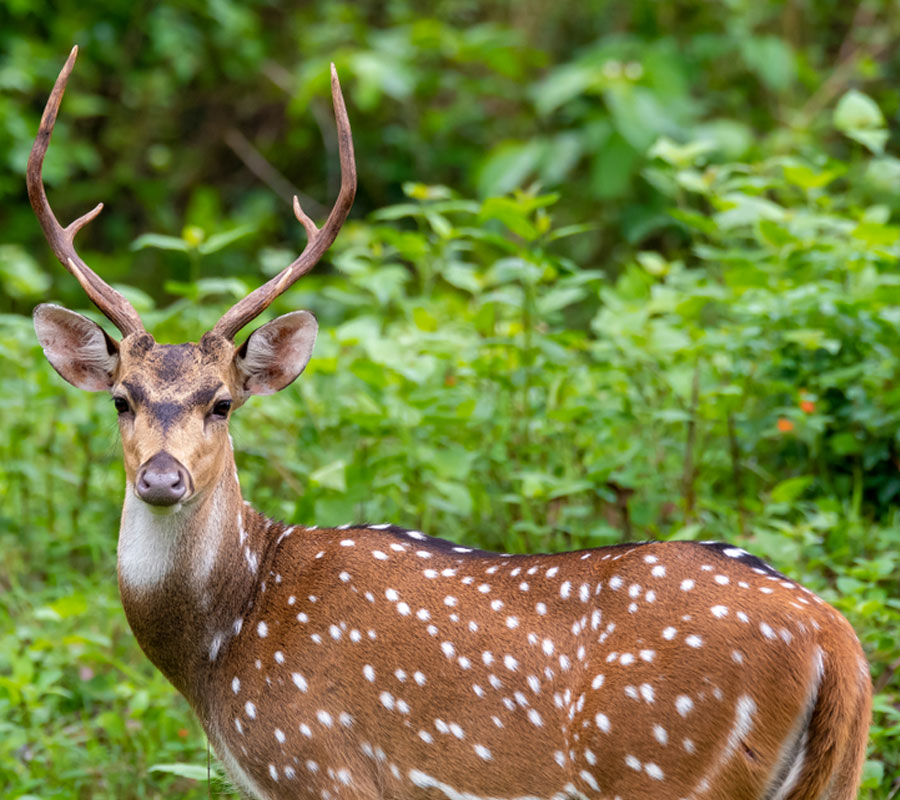 The nearest airport to the national park is 96 kilometres away in Mysore. The nearest international airport is in Bengaluru, which is 236 kilometres away. Bengaluru is accessible from all major cities in India. It is also well connected to a number of foreign cities. The closest train station to Nagarhole National Park is Mysore Train Station, which is about 80 kilometres away. Another nearby railway station is 220 kilometres away in Bengaluru. Bengaluru is well linked to all of India's main cities. From here, one may take a cab or a bus to the national park. The reserve is 96 kilometres from Mysore, 93 kilometres from Madikeri, and 236 kilometres from Bengaluru.
Where to stay
Because the Nagarhole National Park is India's most popular wildlife attraction, attracting travellers from all over the world, the accommodations are among the best. It features a wide range of accommodations, from elevated hotels to budget-friendly lodges and all-inclusive motels, to meet everyone's interests, tastes, and holiday style.
For instance, if you want a lavish vacation with all the amenities of a five-star hotel, you may book top-tier facilities like:
The Red Earth, Orange County

Kaav Safari Lodge

Serial Kabini
However, if you're looking for assistance and want to feel like you're at home away from home, Kabini River Lodge and the Peepal Tree Kabini are the ideal places to stay.
Likewise, the Nagarhole National Park offers conventional lodging for people seeking a perfect blend of affordability and luxury. You only need to determine where you want to unwind and rest after an exciting day at the park.
Photo: Shutterstock