Do you tend to associate winter with bleak, grey skies and runny noses? Then maybe you haven't been to Jammu & Kashmir when it snows! I am talking about majestic mountains covered with snow, towering pine trees peeking through a blanket of sleet, glistening frozen lakes and log houses that put Norman Rockwell paintings to shame.
While Jammu & Kashmir boasts spectacular views throughout the year, there's never a more magical time to visit than in the winter. 
So grab a mug of hot chocolate and get set to walk through this winter wonderland from behind your (warm) computer screen. Let's go…
1. Explore a snow-drenched Gulmarg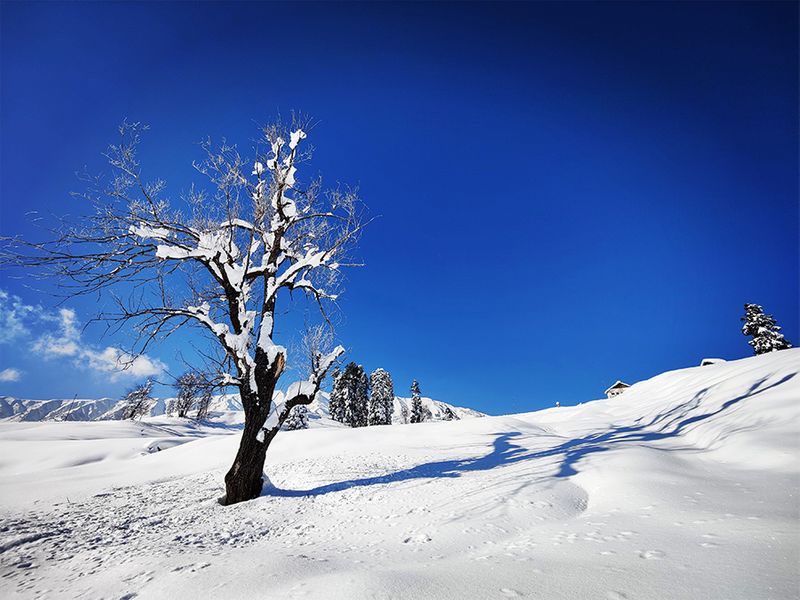 I love Gulmarg when it gets blanketed with beautiful daisies, buttercups and lush greenery, but this town of meadows becomes even more dazzling under a shroud of snow. And there's much more to this stunning Himalayan town than the slopes. Put on your snowshoes and explore the Victorian-style St Mary's Church, which is set on a wild landscape. It is also home to the world's highest 18-hole golf course, which turns into a beautiful snow-covered meadow in the winter and is a sight to behold. The Gulmarg Biosphere Reserve, surrounding the hilly town, is popular for spotting wildlife like the endangered musk deer, red fox and griffon vulture.
2. Go on a gondola ride in Patnitop
Few thrills rival the sensation of floating through the sky, staring at mountains and valleys thousands of feet below. This experience will be the most spectacular part of your stay at Skyview By Empyrean in Patnitop, a hilltop retreat in the Shivalik belt. The scenic 12-minute gondola ride is the most enchanting way to get to Patnitop with views of deodar trees enveloped in white pearls and a sense of tranquillity. Green hearts will love to know that this is also the first gondola lift in Asia that's been constructed without felling a single tree.
3. Get set, ski in Gulmarg
Forget Courchevel and Gstaad and descend upon the glistening slopes of Gulmarg for a dose of ski adventure. Skiing in Gulmarg, Kashmir is a lifetime experience. The slope reaches the thrilling backcountry with pine trees, open alpine bowls, and virgin peaks. At an elevation of 3,950 metres, Gulmarg is the world's third-highest ski resort and is known around the world for its powdery snow runs. Its majestic Apharwat peak (4,390m) is the longest ski slope in Asia. There's a government-run equipment rental shop from where you can get a pair of good-quality skis, boots and poles. When fatigue strikes head to the row of restaurants serving piping hot mutton pakodas, rajma-chawal and cheese Maggi, along with hot kahwa and coffee. For those not intent on skiing, there's an ice skating rink in the heart of town, near the cable car station. And there is sledding too. Just make yourself comfortable while a porter drags your sled uphill on the slopes for a small sum of money.
Note: Be prepared for long queues.
4. Feast on the local fare
The lip-smacking wazwan is a major highlight of a vacay in Jammu & Kashmir. Who can resist a feast of tabak maaz, goshtaba, rogan josh, nadru yakhni and phirni served on a large plate called a trami? And these are just a few dishes that make the traditional 36-course Kashmiri wazwan! Cloves at The Khyber Himalayan Resort & Spa is known to serve a stellar wazwan, along with Italian, Chinese and Mediterranean cuisines. If the wazwan seems too daunting, head to the kebab stalls at Kahayam Chowk. The juicy mutton kebabs cooked on a coal fire and served with 12 types of condiments and lavasa (a type of Kashmiri bread) is to die for. Head to Ahdoo's for a memorable meal of mirchi korma, rista and haak ka saag.
5. Go snow trekking
Kashmir, the land of breathtaking beauty, is also the best landscape for trekking in winter. If you are up for the adventure, choose the four-day Marchoi trek which starts from the ancient village of Naranag. On the trek, you will stroll through beautiful meadows, scenic lakes, the Sindh river and of course the mighty mountains. The wonderful stretches of pine and maple forests add to the allure. History and art lovers will be enchanted by the 8th-century Naranag Temple that falls on the way. Though trekking in Kashmir is not new, this expedition is no walk in the park due to the freezing temperatures. But the scenic beauty of this winter trek will surely provide you with the warmth of a lifetime.
Looking to get away from the herd of tourists in Kashmir? Head to Yusmarg, a small hill station in the mountains of Pir Panjal. This is where you can wake up to golden sunrises, wander through pine forests, get lost in flower-filled meadows and drink from gurgling streams. A short five-km trek from Yusmarg takes you to the stunning Nilnag Lake. Enjoy a refreshing boat ride or simply loll around the lake. Or you can hire a pony and gallop through the enchanting grasslands. Those looking to frolic in the snow should bookmark the hills of Tatta Kutti and Sang Safed. The gorgeous Sang-e-Safed Valley is a great place to unwind and soak in the tranquillity of Yusmarg which translates into 'the meadow of Jesus'. It is believed that Jesus Christ had once walked through the alpine meadows here.
Tips for a winter vacay in Jammu & Kashmir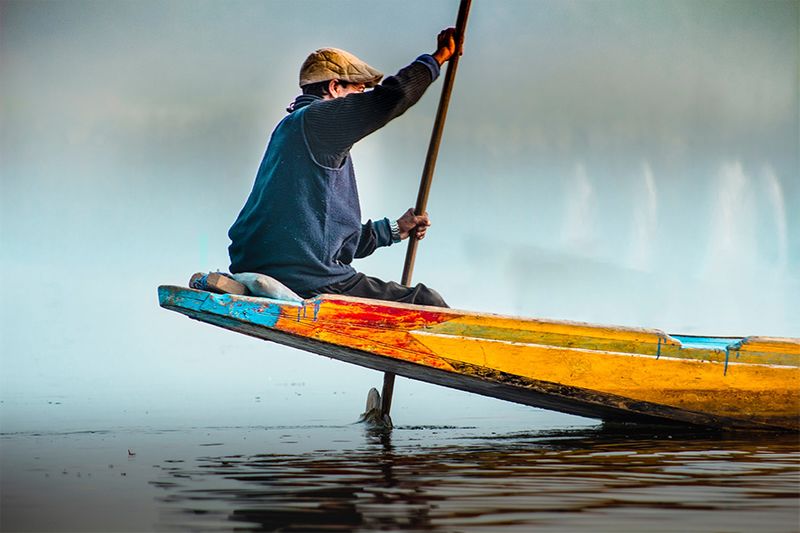 Expect flight delays because of extreme weather.

Enquire about the roads and weather forecast in advance.

Confirm your hotel room has electric blankets.

Shops are mostly open and you may chance upon some great deals during winter.

Book a prepaid car well in advance for your entire trip. Local transport isn't reliable during winter.

Carry your best winter clothing and gear. Minus 10 degrees C isn't easy to deal with.
Note: Winters in Jammu and Kashmir begin in December with new snowfall and continue until the end of March, with the coldest month being January.
---
Photo: Shutterstock, Pexels, Unsplash