To embrace the van life, all you need to do is hire a van and get started. We took three months to plan our 10-day road trip from Goa to Kerala. The journey started in Goa where three friends, Japleen, Nicky and I, hopped into a caravan that was soon to become our home. We're beach babies, so the idea of a coastal trip bloomed naturally, and 10 days seemed ideal to cover a journey from Goa to Kerala. We rented our caravan from Carvaa Travelers and began tracing the coastline from Goa, traversing through Karnataka, and making our way into Kerala up till Marari.
On day one, Gurmeet bhaiya, our driver, showed us around the caravan. We began familiarising ourselves with the seats that turned into a bed, the kitchenette and its utensils, the tiny bathroom that we found amusing, and the refrigerator that would house all our snacks. We strung up fairy lights in the van to make it more homely, stocked up the fridge and stuffed our rucksacks into the space under the 'bed' meant for luggage. Finally, we placed our slippers on the floor of the caravan, something that turned the vehicle into a home, and off we were!
 Freedom to explore new places in Karnataka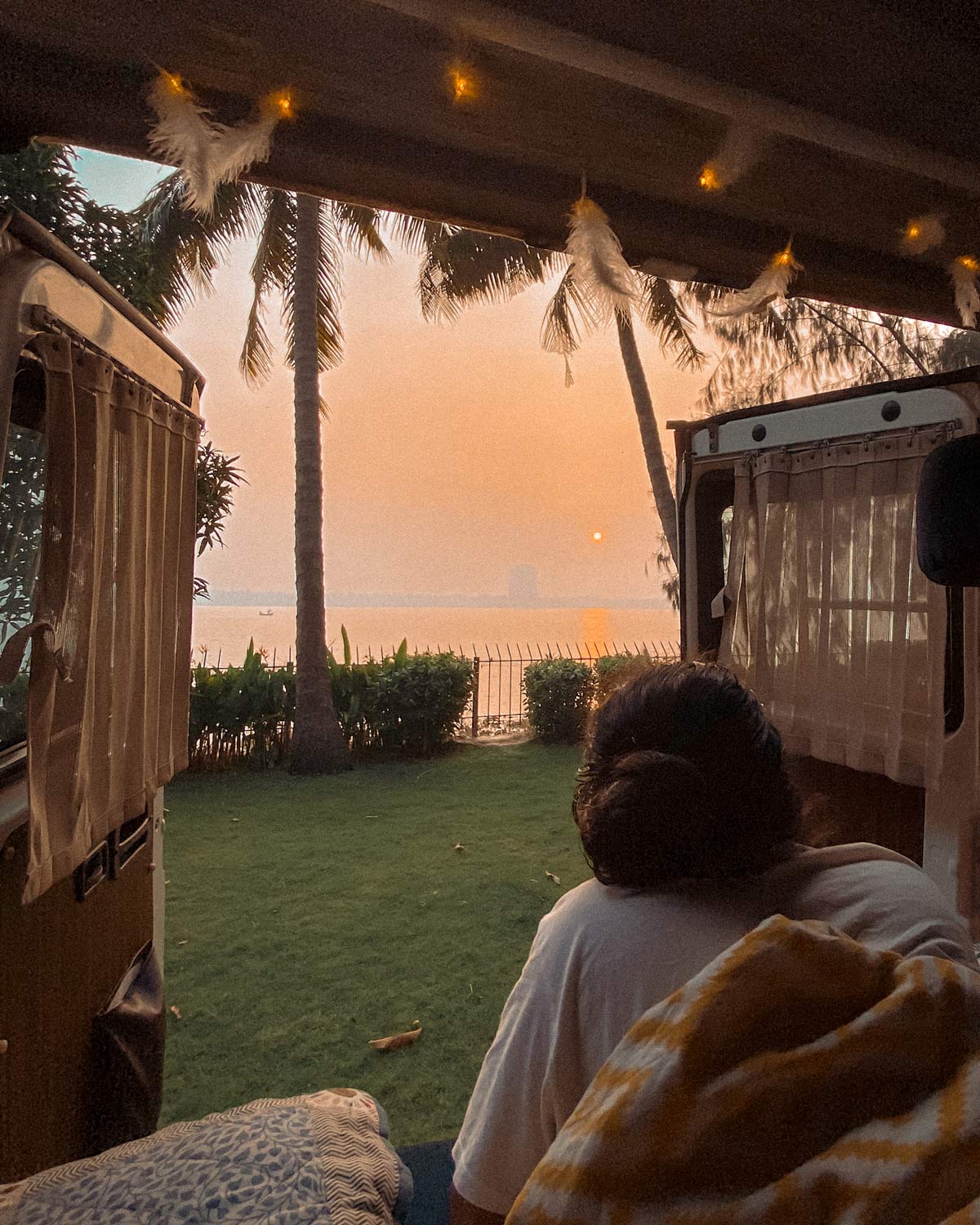 We reached Kumta in Karnataka late at night, and the homestay we'd spoken to let us park our caravan at the beach. It was past midnight, and the excitement of the day had left us tired. Without even taking in where we had arrived, we changed into our pyjamas and curled up in our caravan-bed for the night, passing out before our heads even hit the pillow.
The next morning, we were in for a surprise because that's when we saw where we had parked. We swung open the caravan door and stepped straight into the soft, golden sands of Bada Beach, a mere 50 steps from the ocean. It was with squeals of delight that we ran towards the water, getting our feet wet and soaking in the morning sun. This was one of our greatest joys. 
Waking up in a different place every single day, usually by the beach. One of the novelties of caravan travel is the flexibility in shaping an itinerary and parking in unconventional places. Every place we stopped at had something different for us.
Our second stop, Mulki, was my favourite. A shared penchant for trying out new things brought us to Mantra Surf Club in Mulki in Karnataka. The property was beautiful, open and spacious. Hammocks slung between coconut trees called out for us to laze in the sun. This was where we had our first surfing lesson and found a whole new way to love the ocean. This was where we shared stories around a bonfire lit under the inky sky. This was where we were at our most energetic, but also our most chill, and we can't wait to go back.
A drive-in beach in Kerala and making the van our home 
As we caravanned down to Kerala, we spent a lazy day in Kannur, eating local food. We headed out to Muzhappilangad Beach, which is Asia's largest drive-in beach for a tour of our caravan.
On our penultimate stop, we woke up to a gorgeous and unexpected sunrise over backwaters in Kochi, where we had parked in the backyard of a homestay. We also got a stunning sunset at the Chinese fishing nets and plenty of art cafés to hop through.
When we finally arrived at the silvery sands of Marari. The waves were rough, and we sat a little away from the water on the coarse sands, gazing at the sunset over the waves. The warm colours and streaking clouds lulled us into a sense of peace. Out of nowhere, a giant wave slammed onto us, tossing us on our seats, causing sand to ride into our clothes, and dragging us a few feet towards the water. Spluttering, we picked ourselves up and ran away from the water, thoroughly drenched but also gleeful like children.
That was the moment we realised that the caravan and we had become fast friends. We'd found familiarity in it, our little corners and spaces, and it had become a home. For 10 days, we'd lived, worked, changed, and slept there, and saying goodbye felt strange.
Caravanning isn't all bed of roses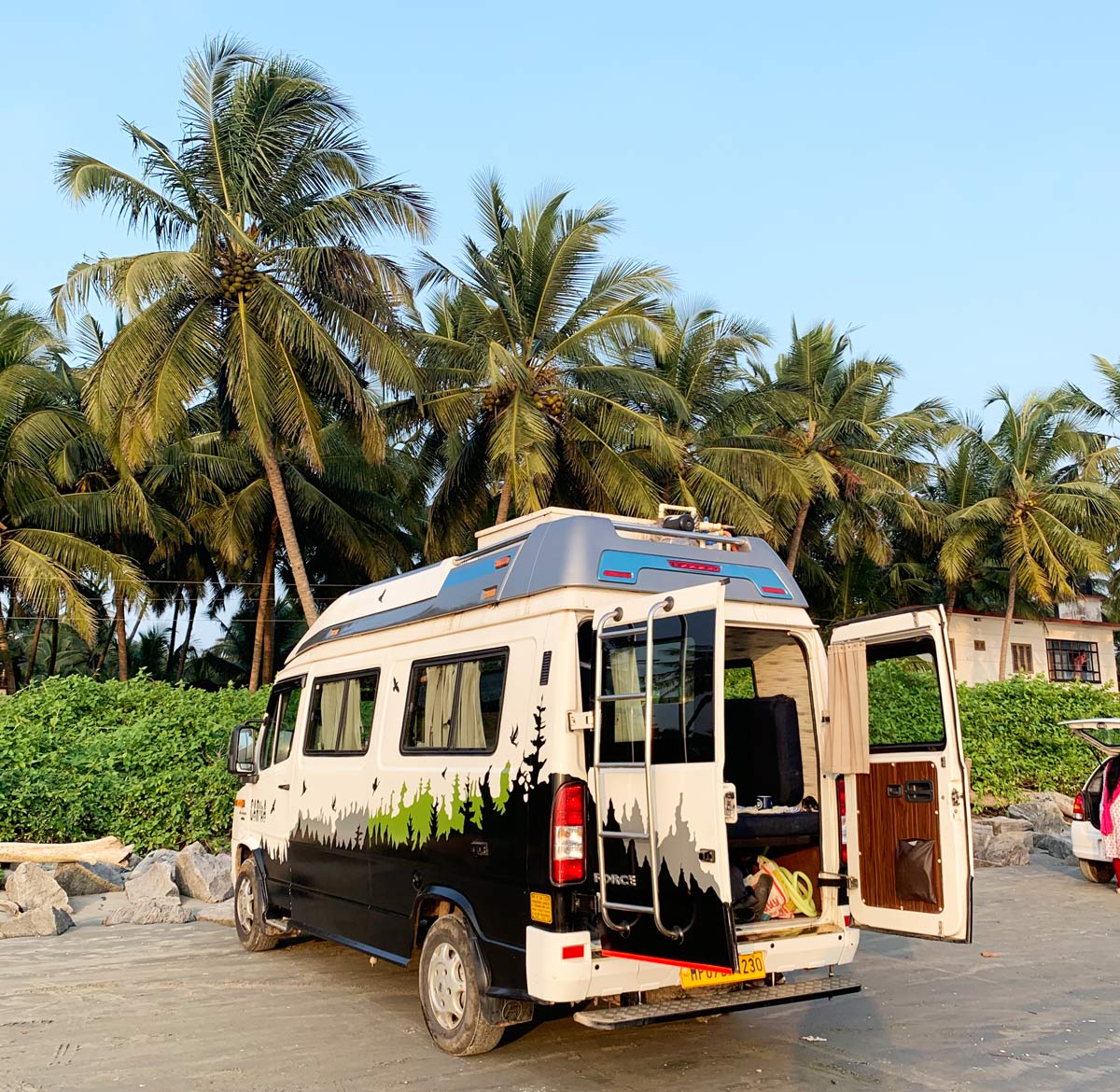 What one might miss from looking at the van life on social media is that it can get a little rough. 
Day 1 caught us off guard. Every small brake would toss us around like rag dolls. A speed breaker would make our things fall from shelves. Carsickness made an appearance, till we realised laying down on the bed instead of sitting on it solved that problem. Day 1 was a rollercoaster, but Day 2 onwards, we started getting the hang of it, and that's when the fun began.
The van life is still nascent and relatively new, and some of us have just started embarking on these journeys. In this era of a pandemic, it might be one of the safer ways to travel, and while we did have to work quite hard to find accommodation where we could park, hopefully, there will be more campsites and parking spots in future that will help this new way of travel grow. It's fun, and I, for one, love the flexibility it offers. Mild discomfort aside, we grew to love the space and found ourselves wanting to do it again.
Photo: Preethi Parthasarathy