Planning an international vacation but don't want to deal with hassles and long visa queues? Fret not, with the newly released Henly Passport Index for this year, Indians can now visit up to 57 countries without a visa, or obtain a visa on arrival, saving us all the time and effort.
This long list now includes stunning countries like Fiji and Seychelles, and the best part is that most of them are as perfect for budget trips, as they are for family vacations. So no matter what kind of trip you've in mind, there's a destination you can now visit visa-free.
Here are 6 stunning and relatively unexplored countries Indians can visit visa-free
1. Fiji
An archipelago of 333 tiny islands in the South Pacific Ocean, close to the country of New Zealand, Fiji is a beach lover's paradise. That said, it's not limited to stunning sea views. With its long list of adventure activities, colonial architecture, and luxurious resorts, it's just as enticing for families looking for fun, heritage travellers, and people looking for an idyllic vacation alike. 
Interestingly, a good chunk of the Fijian population has Indian roots, and it's quite easy to find food that you'd be acquainted with.
Best months to go: May to October when the temperatures are lower, and humidity lesser. 
How to reach: While there are no direct flights from India to Fiji, you can always take a flight from major Indian cities like Delhi and Bengaluru, with layovers at destinations like Sydney or Hong Kong. 
What to do? Spend a lazy day at the beach, sign up for snorkelling among manta rays and coral, relax in the hot springs on islands after a long hike, or soak in the Bula! culture with multiple culture and food tours.
2. Barbados
 Located in the sunny Caribbean, Barbados is a Commonwealth country and a part of the West Indies. With clean white sand beaches, wildlife reserves, and lively cities, Barbados is sure to blow your mind. 
Historically too, Barbados, as a former colony, is replete with heritage structures like the Barbados Museum, Washington House, and St Nicholas Abbey. If you're more on the explorative side, however, there are also natural structures like Harrison's Cave with its stunning stalagmite and stalactite structures.
Best months to go: December to February as they're cooler and more pleasant. 
How to reach: Major Indian cities like Delhi and Mumbai have regular flights to the capital city of Bridgetown via London. 
What to do? Relax at the white sand beaches, visit the caves for natural rock structures, sign up for tours like the famous Mount Gay Rum Distillery tour, and learn more about the marine wildlife at Folkestone Marine Park and Museum.
3. Jordan
Most notably known for the historic site of Petra, Jordan is a heritage traveller's dream come true. From Roman amphitheatres to Christ's baptism site to the Temple of Hercules, Jordan is abundant in historical sites you must visit. 
If Roman ruins are not your thing, however, head to the Dead Sea for an out-of-the-world experience, or go scuba diving in the Aqaba marine park, exploring the rich marine wildlife on offer.
Best months to go: To avoid being scorched by the harsh sun, we suggest you visit Jordan either from March to May or from September to November. 
How to reach: Multiple airlines operate between Indian cities of New Delhi and Mumbai and Amman, Jordan often with a layover in Kuwait. 
What to do? Witness the historic ruins, swim in the Dead Sea, experience the Ma'in hot springs, and visit museums in Jordan especially the Royal Automobile Museum that features King Hussain's mightily impressive fleet of luxury cars.
4. Cambodia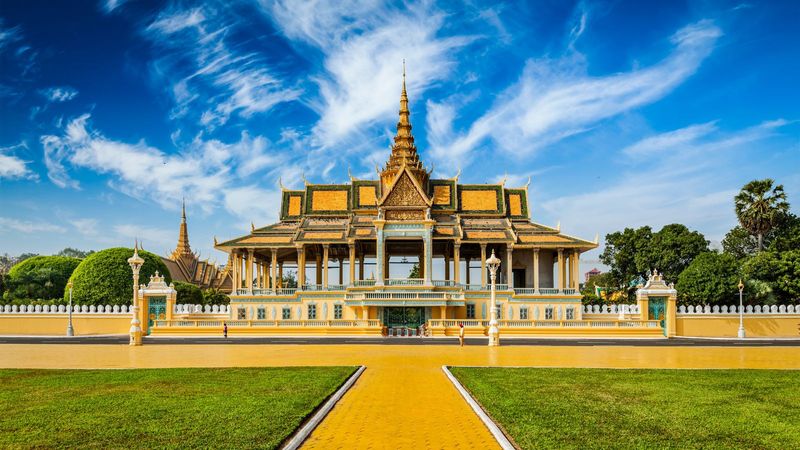 Closer to home, Cambodia is a small country in Southeast Asia, well known for Angkor Wat. Extensive temple campuses, lively nightlife, pristine beaches, and rich biodiversity make Cambodia a wholesome destination to visit. 
While to visit all other destinations on this list you'll have to fly, Cambodia is one country to which you could actually drive. If adventure is what you seek, start from the northeast of India, driving into the countries of Bhutan, Myanmar, and Thailand into the land of Angkor Wat. What's even better is that all of these cities are either visa-free for Indians or provide visas on arrival.
Best months to go: While monsoons can be beautiful and lush green, they'll hamper your exploration. From November to May, Cambodia experiences very little rain and clear blue skies, perfect for experiencing the wonders of the country. 
How to reach: Multiple airlines offer flights to Cambodia from major Indian cities with layovers in either Kuala Lumpur or Bangkok. 
What to do? Explore the world's largest temple at Angkor Wat, explore the delicious local cuisine, laze on pristine beaches and swim with elephants, witness the stunning architecture of the Phnom Penh Palace, and if you are a history buff, you might want to explore the museums dedicated to Khmer Rouge era across the country.
5. Madagascar
 While the stunning country of Madagascar has everything you can think of, it is especially a paradise for outdoor enthusiasts. This former French colony in East Africa offers a wide variety of activities like diving, wind/kite-surfing, hiking, wildlife experiences like whale watching, and even a guided motorized raid on ATVs to see lemurs!
If you're not the adventurous kind, however, fret not! The vibrant cities with their breathtaking colonial architecture house museums, royal palaces, gothic cathedrals, and bustling markets. Or you could experience the best of ecotourism with Madagascar's lush resorts.
Best months to go: To experience the wildlife and outdoor activities to the fullest, April to October are the best months to go to Madagascar. 
How to reach: Multiple airline carriers operate between major Indian cities and the capital of Madagascar, Antananarivo with 1 or two layovers. 
What to do? Explore wildlife in multiple sanctuaries across the country, indulge in outdoor experiences, and soak into the stunning architecture and colonial history in the capital city. You can even sign up for culinary classes to better explore the culture and vibrant seafood scene Madagascar offers.
6. Kazakhstan
 While often overlooked, Central Asian countries are slowly catching Indians' attention, Kazakhstan being one of them. Replete with the most stunning out-of-the-world landscapes, the country has marvels like Alakol Lake with a black volcanic pebble beach, Konyr-Aulie Cave in the limestone mountains famous for its healing properties, and Amankaragay Pine Forest which is famous for mushroom hunting. 
When in the country, you must also explore the rich architectural heritage on display. Museums, minarets, tombs, and the recently developed Karavansaray Tourist Complex have been designed to resemble a village on the ancient Silk Route. That said, major cities like Astana and Almaty offer a view into how the Central Asian country is developing with newer stylized complexes with more contemporary experiences.
Best months to go: April to May and September to October are the best months to visit Kazakhstan. While you could always visit at other times, be prepared to keep the local weather in mind while making an itinerary. 
How to reach: While the flights from other major Indian cities might have a layover or two, you could fly directly to Almaty from New Delhi. 
What to do? Drive around the country to soak in the beautiful nature, explore museums offering a deep insight into the local culture and tales, try Kazakhi cuisine in the vibrant cities of Almaty and Astana, and visit smaller towns on the old Silk Route for an authentic experience of the countryside.
---
Photo: Shutterstock