You can explore many adventure sports in India, but skydiving holds a special place in the hearts of adventure junkies. That feeling of thrill and euphoria that this adventure sport evokes is unfathomable.  
Skydiving gained prominence in India in the last decade, as many adventure junkies pushed themselves to take the leap of faith and embrace the gusting wind and clear blue skies. Today, skydiving is a part of pop culture, with many youngsters trying their hand at this adrenaline-pumping sport. So, if you wish to get your heart racing, then here are some of the best skydiving places in India.
Top seven places for skydiving in India
1. Aamby Valley, Maharashtra
What to jump from a height of 10,000 feet? Then, Aamby Valley in Maharashtra should be your choice. Located 106 kms away from Mumbai, skydiving in Aamby Valley is nothing short of an adventure. The lush green topography of this city, strong winds, and clear skies are what you experience when you do skydive here. The only prerequisite is that you must undertake an hour-long training before skydiving.
Cost of skydiving: INR 18,000- INR 62,000
Timing: 7 a.m. -9 a.m.
2. Mysore, Karnataka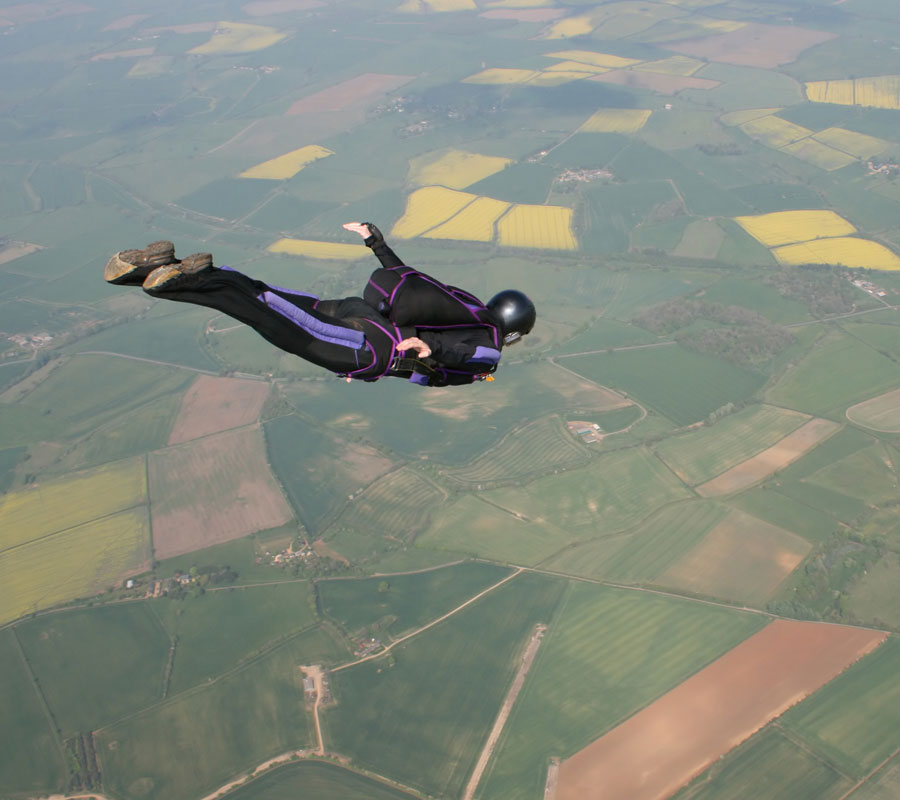 Skydiving in Mysore is unarguably one of the best and most thrilling experiences. Located three hours from Bangalore, Mysore is one of the most famous skydiving spots in India. You can skydive at the base of Chamundi Hills and witness breathtaking views of the city. However, head here only if you are an experienced skydiver.
Cost of skydiving: INR 35,000- INR 2,50,000
Timing: 7 a.m. -9 a.m.
3. Deesa, Gujarat
This quaint town in Gujarat offers the best skydiving experience that every adventure junkie must partake in. A skydive at Deesa will let you enjoy an aerial view of the lakeside town. Interestingly, Deesa in Gujarat is certified by the Sports Authority of India as a drop zone for skydiving.
Cost of skydiving: INR 16,500- INR 37,500 
Timing: 7 AM 
4. Pondicherry
Pondicherry is located on the coastline of India—and so skydiving here will give you an aerial view of the specular landscape of the Union Territory. The former French colony organizes frequent skydiving camps based on the weather condition. The minimum age for skydiving in Pondicherry is 16 years for Static jump and 18 years for tandem jump.
Cost of skydiving: INR 18,000- INR 62,000
Timing: 7 a.m.
5. Aligarh, Uttar Pradesh
Aligarh is another great place for skydiving in India. Situated in Uttar Pradesh, the city offers a morning and evening skydiving experience. So, you can choose whether you want to skydive during the beautiful sunrise or the sunset. However, you need to produce a medical certificate before skydiving here. This certificate must state that you are physically fit to skydive. The place also offers paragliding.
Cost of skydiving: INR 23,500- INR 27,500 
Timing: 9 AM-5 PM
What can be better than a picturesque view of a quaint little town and vistas of the stunning Himalayas as sky dive? That's what skydiving in Bir Billing offers. The small village has been adorned with one of the best skydiving sites in India—the main reason why it attracts adventure junkies from around the world. Besides skydiving, Bir Billing hosts paragliding services too.
Timing: 9 a.m- 5 p.m
Cost of skydiving: 4,900 onwards 
7. Hyderabad, Telangana
Nagarjuna Sagar Airport in Hyderabad is the best place in the city to go skydiving. An expansive area at the airport complex  is dedicated to skydiving, and professional instructors also provide short-term courses here.So if you want to skydive in Hyderabad, head on to Nagarjuna Sagar Airport.
Cost of skydiving: INR 19,500
Timing: 8:30 a.m– 10 p.m
Photo: Shutterstock