What is the first rule of walking through Mawsynram? The forest is always in charge. That's what Gurud, a Khasi guide tells me as we fasten our bootstraps in his backyard and look at the giant trees that can almost touch the sky. When you're walking through these bridges, being gentle and respectful is a must. But do these living roots, I asked, feel distressed in any way when people put their weight on them? "These are pliable roots and the strength they gain over time is enormous, so much so, that it even survives through storms and floods," he explained. 
Midway between the Meghalayan Khasi hills district and Shillong, the Mawsynram region sits on the eastern plateau, crowned by Cherrapunji—the wettest place on earth. More than a two-hour drive from the capital, if you look closely, here you will find a strip of land that enjoys long monsoon showers and explore a sprawling stretch of forest land perfect for those planning to surround themselves with the serenity of the wilderness. I arrived here in late summer when the dense clouds were starting to darken the sky, but the light was still enough to guide us through days of hiking. 
Paired up with three other hikers, one of them a botanist all the way from Bengaluru, our journey started from the central square of Mawsynram—where no more than a couple of hundred families reside along the climactic outback that gives the area its name. Most streets start as well-travelled trails. Outside the town residencies and bamboo houses, almost every structure has a thatched roof. Massive stalagmites are everywhere for you to awe over. Internet is an amenity for those who can find it, and tourism is sparse—so much so that locals often invite travellers to their homes for a traditional experience.
A charming escape like no other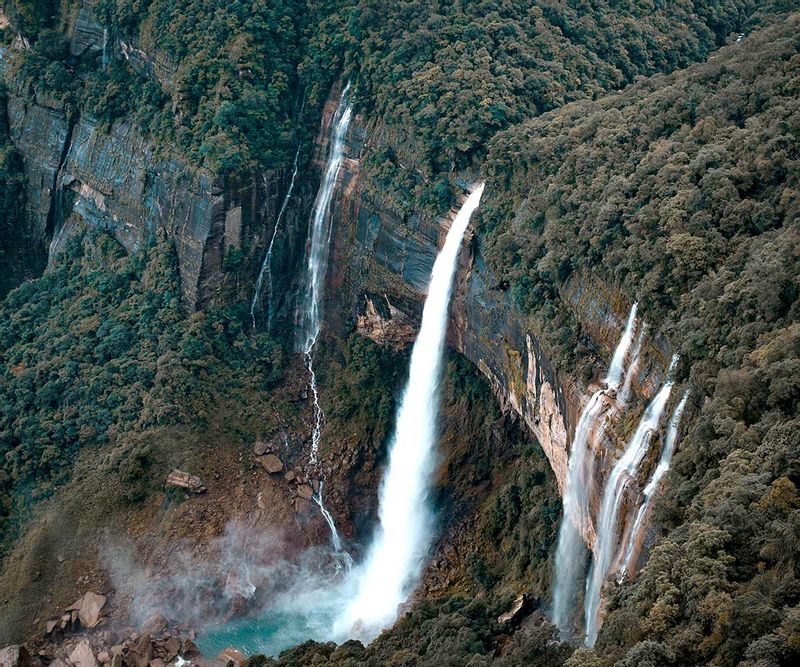 The beauty of this hike is that there is often no map in hand, no Wi-Fi to direct your steps, or even pit-stop cafes to quench your thirst. But those who find their way beyond the popular attractions, tend to return, especially to the Mawsynram region, sometimes over and over again. Most probably, because you get everything you need from the people and this place. These ethnic communities forage and farm in the meadows to bring about the most-rooted Khasi cuisines that wend through the state.
The first destination for us was the Garo region to Cherrapunji-Mawsynram Reserve Forest, an isolated nature reserve. Witnessing the iconic entanglement of interweaved roots from two trees historic to the area—ironically, looking up at the sun-rays peeking through the dense treetops—I couldn't deny the fact that this is the most present I have felt in a long while. Hours after meandering through these preserved lands, we drove up to Kynrem falls, about two hours away, for the cascading music and the cackle of wildlife that thrives around the world. Another artefact of a natural wonder, hidden in the untouched bounds of Meghalaya. 
Contrary to a popular belief or assumption, which often states that the area is harshly affected during monsoon, those who can dare wetlands and its bayous can travel here throughout the year. During the winter season, the humid conditions don't allow for the temperature to drop below 20°C, and in May the days are often longer than usual and comfortably warm.
Tamar Ghosh, 31, a forest ranger who was also a member of our group, walked his way through the entirety of the Mawsynram region (approximately 120 kilometres) to Pyndemdkhar last spring with his brother. Tamar had been to Cherrapunji and its surrounding regions a couple of times before, and when he was planning to travel again, he wanted something less man-made and more connected with nature, yet still fairly close to trails and tourist attractions. He found it in the living root suspensions in Mawsynram, and he planned to visit again. 
Spellbinding living root bridges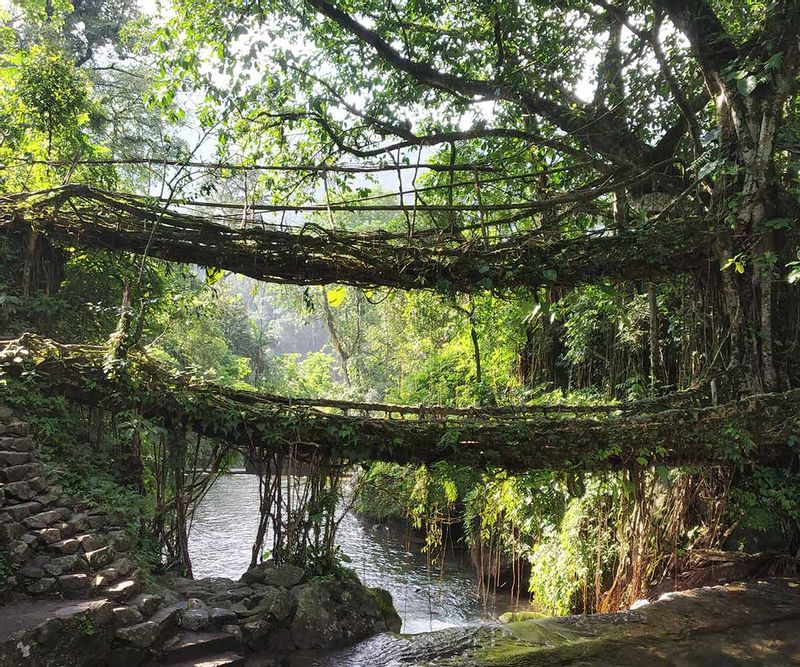 Customarily, the Khasi community pays ode to this natural reserve and helps these root bridges thrive by establishing trees across from each other on riversides or water streams. Whenever I came across a religious ceremony or small, stone-carved temples near the hollow trunks of some trees, I found encryptions—Vedic texts and more—that were later explained to me as a common tradition among the Khasis. They also string and turn the trees' underlying foundations around a stopgap wooden scaffold, which helps guide the roots to the opposite side of the waterway. At the point when the roots are adequately long to arrive at the other riverbank, they plant them down into the ground. Over time, the roots develop and fortify—making the root bridges more grounded.
There are many root spans dispersed across Meghalaya, however, some of the most unmistakable bridges that you can visit during your journey are Ummunoi, Umkar, Ritymmen, and the Mawsaw root bridges that are easily accessible from most town stations. Climbers should be prepared to trek, climb, and camp into the rich labyrinth of northern Meghalaya.
A trekker's delight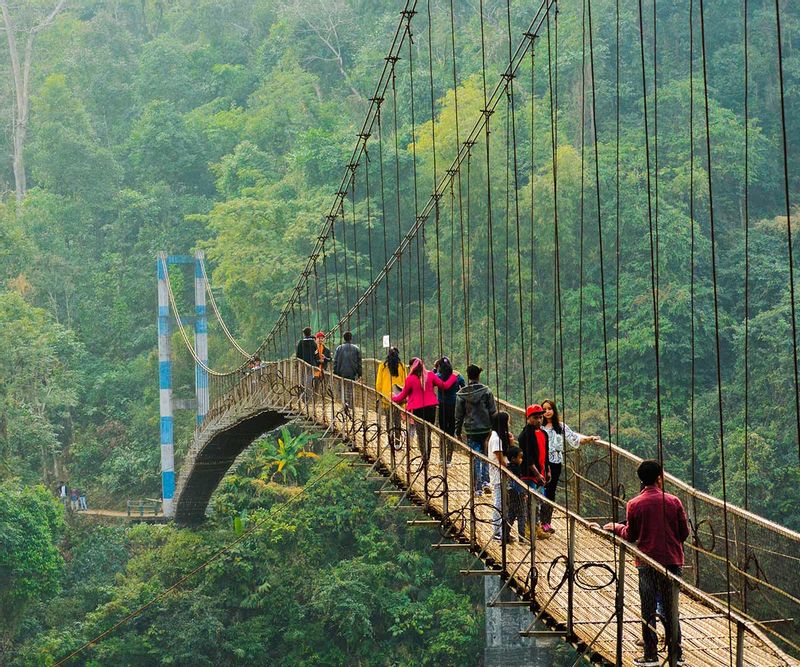 En route, I came across treetops that doubled as walkways for humans and animals alike, waterfalls, and untamed flora, just as we made our way through the tropical forest. One of these paths led us to the Umkar ravine, which is viewed as one of the most prominent living scaffolds of its kind in the entire state.
"We spend millions on our economy to develop paths that people can walk on to go places and come back home," said Apjuban Sunn who left his role as a regional manager after the pandemic to help conserve his homeland bridges.
"These ravines and living root bridges have been with humankind for ages, and have served us not with just a selfless way to get around but as a hostel to an entire ecosystem to thrive along."
The string of rubber figs—a plantation that the Khasi and Jaintia weave together to make these root bridges—grows abundantly in Nongriat, our next stopover destination. I decided to boat out beyond the deep river valley and mini islets and found a steep climb onto a tree—with its base forming stairs to the top, an unmissable view from high up. Near the Mawsmai cave, which is a soothing walk from Nongriat, time stands still, instilling a sense of calm in those who have ventured so far, rewarding them with serenity.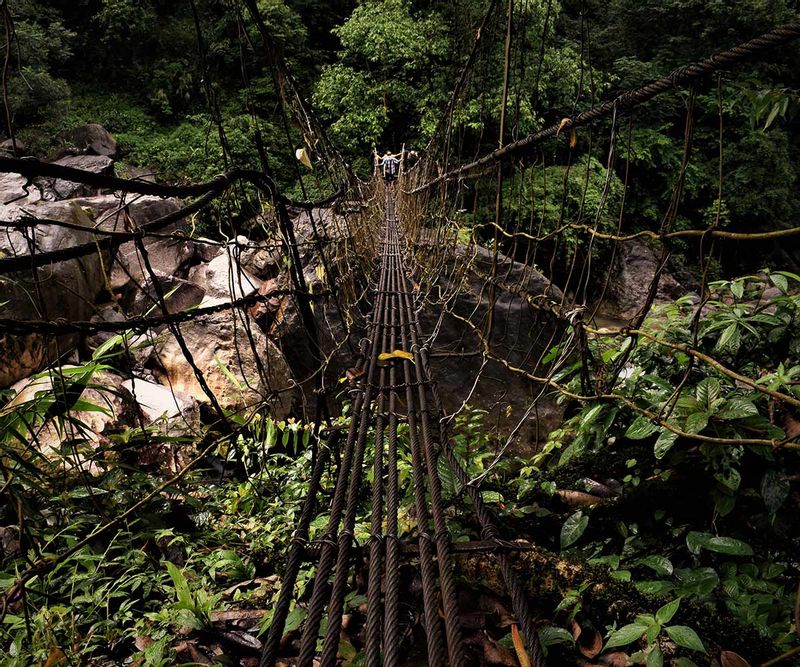 Once this stretch of mainland used to be a dynamic foraging community, a centre of arts and culture, that would teach people about conscious living. But with the gentrification of neighbourhoods in and around this area, the forest resources became scarce, and foraging became a secondary source of food. The forest behind Mawsmai that would stretch for a couple of hundred acres back around the late 19th-century is now just a couple of acres of trees. Industries, factories, and a thriving business community didn't only affect the people, it entirely changed the way the foragers lived. 
During our final stretch where we would walk through the Ritymmen root bridge to end our journey at Tyrna Village, Disksha, a forager we met close to the border told me poignant stories of the blessed travellers who walk upon these living roots and introduced me to a community of people who came from all over India to wander, but stayed, some even forever. Skeptical, I looked back to take in the grand vistas of Mawsynram, the hypnotising green wilderness that started to feel more like home.
---
Photo: Shutterstock and Unsplash