Uttarakhand is home to many offbeat places that one can travel to, and Kanatal in Uttarakhand is the ideal location for tourists looking for a peaceful getaway from the rush of city life because it is nestled in the Himalayas. The area is renowned for its tranquil and gorgeous surroundings, breathtaking views, and soothing atmosphere. Kanatal provides the ideal retreat to refresh your mind, body, and spirit. We all need to get away to get some fresh air sometimes.
The region is still mostly undeveloped and unaffected by the commercialisation that has engulfed most tourist hotspots. This implies that without the commotion and disorder associated with mass tourism, tourists can enjoy the locals' genuine culture, traditions, and way of life through the places to visit in Kanatal. The area's breathtaking natural splendour will take your breath away with its verdant forests, majestic mountains, and clear streams.
In addition to its breathtaking natural beauty, Kanatal is a paradise for those who love to go on adventures. The area is perfect for individuals seeking adventure and thrills because it provides a variety of thrilling activities like trekking, camping, rock climbing, and rappelling. The trekking routes in this area are challenging yet rewarding, and they offer some breathtaking views.
The rich cultural heritage of Kanatal is one of its most distinctive features. There are numerous tribes with unique customs, music, and dances. Attending festivals and fairs throughout the year allows visitors to get a firsthand look at the local way of life. Interacting with the residents of Kanatal will undoubtedly leave you with a lasting impression because they are friendly and hospitable.
One more appealing aspect of Kanatal is the cuisine. The regional food is straightforward but excellent, concentrating on fresh and locally obtained ingredients. Taste-tempting traditional meals, including Phaanu, Chainsoo, and Baadi, are available for visitors to experience. With various handicrafts and souvenirs that make lovely presents and keepsakes, the local markets are among the best places to visit in Kanatal.
Kanatal in Uttarakhand is a must-visit location for everyone looking for a respite from the chaos of everyday life. The site provides the ideal fusion of gastronomy, culture, adventure, and natural beauty, leaving you with priceless memories. Therefore, gather your belongings and travel to Kanatal for a revitalising and enriching experience you will always remember.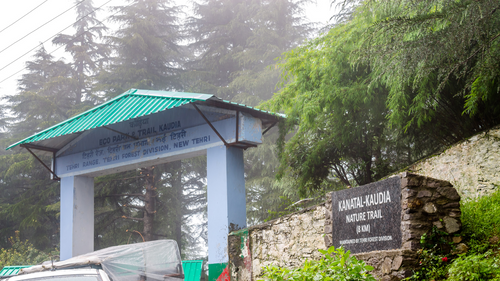 Kaudia Forest 
Kaudia forest in Kanatal is a lush forest home to various plant and animal species. Indulge in the splendour of nature by taking a stroll through the forest. If you're interested in wildlife and birds, this forest is one of the top places to visit in Kanatal for the excellent possibilities of birdwatching due to it being home to many species of birds that are local to the area. You can also hire jeeps as the track is motorable, leading to a quaint picnic spot. 
Best time to visit: Kanatal Forest is most enjoyable from October to May when the weather is pleasant
Ticket costs: An entrance fee of Rs 20 per person is applicable, and it is open from 9 am to 5 pm every day
What makes this place unique: Is the peace and quiet one feels in the middle of a dense forest
Kanatal Point
The area's tallest point, Kanatal Point, provides stunning panoramic views that are perfect for the gram. The climb to the peak is strenuous but worthwhile, with pictures at the end that are worth it, we promise. If you're looking for a place to make all your friends feel FOMO, this is sure to make your list of the places to visit in Kanatal. 
Best time to visit: March to June and September to November are the ideal months to see the Himalayan ranges from Kanatal as these months generally have clear skies.
Ticket costs: No entrance fee is required to visit Kanatal peak
What makes this place unique: The sense of accomplishment of reaching the summit, and the stunning view of snow-capped peaks.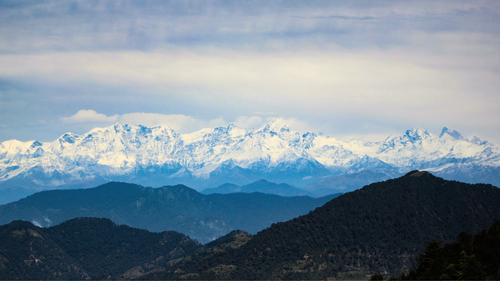 Adventure camps
Kanatal offers a variety of fun-filled activities for adventure lovers.  There are multiple adventure camps in the hamlet, that offer a variety of activities like rock climbing, rappelling, and camping. You can also go across the valley, zip-lining. 
The ideal time to visit: March to June and September to November are perfect for visiting Kanatal for adventure activities
Ticket costs: Different camps have different entry fees depending on the activity selected
What makes this place unique: The thrill and adrenaline one feels while participating in numerous adventurous activities
Surkanda Devi Temple
One of the revered Shaktipeethas, Surkanda Devi Temple, near Kanatal, is where Goddess Sati's head is said to have fallen. The temple is often covered with mist and is a 3 km hike from Kaddukhal, where one can park their vehicles. There is also a ropeway service, offering stunning views that you can take. 
Best time to visit: During the Ganga Dussehra Festival, held each year sometime in the months of May or June
Ticket costs: There is no admission charge to see Surkanda Devi Temple
What makes this place unique: Its inherent sense of spirituality and serenity that can promise moments of peace and tranquillity as you tour the temple grounds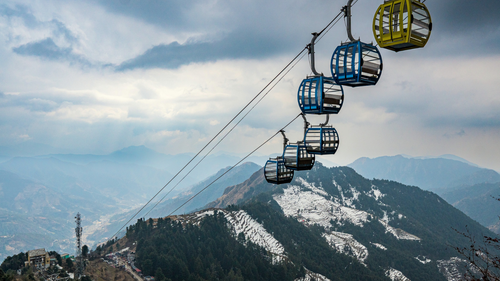 Kanatal Bazaar
Kanatal Bazaar is an ideal place to visit in Kanatal for those who love to shop everywhere they go. This vibrant market is a terrific spot to check out and purchase regional goods and trinkets. The interests available to visitors include ceramics, wooden crafts, and woollen shawls.
Best time to visit: When the market is teeming with activity, the winter season is the best time to visit Kanatal Bazaar
Ticket costs: There is no admission charge to enter Kanatal Bazaar, although we promise you'll spend a lot once you get there
What makes this place unique: This location is amazing since you may shop for genuine, one-of-a-kind local crafts
Tehri Dam
Tehri Dam is India's highest dam situated in close proximity to Kanatal. The dam is a well-liked picnic location and provides breathtaking views of the mountains nearby. Visitors can take a leisurely stroll along the dam or enjoy a picnic with their family and friends. You can also go boating in the reservoir lake, and enjoy other water sports. 
Best time to visit: The weather is quite pleasant from October to May, making it the best time to visit Tehri Dam
Ticket costs: While the activities' prices differ, there is no admission charge to see Tehri Dam
What makes this place unique: The dam is an engineering marvel, one of the highest in the world, and has a 54 km long lake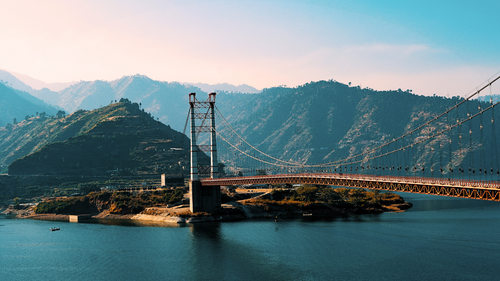 Explore living like locals
You can also experience the local village culture at the 'Pahadi House' in Kanatal. The yoga retreat is built like village homes and offers ayurvedic massages, and organic meals, and is perfect for a quaint weekend getaway. 
Best time to visit: You can experience all that the retreat has to offer, all year long
Ticket costs: The tariff starts at Rs 4,000 for double occupancy
What makes this place unique: The feeling of refreshment and relaxation from being in a beautiful natural setting, away from the hustle and bustle of life
Kanatal is a place with something to offer everyone, from those who enjoy the outdoors to those who seek adventure and those looking for spirituality and inner serenity. Kanatal is undoubtedly a hidden gem just waiting to be discovered with its lush green forests, rugged peaks, adventurous activities, quiet temples, lively marketplaces, stunning dams, and soothing retreats.
Some FAQs about Kanatal
1. Why is Kanatal so famous?
Kanatal is renowned for its breathtaking scenery, exciting activities, and peaceful atmosphere.
2. Which is preferable, Kanatal or Dhanaulti?
It is challenging to judge which place is superior because Dhanaulti and Kanatal each have their own distinctive charm and attractions.
3. Does it snow in Kanatal?
Yes, snow falls in Kanatal from December through February during the winter.
4. Where is Kanatal located?
A little town called Kanatal may be found in the Tehri Garhwal region of the Indian state of Uttarakhand.
5. When is the best time to travel to Kanatal?
When the weather is nice and conducive to outdoor activities, April to June and September to November are the best times to visit Kanatal.
6. How to reach?
Since Kanatal is well connected to important cities like Delhi, Dehradun, and Haridwar, getting there by car is simple. Kanatal is about 75 kilometres from Dehradun, where the closest airport and train station are located.
---
Photo: Shutterstock