With the global obsession with the Hallyu, South Korea's popularity is soaring high, thanks to K-Pop, Korean cuisine, and of course, K-Dramas. Many travellers now desire to visit the filming locations of their favourite K-Dramas, immersing themselves in the world of their favourite characters. To cater to this demand, several locations have even introduced special offers and packages, ensuring fans can fully enjoy this unique experience.
Eight famous shooting locations from well-known K-Dramas
1. Gwanghwamun Square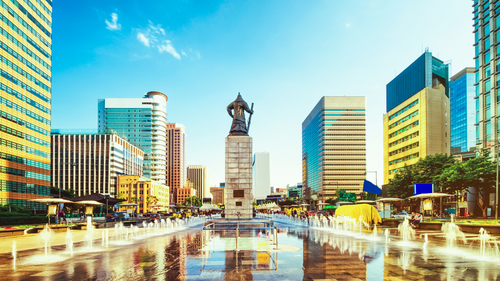 Gwanghwamun Square, located in Seoul, is a historical site that spans six hundred years of South Korea's rich heritage. Featured in popular K-Dramas such as The King: Eternal Monarch, The Last Empress, and The Devil Judge, this culturally and historically significant location is home to statues of Korean royal figures like King Sejong and Admiral Yi Sunshin. A visit to this modern yet traditional square offers an array of experiences, including museums, cultural monuments, and local open markets.
2. Lotte World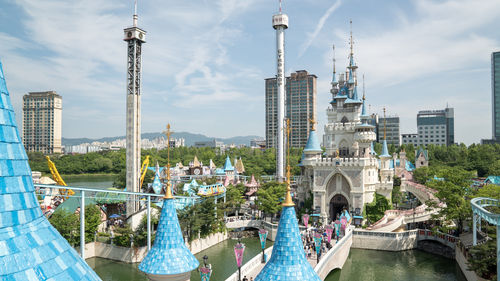 Lotte World, featured in K-Dramas like Business Proposal, True Beauty, and Stairway to Heaven, is a must-visit amusement park located in Seoul. Boasting thrilling rides, a folk museum, parades, a scenic lake, and an ice rink, Lotte World guarantees a day filled with delightful memories. Add this entertaining destination to your itinerary for a whimsical experience.
3. Cheonggyecheon Stream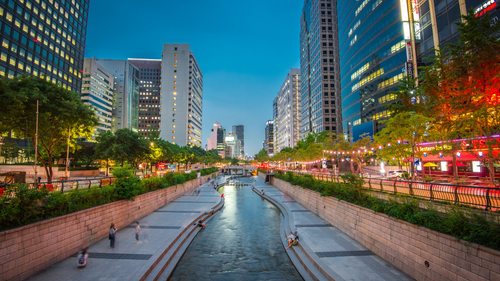 Cheonggyecheon Stream, flowing through Seoul, has been featured in K-Dramas like Vincenzo, True Beauty, and You Raise Me Up. Adorned with lanterns, picturesque bridges, captivating artworks, and outdoor exhibitions, this tranquil stream offers a serene retreat from bustling city life. With its architectural aesthetics harking back to bygone eras, a stroll along this stream provides a calming and serene experience.
4. Namsan Tower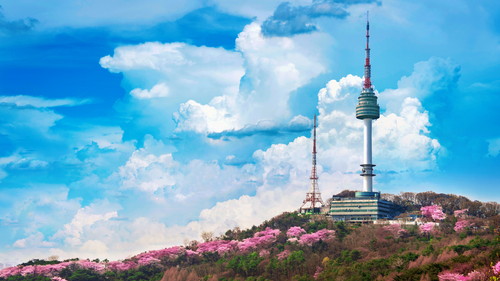 Perched atop a hill in Seoul, Namsan Tower, also known as N-Seoul Tower, is a functioning communications tower that offers panoramic views of the city. This iconic landmark has been featured in K-Dramas like Itaewon Class, The Last Empress, and Boys Over Flowers. Meticulously maintained, the tower provides breathtaking 360-degree views, particularly enchanting at night when the city sparkles.
5. Jumunjin Beach Breakwater
Jumunjin Beach Breakwater gained fame as the meeting place of the protagonists in the beloved K-Drama Goblin. Located in Gangneung-si, Gangwon-do province, this spot has become a popular tourist destination for K-Drama lovers. Originally constructed to protect the coastline from rough waves and erosion, Jumunjin Beach Breakwater now beckons travellers who wish to relive the magical moments from their favourite dramas. The nearby BTS bus stand is also a hot attraction for fans.
6. Deoksugung Palace Stonewall Walkway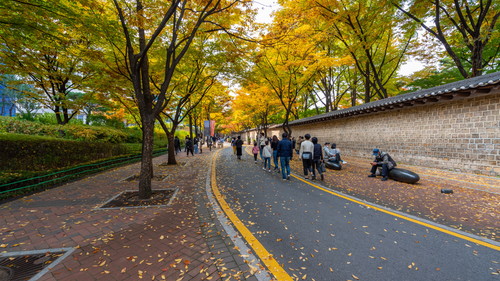 The Deoksugung Palace Stonewall Walkway is part of a historical complex in Seoul. This picturesque location has been featured in K-Dramas such as Goblin, Lovestruck in the City, and The Beauty Inside. This famous walkway has become a popular spot for K-Drama lovers to stroll and immerse themselves in the atmosphere of their favourite shows. The walkway becomes even more enchanting during autumn when the leaves turn vibrant colours, creating a truly captivating experience.
7. Dae Jang Geum Park
Located in Yongin-si, Gyeonggi-do province, Dae Jang Geum Park is a renowned destination for historical K-Dramas. This theme park and film set have attracted tourists and locals alike, with K-Dramas such as The Tale Of The Nine-Tailed, The King: Eternal Monarch, and Hotel Del Luna being filmed there. Visitors can immerse themselves in the old-world charm of the park, explore the captivating film sets, and even don costumes of their favourite characters. The park also features charming cafes, providing a perfect place to relax and soak in the nostalgic ambience.
8. Han River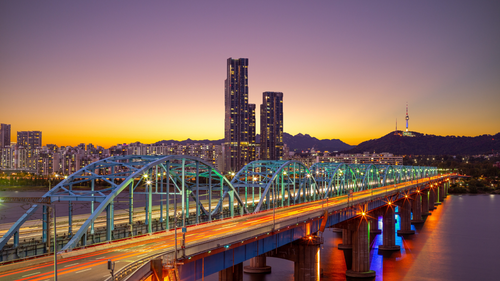 The Han River, also known as the Hangang River, is a popular tourist destination in Seoul. Spanning a significant length, this majestic river offers picturesque views and serene surroundings. It has served as a filming location for K-Dramas like What's Wrong With Secretary Kim and Squid Game. Visitors can enjoy leisurely walks along the riverbank, relax in scenic areas, or embark on a river cruise to fully appreciate the beauty of this iconic spot.
---
Photo: Shutterstock