An unassuming bird flies in the sky —imagine becoming that bird! If you've ever wished to experience the feeling of flying free like a bird in the sky, you must try paragliding. You can experience the thrill of paragliding at several locations across India. The average cost of paragliding in India is around INR 3,000. Here's a list of some of the top paragliding sites in India.
1. Paragliding in Bir Billing, Himachal Pradesh
The little town of Bir in Himachal Pradesh is also known as the Paragliding Capital of India. The panoramic views of gorgeous hills covered with lush green forests are adding to the resort's growing popularity. India hosted the Paragliding World Cup for the first time in 2015, and Bir was the event's venue. Favourable airflow and optimum cloud cover make Bir an ideal location for paragliding. It also ranks second on the list of the world's highest paragliding sites. October through mid-June is the best time to plan your paragliding adventure in Bir. The nearest airport is at Dharamshala, from where you can take direct buses to Bir. Camp Oak View, Friends Adventures and Blue Umbrella are some of the well-known tour operators in the region for booking a paragliding experience. The average cost of paragliding in Bir Billing starts at INR 3,500.
2. Paragliding near Ranikhet, Uttarakhand
Uttarakhand is home to the mountainous town of Ranikhet. Due to its location and conditions, it's known as one of the best paragliding sites in India for beginners. As you ascend the hills, you'll be treated to an abundance of beautiful greenery. The paragliding site is locally known as DaanKurhi. The best time for paragliding in Ranikhet is between September and March. The closest train station is Kathgodam, and the nearest airport is Pantnagar Airport. Tourists also drive it up from Delhi, which takes about 9 hours. WildriftAdventuresis one of the popular tour operators to book your paragliding experience. The estimated paragliding cost in Ranikhet is INR 5,000.
3. Paraglide above Kamshet, Maharashtra
Kamshet is a few hours' drive from Mumbai and Pune, making it a popular weekend getaway. That it's a beginner-friendly paragliding site is an added bonus. Kamshet's excellent weather conditions, ideal wind and stunning vistas make it the perfect location for paragliding for newbies and hobbyists. October through June is the best time to visitKamshet for your paragliding adventure. You will find many paragliding operators in Kamshet, like Indus Paragliding and Paragliding Mantra. A 15-minute tandem joyride would cost you about INR 3,000. 
4. Paraglide over Yelagiri, Tamil Nadu
About a five-hour drive from Chennai, Yelagiri is a popular hill station for weekend getaways. It offers visitors the chance to engage in several adventure activities, including paragliding. To promote the hill station as a paragliding destination, the Yelagiri Adventure Sports Association started the Yelagiri Paragliding Club, which offers a variety of paragliding equipment, training and tandem flights. The best time to visit the hill station for paragliding is between September to February. Jolarpettai is the nearest train station.You can get in touch with the paragliding club to book your experience, which may cost approximately INR 3,000.
5. Paraglide over Panchgani, Maharashtra
Panchgani is a well-known hill resort in Maharashtra's Satara region. Its proximity to Pune and Mumbai make it a popular destination for weekend trips. It's also a great location for paragliding. Paragliding enthusiasts flock to the area for its picturesque hills. Table Land, the second-highest plateau in Asia after the Tibetan Plateau, surrounds Panchgani. November to February is the best time to visit Panchgani for paragliding. Satara and Pune are the nearest railway stations to Panchgani.
6. Paraglide over Manali, Himachal Pradesh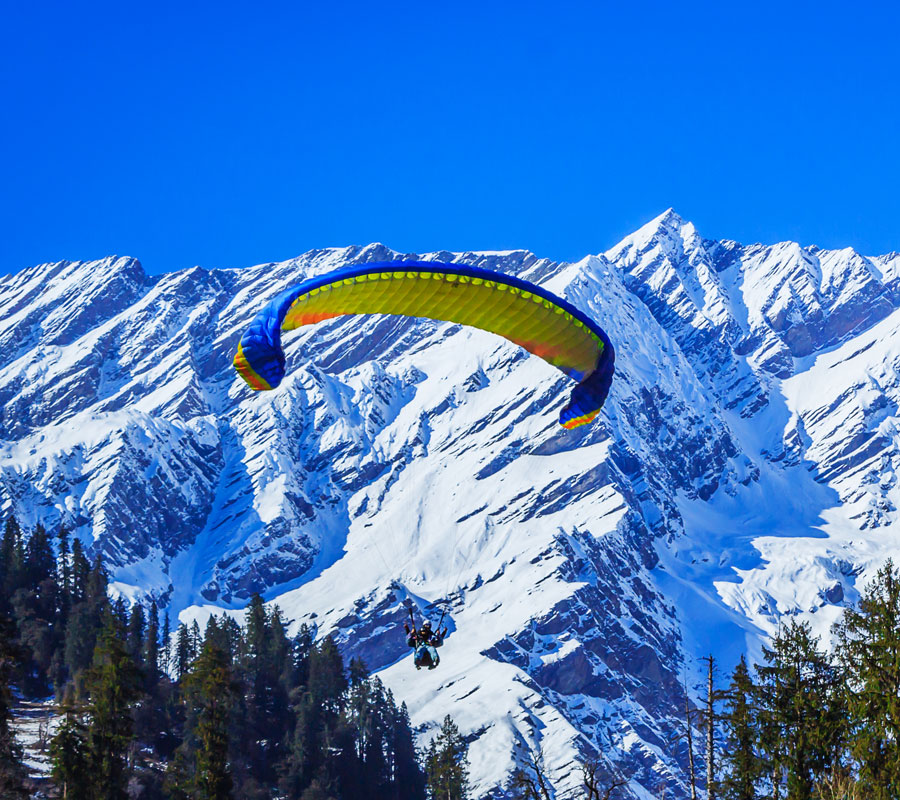 Himachal Pradesh is home to the famed hill station of Manali. Its gorgeous valleys and snow-capped peaks make it a perfect destination for paragliding. It sits more than 6,000 feet above sea level in the Himalayan foothills. So, breathtaking views will accompany your paragliding adventure in Manali. Solang Valley, Gulaba, Naggar Road and Fatru are popular spots for paragliding. October to May are the best months to go paragliding in Manali. Bhuntar, about 50 kilometres from Manali, is the nearest airport. Himalayan Extreme Centre and TigerEye Adventures are some of the well-known tour operators in the region. The average starting cost of paragliding in Manali is around INR 1,000. 
7. Paragliding over Nainital, Uttarakhand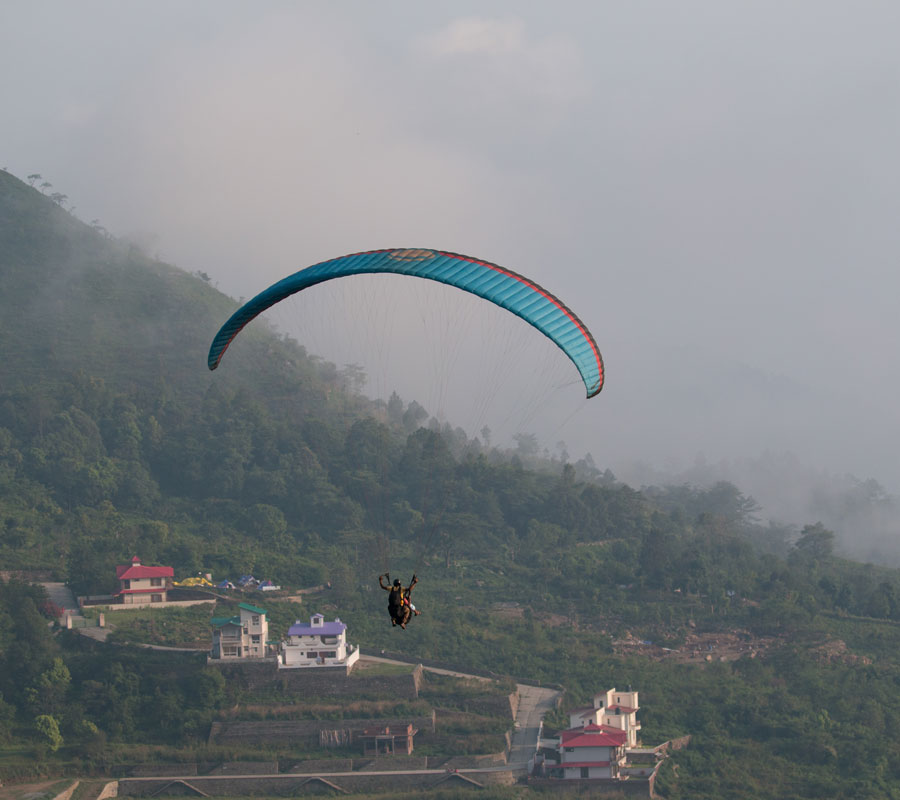 The Himalayan town of Nanital is a stunning getaway. Sitting at more than5500 feet (approx.) above sea level, Nainital has been a famous tourist destination for generations. Its picturesque hilltops, blanketed by thick forests, make it a popular location for paragliding too. Naukuchiatal is one of the popular paragliding sites near Nainital. The nearest train station is Kathgodam, about an hour's drive from Nainital. Pathikworld Tours and Sky Bird Adventures are among the popular operators for booking a paragliding experience. The cost of paragliding in Nainital starts at about INR 1,500.
There are many paragliding spots in India, with each promising a unique experience and adventure for beginners, hobbyists and experts alike.
Photo: Shutterstock