In the heart of the breathtaking state of Tamil Nadu lies a sacred city called Rameswaram. In addition to its charming natural beauty, it is known for its historical and theological significance. There are many things to do in Rameswaram, from historic temples to visiting beautiful beaches. Here are seven of the best things to do while you're in this lovely city.
Things to do in Rameswaram
1. Take a trip to the Ramanathaswamy Temple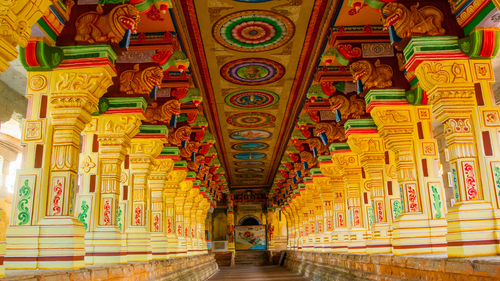 One of the most significant Hindu temples in India and a must-see attraction in Rameswaram is the Ramanathaswamy Temple. The temple, which honours Lord Shiva, is thought to have been constructed in the 12th century. The temple is renowned for its exquisite carvings, beautiful architecture, and holy water tanks.
2. Drive through Pamban Bridge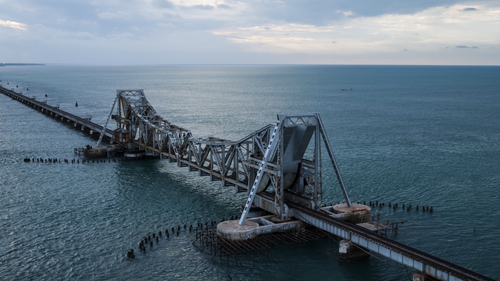 Rameswaram and the Indian mainland are connected via  Pamban bridge, a railroad bridge. It is regarded as one of Rameswaram's most famous sights and an engineering marvel. Beautiful views of the sea and the surroundings are sure to take your breath away while you're travelling over the bridge.
3. Wash away your sins in the Agni Theertham
Rameswaram is home to the sacred seashore known as Agni Theertham. It is said that one can-atone for their sins by bathing in the waters of Agni Theertham. The beach is renowned for its breathtaking sunset views, making it a popular location among photographers.
4. Take a trip to the Kalam National Monument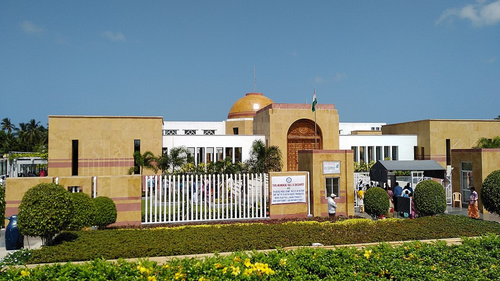 The Dr. APJ Abdul Kalam National Monument honours the memories of the former Indian president who was born in Rameswaram. The museum is a must-see destination for anyone interested in Indian history and culture because it features a number of exhibits and items linked to Dr. Kalam's life and accomplishments.
5. Explore the ruins at Dhanushkodi Beach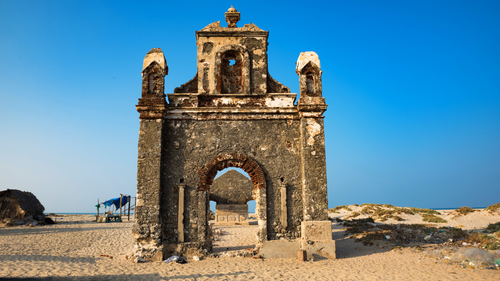 Situated in Rameswaram's southernmost point, Dhanushkodi beach is renowned for its pristine natural beauty. The beach is a wonderful spot to unwind because it provides breathtaking views of the surrounding area, including the sea. There are also some structures, now in ruins, at the beach that add to the landscape. In order to explore the adjacent islands and reefs, you can also take a boat cruise.
6. Take a trip to Gandhamadhana Parvatham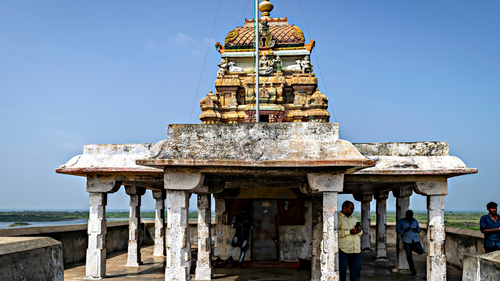 The Ramayana, an old Indian epic, is thought to have included Gandhamadhana Parvatham, a hill that is situated in Rameswaram. The hill is a well-known pilgrimage spot for Lord Rama worshippers, and offers stunning views of the surrounding countryside.
7. Savour regional cuisine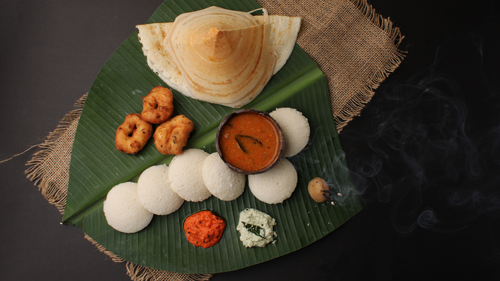 Rameswaram is well-known for its delectable South Indian cuisine, and there are lots of neighbourhood eateries and food carts where you may sample regional specialties. Dosa, idli, vada, and sambar are a few of the meals you must taste. The fresh and delectable fish meals from the area are another option.
Rameswaram is a city that has plenty to offer everyone, to sum up. There is a lot to see and see in this attractive city, regardless of your interests in history, culture, nature, or food. Plan your vacation to Rameswaram today to take in the wonder and beauty of this sacred location.
While you're in Tamil Nadu, you can explore several other south Indian temples. And, witness some of the best beaches in Tamil Nadu as well.
---
Photo: Shutterstock