Drive to Mandarmani for the weekend getaway of your dreams. If Kolkata's hubbub has resulted in a long, endless week, a short trip to the beach might just be the cure. Only 180 kilometres away from Kolkata, the small seaside resort town of Mandarmani poses as the perfect beach holiday. The fast-developing beach resort town is in the East Midnapore district of West Bengal, and it's popular for its long stretches of sandy beaches.
Want to get more excited about why Mandarmani could be worth your while? For driving enthusiasts, Mandarmani's sprawling beaches are perfect, as the Mandarmani beach is one of the longest motorable beaches in the country. But, this fast-developing resort town is a popular destination amongst those looking to relax, swim, and sunbathe. The waters here are generally clean and clear, and the beaches are surrounded by palm trees and other vegetation, making it a visually appealing place to visit.
Apart from the several things to do in Mandarmani, it is also home to several small hotels, guesthouses, and restaurants, which offer accommodation and local cuisine to visitors. There are also a number of local shops and markets in the town where visitors can purchase souvenirs and other items.
Give Mandarmani 48 hours, and you'll have a relaxing weekend by the beach. Hop into the driver's seat with this list of things to do in Mandarmani, and check out for yourself what this town has to offer.
Things to do in Mandarmani
1. Drive on Mandarmani Beach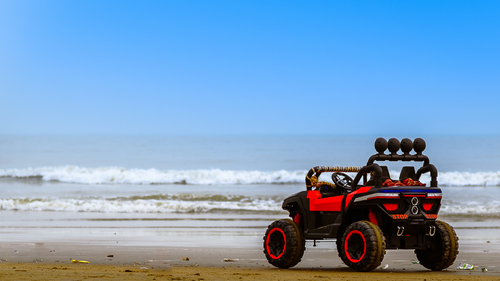 It's the longest driveable beach in the country, so how could you not take your car through the sandy stretches? Extending up to 13 km, this is one of the best beaches in West Bengal, and it gives you great views as you drive by. But while you might expect it to be populated with tourists indulging in the same activity as you, you'll be surprised to see how empty the beach here can be. Mandarmani Beach, despite its popularity, manages to stay less crowded, which is why driving on it is not only easy but adds to the thrill. That's why driving on this endless beach is surely a thing to do in Mandarmani. 
2. Indulge in water sports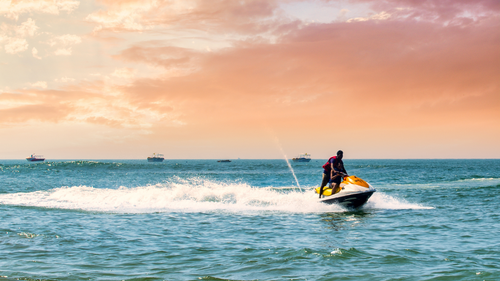 Like every other beach out there, one of the things to do in Mandarmani is to indulge in water sports. After all, what's the point of a beach getaway, if you're going to stay only on the shore? In the mornings, and till around 3:00 p.m., you can head to Mandarmani beach to ride a jet ski, go on a banana boat ride, and even ride an ATV on the beach. This is perfect for those who love a bit of activity on the beach instead of simply sunbathing away. Beach activities are a great addition to any holiday, especially if you're out with the family and want to keep the kids entertained. 
3. Visit Tajpur Beach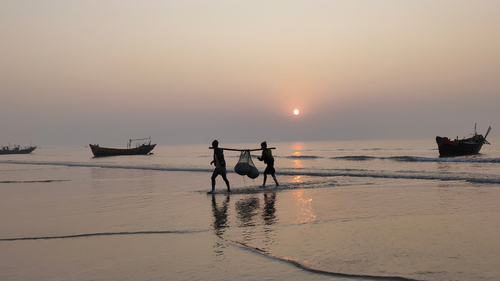 A lesser-known beach a few kilometres away from Mandarmani Beach, Tajpur Beach is secluded and pristine. The beach is worth visiting to view the dense vegetation of Tamarisk trees, which make the beach almost undiscoverable. During the day, you can also spot red crabs crawling across the beach. It is said that at times the beach resembles a red carpet! If you get to see crabs crawling on the beach in large numbers, lucky you! Regardless, you're sure to spot a few of them crabbing away on a slow afternoon.
4. Visit Shankarpur Beach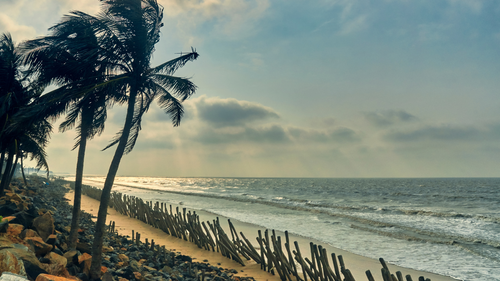 Beach hopping is one of the best things to do in Mandarmani and Shankarpur Beach is one place you should pay a visit to. The beach is also a regular fishing harbour, so you can watch fishermen bring the day's catch if you're taking a stroll early in the mornings. The white sand beach with crystal clear waters and mildly blowing wind offers a lot of photographic moments as well, and it's an ideal place to visit in Mandarmani to relax. You could have a beach picnic here, just make sure you carry a few snacks and a cloth to sit on. It's also a good idea to soak your feet in the water, as the seas here are cleaner. 
5. Watch over Mandarmani Mohana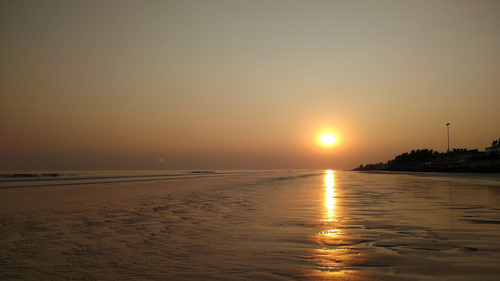 Catch a sunset at Mandarmani Mohana, which is one of the popular things to do in Mandarmani. Mohana is essentially an estuary, where the river and the sea merge, but the little beach town has converted this into a point where tourists flock to watch the merge. It's one of the places to visit in Mandarmani if you're looking for some quiet time. Regardless, the views are beautiful and it's fascinating to watch the natural flow of the river simply intermingle with the sea. 
6. Dig into Bengali seafood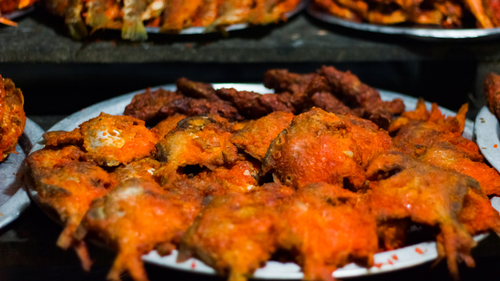 One of the things to do in Mandarmani is to dig into fresh seafood. Naturally, this would be on any list, right? While you're holidaying in the beach town, hop into the many restaurants and ask for the fresh catch of the day. Chances are you'll get to sample a local fish variety. But we recommend you go big and try crabs, lobsters, clams, and large-sized squids too. There's ample seafood you can chow down here, all cooked Bengali style. You'll spot several home-style restaurants serving fuss-free food. But if you prefer comfort, resorts here have a restaurant or two attached, where you are guaranteed to get meals, you'll love. 
7. Go shopping in Mandarmani's markets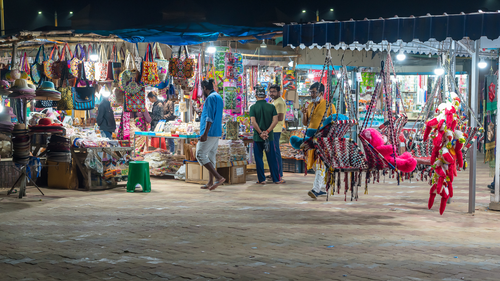 The resort town is increasingly trying to attract more tourists. So, you'll spot a lot of souvenir stalls in Mandarmani's local market. One of the things to do in Mandarmani is to buy statues, jewellery, and even small home décor knick-knacks all made using shells. Keeping up with the theme of being a beach resort town, you get umpteen items with materials from the beach. Expect idols, dolls, and even necklaces, bracelets, and earrings crafted out of shells and then painted in different colours and styles. 
Extend your beach holiday and visit Digha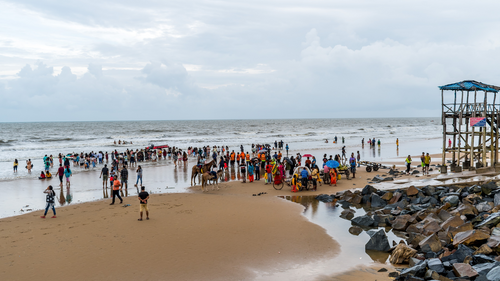 If you're loving your beach holiday a little too much, why not go further along the road to explore more? Drive 30 km more and reach another beach town in West Bengal, Digha. This town is more popular amongst West Bengal locals and you'll see several locals drive from Kolkata here for a weekend. Digha offers great beaches to stroll on, lots of beach activities and water sports, and even a watchtower to see Mohana (from the opposite side to Mandarmani).
How to reach Mandarmani
Located approximately 180 kms south of Kolkata, Mandarmani is in the Purba Medinipur district of West Bengal. The best way to reach Mandarmani includes:
By air: The nearest airport to Mandarmani is Kolkata International Airport, which is well-connected to major cities in India and abroad. From the airport, you can hire a taxi or take a bus to reach Mandarmani.
By train: The nearest railway station to Mandarmani is Digha Railway Station, which is well-connected to major cities in India. From the railway station, you can hire a taxi or take a bus to reach Mandarmani.
By road: Mandarmani is well connected by road to major cities in West Bengal and the rest of India. You can take a bus from Kolkata or other nearby cities to reach Mandarmani. You can also hire a taxi or drive your own vehicle to Mandarmani.
Best time to visit Mandarmani
The best time to visit Mandarmani depends on whether you want a beach getaway in the summer or winter season. The monsoon season, which lasts from June to September, is best avoided as the area experiences heavy rainfall and rough sea conditions. Summer, which lasts from March to May, can mean that the coastal town of Mandarmani is hot and sultry. The humidity is high, making afternoons quite uncomfortable for sightseeing. The temperatures during this period range from 36 to 22 degrees celsius. The sun is usually scorching in West Bengal, making Mandarmani a destination you can only explore in the summer evenings once it's cooler and easy to stroll along the beach. From December to February, the winter season brings with it the best weather to explore the beach town of Mandarmani. The temperature ranges from 15 to 35 degrees Celsius, making it comfortable to explore the area. It is also the peak tourist season, so there are more options for accommodation and activities. The skies become clear and bright blue, there's a chill in the air, and the mild winds from the sea make Mandarmani a lovely place to sightsee and indulge in water sports. 
Best places to stay in Mandarmani
As Mandarmani is a fast-growing beach resort town, there are ample resorts and hotels you can stay at for the weekend. From luxury resorts to budget hotels, you'll have several options to choose from. Some of the well-known ones include Viceroy Resort, Mohana Beach Resorts, Lloyds Beach Resort, Grand Beach Resort, Dolphin Beach Resort, among others.
FAQs
1. Can I visit Mandarmani during the current COVID-19 situation?
At the time of publishing this article, no mandatory RTPCR is required for domestic travel within the country. Although it's advised to have completed your vaccination as per protocols. If passengers are found to have or develop symptoms during travel, respective airlines will guide you to the next steps. However, in case of travel by train or road, it's best to take a test if you develop any symptoms along the way and take all necessary precautions. 
For international passengers, a pre-departure RT-PCR negative report is mandatory from January 1, 2023, if they are travelling from six countries including China, Thailand, Singapore, Hong Kong, Republic of Korea, and Japan. 
2. How can I go to Mandarmani from Kolkata/Howrah?
Kolkata and Howrah are roughly 180 kms away from Mandarmani. This can serve as one of the best road trips to the longest drivable beach in India, Mandarmani Beach. There are other ways to travel to Mandarmani including:
By Bus: There are regular bus services from both Kolkata and Howrah to Mandarmani. The journey takes around three to four hours and tickets can be purchased at the bus stand or online.
By Train: The nearest railway station to Mandarmani is Digha Railway Station, which is well connected to both Kolkata and Howrah. From there, you can hire a taxi or take a local bus to reach Mandarmani.
By Car: If you have your own vehicle, you can drive from Kolkata or Howrah to Mandarmani via the NH6 highway. The journey takes around three to four hours.
By Flight: The nearest airport to Mandarmani is Netaji Subhash Chandra Bose International Airport in Kolkata. From there, you can hire a taxi or take a bus to reach Mandarmani.
---
Photo: Shutterstock