Picture this: You are miles away from the hustle-bustle of urban  life, sitting quietly on a deck or bench, sipping on a freshly brewed hot beverage. You're greeted with a mind-boggling panoramic view of one of India's majestic mountain ranges. The air is crisp; a rich, sweet smell lingers, and lush greenery or snow graces every nook and corner you turn to. Endless opportunities for adventure and sports await you – whether you love endless strolls, a back-breaking trek, a quick paragliding experience or something else entirely. 
And you're feeling happy and satisfied because at the back of your mind you know that a part of what you're spending here is going to sustain the area and local community.
From the big chains to boutique resorts and hotels, several properties located in the mountain destinations of India are taking efforts to blend comfort with sustainability in their unique way. This may include working with local communities to boost the local economy, taking active steps to reduce the property's carbon footprint, making sustainable choices in their service (for instance, saying no to single-use plastic, promoting renewable energy, waste segregation, and water-saving initiatives), and preserving the culture and history of that area or region.
They are doing their bit towards the protection and sustainability of mountains. On International Mountain Day, celebrated annually on December 11 to generate awareness about the importance of mountains, here are some of the mountain hotels and resorts in India that are leading examples of such principles. 
1. Sinna Dorai Bungalows, Valparai, Tamil Nadu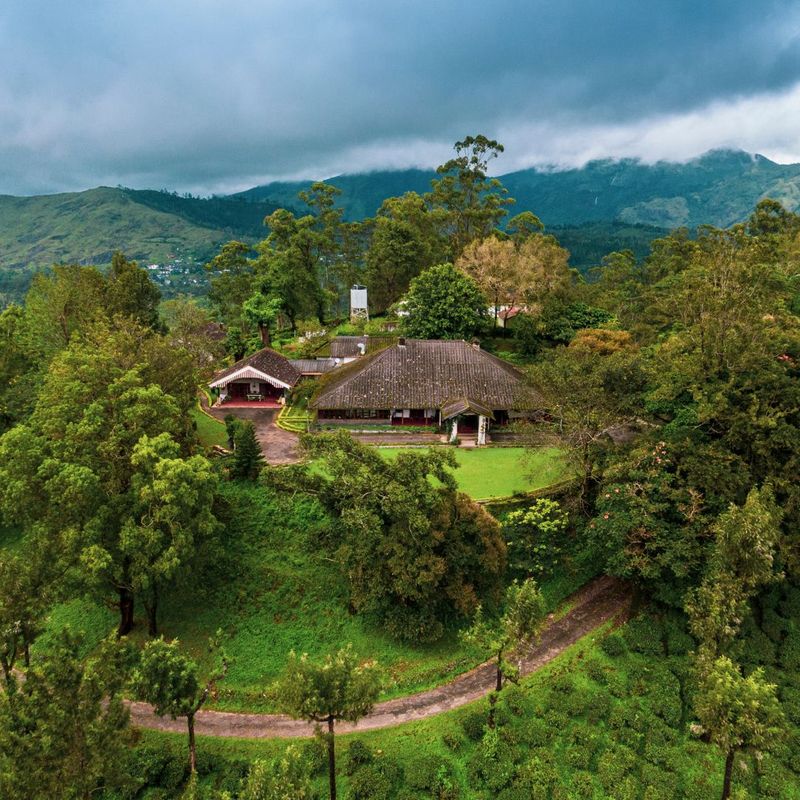 Nestled in the Parry Agro tea plantations on the Valparai Plateau, Sinna Dorai Bungalows offer impressive views of the Anamalais mountain range. The surrounding area, which is a rainforest, is home to several endemic and endangered flora and fauna such as Asian elephants, gaurs, lion-tailed macaques, great hornbills, and white-bellied shortwing. 
Sinna Dorai understands the importance of nature and its elements and works with The Nature Conservation Foundation. Their work involves research on man-wildlife conflict and mitigation and ecological restoration. The property along with the foundation also hosts educational experiences at Eco Quest, which is their information centre.  
2. The Kumaon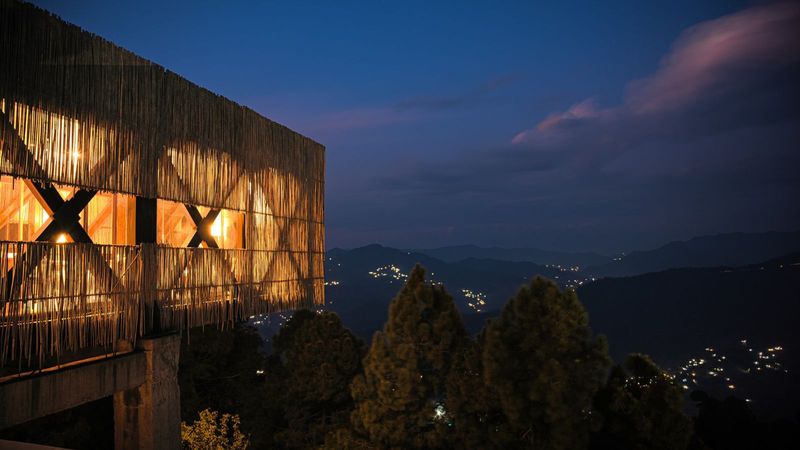 A boutique eco-tourism resort in the hilltop village of Kasar Devi region in Uttarakhand, The Kumaon houses 10 chalets. Each of the stays promise spectacular unrestricted views of the highest peaks of the Himalayan range such as Nanda Devi, Trishul and Chaukhamba; mountains, and lush green forests. The Kumaon, spread across 2.5 acres of land, offers itineraries that allow the guests to experience the local flora and fauna, meet locals and witness their way of life, livelihood, and more. They strive to preserve the culture, knowledge, and ecosystem of their surroundings, and as a part of which, the resort plants native species of trees, which indirectly promotes bird visits; ensures they support the farm-to-table supply chain through their menu and practices rainwater harvesting. 
3. Amaya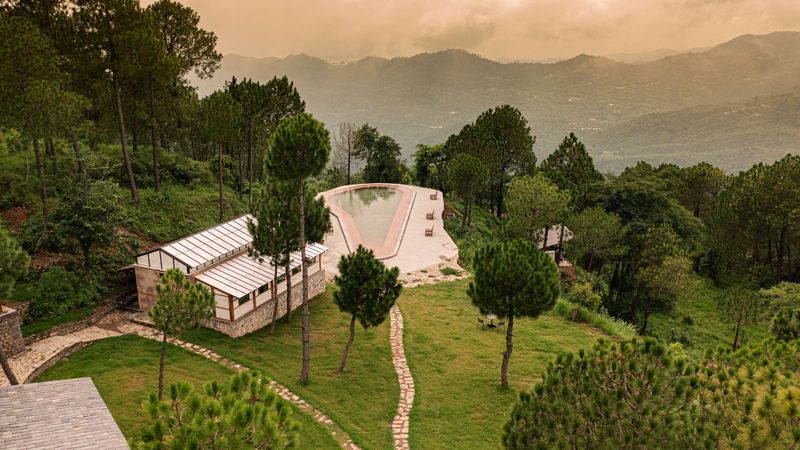 A private sanctuary spread across 25 acres of a mountainside near Kasauli, Amaya opened its doors for guests in October 2022. It promotes simple and mindful travel and offers thoughtfully designed and curated experiences for guests who desire a break from the fast-paced city life and to be one with nature. It boasts a total of 15 stays, including chalets, suites, and villas, that have been designed and constructed after carefully studying the ecology of the surrounding area, which is a pine forest. Each of these structures is built using local materials such as wood, lime, and stone. 
4. 200 Degrees by Neeralaya, Manali, Himachal Pradesh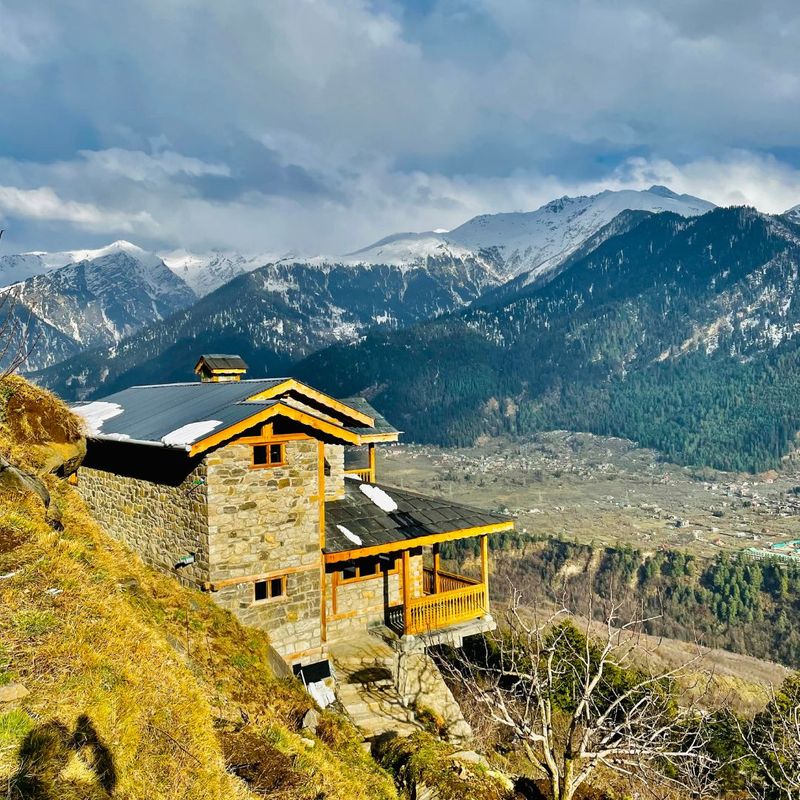 Get up, close to nature, and understand the Himachali way of life while you're at 200 Degrees by Neeralaya. It is nestled in an apple orchard, which is a short hike away from the lodge, and guests have access to the nearest village, where they can interact with the locals, and learn about their life, horticulture, and farming. What more? The mountain lodge offers breathtaking views of the beautiful Kullu Valley.   
In addition to helping guests build happy memories, the good folks at 200 Degrees by Neeralaya also work with the locals to counsel the children of the village school, devise plans for rainwater harvesting, and undertake cleanliness drives from time to time. 
5. Blue Book, Gethiya, Uttarakhand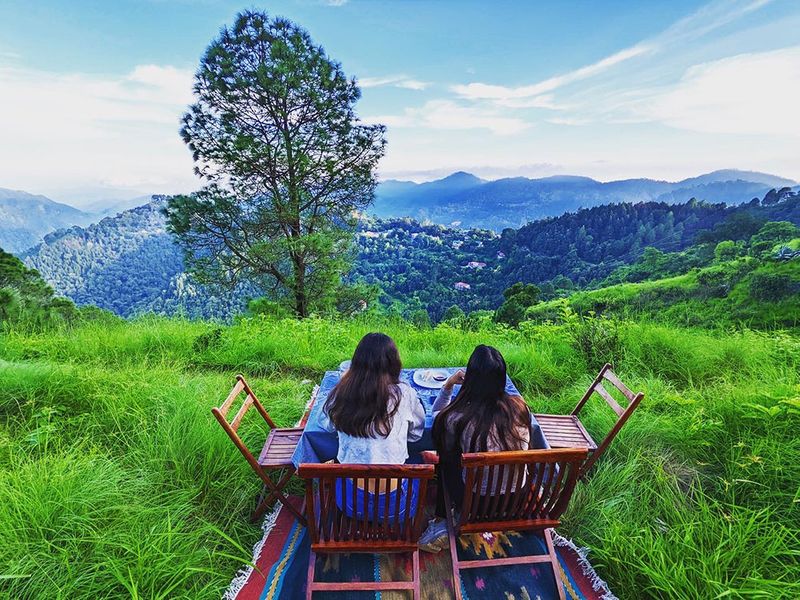 Situated in the Kumaoni Hills, off the Delhi-Nainital road in Uttarakhand, Blue Book at Gethiya promises sustainable luxury, personalised service, endless views of the Jeolikote Valley, Nainital, and lush green forests and mountains around, and several opportunities for bird spotting – the property has bird baths across, that attract over 60 species of birds. 
Emphasising on environmental awareness, the property believes that even the smallest of steps can bring about a big change, and that starts with employing people from the local community and sharing water with the village. You won't find any single-use plastic at Blue Book. They provide bamboo-made daily essentials such as toothbrushes, combs, and razors. The property boasts of an organic garden, which is sustained using manure made of decomposed kitchen waste.  
Blue Book is part of RARE India, which is a community of like-minded sustainable-luxury, small and boutique property owners, who believe in preserving culture and biodiversity, in addition to personalised experiences and great service.  
6. Lchang Nang Retreat, Nubra Valley, Ladakh 
The 25-acre retreat, featuring 17 local Ladakhi-style cottages, nestled in the famous Nubra Valley of Ladakh is best visited between May and September. With picture-perfect landscaping with flowering plants, Siberian elm trees, and more, the property lives up to its name Lchang Nang, which literally means 'house of trees'. Coming to its sustainability practices, Lchang Nang relies majorly on solar energy. It has a host of solar panels and battery banks, which the property claims generate 95 per cent of the energy used there. Most structures are built using mud, willow, stone, and poplar, they have a flood irrigation system to water 20 acres of land, garbage segregation and recycling measures. 
7. Banasura Hill Resort, Wayanad, Kerala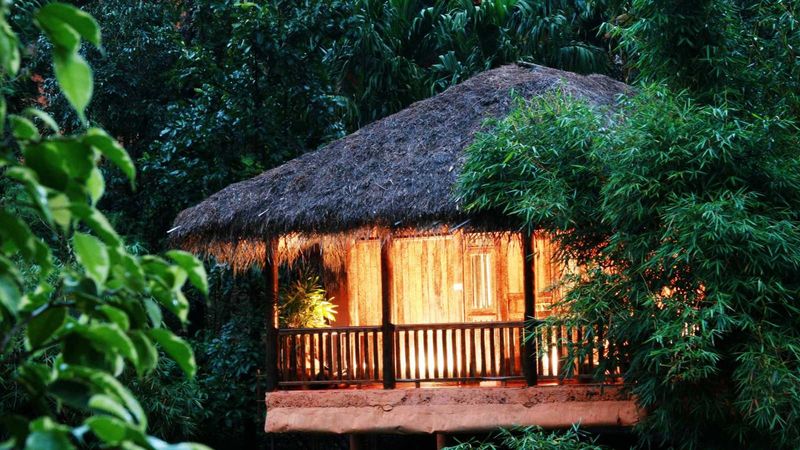 Situated in Wayanad, Kerala, at an altitude of 3500 ft., the Banasura Hill Resort is an eco-friendly farm property surrounded by waterfalls, streams, historic caves, and mesmerising mountains. It spans 35 acres and the highlights of Banasura Hill Resort are the 'earth rooms', which are basically traditional huts, made using rammed earth, inspired by the ancient Mesopotamian era. The furnishings of these rooms are made of bamboo and roofs are thatched, made of grass. These mud-made rooms stay cool even in the peak of summer. 
The hill resort houses a biogas plant to recycle organic waste and fire its kitchens, vetiver plants around it to prevent soil erosion, Guadua bamboo saplings to create a natural bio-fencing, and CFL (compact fluorescent lamps) across the property to minimise energy consumption.   
8. Nadis Hotel, Srinagar, Kashmir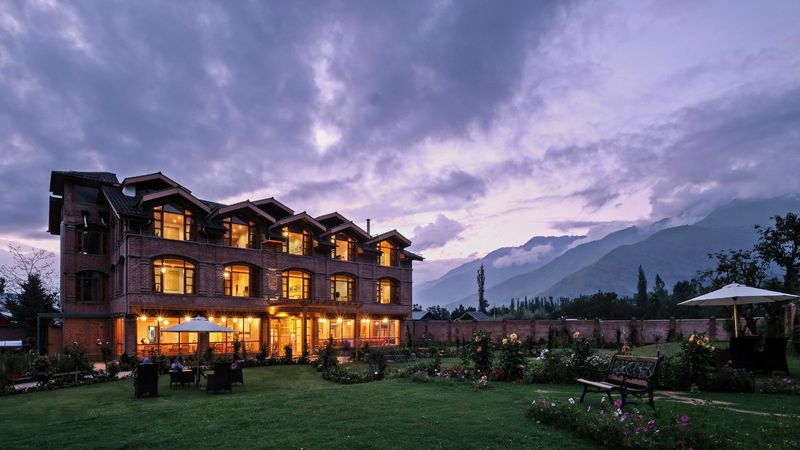 Located on the foothills of the Zabarwan mountain range, Nadis Hotel takes pride in its authentic experiences and Kashmiri hospitality. The property helps boost local economy by employing people from neighbouring villages, hosts cleanliness drives in and around the area, harvests rainwater, practices waste segregation and management, and uses waste water for watering flower beds and lawns. The owner, Yaser Shaw, also works with local weavers and artisans to promote Kashmiri heritage and encourage community engagement programs in surrounding villages. 
9. Stok Palace Heritage Hotel, Stok, Ladakh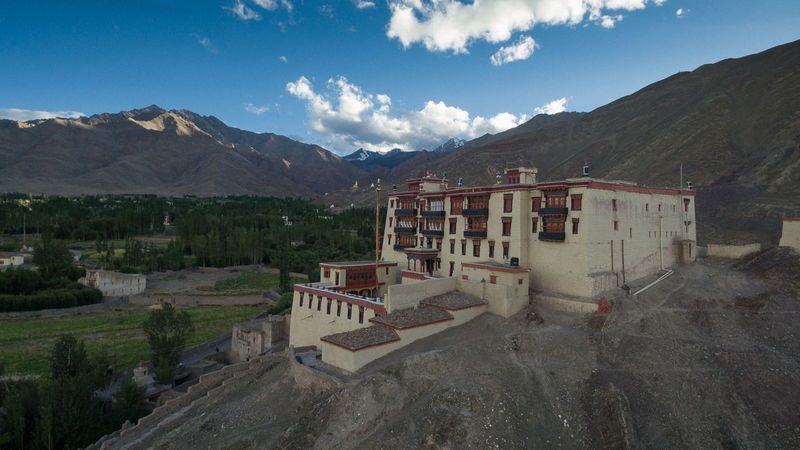 Situated atop a mountain in the idyllic Stok village of Ladakh, the Stok Palace Heritage Hotel has a rich history that dates back to over 900 years. There is a strong focus on culture and heritage here, which explains the presence of a museum with antiques (some even sanctified by the Dalai Lama himself), and a monastery within the premises. This boutique hotel is a heritage structure itself with several examples of time-tested architectural marvels inside it. The food served at Stok Palace Heritage Hotel is locally grown and sourced to ensure guests get an authentic experience.  
10. Ananda - In The Himalayas, Uttarakhand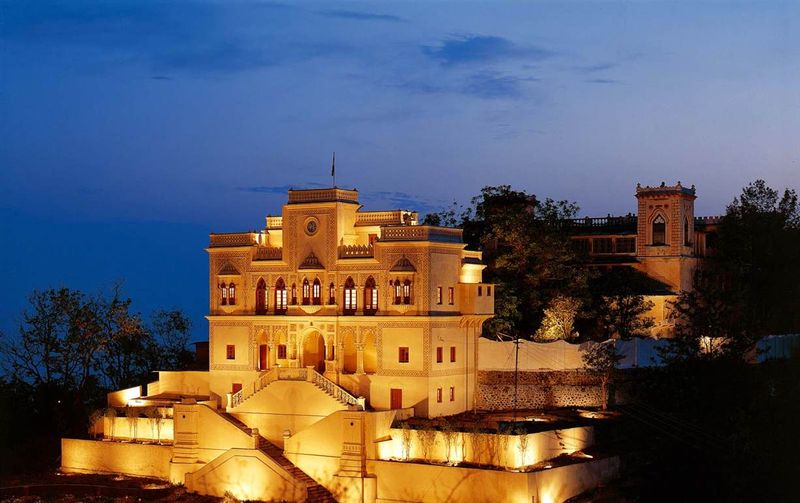 Spanning 100 acres, Ananda - In the Himalayas is a luxury wellness retreat set in a restored Maharaja palace. Ananda is rooted in Ayurveda, Yoga, and Vedanta. The resort provides immersive customised wellness programs, created and curated by experts, to help guests restore balance and harmonise energy. These programs include a combination of traditional massages, aromatherapy, yoga sessions, and facials. 
To keep Ananda green and sustainable, the resort has adopted several measures - from using recycled water for gardening to going on an afforestation drive to increase the greenery of surrounding areas. 
---
Photo: Shutterstock and featured properties