Trekking or backpacking is an outdoor sport that entails covering significant distances over landscapes like hills, forests, and mountains. Trekking has many more advantages besides just being a fantastic way to stay physically healthy and discover new locations. This article will discuss the value of trekking and how to be ready for a journey.
Why is trekking important?
Trekking requires extensive amounts of uphill and downhill walking, so it's a great way to stay physically active. You can increase your strength, stamina, and cardiovascular fitness by trekking.
Mental Health: Going on a trek can be a terrific way to improve your mental health in general, as well as to relieve tension and worry. You can detach from the grind of daily life and feel calm and relaxed thanks to the beautiful and serene surroundings.
Trekking provides a special opportunity to discover new locations, interact with nature, and challenge yourself. The memories of the trip might last a lifetime, and it can give one a sense of adventure and accomplishment.
How do I get ready for a hike?
1. Choose your destination
Picking your destination is the first step in getting ready for a walk. You should conduct a comprehensive investigation of the area and take into account variables like the duration and complexity of the walk, the climate, and the required permissions.
If you're looking at trekking over the weekend, here are places to trek to near Delhi.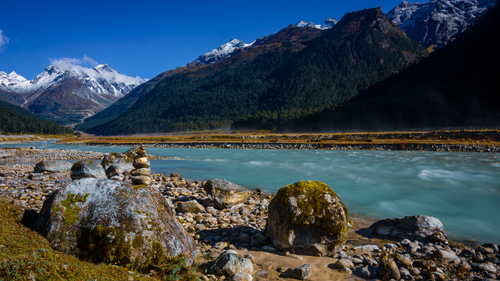 2. Route planning
You should prepare your route in advance and bring a map and compass, a GPS device, or a smartphone app. Also, you should let someone know when you expect to return from your excursion and what your goals are.
3. Train your body
Trekking requires long walks while carrying a backpack, so it's important to prepare your body for the effort. Start by including both cardio and strength training workouts in your programme.
4. Wear proper gear
The proper attire is crucial for a secure and comfortable trekking experience. You ought to dress in loose-fitting, breathable clothing, sturdy footwear with adequate traction, and a cap to shield your head from the sun.
5. Carry essentials
You should always have a backpack, enough water, snacks, a first aid kit, a map, a compass, and an umbrella or raincoat with you.
Trekking is an adventurous activity that needs planning and the appropriate equipment. Having the proper gear is essential for a secure and comfortable trekking trip, regardless of your level of experience.
Here are the trekking items you must be prepared with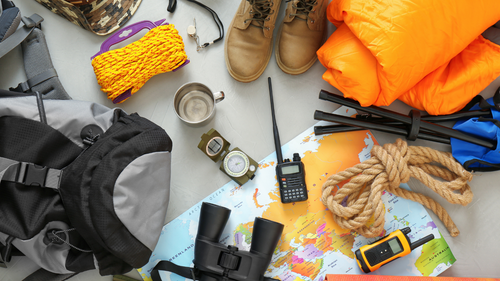 Backpack: One of the most essential items for a trekker is a backpack. It should be portable, strong, and big enough to hold all of your goods. A good backpack needs to contain a waist belt for weight distribution and a cosy harness for comfort.
Trekking boots: Trekking boots are made to offer stability and traction on rocky terrain. They ought to be strong, water-resistant, and provide adequate ankle support. The appropriate footwear can reduce the risk of injuries and blisters, while also improving your trekking experience.
Clothing: Dressing appropriately is crucial for a comfortable and secure hike. You ought to dress in loose, breathable, and appropriate clothing for the weather. You should always have a good pair of trekking pants, a T-shirt that wicks away sweat, and a windproof jacket with you.
Water bottles: It's important to stay hydrated while trekking. To ensure a safe and clean water source, you should bring enough water bottles to last the entire walk. It's also advisable to include a water filtration device or purification pills.
Tools for navigation: A map, compass, or GPS unit are all necessary for a safe and successful hike. Before embarking on a hike, you should become familiar with map reading and compass use. Although they can be useful, GPS devices and mobile apps shouldn't be used exclusively.
First aid kit: Every hiker should include a first aid kit as a necessary item of gear. Basic supplies like bandages, antiseptic wipes, medicines, and any other prescriptions you might need should be included in them.
Flashlight: A headlamp or a flashlight can be quite helpful when trekking because it frequently entails walking in dim light or at night. You can use a headlamp or a flashlight to see in the dark and to help you in an emergency.
Having the appropriate gear is essential for a secure and comfortable trekking trip. The seven items listed above are crucial for beginners to have in order to properly prepare for their first hike. Before leaving, make sure to check the area and the weather, and let someone know you plan to go trekking. You can have a memorable and pleasurable trekking trip by being prepared and having the appropriate equipment.
Trekking has some risks, so it's important to take the required steps to keep safe. Avoid trekking alone, be mindful of your surroundings, and adhere to any instructions given by local authorities.
If trekking isn't your scene, here's an article on essential travel accessories irrespective of where you're going
---
Photo: Shutterstock