Known as the abode of Rabindranath Tagore, Shantiniketan is a small town that lies 200 kilometres in the Birbhum district, north of Kolkata. Originally, Shantiniketan was an ashram by Debendranath Tagore, the poet's father, where anyone, regardless of their creed and caste could come and meditate for the supreme God. The town is mostly all about Visva Bharati University - but that's not all.
This beautiful small, sleepy town is on the travel bucket list of millions of tourists. Want to know what traditional gurukuls were like? Shantiniketan is your place. From iconic paintings to tribal murals and colourful fairs, there is so much this town has in store for you.
Six places you can visit to experience the rich culture of Shantiniketan:
1. Visva Bharati University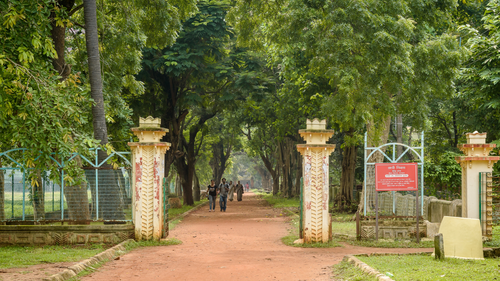 On top of our must-visit list comes the Visva Bharati University set up by Rabindranath Tagore's father and later popularised by Tagore in a bid to change the concept of education in India radically. The university is beautifully maintained and surrounded by lush greenery making you feel connected with nature. That was the original idea of coming up with this university - imparting knowledge in the ancient Gurukul system wherein children would receive the gift of knowledge not confined to four walls, but out in nature to make learning more holistic. Go, see for yourself what learning in the lap of nature looks like.
2. Ballavpur Wildlife Sanctuary
Popularly known as Deer Park, the Ballavpur Wildlife Sanctuary is just 3 km from the central campus of Shantiniketan. Set up in the year 1977, Ballavpur Wildlife Sanctuary is a natural habitat for many beautiful and exotic birds. If you wish to see deers in action, make sure to head for this place early in the morning. A treat for nature lovers and bird watchers alike, you may spot some rare birds here. And, if you are a photographer, you are in for a beautiful photography session amidst the lush green scenic beauty. Get those cameras out for some treasured playtime.
3. Upasana Griha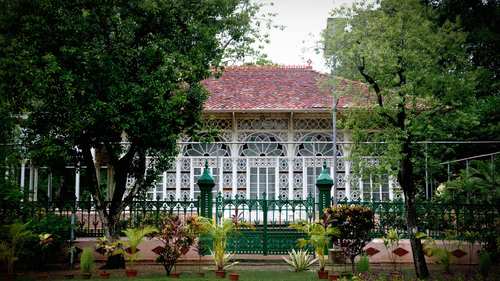 The Upasana Ghar was constructed in 1863. It is worth noting that all the buildings in Shantiniketan have stood the test of time. A fascinating place in Shantiniketan, the Upasana Ghar, or the prayer hall is made of coloured Belgian glass. Alternately known as the Kaanch Mandir, prayers are held in this aesthetic hall every Wednesday. Candles are lit up all around the hall which makes it look even more stunning than it already is.
4. Kala Bhawan
Kala Bhawan is the Fine Arts Department of Visva Bharati University. Kala Bhawan celebrated its 100th anniversary in 2019. With two main sections - Kala Bhawan and Sangeet Bhawan, thousands of beautiful artworks have been displayed here. An open-air museum where the student hostels and university departments co-exist, you can find well-renowned works of Ramkinker Baij like the Santhal Family, Gandhi at Salt March, etc.
5. Tagore Bhawan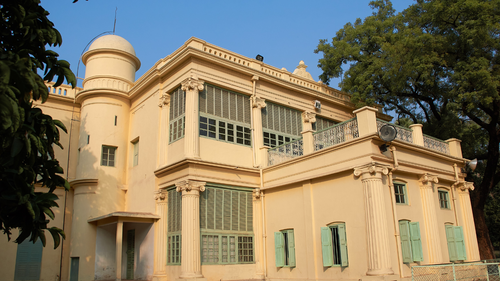 The residence of Rabindra Nath Tagore has been converted into a museum. Tagore Bhawan displays various household items used by him and his family. The first floor features airy rooms along with the bed of the Nobel laureate with photographs of Rabindra everywhere. What surprised us is that the car used by Tagore has been carefully preserved and put on display as well. Tagore Bhawan is one place where Tagore penned down many of his famous works.
6. Poush Mela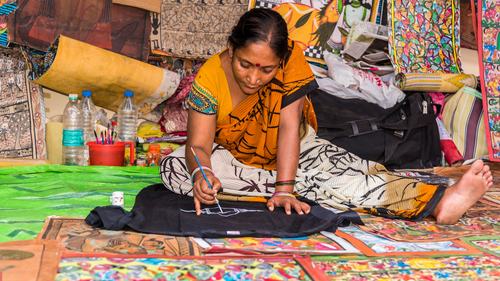 Try planning your trip around the Poush Mela held at Shantiniketan in December. A spectacle to behold, Poush Mela is a beautiful amalgamation of various cultures and traditions. Poush Mela is a remembrance of the seventh day of the month when Maharshi Devendranath Tagore, with twelve others, adopted the Brahmo. If you are wondering what makes the fair so special, allow us to spill the beans - performances, and artwork by the students that you can buy to add a taste of culture to your humble abode.
Shantiniketan is one place where the lines of knowledge and aesthetic brilliance merge. Remember to visit this place with your loved ones for an ethereal experience. 
---
Photo: Shutterstock