Sightseeing, dining and shopping are all fine when you're travelling, but there's nothing like signing up for an adventure activity to make a holiday truly memorable. For me, it was snorkelling in Bali. One can't visit the 'Island of Gods' without a first-hand experience of its pristine waters.
If the marine world fascinates you, snorkelling is one of the easiest ways to catch a glimpse of it. While I was excited to get into the water, I also didn't know what to expect, and Google search failed to answer most of my questions. So, knowing some of these things may be helpful before you go snorkelling for the first time.
1. Non-swimmers can snorkel
The first on my list of concerns about snorkelling was — is it even an option for non-swimmers? Does one need a certification? Is training involved? Do you need a swimming costume? Yes, non-swimmers can snorkel! No, you don't need prior certification or training to snorkel. And no, you don't need a swimming costume (or wet suit) to snorkel. A tee and shorts will serve you just fine but carry an extra change of clothes. Yes, it may seem obvious, what with it being a water activity and all — but it did not occur to me. Though, thanks to the Bali sun, I didn't have to be in damp clothes for too long.
2. Prepare for the sensations of water
Non-swimmers are typically not familiar with the sensation of being in the water (particularly a natural waterbody) as much as swimmers. From knowing how to let your body float — instead of resisting the water — to being used to not having anywhere for your feet to land and water getting into your eyes, nose, ears and throat! 
Not being already familiar and comfortable with these stimuli — not to mention the fright of drowning in the ocean — coupled with getting used to the snorkelling gear can turn into a sensory overload and take away from the first-time snorkelling experience.
Jumping into the ocean from the edge of the boat and having water immediately engulf you — will be reminiscent of going down a slide at the waterpark and falling into a pool. Except the water here is current-powered and has a mind of its own! So, be prepared for the above sensations and try to remember that you won't drown thanks to the life jacket — and all you have to do is let go.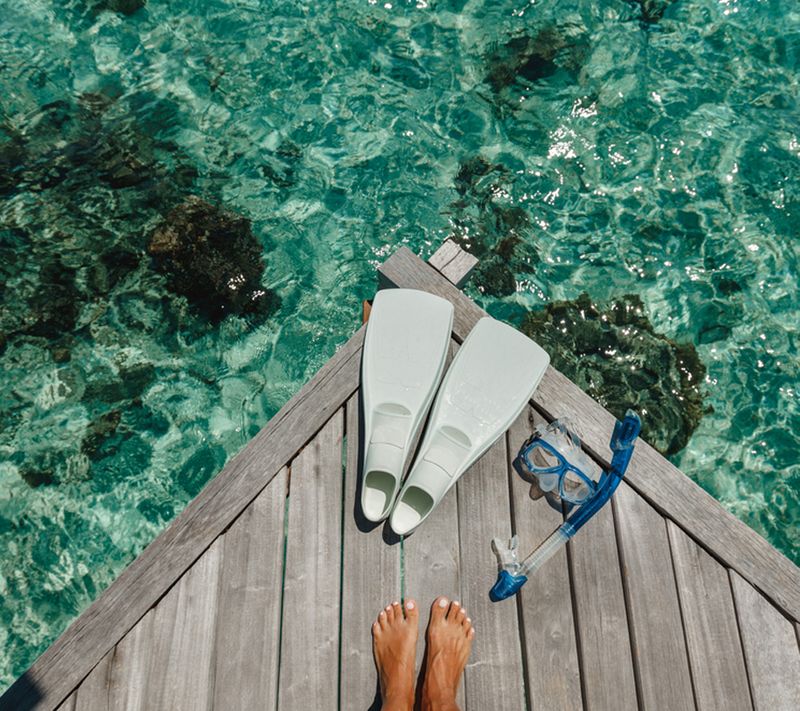 3. Tighten the mask, breathe with your mouth and say hello to fins
I cannot stress enough how tight the mask needs to be. What I thought was tight at the time of my first jump was not enough for the water, and before I could think, it was everywhere! Not yet used to breathing through the snorkel's mouthpiece, I instinctively breathed through my nose — which was covered by the water-filled mask. So, this brings me to my next point — remember to breathe with your mouth. The swimfins feel no different from wearing shoes — just oddly and inconveniently shaped for land. In the water, you just gently glide your fin-feet every now and then to steer yourself.
4. Look down
Once you have all the above sorted, simply look down (face in the water) — and experience the magic. My guide kept insisting I look down — even before I had become comfortable with the water and the thousand things that were happening all at once. But the few nanoseconds that I did manage to look down in my first jump are what enticed me to keep trying till I got it right. We stopped at four spots — Wall Beach, Manta Point, Gamat Beach and Crystal Bay — of which I tried unsuccessfully at the first two, skipped the third, and finally succeeded at the fourth.
5. It's magical
We know there's a whole different world living underneath the water's surface, but you don't truly grasp it until you've seen and felt it. The first glance at the seabed is simply magical — and not just because things are actually glowing. The depth feels surreal too — like looking at the ground from a tall building, only this is underwater.
Don't forget to take pictures! Again, it may seem obvious given our 'gramming generation — but again, I forgot — not like I could have taken pictures anyway, given the other things I was dealing with. You can get a waterproof phone cover and take photos underwater just like you would above. The guides with my group were equipped with a GoPro and took pictures and videos. They upload it to the cloud and share the link with you. Don't forget to download them to your device immediately because the link will expire. Guess who didn't?
My first time may have been an entirely anxiety-ridden experience — of which I could only really enjoy the last few moments — but I cannot wait to snorkel again. I may not have any pictures to commemorate my first snorkelling experience, but the seabed's first glance is forever embedded in my mind.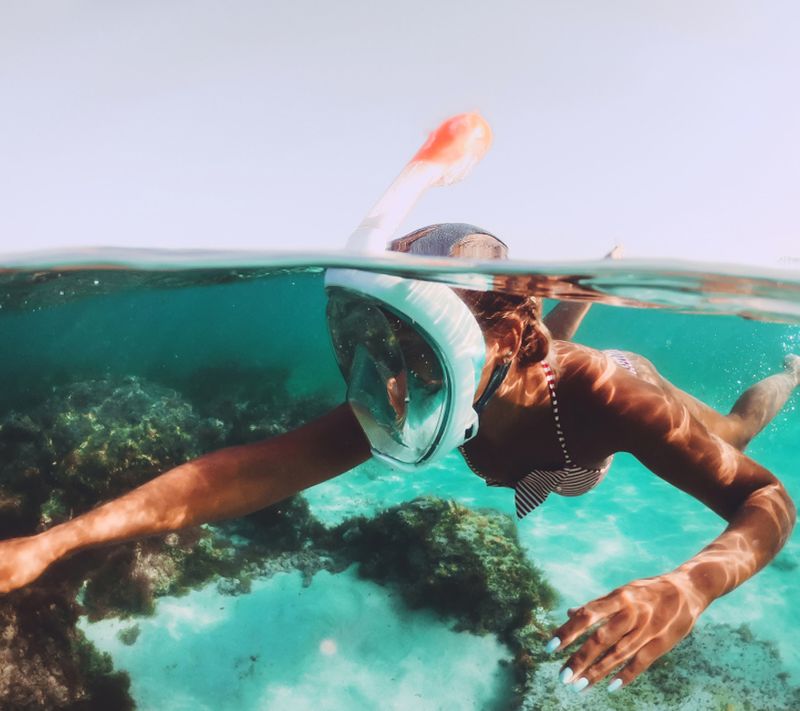 Snorkelling in Bali
Nusa Penida is the most famous spot for snorkelling tours in Bali. About an hour away by fast boat, the island sits off the eastern coast of Bali. You can book your snorkelling tour from anywhere in Bali. I went with a group organised by Semabu Hills.
You may have to reserve about six hours for the entire activity (if you're starting from Bali), while the snorkelling tour itself lasts about three hours and covers four spots.
The cost ranges from IDR 300,000 to IDR 1,000,000 — depending on the kind of package you pick. A typical package includes a cab transfer from your hotel in Bali to Sanur Habor and back, a fast boat transfer from Sanur Harbor to Penida Island and back, snorkelling gear, guide and tour.
---
Photo: Shutterstock