With the festive season wrapped up with pomp and gaiety, we bring you a list of regal addresses in India where you can relax and rejuvenate in the throes of luxury. These destinations carry within their beautiful quarters stories of the imperial past and our country's proud heritage. And why do we recommend these 20? Because there is nothing like stepping into the haloed corridors of royals and aristocrats to experience the fascinating lives they lived. Pamper yourself as you partake of that magnificent history.
The rise of heritage tourism has seen a surge in vintage hotels and homestays. These heritage properties are flush with endless tales of the past and paint a vivid picture of India's rich history and culture.
1. Deo Bagh, Gwalior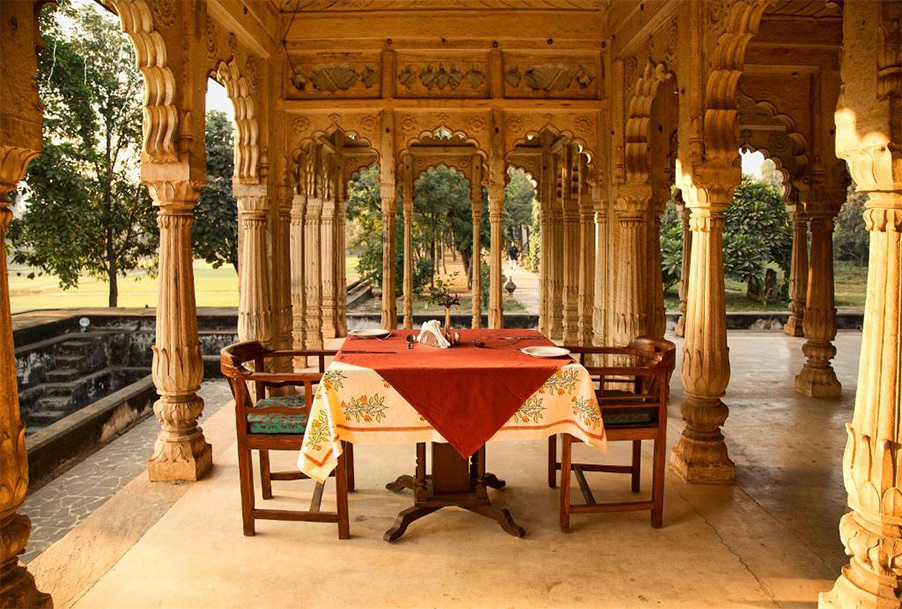 Deo Bagh is owned by Sardar Dhananjayrao Jadhav and his wife, Uma Raje, of the erstwhile princely state of Gwalior. It is a beautiful throwback to the magnificent days of yore and shows how history can be conserved and restored to adorn modern times. A winding pathway surrounded by mustard fields takes you to the entrance of the original property that used to be a garden palace of her husband's ancestors, jagirdars of Aaron and Myana and one of the main chieftain Maratha families. Individual cottages are built beside each other and open up to the lawns through balconies and sit-outs. Manicured flower bushes and gardens are home to squirrels, birds and colourful butterflies. The beautiful property is run by Neemrana but in tandem with the heritage tag, no modern structures have been constructed. The property's peaceful Char Bagh is a Persian-style garden layout in which the quadrilateral garden is divided into four smaller parts by walkways or flowing water. True to royal hospitality, you can savour authentic Maratha food here and also visit the Gwalior Fort and Jai Vilas Palace.
For details click here. 
2. Abbotsford, Nainital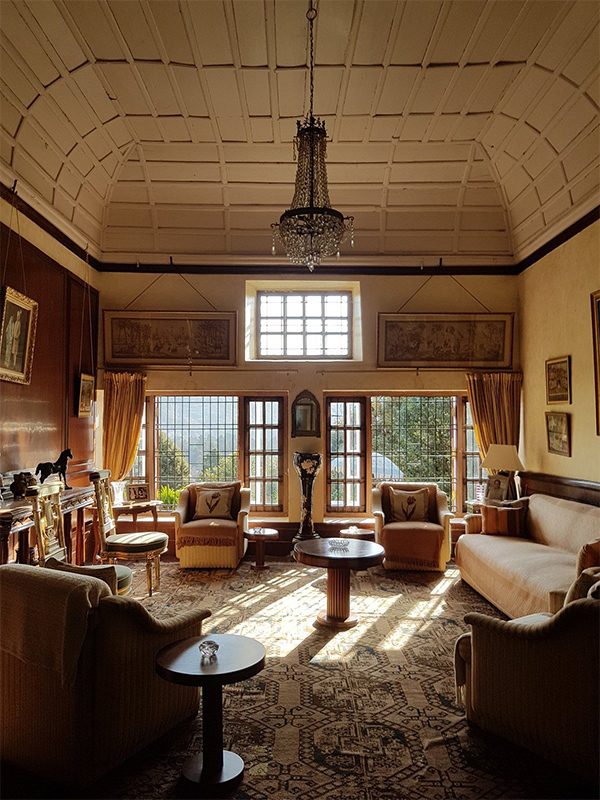 A wee bit away from the hustle-bustle of Nainital lies a heritage homestay called Abbotsford. A quaint retreat (originally owned by an English ICS officer, John Hope Simpson, who was posted in Nainital in 1876), it is gloriously pretty and a delight for city dwellers who want a piece of quietitude to rejuvenate themselves in the lap of nature. Tucked away in a cosy nook of the popular hill town, you could easily consider it a retreat for poets and authors. Expect velveteen grass, colourful rhododendrons, colonial architecture, the azure sky, chirping birds, buzzing bees and the smell of crisp mountain air. Owned and run by the Prasada family, the beautiful heritage property is looked after by Jahnavi Prasada, sister of politician Jitin Prasada. Janhavi comes from a family of the erstwhile zamindars of Oudh (Uttar Pradesh) in northern India, and nurtures her 145-year-old ancestral home in the Kumaon hills. She spent her magical childhood here and shares the charm with her guests.
For details click here. 
3. The Rajbari Bawali, Kolkata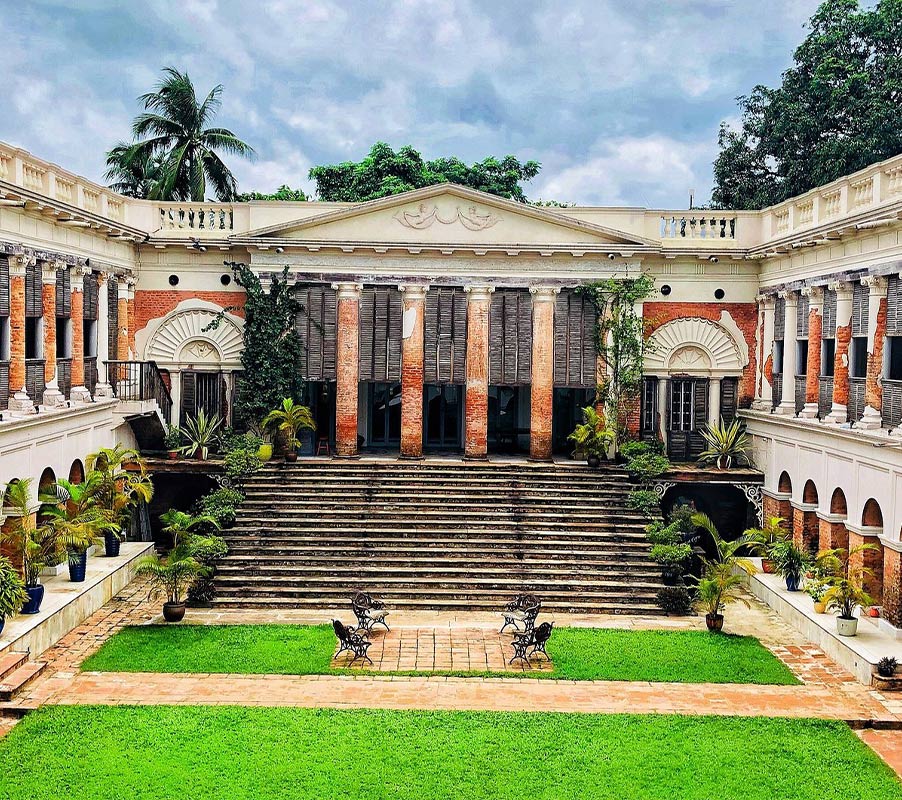 The Rajbari Bawali is a fitting getaway for all those looking for peace, serenity and luxury in the corridors of history. Bawali, a nondescript little dot on the map of Kolkata, hides several little tales in its serpentine folds. That it used to be inhabited by the Bauli tribesmen almost 500 years back and that it was a seat of prolific trade and commerce during the Zamindari system. It's not easy to find these stories today. Not unless you walk into The Rajbari Bawali, a 350-year-old heritage mansion that has been restored back to its stupendous glory from the brink of decay and dilapidation. The property stands grand in all its white and brick-walled glory, every stone taking you back to the days of yore. Wrapped in luxury and heritage, the romantic and wellness retreat situated in the buzzing town of Budge Budge, is an ode to that time gone by. Tall sturdy pillars, broad verandahs and corridors take you to the beautifully done-up rooms, each complete with four-poster beds and antique furniture. The 'normal' is quaint with stylish décor, while the suites have a sitting rooms attached which are finished with exquisite old Bengali furniture and antique carpets. High ceilings, wooden windows and blinds retain the old-world charm of the place.
For details click here. 
4. Nivah, Moradabad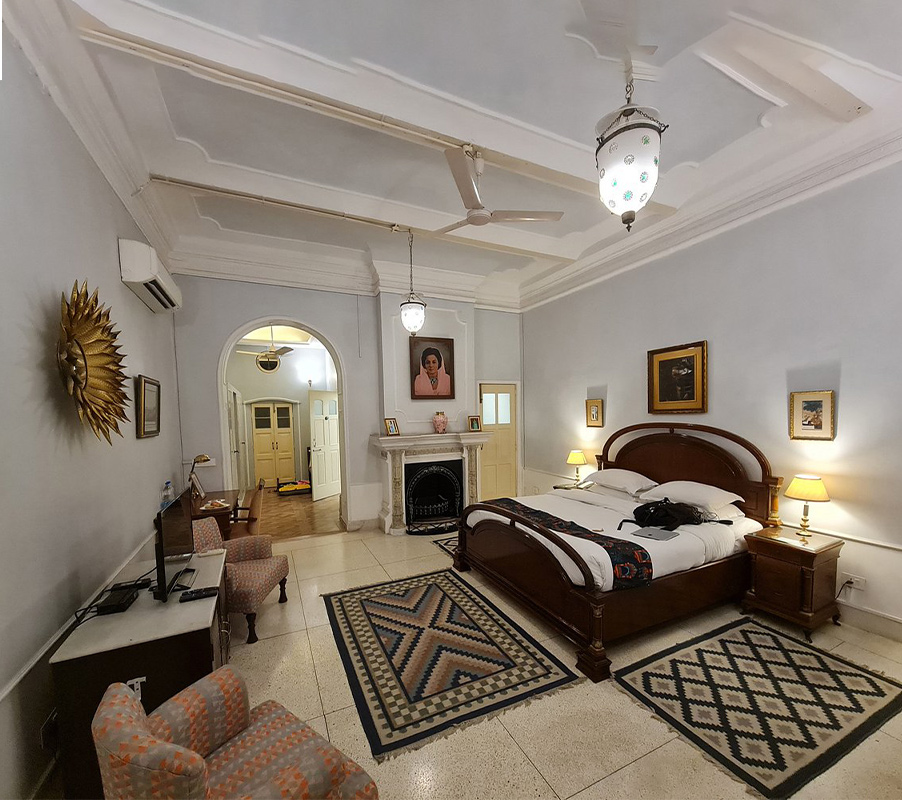 A heritage boutique property that imbibes a charming medley of colonial style and princely Indian culture, Nivah in Moradabad is a tranquil haven of elegant design and plush living. This 19th-century building is a testament to the 100 years of history the structure has witnessed. Formerly a staid and stately stamping ground of the Raja of Sahaspur Bilari and his eminent guests and family, Nivah is now a heritage boutique hotel. The ground floor of the building has been extensively restored and refurbished by Yuvraj Surya Vijay Singh. While the rest of the building still houses the private residence of the royal family of Sahaspur Bilari, the ground floor has now been transformed into a thriving holiday destination. Seven uniquely designed bedrooms have been named after precious stones and tirelessly infused with design elements that hark back to the allure of its imperial past in the fitting company of modern-day amenities.
For details click here 
5. Belgadia Palace, Mayurbhanj, Odisha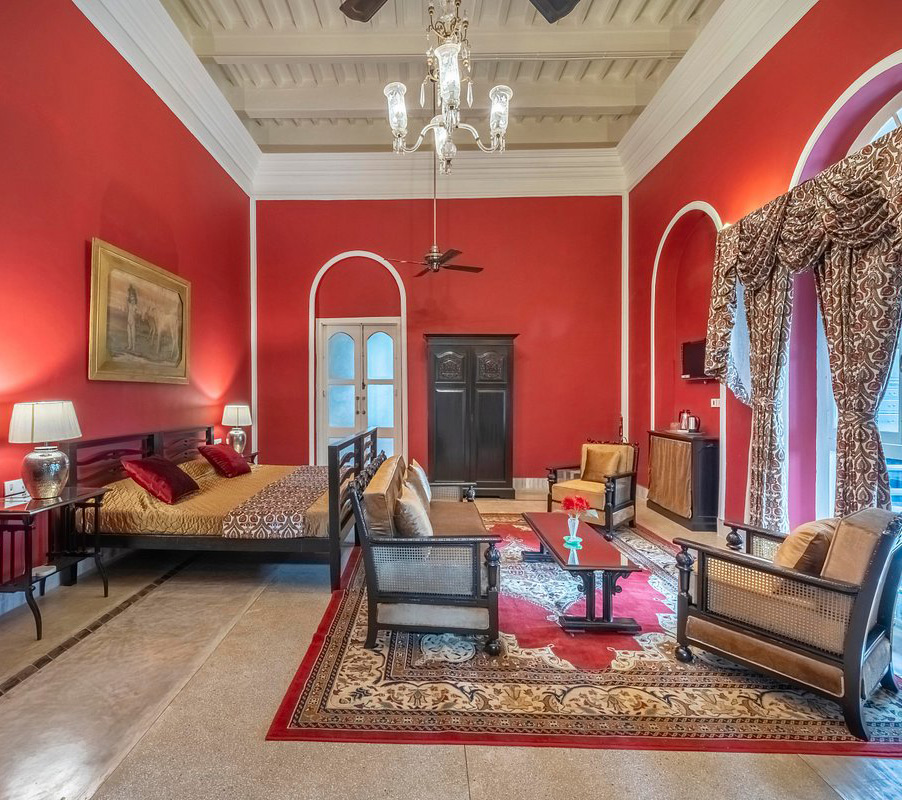 Home to the erstwhile royal family of Mayurbhanj, this boutique property invites guests to take a trip down memory lane and introduces the idea of purposeful travel by engaging with the local community to truly explore the state of Odisha. The Belgadia Palace is an 18th-century Victorian brick-built double-storey structure offering nine heritage bedrooms with modern amenities and comforts. With each step into the palace, the jewel-toned colors have a soothing effect and soft wooden finishes transport visitors to a bygone era. Meanwhile, guests can stroll through seven acres of mango orchards, outdoor patios and gardens. Be enthralled in the whiff of monsoons hitting the red laterite soil as you lounge in the verandah enjoying the natural landscape. This is a true hidden gem.
For details click here 
6. Kasmanda Palace, Mussoorie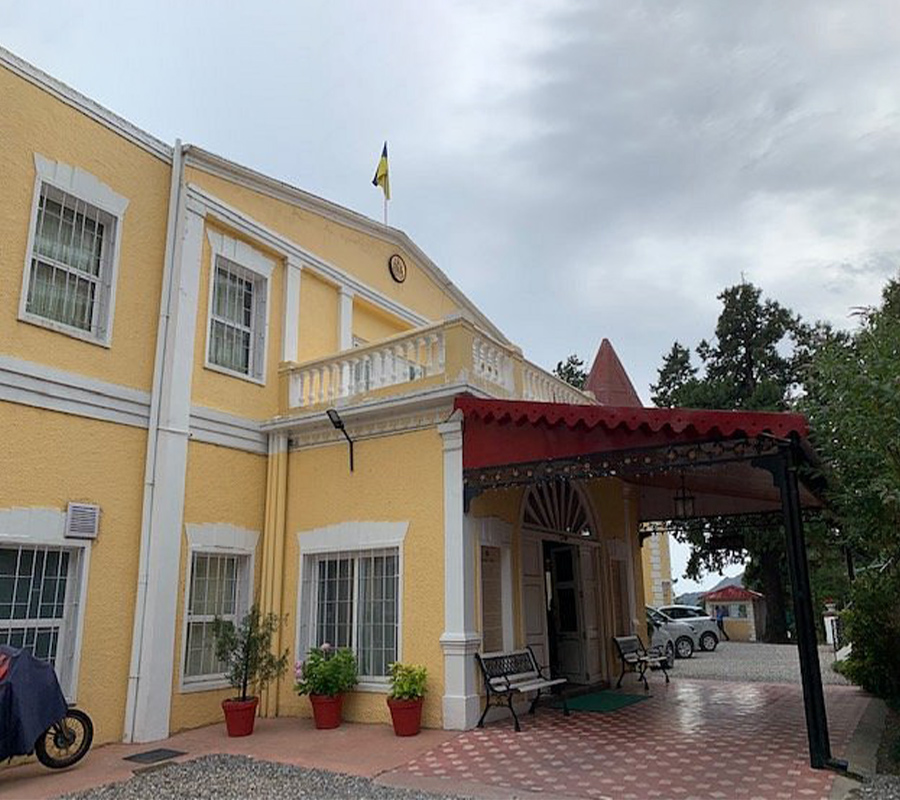 Kasmanda Palace is one of the oldest buildings of Mussoorie. It was originally a part of the Christ Church complex which was built in 1836 by Captain Rennie Tailour of the Bengal Engineers. It subsequently became a sanatorium for the British forces. Later, it was one of the first schools to be set up at Mussoorie. In 1915, it became the summer retreat of the royal family of Kasmanda and in 1992 Rajkumar Dinraj Pratap Singhji and Kunwarani Saheba Yadu Nandini Singh of Kasmanda converted the main building into a Heritage Boutique Hotel under the name of the Kasmanda Palace Hotel. The royal family still visit and stay on the premises while guests are also welcome to experience the royal retreat. Spread over three acres, this palace is an actual living museum and offers spectacular views of the Doon Valley. At any time of the year, Kasmanda Palace has an unmistakable air of old world charm with a blend of modern luxury. A flawless way of slipping into the past, every step takes you that much closer to a bygone era. The resplendent, opulent and royal interiors have also been preserved in their original form.
For details click here 
7. Shri Joraver Vilas, Santrampur, Gujarat
Nestled amidst the lush lower reaches of the Aravallis is a hidden paradise called Shri Joraver Vilas in Santrampur, Gujarat. This palatial villa is positioned quite magnificently upon a lake, creating an ethereal aura around the property even before a real glimpse is caught. Far from social inhabitance and the chaotic humdrum of our hectic urbane lifestyles is this regal retreat, an oasis of tranquillity. Keeping in mind the 1920s aesthetic of the Art Deco era, Shri Joraver Vilas was built with an interior that creates an allure of old-world charm. The villa is a marvel of stunning interior architecture with personal touches that make it all the more enchanting. There are five unique rooms decorated in the classic colonial style. Modern amenities merge seamlessly with antique furnishings to provide comfort that has not lost its charm.
For details click here  
8. Gratitude Heritage, Pondichery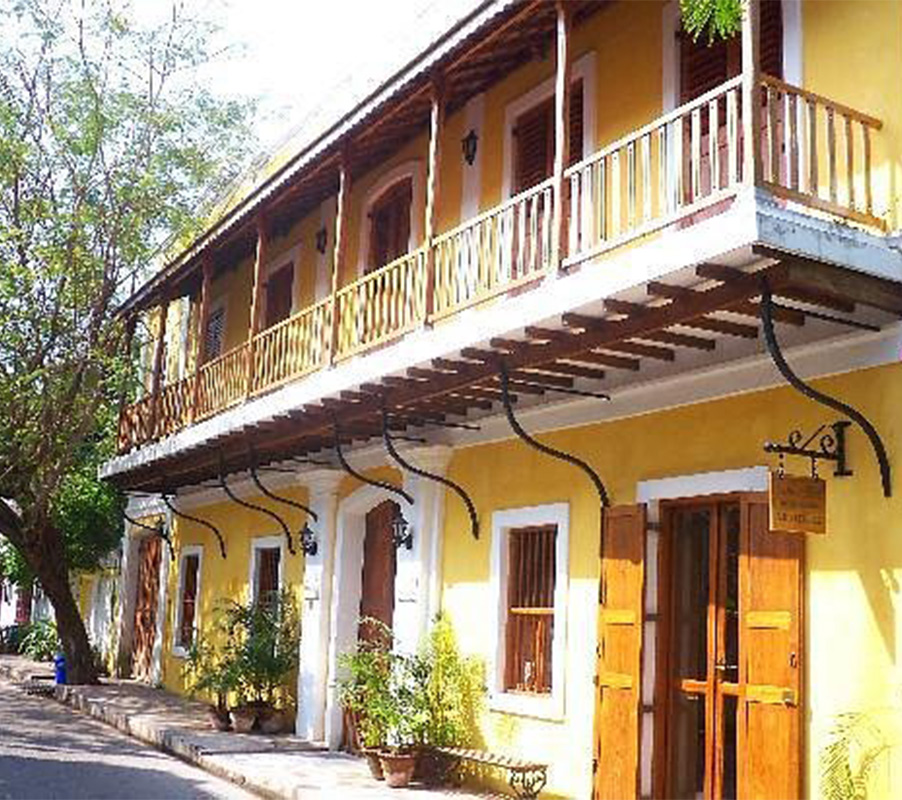 Pondicherry is a little seaside town on the southeastern coastline of India, 160 km south of Chennai, which used to be a French enclave and even today retains much of its Franco-Tamil spirit. Keeping that aura alive is Gratitude Heritage, a restored homestay that is approximately 200 years old. The history of Gratitude is inextricably linked with the history of the men and women who travelled to India, many from France and French colonies, around the 17th and 18th centuries. The quirkiness of an old house is reflected in each room being a different size with no consistency at all. The vintage furniture was sourced over many years from homes that were being brought down. Every bed, table and chair came in different shapes and sizes, so no two rooms are alike. The owners hope guests enjoy the process of choosing a room that resonates with their aesthetic appreciation. Going by the property's packed register, this surely is a much-loved and appreciated retreat that holds a quaint French hangover.
For details click here  
9. Surajgarh Fort, Shekhawati, Rajasthan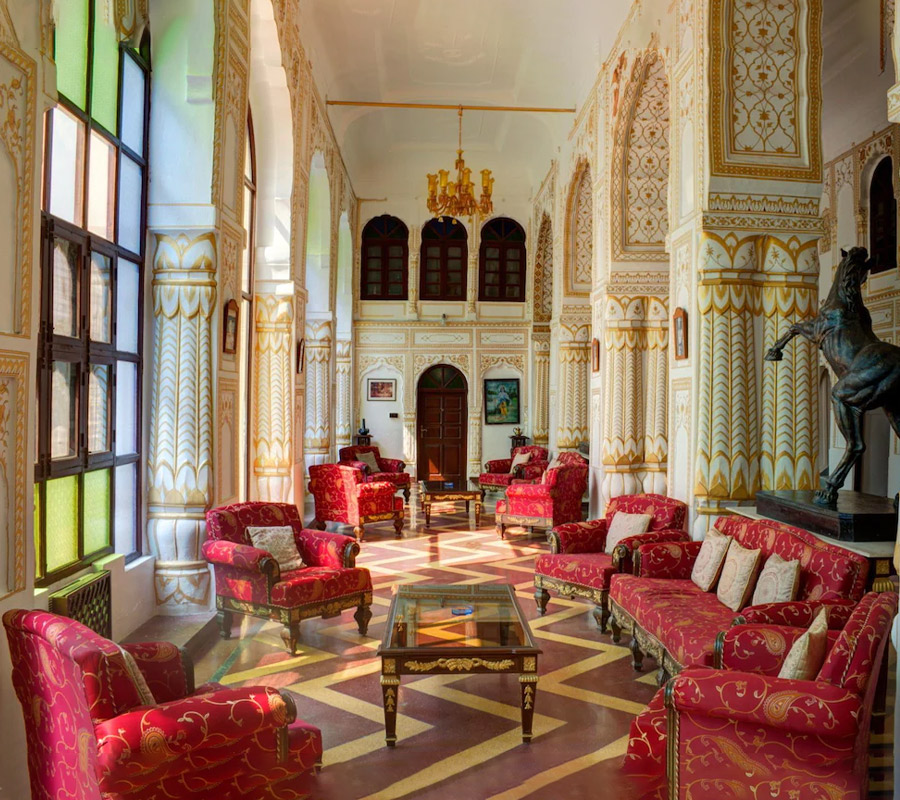 Surajgarh Fort, literally meaning 'The castle of the Sun', is a fortified palace built in the 18th century. It is located in the charming heritage township called Surajgarh, in the Shekhawati region, about 15 kilometres from Pilani city, in Jhunjhunu district of Rajasthan. Built in the year 1778 by Thakur Suraj Mal Singh of Bissau, this grand property will seamlessly link you with its 237-year rich heritage and its many generations of multicultural and multi-ethnic past. This 4-acre sprawling fort has been lovingly restored to give the guests an experience of living like a Maharaja while the rooms showcase ancient wall mural art. Walk around the town of Shekhawati to witness ancient mandirs, kothis and stepwells that showcase the old-world style and grandeur of ancient Rajasthan.
For details click here 
10. Ranjit's Svaasa, Amritsar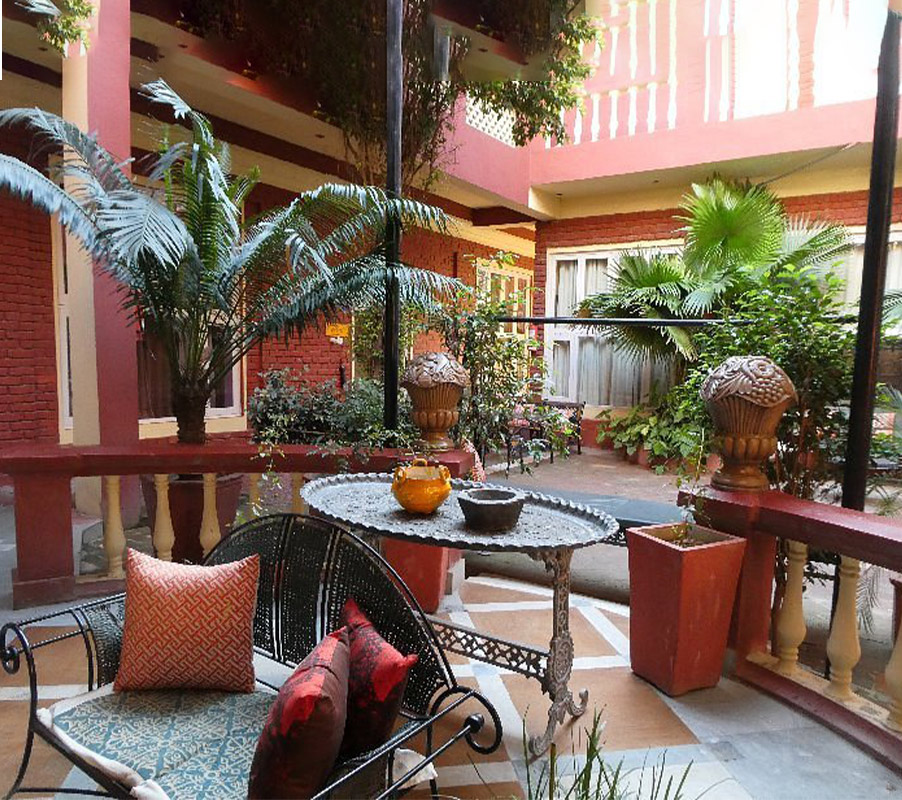 Two hundred and fifty years are enough for memories to fade. But not in Amritsar's Nanak Shahi Haveli. It's owned by the Mehras, who belong to the illustrious lineage of Rai Bahadur Kalyan Singh, the 'sarvarah' of the Golden Temple from 1880 to 1895. Step into the haveli, reconverted to Ranjit's Svaasa, and you realise why it has been crowned with several luxury awards over the years. Stone lions and an aroma of invigorating rosemary welcome you to the royal retreat hidden from the hustle-bustle of Amritsar. A stately corridor bedecked with frames of yesteryear memories of the Mehra family takes you back in time. With the rooms and suites packed with artefacts that have come down for generations, the hotel is a heady mix of luxury and relaxation. The furniture and carpets are vintage too. A special part of the haveli is the private dining hall, all elegant in its woody feel. There is something about royalty that is absolutely alluring. Their stories have a riveting quality, a power to excite and invigorate, just like the magical ambience at Ranjit's Svaasa.
For details click here  
11. Cossimbazar Rajbari, Murshidabad, West Bengal
The Cossimbazar Rajbari, belonging to the Roys, is a fine example of the coming together of European and Indian architecture. The property has been restored to its former glory by the aristocratic family to welcome guests. You can stay for short holidays and also participate in the various festivals and celebrations that the family hosts. It is an apt heritage location to witness the traditions and culture of Durga Puja, Jagadhatri Puja and other festivals that have always been held here. Guests can also witness the prestigious vintage car collection that the family still own and which is part of glorious car rallies in Kolkata every winter. The huge mansion has all the trappings of a colonial palace replete with tall ceilings, archways, temples, fountains and gardens. Spend a winter weekend here to travel back in time.
For details click here 
12. Bari Kothi, Murshidabad, West Bengal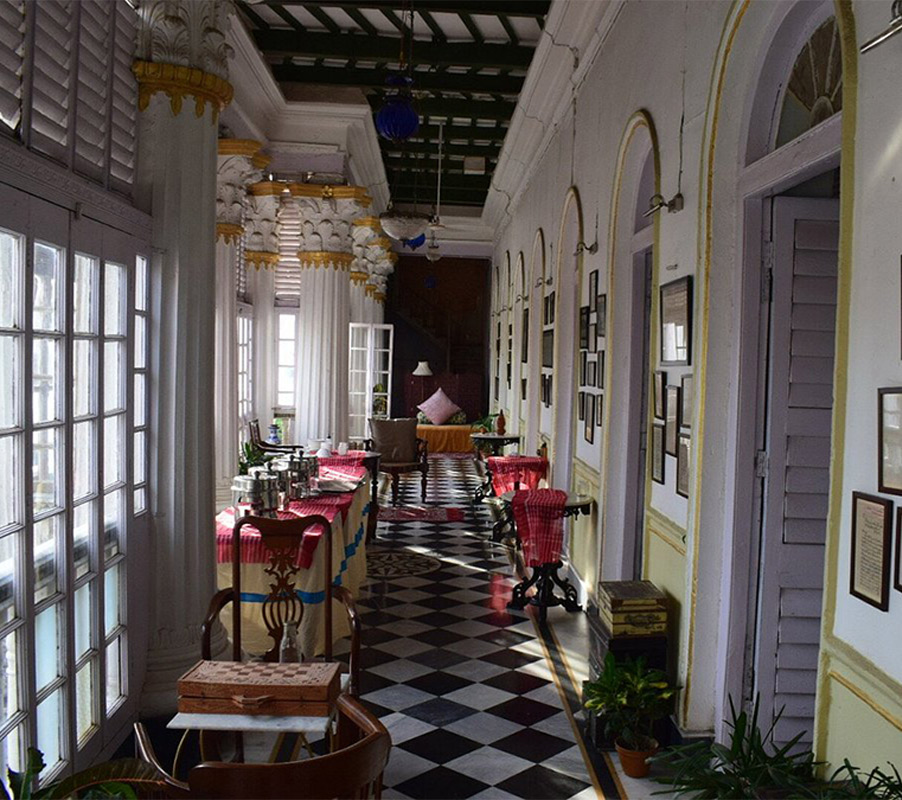 Built in the 1700s, Bari Kothi (literally meaning the Palace of the Elder) was the house of Rai Bahadur Budh Sing Dudhoria, a significant member of the Sheherwali community. Unfortunately, because of the region's downfall, the royalty and lifestyle that the house once exhibited remain just a story on the walls. But after being restored to its former glory, the grand palace retreat stands for hospitality and offers luxury and royalty in all its experiences. Guests who visit the fairly remote and rural part of India are assured of an authentic hospitality experience. Authenticity wrapped in rustic luxury is a delightful recipe for an unforgettable memory. The team at Bari Kothi also curate experiences, where itineraries are customized for guests. If visitors are more passionate about culture, they fine-tune the itineraries according to that. This is the true mark of a luxury destination where experiences are tailor-made as per guests' likes and pleasures.
For details click here   
AlsoRead2
13. Itachuna Rajbari, Pandua, Hooghly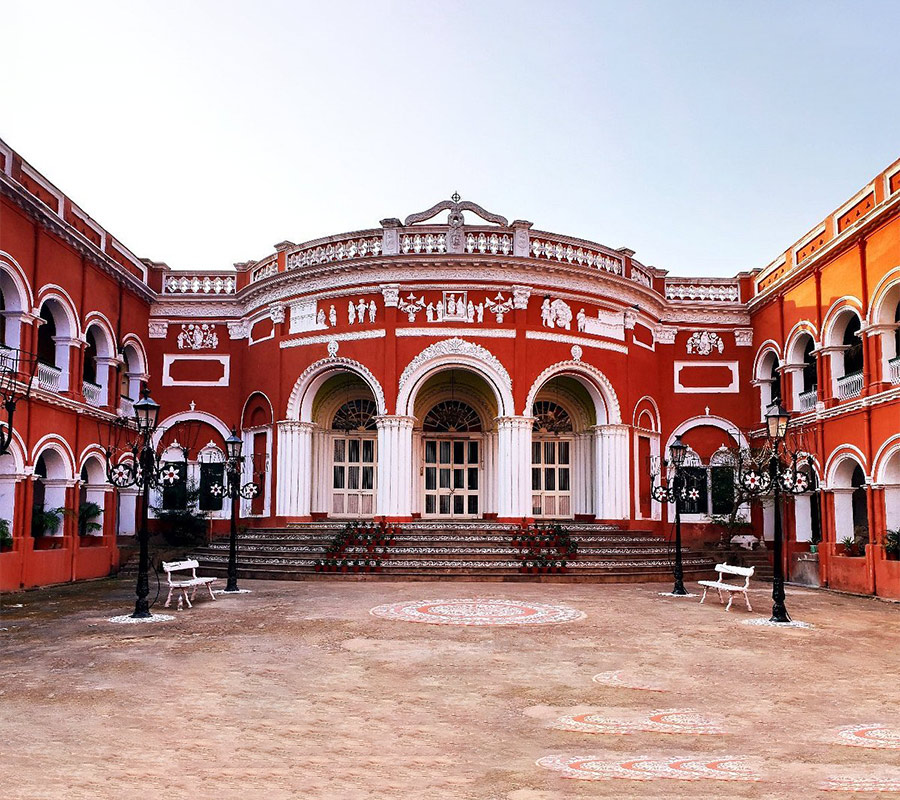 Itachuna Rajbari extends an unforgettable vintage experience to its guests. The property's history can be traced back to the annals of the Maratha marauders who plundered and wreaked havoc in Bengal and were locally called "Bargee". Many such Bargees, instead of returning to their homeland, settled in prosperous Bengal. One of them were the Kundans, who established the "Bargee Danga" (as Itachuna was known then) and became local zamindars. The Rajbari was built in 1766 AD by Sri Safallya Narayan Kundu and was renovated to its present avatar in 2012 by the 14th generation of the Kundus. Built amidst greenery, on a sprawling 8 acres of land and surrounded by orchards, gardens and ponds, it is a palatial retreat indeed. The entire Rajbari is decorated and furnished to exude the old-world feel. The rooms are provided with traditional furniture and the seemingly endless verandahs and corridors have been embellished with antique artefacts.
For details click here  
14. Woodville Palace, Shimla
Sitting in the extravagant interiors of Woodville Palace Hotel in Shimla, the Jubbal royal family's palace home since 1938, is quite an experience. Stories about childhood years spent at this mansion, built by Raja Sir Bhagat Chand of Jubbal, anecdotes about casts and crews of numerous Hindi and English films that were shot at this regal estate and memorable snippets about the golden days of yore abound. Interspersing the conversation with peeks into a large comic book collection and how different times are today, one won't notice when the sun sets against the majestic Himalayas. This is truly an old-world experience. What is today the luxurious Woodville Palace Hotel, was the erstwhile residence of the royal family of Jubbal before Uday Singh converted this art deco mansion into a hotel in 1977. The Woodville Palace Hotel is a rare sight amidst the now bustling town of Shimla, a hill town that was popular for being the summer capital of the British. The art deco mansion is a 31-roomed palace hotel where a guest experiences comfort, picturesque settings and quiet solitude. No two rooms are similar but are a perfect blend of vintage ambience and modern amenities. The corridors are lined with Persian carpets and lithographs that are over a century old.
For details click here  
15. Karauli Palace, Rajasthan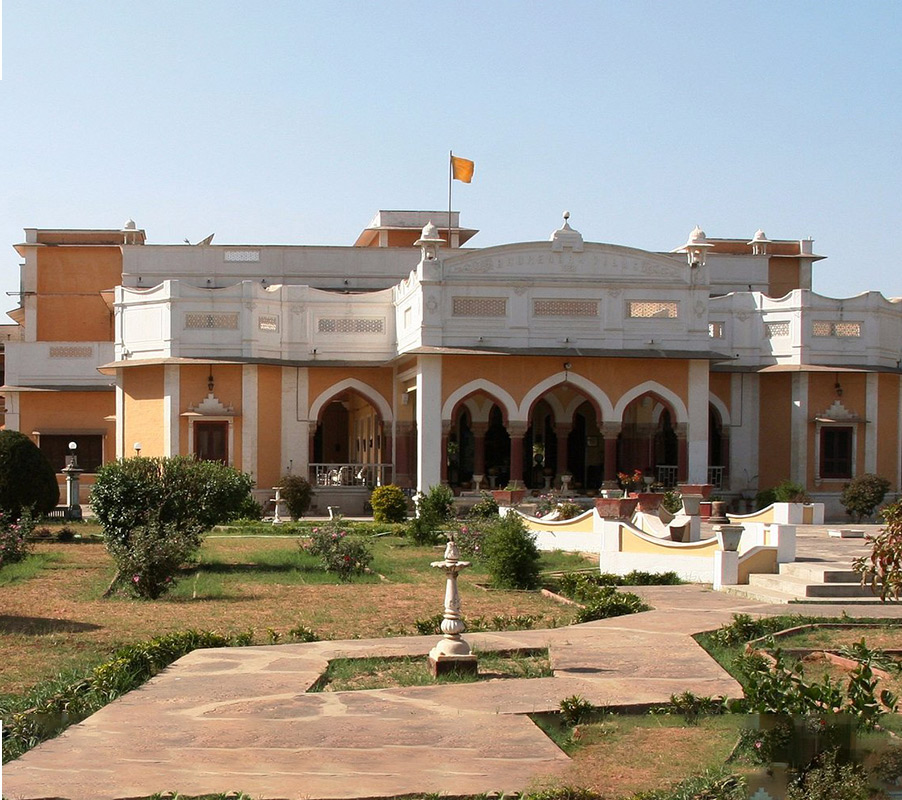 Many secrets lay hidden in the serpentine folds of Karauli, a former princely state of Rajasthan. History has it that the rulers of this 17-gun-salute state kept tigers as pets. They bottle-fed tiger cubs and treated the animals just as we would today our pugs and Pomeranians. Stories abound about the Timangarh Fort, famous for the political controversies associated with it and the richness of its stonework and architecture. Millions of religious pilgrims flock to Karauli twice a year to pay homage to Madan Mohanji and Kaila Devi, whose temples are two of the very popular religious spots in Karauli. There are around 300 temples in the town, which form the focal point of two big religious fairs held here annually. Raval, or the City Palace, is another bed of treasures. This is where the royal family of Karauli lived before moving out to Bhanwar Vilas palace in 1938. And today, this Bhanwar Vilas Palace is a beautiful heritage resort that welcomes guests to experience a slice of royal living and history. Holding on to its grand heritage, the property is a well-maintained chapter from India's glorious regal past.
For details click here 
16. Jambughoda Palace, Gujarat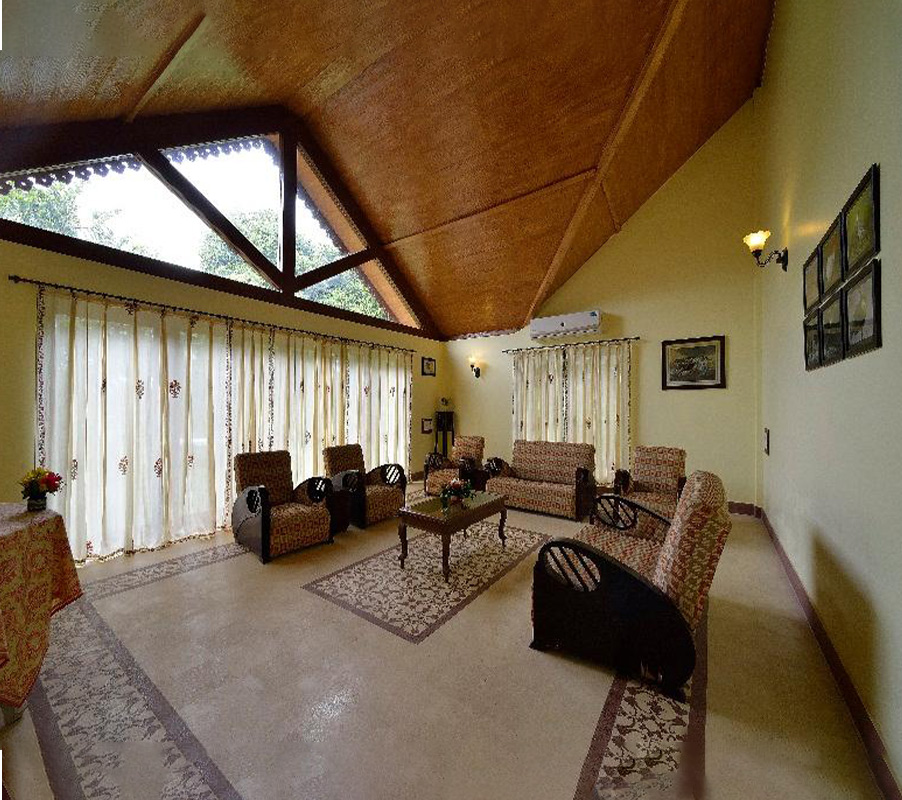 Life today demands an escape from the routine, and what better way to spend a couple of days at a destination that will allow you to leave your city life behind and be with nature. To simply enjoy and rejuvenate. A brief getaway prepares you to be back to your city life with renewed vigour. Irrespective of whether you are a corporate head honcho, businessman, professional, painter, writer or a home maker, travel back more than a century, in a hundred acres of sheer hypnotic greenery. That is when the Jambughoda Palace (now partly converted into A Home for Nature Lovers) was built. Old world charm and history come together to make this green retreat a relaxing option for city breds. Tranquil yet luxurious, enjoy meals made of fresh organic produce from the palace farmlands as you rest your eyes with sights of the flora and fauna around.
For details click here 
17. Castle Mandawa, Rajasthan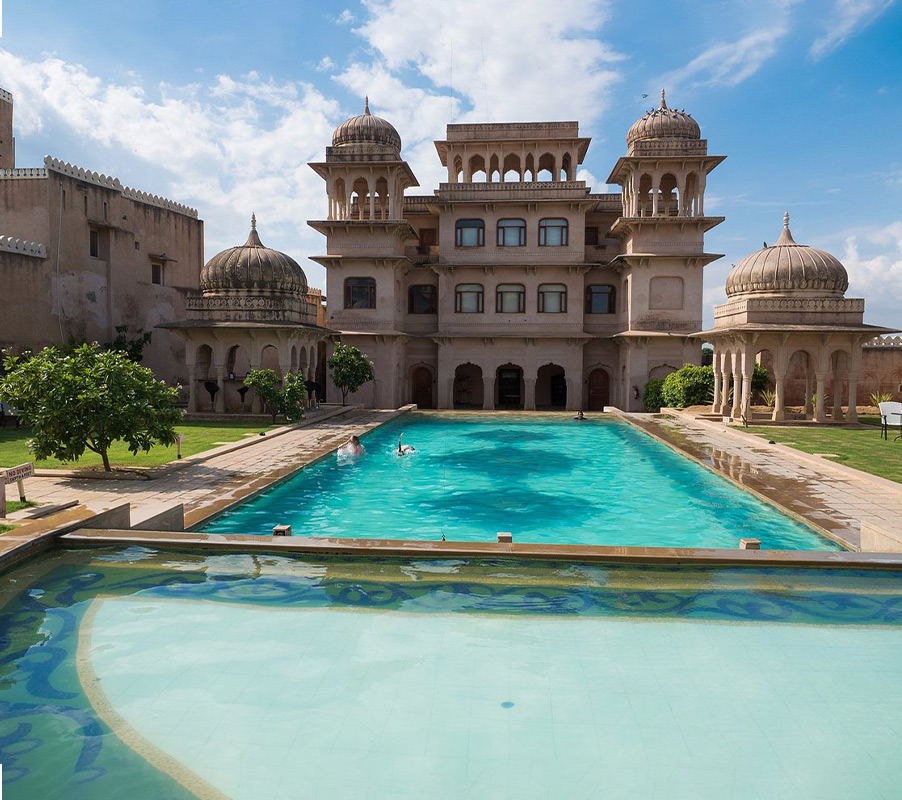 One of the best places to discover the legacy of Shekhawati is through the redefined history and luxury of Castle Mandawa, a fortress, now converted into a luxurious heritage hotel. It revives the whole idea of luxury in a royal yet contemporary elegance. Medieval turreted towers, palanquin-roofed balconies blend with modern comforts in old-world rooms. Family portraits, antique cannons and arms add to the charm of this family-run resort where tradition still runs strong. Even time is measured by a different clock — a huge brass gong struck by the resident timekeepers at the fort every hour. Castle Mandawa is a part of Mandawa Group of Hotels, a privately-owned hotel company, rich in Rajashtjan's royal heritage and architecture. Today, it stands like a jewel in a king's crown that offers 70 outstandingly reinstated grand luxury suites and rooms, which were the chambers of the former Maharajas.
For details click here 
18. Prithvi Vilas Palace, Jhalawar, Rajasthan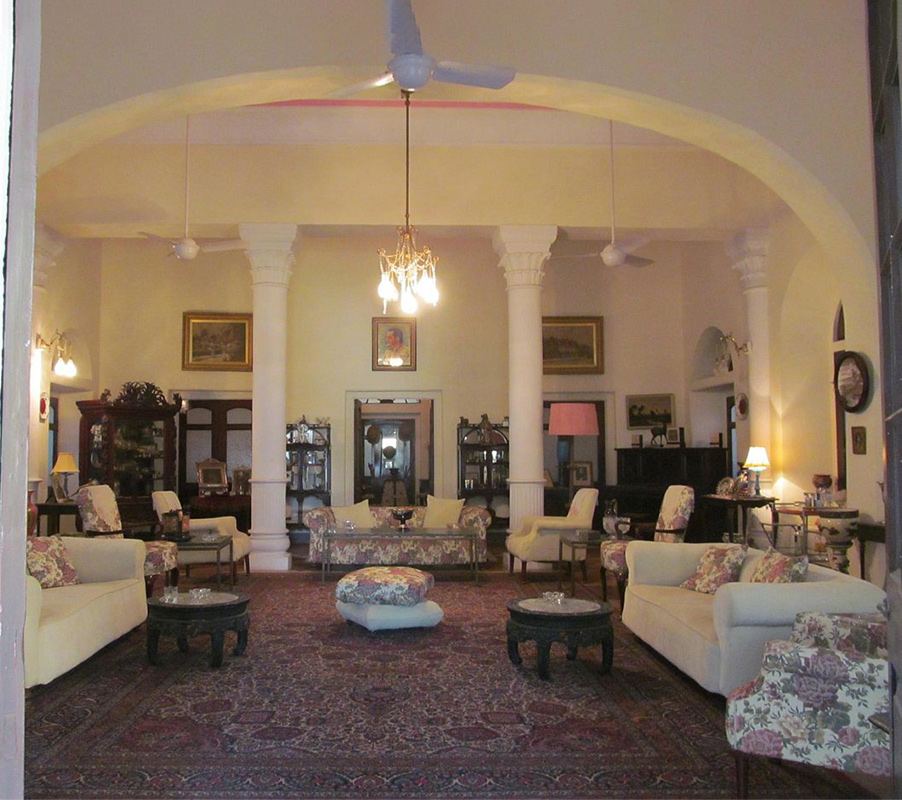 Over 130 years old, the Prithvi Vilas Hotel is a former hunting lodge that still retains its authentic grandeur. Now the Maharaja's summer residence, it has been converted into a wonderful heritage hotel, perfect for guests looking for a rare opportunity to experience royal history. Rooms have been modernised, but still offer rustic charm, and a choice of Indian, Continental and Rajasthani cuisine is offered in the restaurant. Time stands still in polish-scented corridors full of Raj-era heirlooms and framed sepia photos of baby maharajahs and shooting parties. The palace grounds are charmingly overgrown, serving staff and peacocks stroll within the generous confines of a moat and the interiors are strewn with chandeliers. The place Jhalawar in Rajasthan got its name from the Jhala clan that resided in the region. The southeastern part of the state, Jhalawar has turned into a popular tourist destination. We recommend you start by visiting this grand property.
For details click here 
19. The Green Hotel, Mysuru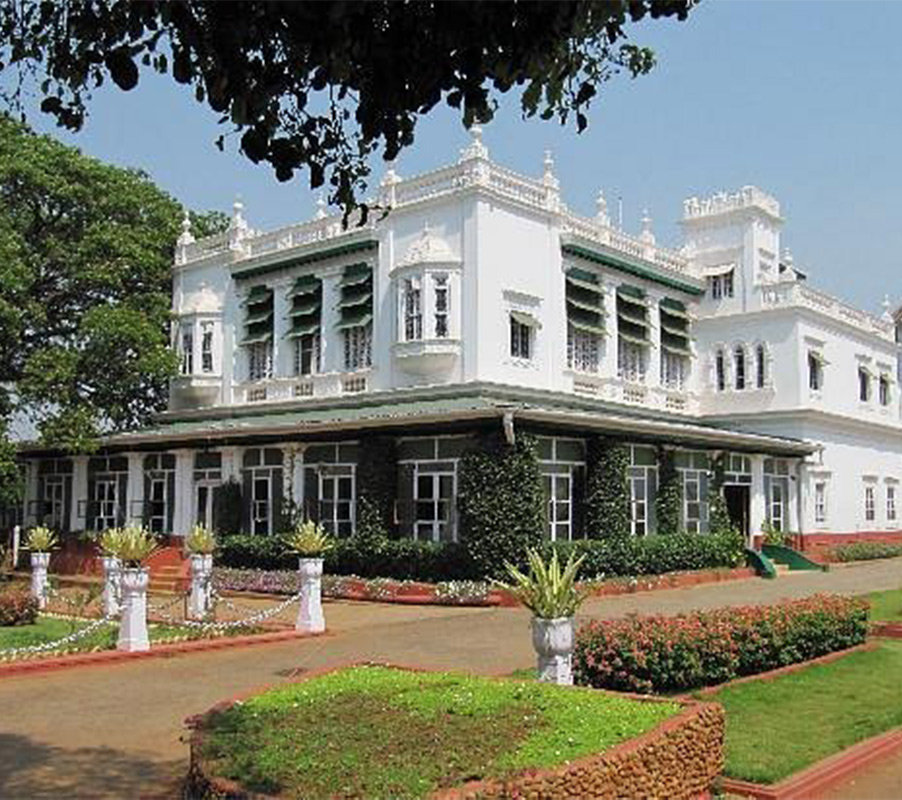 The Chittaranjan Palace, built for Mysuru's princesses, was lovingly restored as a charming hotel. With extensive gardens, formal lawns and shaded pergolas, fringed by majestic trees, the hotel is an oasis of calm. Renovated and furnished using traditional Indian crafts, the hotel offers comfortable surroundings, friendly staff and a restful, creative atmosphere. The Green Hotel has been set up as a model of sustainable tourism and incorporates energy-saving initiatives like solar energy power and recycled water for the garden. Wherever possible, the administration has used Indian crafts, providing employment for traditional artisans, many of them National Award winners. A stay here means reliving the regal history of Mysuru, the charming town immortalised by RK Narayan in his Malgudi novels.
For details click here 
20. Ahilya Fort, Maheshwar, Madhya Pradesh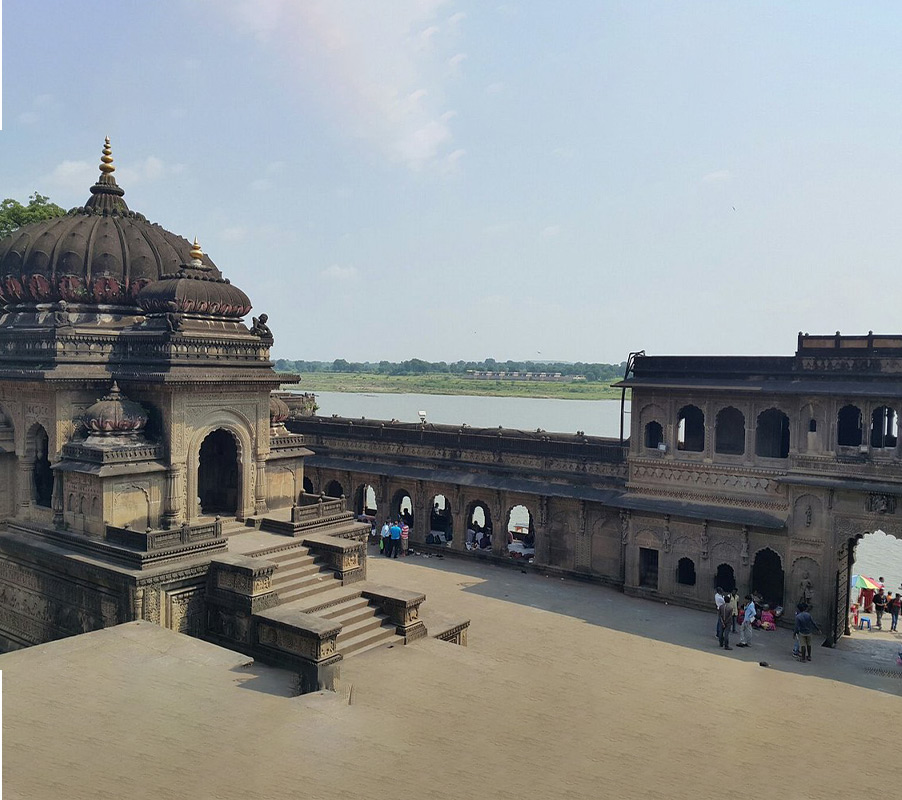 Ahilya Fort, in the central Indian town of Maheshwar, sits high above the sacred river Narmada. Maharani Ahilyabai Holkar ruled here from 1765 to 1796 and built Ahilya Wada, her personal residences, offices, and darbaar audience hall, within the fort. In the year 2000, Prince Richard Holkar, her descendant and son of the last Maharaja of Indore, converted his home in Ahilya Wada into a guest residence, today known around the world as the Ahilya Fort Hotel. The Ahilya Fort Hotel has 19 rooms of character, set in six buildings of the 18th century, with modern amenities and comforts. Guests can stroll through 3 acres of courtyards, fountains and gardens that link areas within the Wada. It is easy to find a secluded spot to read a book, sip some tea or just watch the butterflies flutter by. The hotel is well located to explore the highlights of Maheshwar, including its bustling village markets and riverside complex of temples and cenotaphs.
For details click here  
Photo: Ahilya Fort; Featured brands