If you have ever dreamt of living like a royal, then these 10 palatial hotels that once used to be home to the maharajas and the maharanis of India need to be on your travel list. Here's all you need to know about them.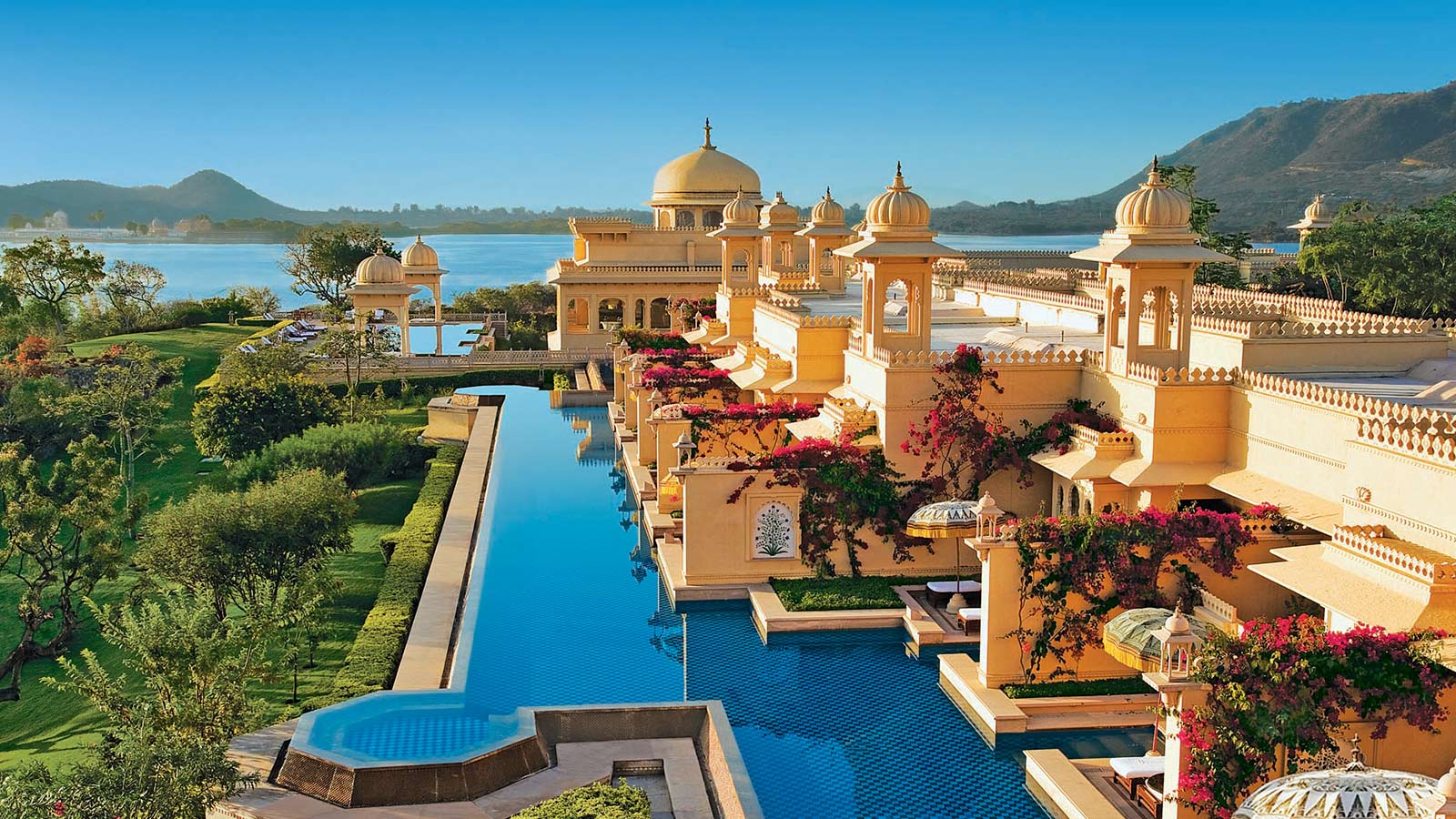 Located on the banks of Lake Pichola, this 30-acre property in the city of lakes, Udaipur, offers perhaps one of the most-famous royal experiences in India. Fine dining, gardens, signature cuisine, and wellness therapies are some of the features you can explore during your stay here.  
Stay: The hotel's premier rooms come with a garden view, pool view, or a semi- private pool. Its luxury suites, on the other hand, offer a private pool, courtyard, and fresco dining. If you want something even more luxe, then do check out their Kohinoor suite which covers an area of 246 square metres, has gold-domed ceilings, and comes with a private dining area, three television sets, private pool, and all the latest technology.  
Eat: Suryamahal and Chandni are the hotel's all-day fine dining spaces where you can enjoy delicious Indian and western cuisine under the sky. But that's not all the Udaivilas has to offer when it comes to vistas or food. Udaimahal is an evening restaurant perfect for a romantic date with your bae under the stars, with live music and incomparable views of Lake Pichola. If you want to grab a drink then The Bar offers alcoholic coffees, frozen cocktails, and a lot more; amid a Mewar-inspired setting.  
Things to do: You can indulge in activities like cooking with the chef, learning miniature painting, getting henna on your hands, heritage walks, yoga, and a range of spa treatments. Not to mention private dinners at Lakeside Pavilion, Lakeside Dome and on the Promenade.
Price: INR 28,500 - INR 2,50,000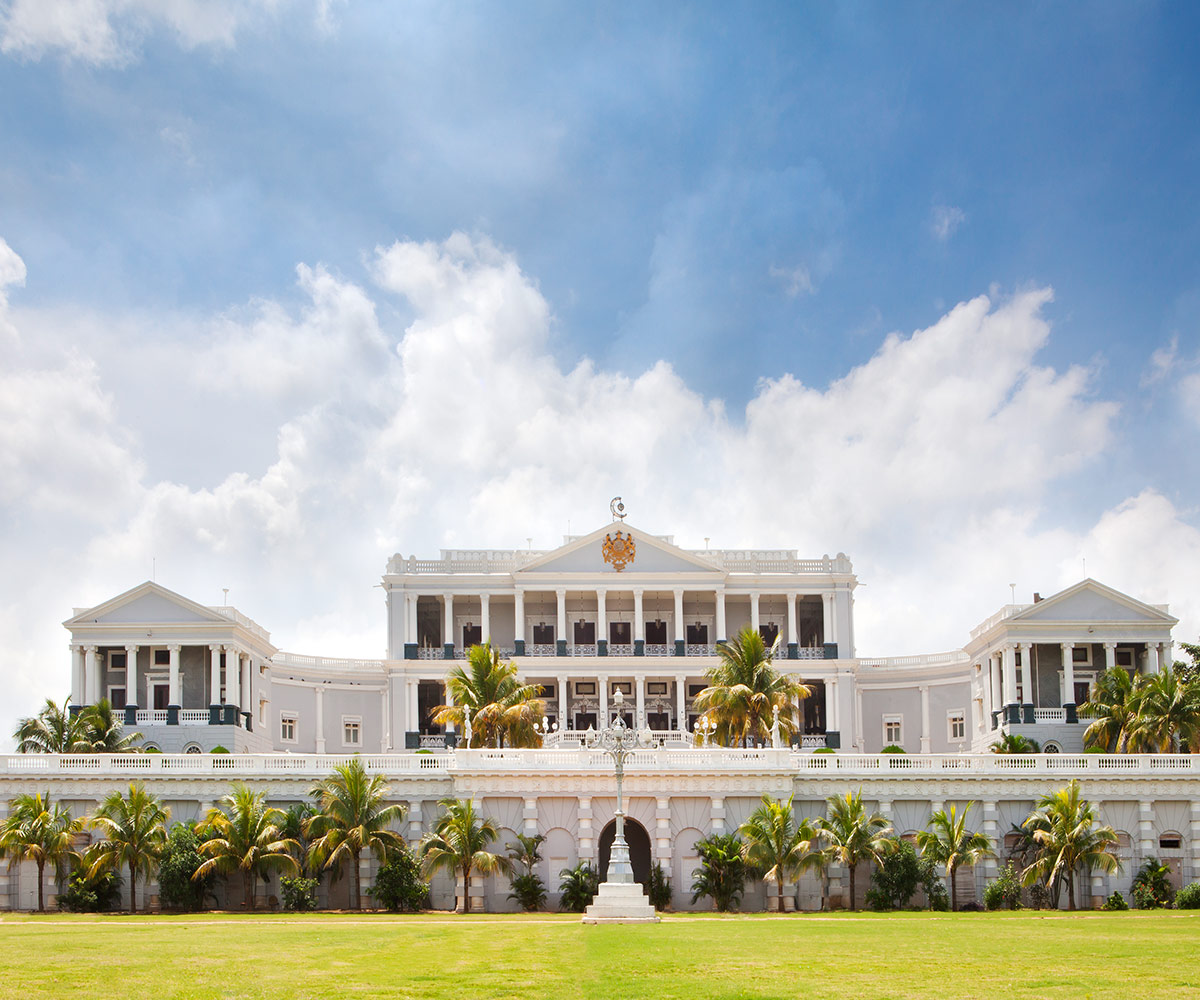 The erstwhile residence of the Nizam of Hyderabad, once rumoured to be the richest man in the world, this palace hotel takes you back to 1894—the year it was built. As you reach the premises, you are taken to the main hotel on a carriage where butlers receive you just like they would a nawab or begum. The 32-acre property comprises 60 rooms and suites restored by Princess Esra herself, the Nizam's Turkish wife.
Stay: All its rooms come with a garden view, canopied beds, and royal architecture. The hotel also has the Grand Royal Suite, Nizam Suite, and Historical Suite. While the first one offers a living room and views of traditional style courtyards, the second is a duplex with a private pool, Jiva Spa, and state of the art amenities. The third one has a private sit out area.  
Eat: The palace houses a fine dining restaurant Adda and, the multi-cuisine eatery Celeste, where you can enjoy some lip-smacking European breakfast. For afternoon tea you can head to Jade Terrace and for a private dinner to Gol Bungalow.
Things to do: Some of the signature experiences at The Taj Falaknuma Palace include pre and post wedding shoots, tailor-made personalised treatment by the in-house butler, fairy tale dining setup with a handcrafted menu, and a heritage walk through the former home of Nizam. A range of spa experiences, aroma therapies, and a lot more are also on offer.
Price: INR 30,000-INR 6,00,000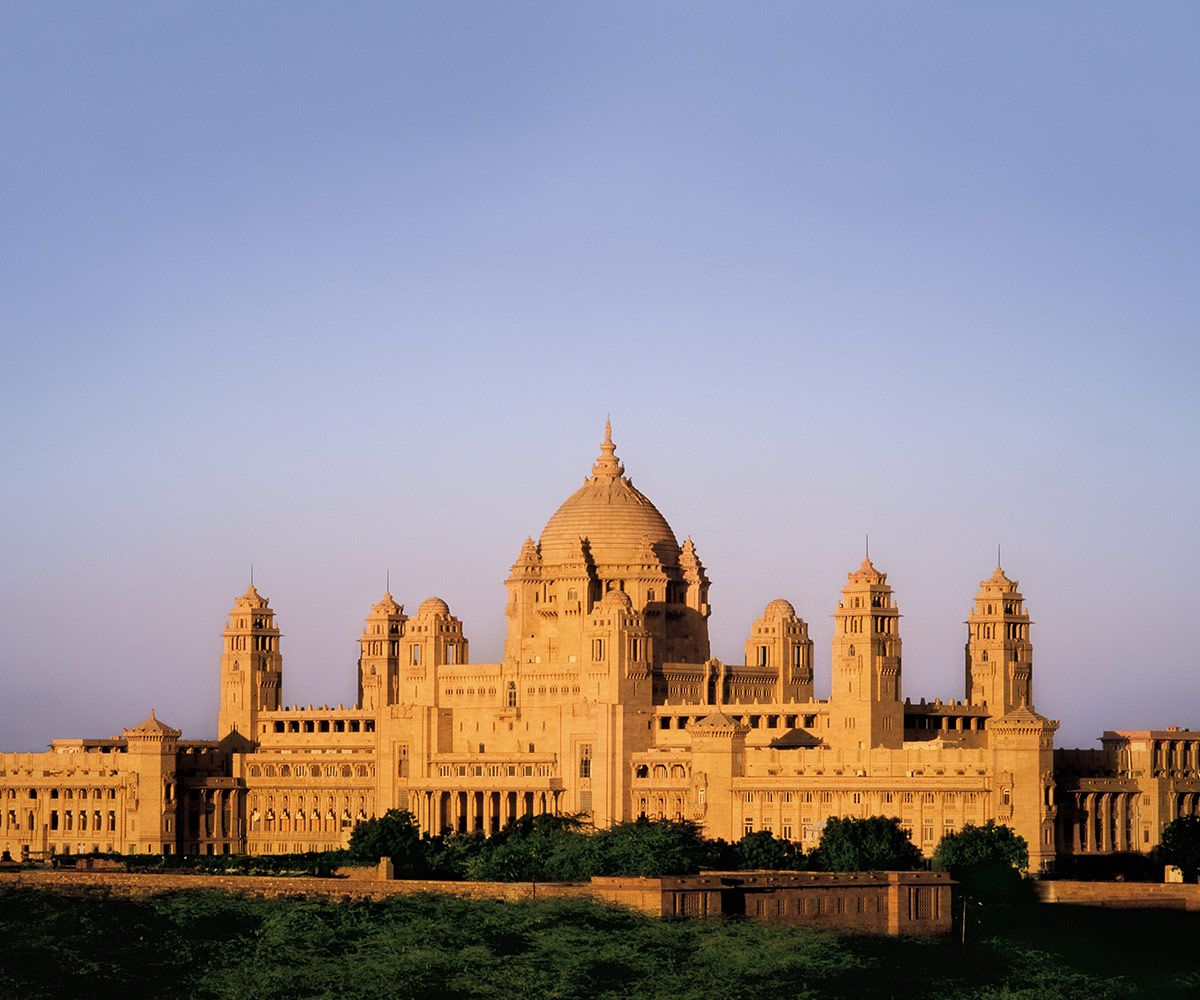 This heritage property in Rajasthan, that was once home to the royal family of Jodhpur, was built between 1928 and 1943. Located on Chittar Hill, which is Jodhpur's highest point, a stay here offers scenic views of the entire city, sand dunes as well as the Mehrangarh Fort.
The 26-acre property houses the royal family's museum, gardens, dancing peacock, a subterranean Zodiac pool, and more.
Stay: The palace comprises as many as 70 art deco style rooms and suites, including the Palace Room and Maharaja and Maharani suites. Both the suites come with a courtyard view, an extensive balcony, and a grand sitting and dining area. Not to mention their own private bar.
Eat: At this property you can treat your taste buds with a fusion of Indian and continental cuisine at Risala and enjoy drinks and snacks at Pillars--which is an open-air café offering views of Mehrangarh Fort and Baradari Lawns. Don't forget to enjoy some cocktails, and cigars at the Trophy Bar.  
Things to do: Allow the butler to take you on a jeep ride, or enjoy a private dinner with their handcrafted menu. Learn about the palace's history, go on a heritage walk, or just relax and let the spa and its Ayurvedic therapies take care of the rest.
Price: INR 34,000-INR 3,38,983  
Located in India's temple town of Varanasi, this five-star palace hotel offers a guided tour of its premises in a 'Royal Horse Carriage', whose driver comes from a family that has been serving the royals for generations. If that doesn't excite you, then there is a mini golf course at the property for you to enjoy. You can also experience one of Jiva Spa's signature treatments known as Abhisheka which is inspired by Indian purifying rituals.
Stay: The hotel has a Palace Room, Historical Suite and Royal Suite. All the rooms come with a garden and pool view, separate bathtub, and shower cubicle, and all the latest amenities. Not to mention the rich interiors.
Eat: The Dining Area at Taj Nadesar Palace has been designed to take you back to the era of the Raj. The menu has been curated to offer a mix of royal fare, food representing the rich cultural heritage of the city of Varanasi, and international gourmet dishes.  
Things to do: Here you can enjoy the 'Benarasi Chai Experience' in the Nirvana lounge, or attend 'live Indian BBQ' at the poolside and try some hot sizzlers cooked right in front of you.
Price: INR 21,999- INR 44,499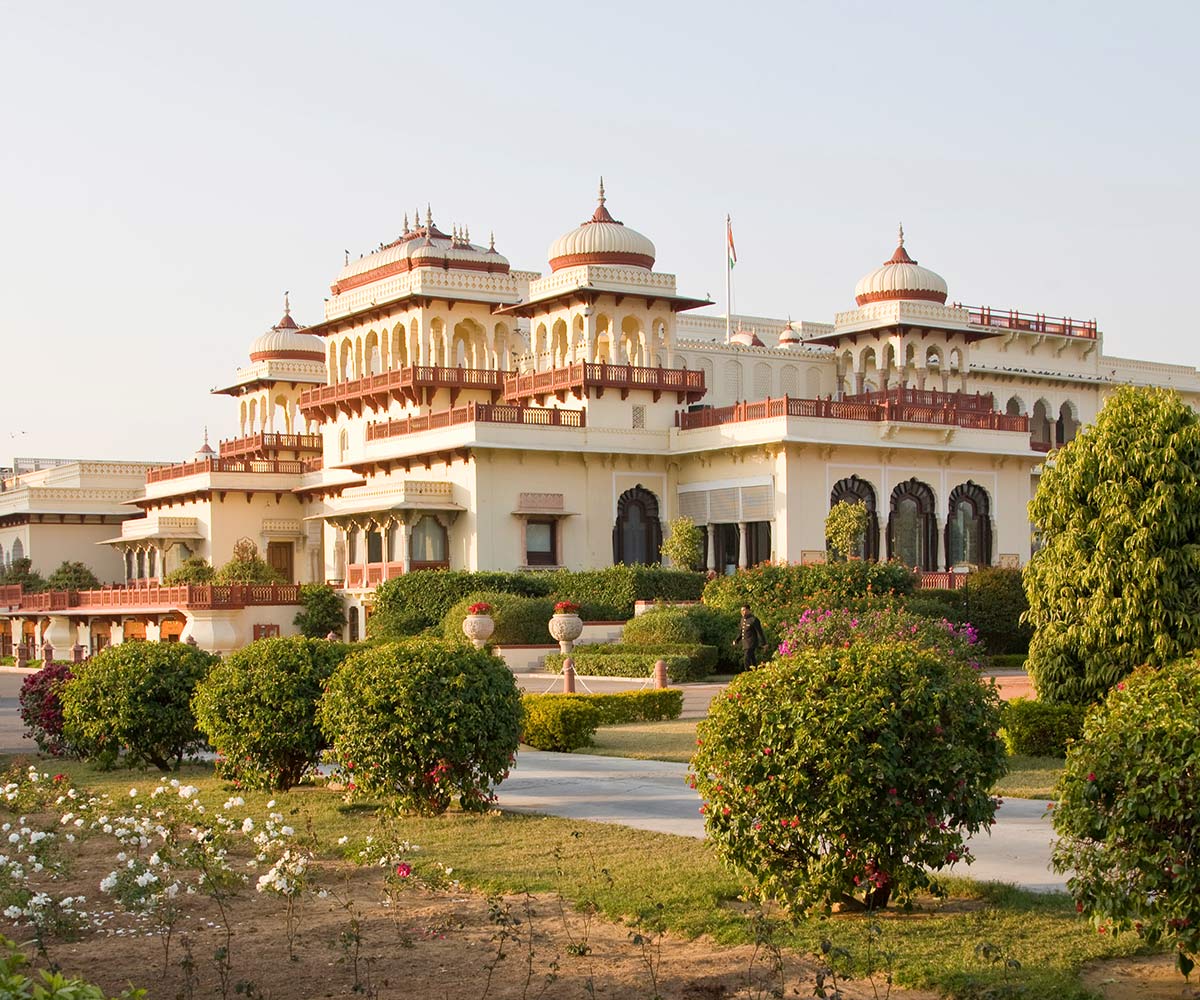 Built in 1835, this palace located near the famous Hawa Mahal of Jaipur was the erstwhile home of Maharaja Sawai Man Singh II and Maharani Gayatri Devi. Now it hosts as many as 78 luxury rooms and suites that were once the chambers of the former king. The palace hotel boasts exquisite features like hand-carved marble latticework, cenotaphs and Mughal Gardens, and an 18th century French ballroom turned dining space.
Stay: Its Grand Presidential Suite overlooking the garden comes with a terrace, a master bedroom, a dressing area, and a royal dining room. Its Royal Suites have French windows and royal décor to give you complete royalty vibes.
Eat: Enjoy delicious Indian cuisine in the Renaissance style Suvarna Mahal, or some wood fired pizzas and brews at the Steam lounge bar. For afternoon tea and snacks head to the open Verandah café, dine at the Rajput Room, or enjoy some drinks at the Polo Bar. Marble Arch and La Patisserie are two more options to check out here for multi-cuisine menu and sweet treats respectively.
Things to do: Dine at the Gazebo or the Heritage Wing with specially curated menu, or enjoy live music at the Baradari. You can also visit the Hawa Mahal and receive a royal welcome by the host dressed in traditional clothes showering rose petals on you.
Price: INR 35,500- INR 3,38,983  
This 1910 palace, built and designed by Maharaja Pratap Singh, is nestled between breathtaking Himalayan ranges, and offers a picturesque view of the Dal Lake. The palace is equipped with 113 guest rooms and 10 cottages.  
Stay: Its Deluxe and Premium Palace cottages offer serene vistas and feature rich colour palettes and contemporary furnishings. The Maharani Suite still has the original Deodhar wood furnishings, silk Kashmiri carpets and stonework.
Eat: The Chinar Garden is a multi-cuisine restaurant overlooking the Dal Lake and Srinagar Valley. The palace hotel also has Dal Bar where you can enjoy some of the finest drinks.
Things to do: You canrelax at Rejuve-The Spa, or lift some weights at the hotel's state-of-the-art gym. You can also shop for souvenirs at the Aum Shop, or call for butler service, for a complete royal experience.
Price: INR 25,000- INR 3,50,000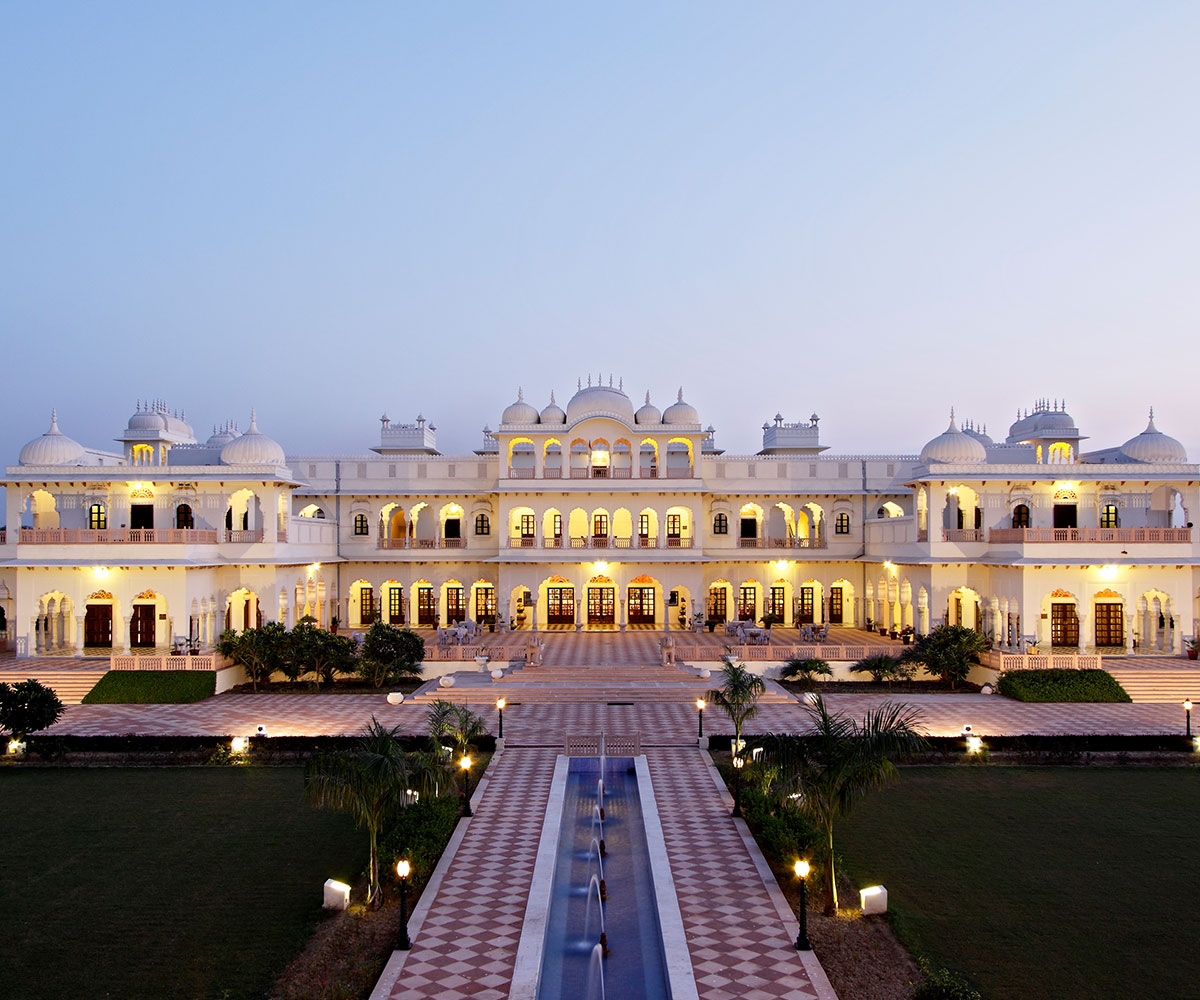 Located on the Agra-Jaipur highway, near Bharatpur Bird Sanctuary, the Laxmi Vilas Palace turned into a hotel in 1994. Today it houses 75 rooms and suites. Culture marries modernity here, as the palace hotel offers guests a glimpse of the royal heritage of the Jat rulers.
Stay: The spacious Royal Suites have plush furnishings, premium linen, and other amenities along with attached balcony. The Classic Rooms, on the other hand, have a courtyard view and all the amenities you will need for an exquisite stay.
Eat: The palace organises group lunches and buffets for travellers willing to stop by for a shorter duration. However, if you wish to spend the night at the hotel, do check out its Shikar Bar, which offers spirits stirred with flavoured juice, beers, and cocktails. You can also enjoy evening tea at the courtyard.
Things to do: Take a cycling tour to the Keoladeo National Park, which is home to more than 350 species of birds. Try your hand at a game of pool with fellow travellers, opt for a Kerala Ayurvedic massage, shop for some souvenirs, and enjoy the puppet show.
Price: INR 6,625 – INR 7,400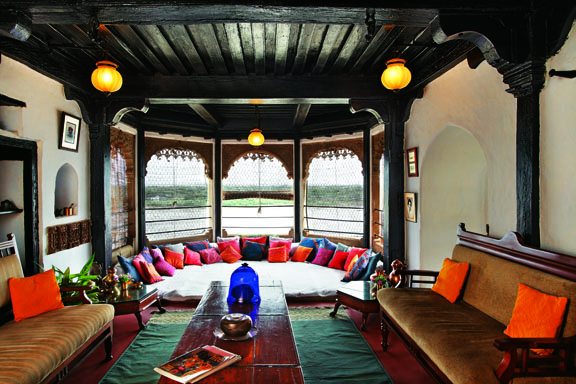 This heritage property sits above the Narmada River and was ruled by Maharani Ahilyabai Holkar from 1765 to 1796. In 2000, the fort was converted into a hotel by her descendant, Prince Richard Holkar. The property houses 19 rooms in six 18th century buildings, all equipped with all modern-day amenities. Other than this there are fountains, gardens, and three acres of courtyard for you to enjoy. Not to mention you can take a trip to nearby temples and markets which you can easily explore, thanks to the hotel's strategic location.
Stay: Poshak Wada, Lingarchan, Darbaar Wada Naqarra Bagh, and Badam Chock are the five areas comprising a variety of rooms, such as Nobut Niwas, Neem and Imli rooms, Sukh Niwas, Naqarra Suite, Princess Arianne's Garden Tent, Hawa Bangla, and more.
Eat: A stay here means beginning your day with breakfast at the mandap sitout overlooking the river Narmada. The lunch is made from produce obtained from the organic house garden and farm. Lastly, dinner comprises traditional thali curated from recipes from the royal kitchens of India.
Things to do: When here, make sure to attend the Lingarchan Puja, a daily ritual since Queen Ahilya Bai's Era, and watch 11 Brahmins make thousands of shivlings. You can also take a tour to the ruins of the 15th century Mandu city, just 75 minutes from the hotel, and enjoy the Royal Baz Bahadur picnic there. There's also the Omkareshwar town, one of Lord Shiva's 12 Jyotirlingas, to visit. Enjoy a sunset boat ride to Baneshwar temple or take a walk to the Naodatodi and Bothu villages--when staying at this property, there is a lot to do.  
The former residence of the Maharaja of Pilibhit, The Naini Retreat in the hill station of Nainital stands at the Ayarpatta Slopes offering scenic view of the Naini Lake. A blend of old-world charm and contemporary luxury, the palatial building offers royally furnished luxury bedrooms and a wide range of cuisines, including Chinese, Continental, Mughlai, and Kumaon.
Stay: The stay options here range from Garden rooms and suites to Naini Hill view and duplex rooms, that come with private sitouts, attic floors, and offer an overall Maharaja like experience.
Eat: Enjoy some lip-smacking delicacies at the multi-cuisine Gurney House, high quality beverages at Stella Bar, brunch at Garden Café n Jim's Grill, and some tasty treats at the open-air Walnut Café.  
Things to do: Drive to Kilbury ridge traversing above 7,000 feet, take a lake tour, or drive through the Corbett National Park. The hotel also offers activities such as, hiking, nature walk, rappelling, horse riding, etc.  
Price: INR 9,000- INR 22,138
This 230-year-old warrior fort converted into a heritage resort boasts the Jaipur Gharana architecture with influences from Rajput, Mughal, and British era. Jharoka style windows, jali work, brass panels, Tarkashi, Tikri mirror work, hand block print fabric, and wall frescos are some of the many Rajasthani elements that this stunning property features.
Stay: The hotel is equipped with Heritage rooms and Royal, Grand, Regal, and Presidential suites offering views of Bishangarh. The interiors look rather picturesque too with jharoka-style windows, luxurious living spaces, and rich artwork.  
Eat: Amarsar, Nazara, Madhuveni, Haveli and Kachchawa Lounge are the in-house restaurants here thatoffer authentic Rajputana delicacies, alcoholic and non-alcoholic beverages, and an organic menu.  
Things to do: The in-house Spa Alila offers traditional therapy involving the use of medicinal herbs, as well as Balinese healing therapy. Yoga sessions, private tour of Bishangarh, herbal baths, and rendezvous with local artisans are some of the activities that you can enjoy here.
Price: INR 23,400 – INR 55,200 
11. The Leela Palace, Jaipur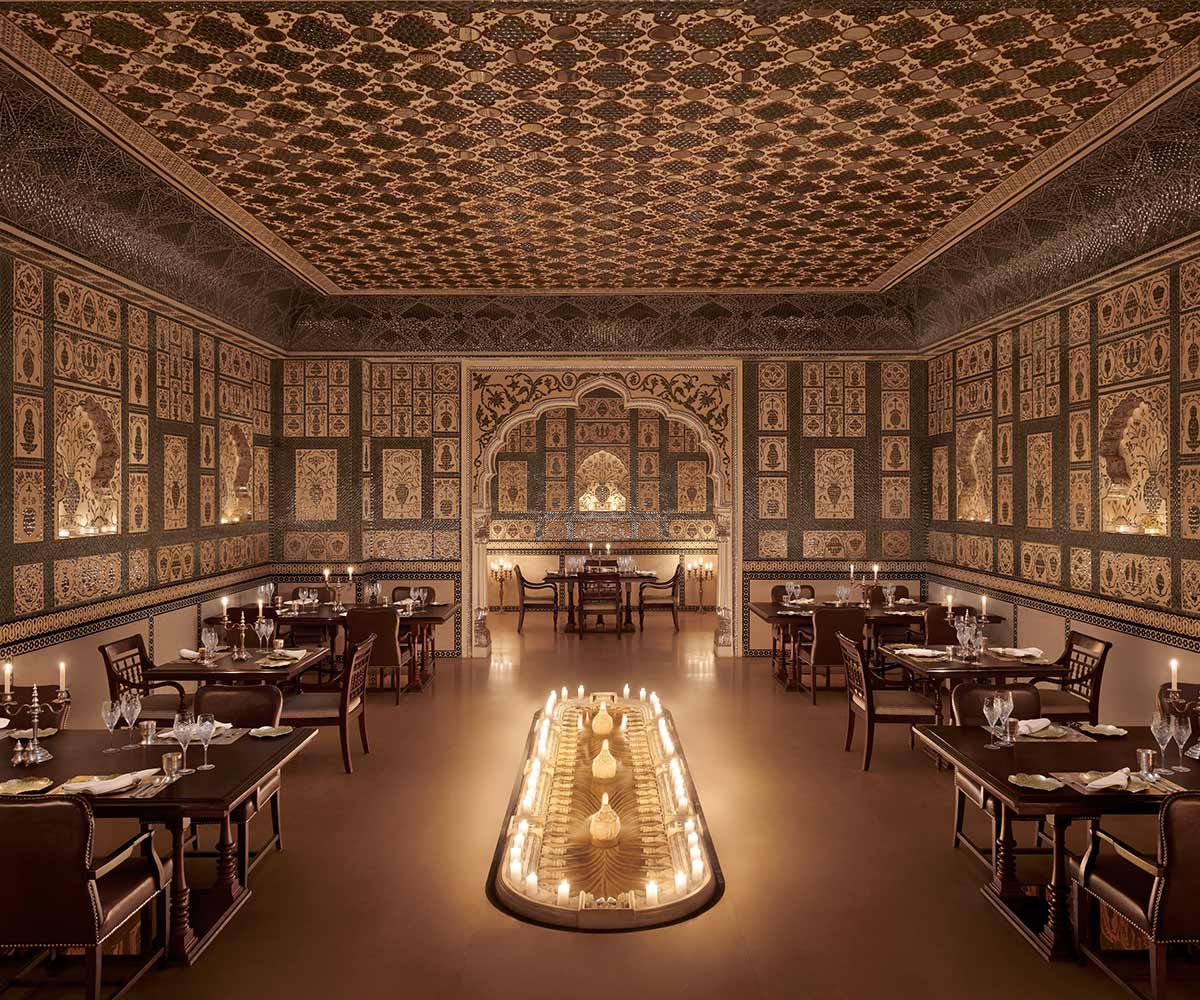 The newly launched Leela Palace in Jaipur is a blend of history and culture. Eight acres of gardens, prime location close to all heritage and tourism sites, and use of traditional Rajasthani elements such as, Thikri craft, Shekhawati paintings, and more, in the interior décor, are some of the features the property offers.  
Stay: Grand Villa with Terrace, Royal Villa with Courtyard, and the Maharaja Suite are the most luxurious rooms you can opt for a royal stay here. High speed internet, luxury bath amenities, pillow menu, even chauffeur driven luxury cars, not to mention the breathtaking view, are the kind of luxuries you can expect from these rooms.
Eat: Jharokha Bar, Mohan Mahal, Preet Mahal, and Sukh Mahal are the four restaurants where you can satiate your cravings. Enjoy some Indian and International cuisines along with some of the rarest cocktails crafted by mixologists, at the Jharokha Bar. Dine at the Sheesh Mahal inspired Mohan Mahal, flaunting Thikri mirror work with as many as 3.5 lakh pieces installed in a time span of three years. If you are willing to have some Italian food then Preet Mahal is your place; and for an artistic menu, alfresco seating, and peacock courtyard head to Sukh Mahal.
Things to do: The Leela Dharohar experience allows you to checkout handmade terracotta jewellery, bags, home accessories, Indo-western apparel, and footwear for women, and more; along with some local treats, and performances. Its Jhilmil- Sitaron Ke Aangan Mein offers you a unique dining experience which is setup on request either by the poolside or Hawa Mahal. You can also opt for spa services in its Thai massage rooms or couple room, and rejuvenate yourself with its Indian and international massage therapies.
Price: Approximately INR 16,000-INR 36,000
12. Samode Palace, Jaipur 
This 475-year-old palace, flaunting the Indo-Saracenic architecture, has hosted many celebrities and royals. The place is a combination of Indian and Mughal styles. Delicate fabric, carved couches, elegant prints, rich carpets with intricate patterns, are some of features, that it offers.  
Stay: Rooms here come with four poster beds, draped in delicate white linen. A stay in the royal suite allows you a mountain facing private courtyard, jacuzzi, lavish bathrooms, spacious wardrobes, etc.
Eat: Wake up to the musical chirping of birds, and begin your mornings with breakfast under the trees. Enjoy a romantic evening with your bae with cocktails by the poolside, and a candle-lit dinner at the terrace garden.
Things to do: Checkout the Mughal Garden in Samode Bagh and go for camel and horse safaris. Visit the Samode village and explore the local market for its bangles, and gemstones. You can also explore Jaipur city that lies just an hour away from the place. The palace also hosts weddings in its royal banquet with fireworks, gourmet menu, and more.
Price: INR 12,000-INR 25,000
13. RAAS Devigarh 
Located just 45 minutes from Udaipur, this palace from the 18th century has successfully preserved the old-word Rajputana charm, without compromising on the needs of a modern-day tourist. The place is all about Marwari house murals, arches, turrets, swings, marble flower bowls, mirrored ante chambers, and much more. Built in 1760, during the rule of Rajrana Sajja Singh II, RAAS Devigarh was earlier named the Delwara Fort Palace. It took as many as 750 people and a period of 15 years, before it was finally restored and opened for public in 1999.
Stay: Its Aravali Suite offers a stay in the old Rajput palace with complete privacy, traditional motifs carved on walls and flooring, and view of the Aravali hills, Kamal, Durbar and Janana Courtyard. Devigarh Complex on the other hand comes with a private black granite pool, and secluded dining. The palace's Garden Suite overlooks the most beautiful garden of the property, provides the guests a private tented sitout, and flaunts green and white marble work.  
Eat: Their seasonal menu offers food prepared from homegrown ingredients sourced from the chef's garden. Dining options also include, Pool Deck, Restaurant Terrace, Janana Courtyard, Sheesh Mahal, Silver Lounge, and The Hawa Gorkha. For drinks you can head to Durbar Bar and Kothar Bar.
Things to do: Here you can go for Delwara heritage Walk or explore the Chittorgarh and Sawaryaji Temples. You can also visit the fort of Haldighati, explore the city of Udaipur, or go for village exploration. The palace offers a bunch of spa treatments, Yoga, Ayurveda, and wellness experiences.
Price: INR 11,250-INR 60,000
Photo: The Oberoi Udaivilas, Udaipur