The saying 'the best things in life are free' fits Doha perfectly. You can have a great time in this city without spending a dime. From free-entry museums and galleries to gorgeous gardens, frenzied markets and canal-side strolls — Doha promises a whole lot of fun and free attractions. All you need is the time to see each one of them!
Let's tell you about the 10 best things to do in the city, without spending a single Qatari Rial.
1. Wander the fabulously atmospheric Souq Waqif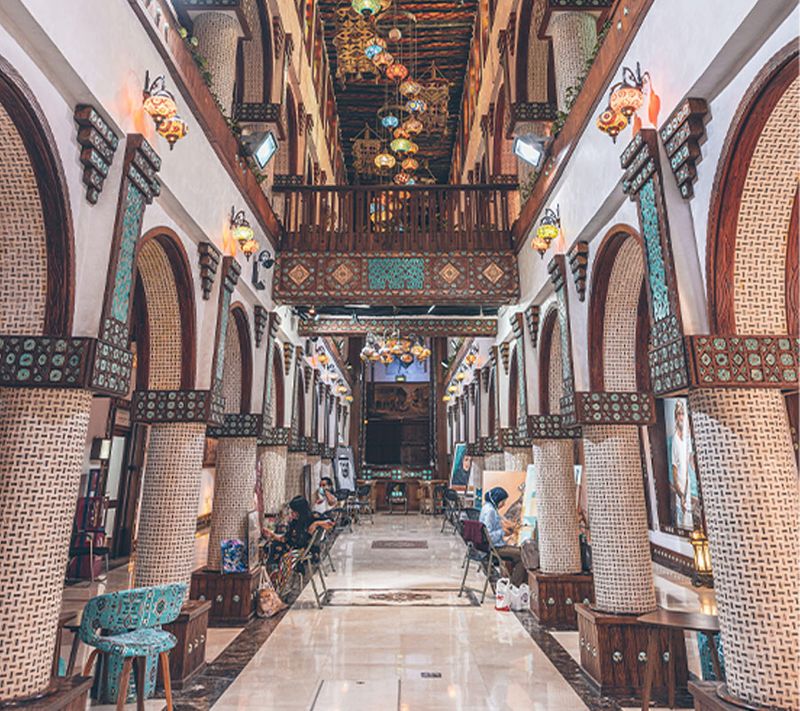 This vibrant marketplace with beautifully restored original Qatari buildings and winding alleys is undoubtedly the soul of Doha. Centuries ago, Bedouins would bring their sheep, goats and wool here to trade for essentials. Much of the market was destroyed in a fire in 2003 and resurrected in the following years.
Wander around the shops selling national Qatari dress, spices, perfumes and oud (incense made from agarwood). Some of the shops are like museums, displaying artefacts (such as swords and shipping memorabilia), plus jewellery from around the Arab world.
Don't miss the Falcon Souq filled with hooded falcons perched on posts or railings. Evenings are the best time to visit when the souq is filled with the cheer of happy shoppers and tourists.
2. Immerse yourself in art at Katara Cultural Village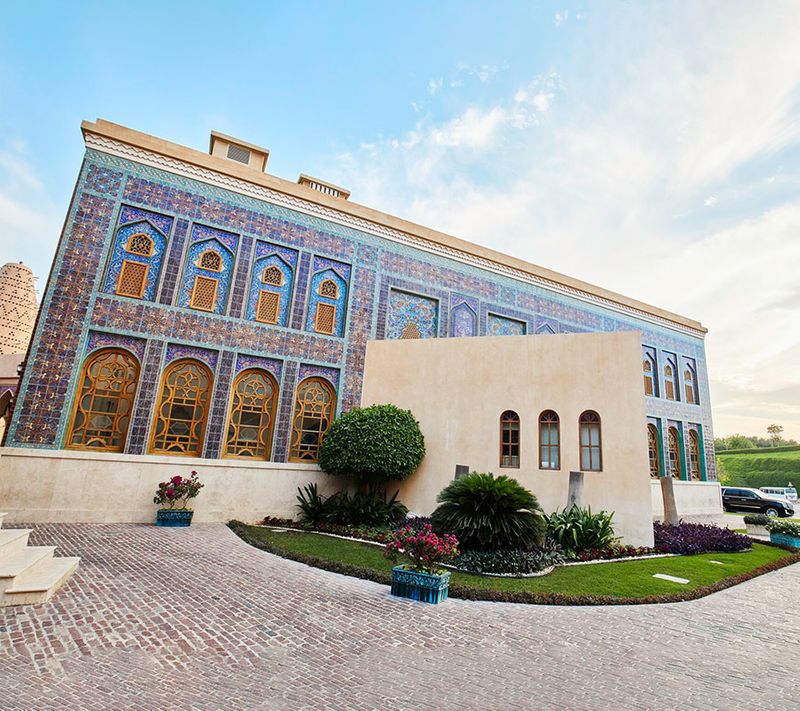 With a staggering number of art galleries, workshops, exhibition areas and performance arenas, Katara is an art lovers' haven.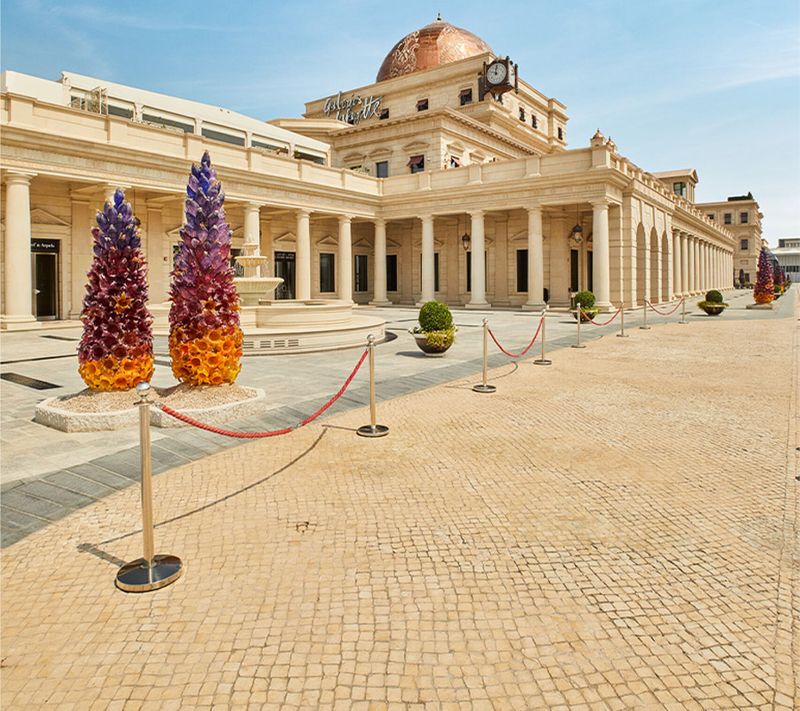 Begin with the Katara Mosque at the entrance. Designed by Turkey's Zeynep Fadilloglu, believed to be the first female architect to specialise in mosques, and studded with Persian and Turkish tiles, it makes for fascinating photos. Then follow the trail of high-end cars dropping shoppers off at Galeries Lafayette – the iconic French department store for some window shopping.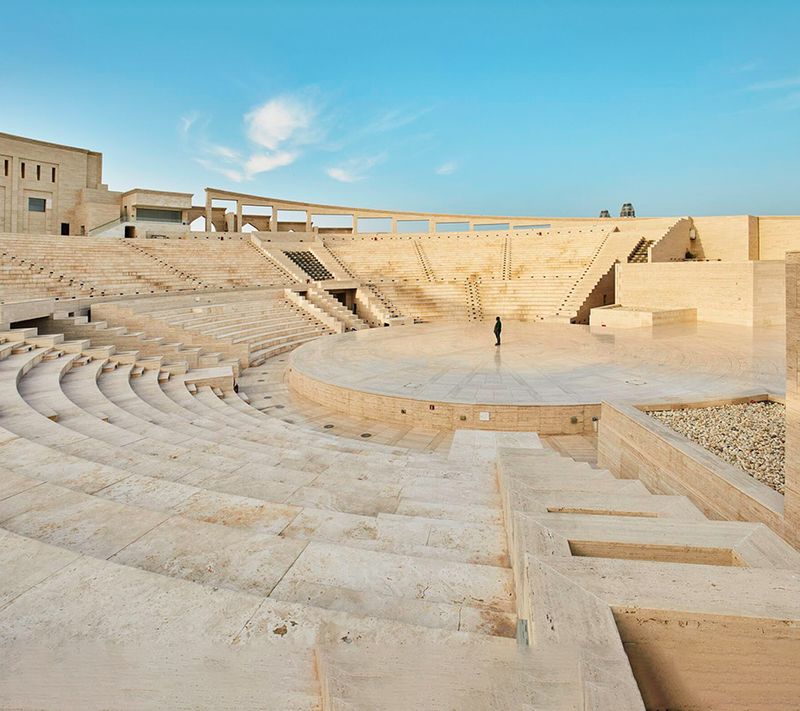 Philatelists will love the postal stamp museum here with postage stamps from the 22 countries of the Arab world, dating back more than 30 years. Each collection is displayed in neat frames. Reserve some time to explore the Greek-style amphitheatre. It can hold up to 5,000 spectators. But that's not the reason for the recco! It affords the best views of the sea and makes for stunning photos that will set your 'gram on fire.
3. Curl up with a book at Qatar National Library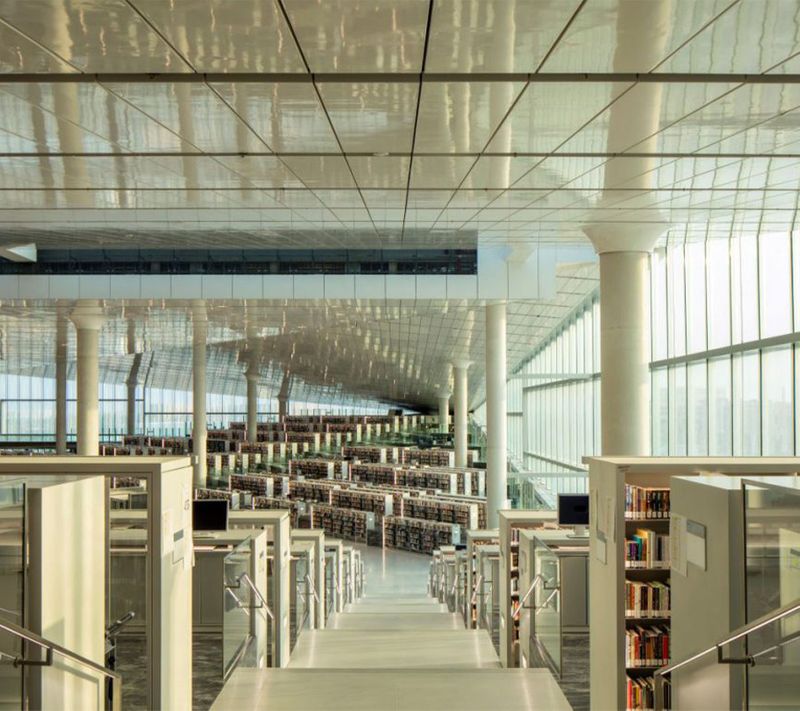 What can be better than wandering around a massive, light-filled library, finding a quiet corner and then getting lost in the book you just discovered!
Qatar National Library is a treasure trove of books on videography, photography, design, sound editing and 3D printing. There's also a music studio and a heritage section with rare books, manuscripts, maps, atlases, historical photographs, and travel-related instruments and tools. A number of the printed materials date back to the 15th century, when the printing process was introduced in Europe.
Membership is free for residents, while tourists can look around and use some of the facilities. The building itself is fascinating and resembles two pieces of paper that are pulled apart and folded diagonally at the corners to create a shell-like structure.
4. Discover the history of Doha at Msheireb Museums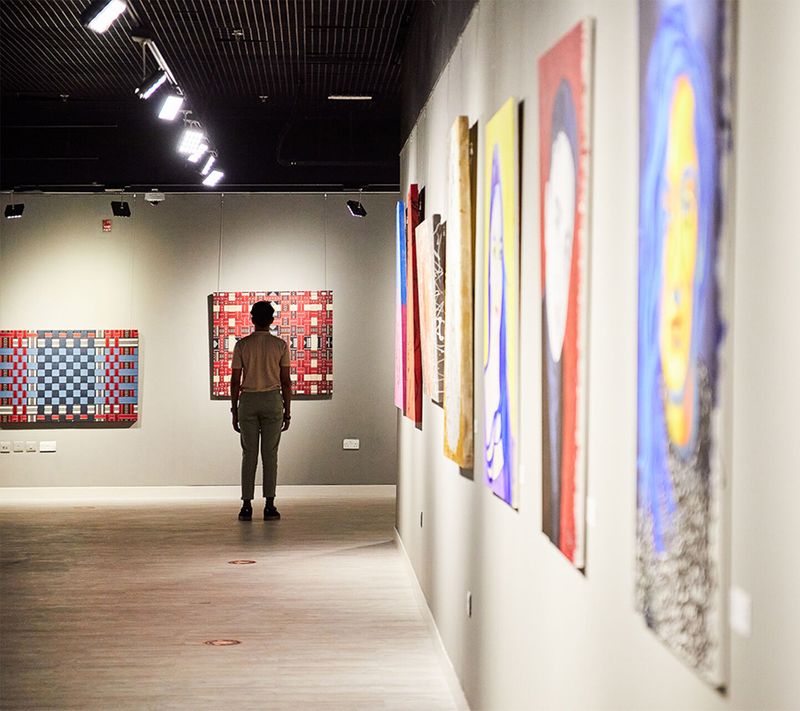 Located in the oldest part of the capital, the now refurbished Msheireb Downtown Doha is home to four heritage houses that tell the fascinating story of Doha.
Bin Jelmood House, Company House, Mohammed Bin Jassim House and Radwani House were restored and transformed into museums that explore key players and periods in Qatar's history and evolution. Each house in the Mshereib Museums is built in a traditional Qatari style, with colonnaded courtyards, typical since the early 19th century.
I particularly loved Company House which tells the story of the petroleum industry through the men who built it. Don't miss the powerful short video.
Note: Msheireb Museums are within walking distance from the historic Souq Waqif.
5. Wander around the Corniche
Doha's attractive crescent-shaped waterfront makes for a wonderful stroll in the evenings. The best views are from the water's edge close to the Museum of Islamic Art, with dhows (traditional cargo boats) in the foreground and skyscrapers across the water.
Pause for some Turkish coffee and shisha (grapefruit, mint and apple) at Halul Coffeehouse (not free). The famous pearl monument here is a popular spot for photos. The best time to visit is late afternoon on Friday, when families of all nationalities throng here. Allow a good hour and a half.
6. Bird watch at Al Karaana Lagoon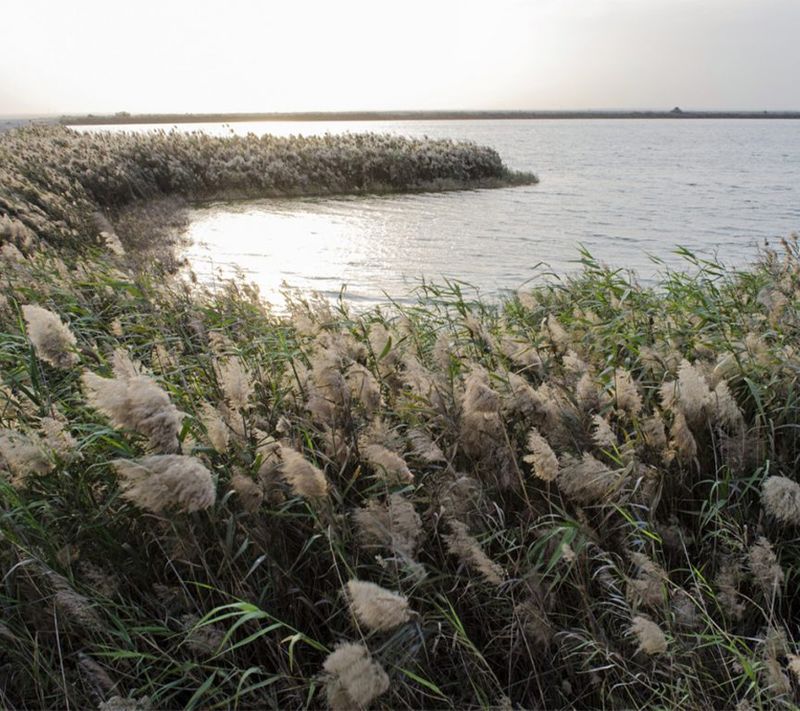 It's hard to believe that this gorgeous lagoon was once a dumping ground for wastewater. It was cleaned up and transformed by Qatar's public works authority, Ashghal, into a beautiful oasis in the middle of nowhere.
It is a great place to see a wide variety of birds, fishes and flora as well as an amazing spot for photography. Another great thing about this place is that unlike most hidden gems outside of Doha which require a 4x4 to visit, Al Karaana can be reached in a sedan, although some off-roading is involved.
It's the perfect spot to escape from the hyper active Doha. Make sure you take water and some snacks with you. There are no shops around here.
7. Go for a stroll at the Katara Hills
This is a great spot to stretch your legs, walk or just stroll among the lush landscaped pavilion with water features and walking tracks. Once you climb up the hill and catch your breath, you will see fabulous views over Katara Cultural Village and the sea beyond, especially as it is aglow at sunset.
8. Watch a thrilling camel race at Al Shahaniya racetrack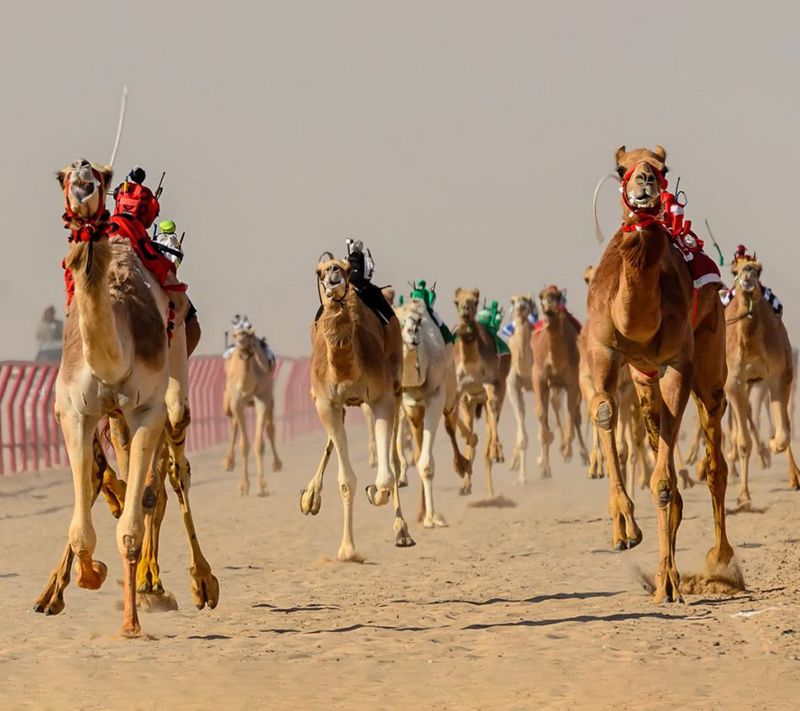 Camel racing is so popular in Qatar that there is a TV channel dedicated to the transmission of races! Watch remote-controlled, toddler-sized robot jockeys, clothed in colourful racing silks ride lanky mammals across the sandy track.
Racing camels can run at speeds of up to 40 mph in short sprints and may continue at 30 mph for as long as an hour. The operator applies the whip antenna, commands the jockey to pull on the reins, and shouts encouragement to the camel via a built-in speaker.
Although shaded seating is available in the grandstand, visitors can do as locals do and follow races by driving their car along the road that runs parallel to the track. Races are held every Friday from October to February, but even if you don't see a race, you can watch the camels training every morning.
9. Picnic in Aspire Park
This is Doha's largest park and literally the green lung of the city. Not only does this wonderful green space offer the best views of the iconic Torch Hotel and the Khalifa International Stadium, but it's also home to lots of walking and running tracks as well as kids' play areas.
Enjoy a picnic on the lush grass, walk along the lake with playful ducks for company or simply marvel at the beautiful fountains and the unusually shaped boab trees. Evenings are filled with the sound of laughter and the aroma of perfect barbecues.
The park hosts various events and festivals throughout the year, particularly fun runs and other health and fitness-related activities.
10. Wander the canals of the Qanat Quartier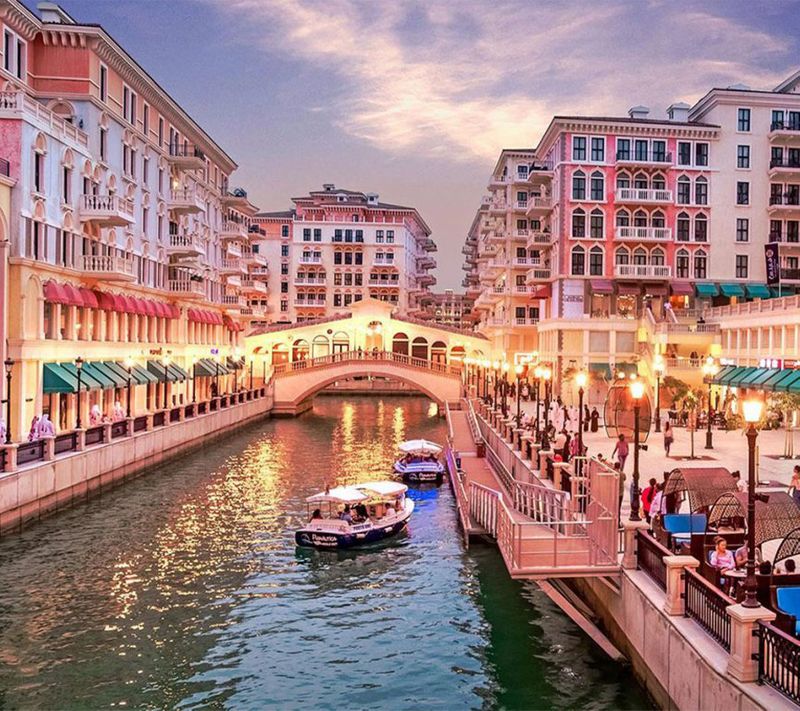 Dreaming of Europe? Bookmark this Venice-inspired spot at The Pearl. Arguably the prettiest place in the entire city, the Qanat Quartier is an absolute dream for anyone missing Europe. It is full of canals and colourful buildings that make for stunning backgrounds for photos. There is loads of scope for people-watching too. If you get peckish, just hop into one of the coffee shops and restaurants.
---
Photo: Qatar tourism