It's summer in most parts of the world and along with summer comes the longing for a beach vacation. However, there are always some prerequisites like budget, vacation time, travel and weather that play on our minds while making a decision on which destination should be on our bucket list next. If you want to travel within India and want a perfectly Instagrammable, picturesque and scenic vacation filled with serenity and luxury, look no further than the beautiful Andaman and Nicobar Islands. 
While there are multiple luxury hotel chains with stunning properties in Andaman and Nicobar Islands, here's a list of lesser-explored boutique hotels that you must not miss. 
1. Sea Shell, Havelock Island
Surrounded by lush greenery and with prominent beachfront views, the Sea Shell resort on Havelock Island would be a great option for you to kick back and relax on your holiday. There are many water activities you can do at the resort including scuba diving, and snorkelling among others. You can also visit the in-house bar Fluidz for your evening soirees. The resort is located on the serene beach of Kalapathar, and it is easily accessible with both public and private transport with free parking at the resort as well.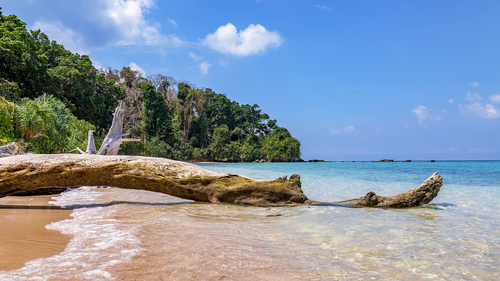 2. Haywizz Havelock Island Resort
Located approximately 500m from the main Harbour beach, Haywizz is the top option for a luxurious vacation on the island. With its famous local cuisine, spa and massage options and proximity to other islands, this resort is a tourist favourite. The stay at this resort comes with a complimentary tour of the nearby islands. It is situated 7 km from Swaraj Sweep and is easily accessible. 
3. Coral Reef Resort 
A 5-star island resort on Havelock Island, Coral Reef Resort offers world-class luxury, great views and an even greater ambience. You can take a ferry from Port Blair to reach here through the day. The best thing about this resort is you can choose privacy by opting for a private room and also be bang in the middle of the ocean and its views as well.
4. Fortune Resort Bay Island, Port Blair 
Overlooking the pristine waters of the Bay of Bengal, Fortune Resort combines luxury with local trends. The resort is fully constructed with 'Padouk' wood, which is timber found exclusively on the islands. Considered one the most authentic resorts on the Andaman Islands, Fortune Bay is considered reminiscent of living the local lifestyle.
5. Megapode Resort, Port Blair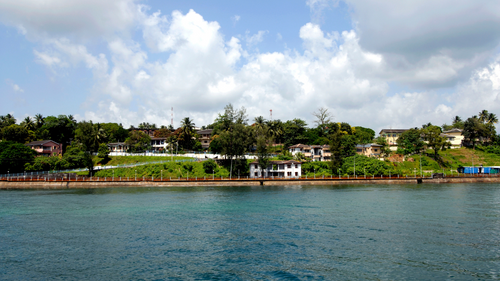 One of the most homely resorts on the island, Megapode will give you a relaxed and intimate experience not so far away from home. A gorgeous amalgamation of lush greenery and scenic ocean views, Megapode Resort is situated in Port Blair. Since it is centrally located, you can visit neighbouring tourist spots easily while staying here.
6. The Wild Orchid Resort, Havelock Island
A beautiful resort, Wild Orchid is merely a seven-minute drive from Havelock jetty. The best thing about this resort apart from the views is that it has a private beach which is a great place to explore snorkelling at your own pace and time. The cottages are cosy and intimate and give you the best of both worlds: luxury and homely vibes. 
7. Pearl Park Beach Resort, Neil Island
Located quite close to the main Jetty, this resort has a unique triangular sea view and is considered to have some of the best views on the island. The cottages have a unique sea-facing view that is immeasurable and gives a panoramic view of the Bay of Bengal. Sunset views here are unmatchable.
8. N K Eco Resort, Havelock Island
With lavish rooms, scenic views and easy accessibility, N K Eco Resort is a tourist favourite located at the heart of the city. The resort offers facilities like water sports and scuba diving, and a well-equipped conference hall that can be used for official conferences and seminars as well. Staying at this resort gives you the feeling of being surrounded by greenery while still being close to the ocean.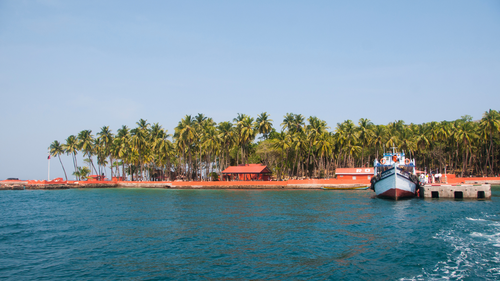 9. Blue Bird Resort, Havelock Island
An eco-friendly resort that will not make too many holes in your pocket, Blue Bird Resort is a tourist favourite. With 14 luxurious cottages, panoramic views of the ocean and offerings like candle-lit dinners on the beach, this resort is a must-visit for couples who are looking for some downtime. 
10. Silver Sand Beach Resort, Havelock Island
Surrounded by a 360 view of white sand beaches, Silver Sand Resort is one of the top choices when choosing a place to stay on the island. One of the main draws of this resort is its healthy dining options which don't make you feel guilty while on a vacation. This resort has 39 luxury cottages to choose from and boasts vivid marine life. 
---
Photo: Shutterstock