The largest district in Gujarat, home to the white salt desert, flamingos, Indian Wild Ass, Great Indian Bustard and of course Dholavira (one of the earliest civilisations) - the Gulf of Kutch is the ideal place for your next vacation.
Boasting rich culture, exotic wildlife and ancient history, Kutch (officially spelt as Kachchh) is bordered by the Arabian Sea on the west and the Gulf of Kutch on the south. It is a popular holiday destination for both Indian and international tourists. With a vibrant culture, age-old crafts and a plethora of must-visit spots, there is something of interest for all types of travellers at the Gulf of Kutch and here's how you can make the most of your time there.
Places to visit in and around the Gulf of Kutch
1. The mesmerising white salt desert at Great Rann of Kutch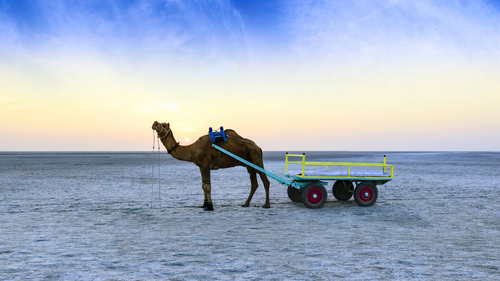 The first thing on your Gulf of Kutch travel checklist must be the White Salt Desert. Geographically, the Rann of Kutch is at the heart of the intersection of the Thar Desert and the Arabian Sea. This makes it a surreal salt desert that glistens under the moonlight and radiates in the daytime. Giving the 'straight out of a photograph' vibes, this exquisite piece of natural marvel echoes serenity, mellow breezes and soul-satiating aesthetics. The main attractions here for tourists include camel and jeep safaris.
Pro Tip: Visit the Rann Utsav (Nov-Feb) to witness the grand festivities and cultural richness of the place.
How to reach: The nearest railway station is Bhuj (104 km away). You can hire a cab from there to Rann of Kutch which will take another two hours to reach.
Timings: 6 am to 6 pm
Entry fee: Entry is free for children of 5 years or younger, for children between 6-12 years is Rs 50 and for individuals above 12 years is Rs 100.
2. Camel ride by the reach at Mandvi Beach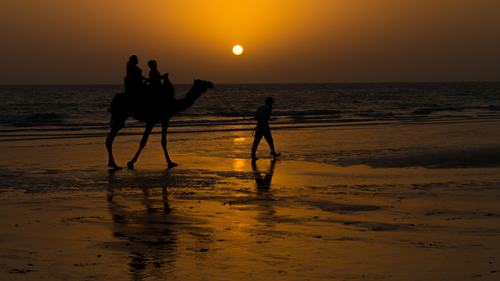 What's a visit to a desert without a camel ride? But you can make it better by adding a beach view to this! Mandvi Beach is the perfect spot to spend quality time watching the sunset. Located close to the Vijay Vilas Palace (read on to find out about this palace), this beach provides the much-needed respite from all the touristy stuff you will engage in at the Gulf of Kutch. The beach also comes with other adventurous and recreational activities like water scooter rides and horse riding. 
Pro Tip: If you are into photography, then you cannot miss clicking a picture of the beautiful pelicans that stroll by the beach!
How to reach: Travel by rail or air to Bhuj. From there you can book a cab to Mandvi Beach.
Timings: 6 am to 6 pm
Entry fee: Free entry
3. ​Visit one of the world's oldest civilisations at Dholavira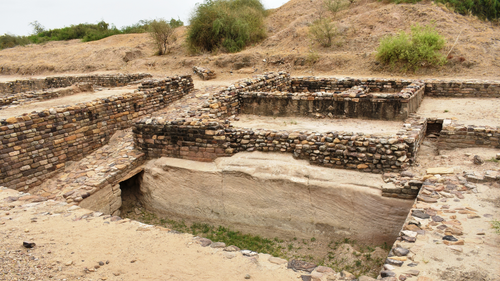 Our history books have familiarised us with the Harappan civilisation and the associated archaeological findings. Experience the joy of visiting one city from this early civilisation by going to Dholavira. This excavation site has been well preserved over time and acquaints you with one of the most well-planned water storage systems in world history. This is a must-visit for every traveller exploring the Gulf of Kutch, especially if you are interested in archaeology, history, culture, settlements and architecture.
How to reach: You can book a cab from Bhuj railway station which is 250 km away from Dholavira. Alternatively, try the Govt. bus services which run at fixed times.
Timings: 10 am to 5 pm
Entry fee: Free entry
4. Witness Gujarat's exotic fauna at Kutch Desert Wildlife Sanctuary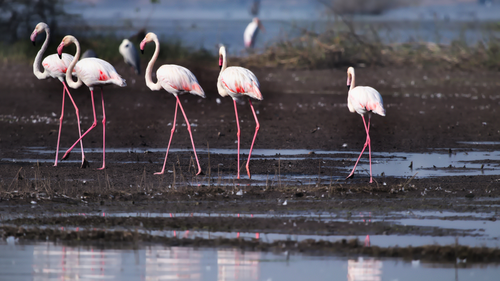 Gujarat is home to various exotic and endangered species of animals. Witness some of these rare species of fauna at the Kutch Desert Wildlife Sanctuary. Spread across an area of 7506.22 sq km, this sanctuary will give you a novel experience of interacting with nature and wildlife amidst vast stretches of the salt desert. The city of Bhuj is just a hundred kilometres away from the sanctuary and you will find a variety of species here - from foxes and hyenas to birds like Houbara bustard.
How to reach: Take a cab or bus from Bhuj.
Timings: 6 am to 6 pm
Entry fee: Rs 250-280 (for Indians), Rs 1200-1500 (for foreigners)
5. See the Indian Wild Ass live at the Indian Wild Ass Sanctuary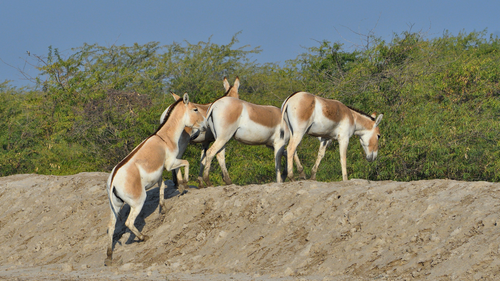 If you are not satisfied with your visit to the Kutch Desert Wildlife Sanctuary and wish to witness something exceptional, then you must go to the Indian Wild Ass Sanctuary. It's amusing to note that this is the only place where the Indian Wild Ass still lives. The sanctuary is perfect for wildlife lovers to explore because it also houses 32 other mammal species and comprises grasslands that can feed over 2,100 animals.
How to reach: Take a cab or bus from Bhuj.
Timings: 2:30 am to 6:30 pm
Entry fee: Rs 250-280 (for Indians), 1200-1500 (for foreigners)
6. Enjoy the picturesque view from Kala Dungar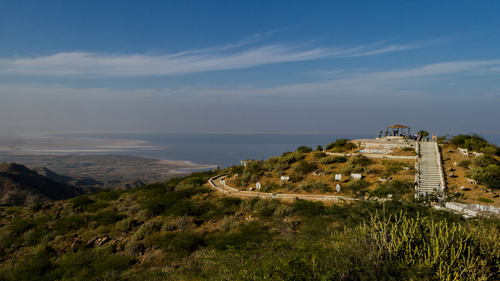 Yet another place you can't skip on your Gulf of Kutch trip is the Kala Dungar dune hillock. It provides a bird's eye view of the entire Rann and also houses the ancient and revered Dattatreya Temple. This temple is renowned for worshipping the three deities - Brahma, Vishnu and Maheshwar. You might be tempted to hike to the hilltop but only trained or professional hikers are allowed to do that. For the larger population, Kala Dungar is accessible via buses or jeeps.
How to reach: Take a cab or bus from Bhuj.
Timings: 6 am to 6 pm
Entry fee: Rs 100 
7. Marvel at the grandeur of the Vijay Vilas Palace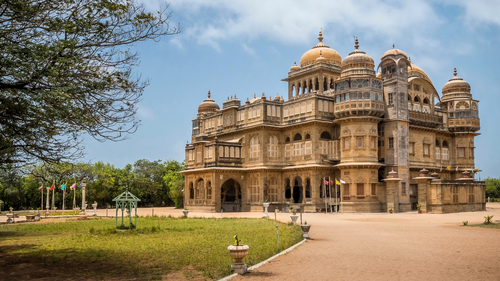 Royal palaces are always a delight to the eyes and the lavish Vijaya Vilas Palace is no exception. The Jadeja Maharaos of Kutch used it as his summer palace. This palace is built over 450 acres of land and is made entirely of red sandstone. The sheer architectural grandeur and efficient management of the palace will leave you awestruck. Just 17 mins away from Mandvi Beach, Vijay Vilas Palace is perfect for a day trip where you revel in the rich history and architectural ecstasy of the place followed by a soothing stroll by Mandvi Beach in the evening.
How to reach: Take a cab or bus from Bhuj
Timings: 9 am to 1 pm & 3 am to 6 pm
Entry fee: Rs 25 for children to 5 years and Rs 50 for 6 years and above
8. Watch the Great Indian Bustard up close at the Kutch Bustard Sanctuary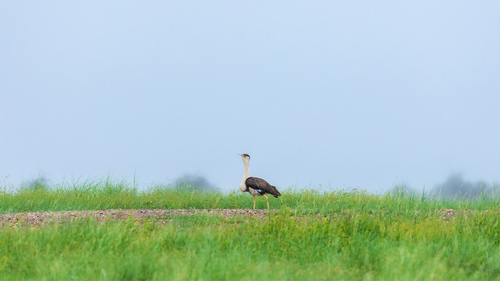 India's heaviest bird - the Great Indian Bustard lives a glorious life on the premises of the Kutch Bustard Sanctuary. The scenic sanctuary with its marshy swamps and partly arid grasslands will leave you content. Several other bird species call this sanctuary their home. Some of these include Marlins, Stoliczkae, Bushchat, McQueen's Bustard, Lesser Florican, Herons, Black Partridges, Sandpipers, Larks, Cranes, quail, sand grouse etc. This sanctuary is truly a paradise for bird watchers and wildlife photographers.
How to reach: Take a cab or bus from Bhuj.
Timings: 6 am to 6 pm
Entry fee: Free
9. Revisit history at the Kutch Museum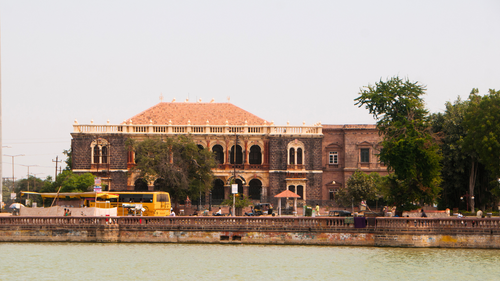 For all lovers of history, the Kutch Museum is a must-visit place. It is the oldest museum in Gujarat and is located in the heart of Bhuj city. This museum is also known as Fergusson Museum and stands tall opposite Hamirsar Lake. Be sure to check out the ancient Kshatrapa inscriptions, the rare coin collection, tribal artefacts, arms, crafts and folk art, sculptures, rare metal works, musical instruments, embroideries etc.
How to reach: Just a km away from Bhuj, a taxi is the best way.
Timings: 10 am to 1 pm & 2:30 am to 5:30 pm
Entry fee: Rs 20 (for Indians), Rs 40 (for foreigners), Rs 50 (for still camera)
10. Peak into the royal lives of yore at the Aina Mahal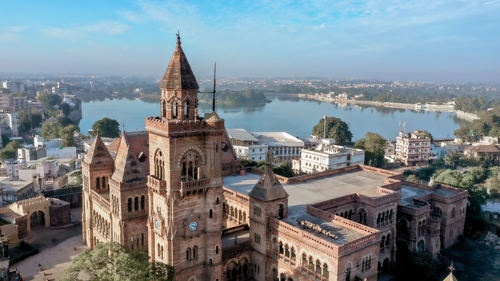 Another architectural marvel that Kutch boasts of is the Aina Mahal. A testament to timeless and skilled architecture, this gorgeous beautiful palace dates back to 1761. Made in Indo-Saracenic style with marble and different shades of gilded Venetian glass and gold lace,  Aina Mahal will leave you spellbound at first glance! It gives a glimpse of the royal life led by the kings of yore. With lavish bedrooms, dedicated music rooms, grand court halls, and extraordinarily carved balconies - this palace truly takes us back in time!
How to reach: Located just 2.5 km from Bhuj, accessible by road
Timings: 9 am to 6 pm
Entry fee: Rs 20 
Best time to visit Kutch
Being a tropical state, Gujarat has hot and dry weather during the summers. Hence, winters are the best time to visit the state. Further, the Rann Utsav happens between November to February, so winter is a suitable time to visit the Gulf of Kutch and other destinations in Gujarat. The ideal time frame would be from October to February when the temperature ranges between 25-12 degrees Celsius.
Apart from the above-listed places, there are a few other attractions in the Gulf of Kutch that might excite you. So, a trip of three-four days should be enough to cover all the interesting places in Kutch.
---
Photo: Shutterstock