India is all set to celebrate its 76th Independence Day this year. Celebrated on the 15th of August every year, Independence Day marks the end of 190-year-long British rule in India. It was on this date in 1947 that India was declared a free country. While being a day full of celebrations, Independence Day is also a reminder of the innumerable sacrifices laid out by our ancestors.
Everyone celebrates this day with much fervour but visiting the lesser-known monuments that narrate their muffled history is an experience in itself that you must not miss out on. In this feature, we bring you 10 historical monuments that tell you about the stories of the struggles of our freedom fighters.
10 historical monuments that are symbols of India's freedom struggle:
1. Mangal Pandey Park, Barrackpore, West Bengal
Each one of us has read about Mangal Pandey and his role in starting the Indian mutiny in 1857. Dedicated to the first martyr of India, this park signifies the site where people demanded independence for the first time. There is a statue of a sepoy who was hanged under the banyan tree by the British army. The revolutionary Mangal Pandey revolted against the British Lieutenant Baugh on March 29, 1857 at this site. A visit to this park takes us back to the times when our ancestors sacrificed their lives and faced enormous suffering to give us the freedom we have today.
Open: Monday to Sunday
Timings: Monday - Friday 10 am to 5 pm, Saturday to Sunday: 10 am to 11 pm
Entry fee: Rs 50 per head
2. Red Fort, New Delhi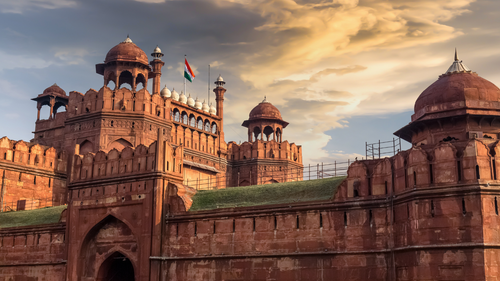 One of the most iconic anti-colonial resistance monuments, Red Fort gained recognition as a symbol of resistance against the Western forces in the 19th century. Ever since India gained independence, Red Fort has become synonymous with Independence Day celebrations. 
Upon gaining independence, the Indian army took over the Red Fort. Jawaharlal Nehru raised the national flag of India at this historic site on August 15, 1947. This tradition has been going strong ever since. Patriotism is in the air surrounding Red Fort, which makes it a must-visit historic monument.
Open: Tuesday to Sunday 
Timings: 9.30 am to 4.30 pm
Entry fee: Rs 60 on weekdays, Rs 80 on weekends
3. Cellular Jail, Andaman and Nicobar Islands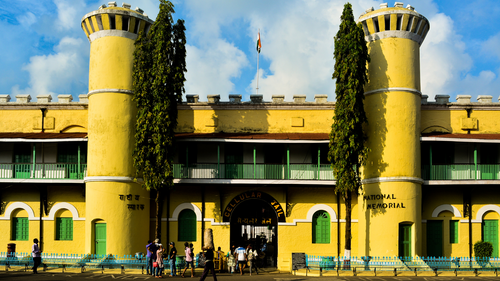 Formerly known as Kala Pani, the Cellular Jail was built in the middle of an ocean as a place of exile for political activists. Eminent Indian freedom fighters like Veer Savarkar and Batukeshwar Dutt were imprisoned here. While the jail complex looks fascinating, it was a torture chamber for the freedom fighters holed up there. There are mannequins on display to showcase the stringent punishments given to the prisoners and the kind of treatment they got at this historical monument. A visit to this national memorial monument is sure to give you goosebumps with tears in your eyes. 
Open: Tuesday to Sunday
Timings: 9:00 am to 12:30 pm & 1:30 pm to 5 pm
Entry fees: Rs 30 
4. Jallianwala Bagh, Amritsar, Punjab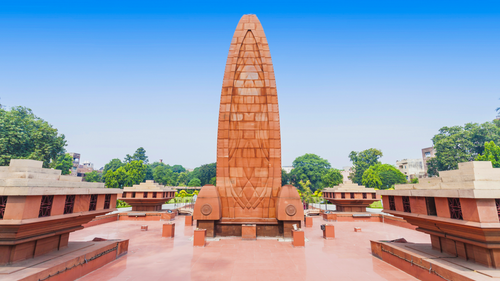 One of the many incidents that boiled every Indian's blood to date is the Jallianwala Bagh Massacre held on April 13, 1919. Thousands of people gathered at this walled garden for a non-violent protest when Brigadier-General Reginald Dyer ordered his troops to open fire on the crowds resulting in the death of over 1,000 defenseless men, women, and children. Several bullet marks can be seen on the walls of this garden. The Jallianwala Bagh is a reminder of the freedom struggle and the trials and tribulations that Indians had to face to win their independence.
Open: Monday to Sunday
Timings: 6.30 am to 7.30 pm
Entry fees: NA
5. Sabarmati Ashram, Ahmedabad, Gujarat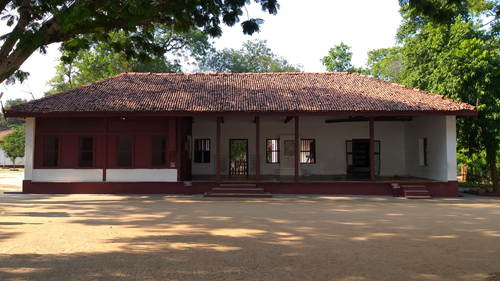 Famously known as Sabarmati Ashram, this place is known by various other names such as Satyagraha Ashram, Gandhi Ashram, and Harijan Ashram. Nestled in the Sabarmati suburb of Ahmedabad, Gujarat, the Sabarmati Ashram was built on the banks of the Sabarmati River. Mahatma Gandhi lived at Sabarmati Ashram with his wife Kasturba Gandhi for about 12 years. This historical monument was the base for the famous Dandi March that started on 12th March 1930 - an event that holds utmost importance in the freedom struggle of India. 
Open: Monday to Sunday
Timings: 8.30 am to 6.30 pm
Entry fees: NA
6. Jhansi Fort, Jhansi, Madhya Pradesh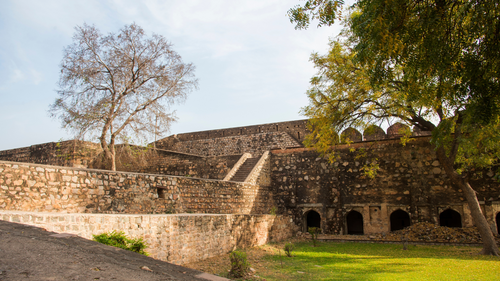 Built on the top of a massive hill called Bangira, the fort of Jhansi is a fort that served as a stronghold of the Chandela Kings between the 11th and 17th centuries. On the eve of independence day, try visiting the Jhansi Fort constructed by the Bundela Rajput chief, Veer Singh Deo in about 1613. When the revolt broke out in 1857, the Queen of Jhansi, Lakshmibai conquered this fort and took its reins from the British East India Company.
Open: Monday to Sunday
Timings: 8 am to 6 pm
Entry fees: Rs 5 for Indians, Rs 250 for foreigners
7. Lucknow Residency, Lucknow, Uttar Pradesh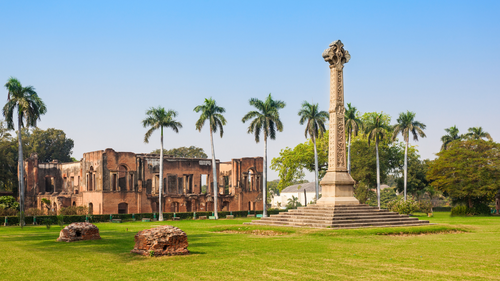 The official residence of the British Resident to the Court of Awadh, the Lucknow Residency holds an important place in India's freedom struggle of 1857. Beginning on June 30, 1857, the Indian sepoys laid siege to the Lucknow Residency for almost half a year but on July 1, 1857, the British government made this place their headquarters.
After the siege by the Indian sepoys, British authorities were held inside the Residency until they received help from Kanpur after about 87 days. After the British forces escaped the city of Kanpur, it came under the control of the rebels making it one of the first victories of the Indians against the British Raj - evoking a feeling of rebellion and desire for freedom among the masses.
Open: Monday to Sunday
Timings: 10 am to 5 pm 
Entry fee: Rs 5 for Indians and Rs 100 for foreigners
8. Champaran, Bihar
The first Satyagraha movement of Mahatma Gandhi started in 1917 at Champaran, Bihar. The British made it mandatory for farmers to grow indigo. The cultivation of indigo left the soil infertile, making it unfit for other crops and a great amount of water was required to grow indigo.
Upon witnessing mass protests and strikes, the landlords were forced to sign an agreement to let the farmer have more control and grants over the farms of Champaran and the cancellation of revenue hikes and collection until the famine ended. The Champaran Satyagraha paved a path as one of the first examples of what Gandhi's Civil Disobedience and nonviolent movement could do.  
Open: Monday to Sunday
Timings: 8 am to 7 pm
Entry Fee: NA
9. Netaji Bhawan, Kolkata, West Bengal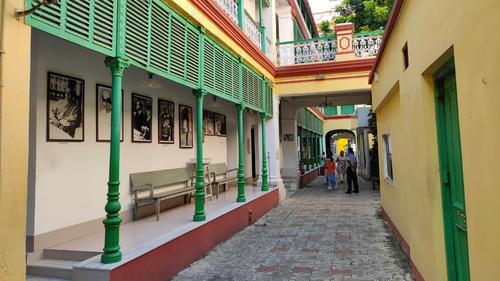 A heritage building in Kolkata, Netaji Bhawan, or the house museum made at Subhash Chandra Bose's brother's residence is maintained as a memorial and research centre to the life of the Indian nationalist. It was from this place in 1914 that Netaji made his grand escape from house arrest and fled to Berlin. After that, Subhash Chandra Bose travelled to Japan-occupied Southeast Asia by submarine where he organised the Indian National Army and fought against the British Raj.
Open: Tuesday to Sunday
Timings: 11 am to 5 pm
Entry Fee: Rs 5 for adults and Rs 2 for children
10. Aga Khan Palace, Pune, Maharashtra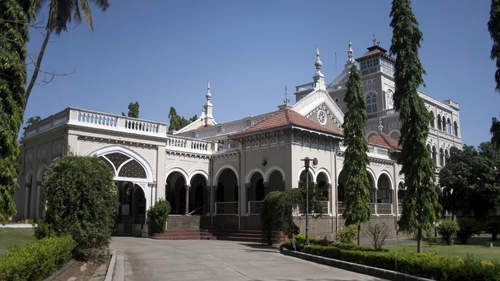 Situated in the city of Pune by Sultan Aga Khan III, the Aga Khan Palace is one of the most important landmarks in Indian history that have been instrumental in defining its independence. Prominent freedom fighters such as Kasturba Gandhi, Sarojini Naidu, Mahatma Gandhi, Mahadev Desai, and many more were held prisoners by the British authorities here. Kasturba Gandhi and Mahadev Desai both died in confinement at this complex. While the 19-acre palace is known for its architectural excellence, its historical significance makes it one of the must-visit historical monuments this Independence Day. 
Open: Monday to Sunday
Timings: 9 am to 5:30 pm
Entry Fee: Rs 5 for adults, Rs 2 for children (Indians), Rs 100 for foreigners

Each of the iconic historical monuments of India narrates a story of the great struggles and sacrifices of the Bravehearts to help India achieve independence. A visit to these spots is a small way of remembering and celebrating our history. 
---
Photo: Shutterstock