Picture this: Blue waves everywhere you see. Fluffy white clouds above the horizon and a warm sun peaking out, playing hide and seek. A cold cocktail in your hands along with some salty fries to munch on. A fast-paced book. Some summery music in your ears. This is a picture of the ideal summer holiday - one that you can book for yourself in the untouched serene beaches of South Goa. Considered the quieter cousin of the loud and party capital of North Goa, the beaches of South Goa are for those who want a calmer holiday, who love to spend time with just a handful of people (or even solo, why not) and who want a break from the hustle and bustle of city life.
If you're planning your next Goa holiday (which you must), here's a guide to the ten best South Goa beaches for you to bookmark.
1. Palolem Beach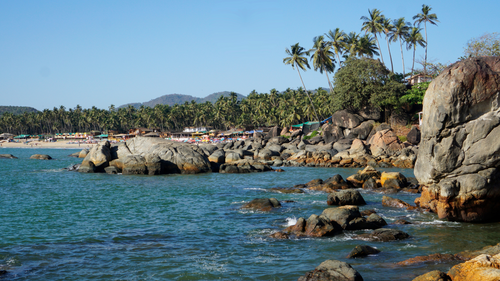 One of the most well-known south Goa beaches, Palolem is known as the best beach for couples for its untouched, beautiful sandy oceanfront. Located about 40 minutes from Madgaon (where most trains and buses stop for Goa), this beach is a tourist favourite, lined with comfortable shacks where you can spend the night quite literally on the beach, to luxurious beach resorts where you can get feel of Bali in the middle of the Konkan coast.
2. Colva Beach
The much sought-after silver sand beach, Colva is considered a hidden gem only 9 km from Madgaon. It was once preferred by both domestic and international tourists as somewhere you could get privacy from crowds but now this beach has become well known as a pit stop while beach hopping in south Goa.
3. Mobor Beach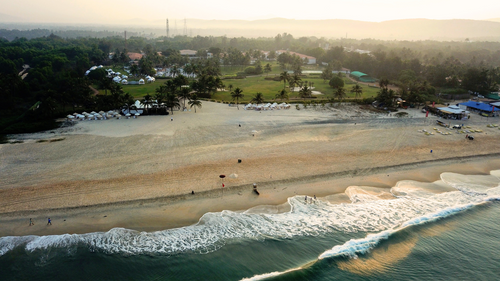 Also known as Salcette Beach, this tiny South Goa beach is not very well known by tourists but once you enter here, you will feel no less like you're in a beach in Thailand. Situated right to Cavelossim beach, it is only 2 km long and remains calm and serene through the year without any hiccups even during the high tide during the monsoon
4. Betalbatim Beach
With a stunning stretch of golden sand and connected to all the major beaches nearby (Majorda and Colva), this small beach is quite well-maintained and considered one of the cleanest beaches in the area. It's only about a kilometre long and boasts of a spectacular sunrise and sunset. Don't miss the view of dolphins here, which you may have to plan and take the help of a few local guides.
5. Patnem Beach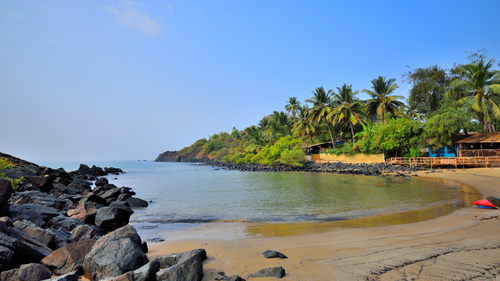 Patnem Beach is located near the Canacona region, one of the southernmost tips of Goa. Close to Palolem and Agonda Beach, this is merely 900 m long but boasts stunning views. If you hike up north of the beach you will unearth Colomb Beach Bay and if you go south, you'll hit Rajbaga Beach Resort. Between these two properties, you almost get the feeling of being on your own private beach at Patnem.
6. Betul Beach
Betul Beach is only a kilometre away from Mobor Beach and gives full privacy away from the tourist crowds. With calm and crystal clear water, being on this beach truly feels like being in a serene oasis. It boasts of a long stretch of the coastline along with the unwinding Sal River and also has a small fishing village nearby.
7. Butterfly Beach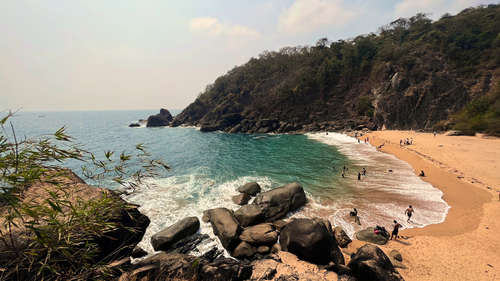 Butterfly Beach is a beautiful beach situated towards the north of the Palolem. Here one can see a tiny stretch of perfect white sand and translucent waters. It is very suitable for those seeking peace and isolation and is one of the quietest and most unexplored beaches in Goa. Butterfly Beach is surrounded by a lot of rocks. It was given the name 'Butterfly Beach' by the tourists as in the earlier days it is known that when the trees on the hillside near the beach bloomed, one could see a lot of butterflies there.
8. Varca Beach
Varca Beach is relatively isolated compared to the nearby Colva Beach - but it has both the vibes of bustling tourists and also complete privacy, depending on what you are looking for. There are water sports on the beach, or you can even choose to lie next to the ocean for hours, undisturbed.
9. Benaulim Beach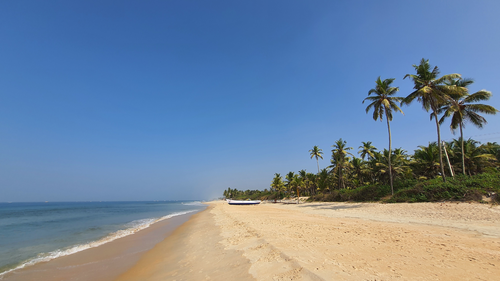 Benaulim Beach is the perfect place to go when you feel like you need some company and don't want to be completely by yourself - as the beach is lined with multiple restaurants and quite the Instragrammable silhouettes. Filled with cute corners to use for your next selfie, the beach also boasts crystal blue waters that make for great evening swims.
10. Cavelossim Beach
Cavelossim Beach lies between the Sal River and the Arabian Sea. Except for the busy weekends, it is considered to be one of the silent beaches of Goa. A few minutes of walk from this beach will take you to Cavelossim Assolna sailing over the Sal River, and you can find paddy fields and some local dwellers nearby.
---
Photo: Shutterstock