Kalki Koechlin has been appointed the brand ambassador for D2C brand Pilgrim's French Vinothérapie range which was launched in 2021. The multi-award-winning actress, known for her unconventional work, is now the face of this premium range that is made with Red Vine Extracts derived from Bordeaux, France. We got in touch with the Margarita with a Straw actress to find out about her skincare secrets, what she'd like to teach her daughter about beauty, and this partnership with Pilgrim that draws on her French roots.
Edited excerpts
1. Tell us about your association with the D2C personal care brand Pilgrim.
I am super excited to be on board with them. The brand's idea of bringing only natural, unique ingredients aligns with my ideology of embracing beauty in its true form. This was a major motivating factor alongside, of course, the common association with French beauty. This partnership felt like my chance to bring forth my heritage and spread awareness about the benefits of French beauty that I've witnessed and experienced first-hand.
2. Tell us what your daily skincare routine looks like. Any French beauty secrets you follow in your life?
For me, French beauty is all about being natural and effortless while maintaining authenticity and uniqueness. My beauty mantra for the same is to follow a minimal skincare routine. Staying true to the ways of French beauty, I believe in less is more. So, it just includes the basics — washing my face with cold water, followed by a hydrating and nourishing moisturiser. Since we are often shooting outdoors, I ensure I'm using a good amount of sunscreen to protect my skin. In the night care routine, there's a simple addition of night cream.
3. With your French roots, have you grown up with any specific traditions when it comes to skincare and haircare?
My mother always believed in keeping things natural. This is something I learned and adopted while growing up. We have never been extremely fond of putting on a lot of makeup. However, my mom has always encouraged me to do the basics like keeping my skin clean, nourished and hydrated. Talking about haircare, I've grown up using this homemade hair oil made by a lady in Pondicherry, it's called Ruby's Oil. She uses nine different ingredients and has named the oil after her grandmother. It has continued to provide my hair with all the necessary care, making them thick and healthy.
4. A specific skincare or beauty product you think is unnecessary?
I think we should try and keep our skincare routines minimal. The basic products ensure our skin gets the necessary care and also has room to breathe and embrace its natural beauty. So, I prefer to keep my distance from elaborate routines.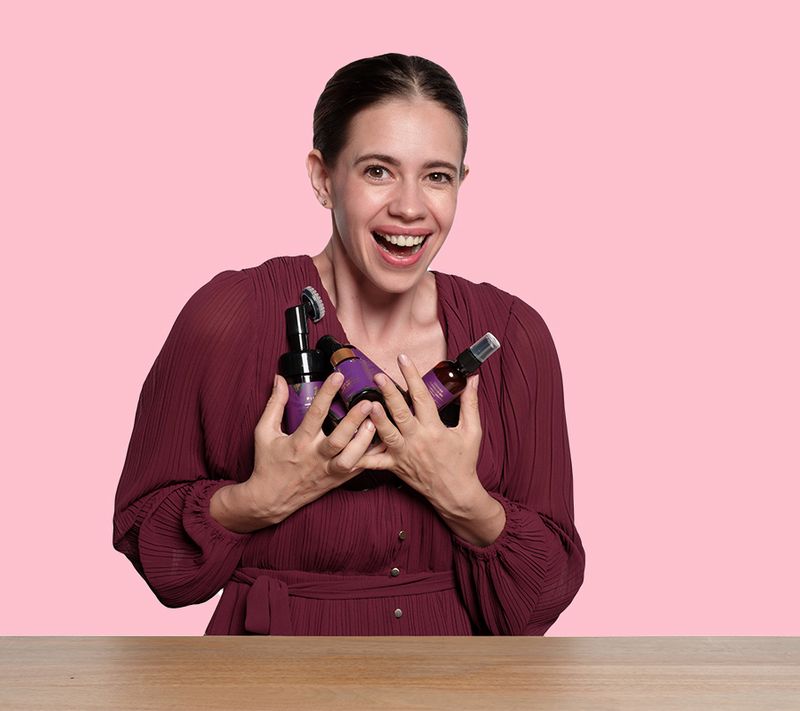 5. Any skincare/beauty rules you've followed for yourself over the years?
Before I go to bed, I make sure I follow a cleanser, toner, and moisturiser routine every night. I prefer serums containing hyaluronic acid as it brightens my skin and makes my skin feel light, fresher, and stress-free.
6. Are there any skincare ingredients you swear by?
I prefer products and natural ingredients that are skin-friendly and work well in every season like argan oil, coconut oil, and aloe vera gel.
7. Just like body positivity, there's a movement towards accepting one's natural skin with all its imperfections. What are your thoughts about this?
I always considered myself a tomboy and never thought I was pretty as a kid, but one day I received the best beauty advice – to stop looking in the mirror. We tend to become obsessed with how our skin appears and become critical in front of the mirror. This advice has had a major influence on how I perceive myself.
8. As a mother, what would you like to tell your daughter about the concept of beauty?
I'm definitely passing on the concept of beauty my mom taught me. She has always encouraged me to embrace my natural skin while ensuring I'm taking the necessary care. This is something I'd love to pass on to my daughter. However, I'd love for her to explore and create her own definition of beauty.
Beauty bytes with Kalki Koechlin
1. What is your go-to for dry winter skin?
I prefer creams rich in shea butter to moisturise my skin. Also, I've lately been using Pilgrim's Tea tree essential serum to target breakouts.
2. Skincare and beauty products that are always on hand?
My go-to skincare products are sunscreen and lip balm. I can never step out without my brown mascara and kajal.
3. One shade of lipstick you can't do without…
Red!
---
Photo: Pilgrim