Actor-turned-serial entrepreneur, Priyanka Chopra Jonas is on a mission to take over the world, one venture at a time. Her haircare brand Anomaly launched in the US at the peak of the COVID-19 lockdown. Finally, it has made its way to India. Chopra Jonas tied up with beauty e-commerce brand Nykaa to market and sell Anomaly products in India.
The Anomaly collection has a range of shampoos, conditioners, serums and more, formulated for end-to-end haircare solutions. The brand boasts of being SLS/SLES sulfates-, parabens- and dye-free while also being vegan and cruelty-free.
For Chopra Jonas, one of the biggest USPs of Anomaly is that the packaging is made from 100% plastic trash, which would have otherwise ended up in landfills or the ocean. "We spent $0.03 on each gap, just three cents, so we had enough money left to be able to spend on superior formulas," she said, adding that this also makes the products affordable for the consumer. In the US, all Anomaly products are priced under USD 10 and in India, they are between INR 750-1,000.
She also revealed that Anomaly's philosophy towards haircare is rooted in India and the country's customs and traditions. "We built this brand on the idea that great hair starts first with great care, something I learned from my mom and grandmom during regular oiling, deep cleaning and conditioning routines," she said. The products were developed and formulated by Maesa, a New York-based company that incubates, designs and manufactures exclusive brands and private labels for mass, drug and speciality retailers.
PeeCee was recently in India to officially introduce the brand and its products to the Indian consumer through a series of events. Here are excerpts from one of her interactions.
Edited excerpts:
1. How did you decide to foray into the beauty segment as an entrepreneur?
Over the years, I've worked with some of the best beauty experts who've used different kinds of products on me. That made me realise that I am the best litmus test for any beauty product. I still really put my head through a wringer and my biggest concern was that my hair was always damaged. It was never healthy. I also became very aware of how and what I'm using very early on and the tremendous amounts of money I've spent on products from all over the world.
That is when I started thinking about foraying into beauty. I took my time to understand where the gap in the market was and it was a value-driven haircare brand. I feel we've been able to create a trifecta with Anomaly — best quality products at affordable prices that work on all hair types.
The idea was to build a really strong foundation for your hair so that you can have the freedom to use products and do things you like to your hair because it's fun to be able to play with your hair without being afraid.
2. How is Anomaly rooted in Indian ethos and philosophy?
I didn't grow up blow-drying my hair or using curling irons. It was all about oiling hair and strong roots. Today, in comparison, we use heat tools and styling tools, we are colouring our hair or getting extensions and we need to care for our hair from all the impact. It is why we don't have styling products. We only have shampoo, conditioner, dry shampoo and serums. Our future SKUs will also be on these lines.
3. Anomaly's range is based on environmental factors but not hair types. Why?
This was funny because for eons we've been told that men's hair care is different than women's. But the fact is that hair doesn't discriminate. Everyone's hair is made from the same stuff, so taking care of hair cannot be extremely different. Hair care is the same because there is no discrimination.
Instead, the focus should be on how your hair is feeling on a day, just like skin. That is why we didn't make sets for any of our products. You can pick and choose as per your needs and convenience. You can choose your own adventure based on what your hair is asking.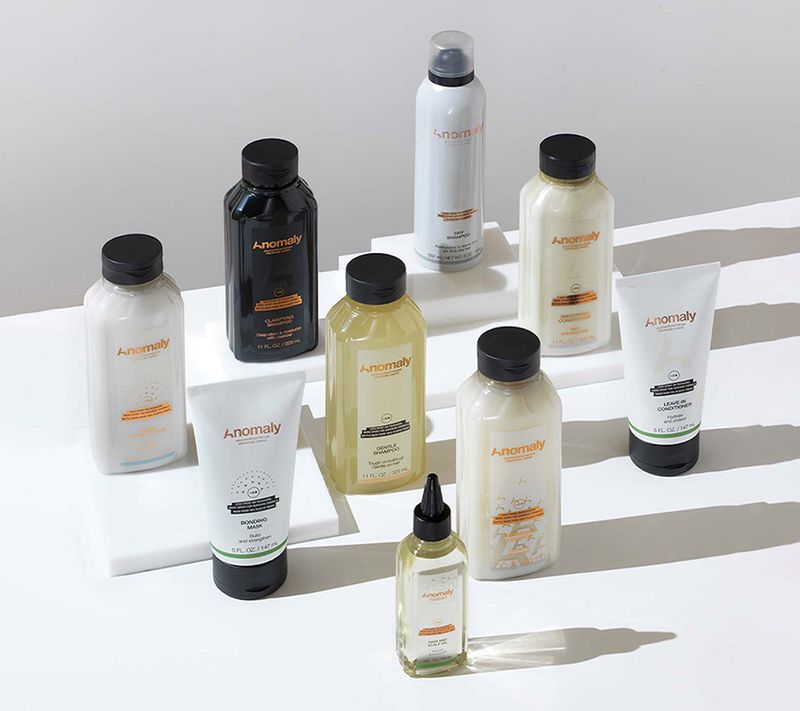 4. What has been your biggest learning in your entrepreneurial journey?
In any of my ventures, whether it was the restaurant, production house or Anomaly, I think the biggest learning has been that there is no formula to success. Every single brand or product or lane that you're walking on has its own needs and concerns. You can't apply a cookie cutter ideology to anything. I've had to start at the beginning, from scratch, and I'm a student of life.
Being a public person, I do a lot of prep work and a lot of teaching myself. But more than anything, I believe in collaboration and working with people that I admire, people that I know can get the job done. 
5. What is the one product from the Anomaly range that you swear by?
One product that I completely swear by and that you need in your life is the Scalp and Hair Oil. It is always in my bag and is my go-to trick when getting off a plane. Just a little bit of this serum and my hair looks like it's been freshly blow-dried and set. But I also do love the dry shampoo. It is perfect for Mumbai weather. It smells lovely, has no white residue and your hair's good to go in a jiffy. 
 
---
Photo: Instagram/ Anomaly; Anomaly