Stop and smell the roses! Besides the olfactory delight they offer, roses have always been a part of luxurious beauty regimes of beauty queens à la Cleopatra — all thanks to the manifold beauty benefits they offer. If beauty trends are hard to keep track of, invest in a vial of rose oil that is a timeless addition to your vanity closet. 
Essential oils – as a whole – have been enjoying their time in the sun, be it for their efficacy in skincare and beauty, redolence in perfumery or healing properties in aroma therapy. And while the rose has been part of our repertoire in many forms, be it in food or for matters of the heart, beauty enthusiasts have hailed their benefits since time immemorial in skincare. 
Dr Chytra Anand, a celebrity dermatologist and founder of derma-care clinic Kosmoderma, clarifies that, "Rose oil has been around for decades. Now, with the buzz around natural skincare and essential-oil-based products, rose oil might have returned to prominence. But it has been used for aromatherapy treatment for decades." Anand adds, that while rose oil is being chiefly talked about in the context of beauty and skincare, the essential oil has other health benefits, too. 
So, let's take a look at the benefits of rose oil and how you can add it to your beauty ritual. 
What is rose oil?
"Rose oil is harvested through a steam distillation process of Rosa Damasca petals, a hybrid rose that has been used for centuries in beauty rituals. 60,000 roses are steam-distilled to produce one ounce of rose oil. It is very expensive as the process involved is complex and generates low produce," explains Mr Rajat Mathur, senior education manager at popular skincare brand, Kiehl's India. Rose oil is not to be confused with rosehip oil, which is considered a carrier oil and used for cosmetic purposes. "It is distilled from the seeds and fruits just beneath the bloom of the rose and is not as concentrated as the essential rose oil," explains Dr Anand. 
Rose oil and skincare
Rose oil finds place in the skincare and beauty industry due to its anti-inflammatory properties and potent skin soothing abilities. As such, it can be used to soothe skin redness and moisturise and nourish the skin. "Because it's an essential oil, it gets absorbed into the deeper layers of the skin, working well as a moisturising and hydrating agent and reducing surface dryness on the face," Dr Anand clarifies. Additionally, rose oil has antioxidants, aids in treating discolouration of the skin and protects it against the effects of ageing. 
Why add rose oil to your self-care routine?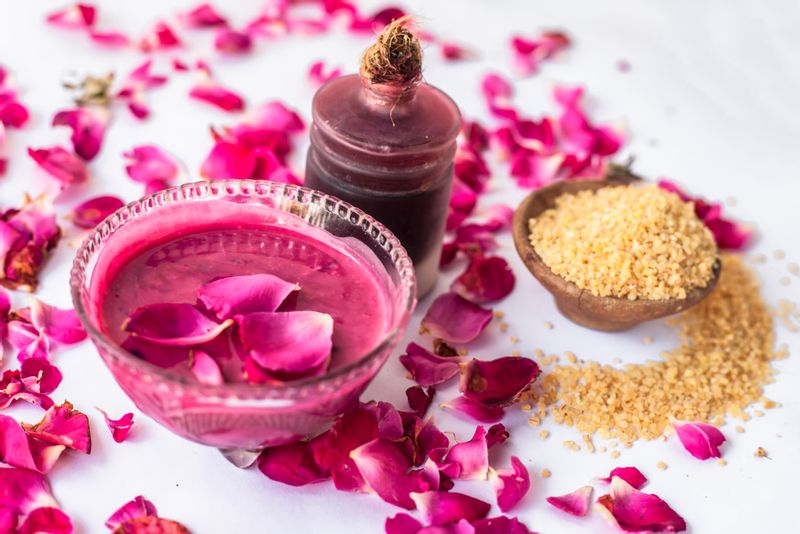 For a radiant and rosy skin complexion akin to the flower. "The light floral scent of rose oil reminds the skin that it's time to relax. It helps calm your senses and unwind for the night. Skin repairs itself nightly from the daily aggressors that can cause premature ageing. At night, when your skin is most receptive to repair, the aromatic rose oil works to help restore and replenish it, making it a highly effective ingredient of any selfcare ritual," shares Mathur. 
Adding rose oil to your skincare routine will mean visibly reduced fine lines, refined skin texture, and boosted radiance. With its moisturising properties, rose oil can also to help restore the appearance of tired-looking skin, leaving it looking soft, supple and hydrated. "Rose oil can stimulate the production of endorphins which are the happy hormones that boosts skin circulation and give the skin a glow," adds Anand. 
What do you need to keep in mind?
Exercise caution when using rose oil as it is a highly concentrated essential oil. Keeping this in mind, Anand suggests that you should never apply rose oil directly to the skin. 
If used in excess, it can lead to breakouts and oily skin. 

Apply to fresh clean skin only.

Check for expiry before using any kind of rose oil. 
How to use rose oil?
Rose oil can be blended with any mosturiser after being slightly diluted with water. This will help give a natural glow. 

Add one to two drops of rose oil to any organic face pack made at home for smooth, hydrated skin. 

Add rose oil to your skincare regimen through facial oils and serums, which combines with AHA's and BHA's to give you a cold compressed version of facial treatment. 

Rose oil can be mixed with extra virgin coconut oil or olive oil and used as a conditioner for dry and brittle hair. 

For dry and flaky skin, mix rose oil with glycerine and use it on your heels, elbows to treat flaky skin. 

Few drops of rose oil can be mixed in almond oil and applied on the entire body. This will remove the surface dryness and give deep moisturisation to soften the skin.

Add 3 drops of rose oil to 20 ml of virgin coconut oil and use it to massage the scalp and treat dandruff. 

Combine rose oil with alcohol free toner and dab well on skin after deep cleansing to replenish skin oils and maintain PH levels.
---
Get the rose glow with this DIY pack!
Mix rose oil with freshly grated turmeric, curd and honey to make a pack. 
Apply this on your skin, leaving it for 15 minutes. 
This will leave your skin feeling soft, supple and smooth. Perfect for a Sunday pampering!
---
---
Photo: Shutterstock