Most of us have fond childhood memories of tart purple juices dripping down our chins and leaving irremovable stains on our clothes. Jamun or java plum is a heavenly berry. According to Indian mythology, Lord Rama survived on jamun for a long period after his exile. It's is also considered sacred to both Krishna and Ganesha, which is why it is referred to as 'the fruit of the Gods'.
Rich in iron, potassium and vitamin C, jamun is known for its health benefits, which combat several ailments such as diabetes, diarrhoea, heart disease, asthma and arthritis. The berry and its seed are also used in traditional Ayurvedic practices. But in addition to its edible pleasures and medicinal properties, jamun also offers several beauty benefits. The seeds, leaf and bark powder of the jamun tree are commonly used in several herbal formulations.
Here are some beauty benefits of jamun and different ways to introduce this fruit to your skincare routine:
Jamun and honey face mask
Mumbai-based Dr Jaishree Sharad, dermatologist and CEO of Skinfiniti Aesthetic Skin & Laser Clinic says, "Jamun is a good antioxidant. It has iron and vitamin C so it is great for skin lightening."
She suggests making a quick face pack with the pulp of jamun mixed with a spoonful of honey. Apply it on your skin and after 15 minutes rinse it off well. This face pack will cleanse, detox, refresh and brighten your skin.
Jamun and rose water face mask
Dr Apratim Goel, laser surgeon and cosmetic dermatologist of Cutis Skin Studio, Mumbai says, "Jamun contains antioxidants and flavonoids, which help detoxify and purify blood giving your skin a natural healthy glow." It works wonders if you're prone to oily skin.
Make a quick mask by mixing jamun pulp with some rose water and besan and apply it evenly on your face to reduce pores. Once the face mask dries, rinse it off. Using this mask regularly will control your skin's oil secretion.
Undereye jamun mask
Jamun contains vitamin C which improves skin complexion, making it a great ingredient to use for lightening dark spots on your skin. Dr Goel suggests making a DIY jamun undereye mask for getting rid of dark circles from under your eyes.
You can make this mask by mixing jamun seed powder with some lemon powder (dry grind lemon zest), almond oil and besan. Mix well to make a paste, apply and wash it off after it dries. Following this routine for at least a month will help you to lighten dark spots and undereye pigmentation.
Jamun face mask for oily skin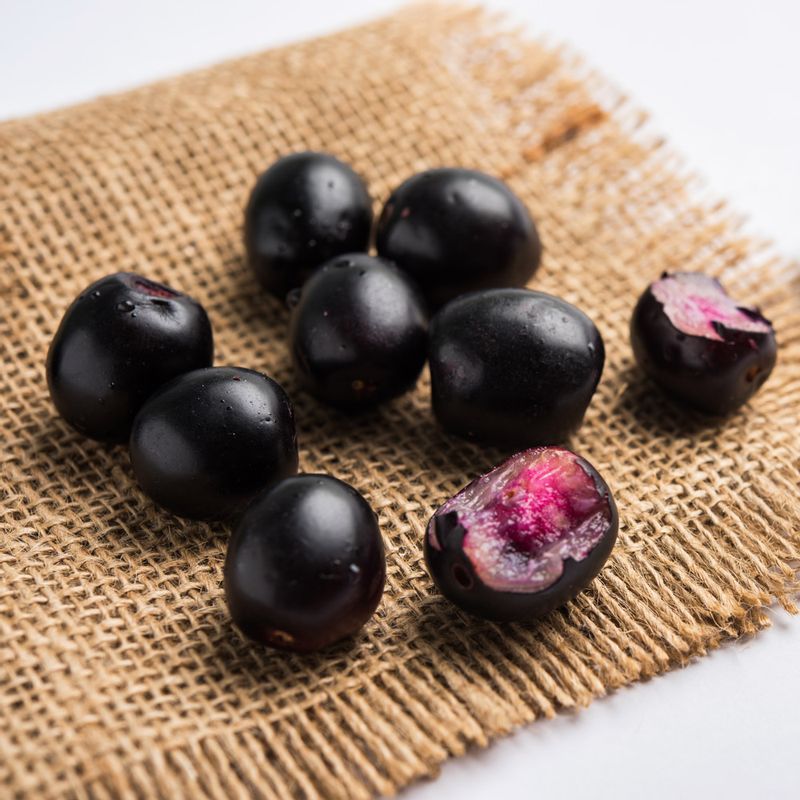 Dr Amit Karkhanis, Medical Cosmetologist and Director of Dr Tvacha Clinic says that jamun can miraculously aid the skin and make it healthier since it acts as a blood purifying agent. He says, "Blood purification is imperative since it's the key to good skin health. It prevents the development of acne, blemishes, dry and unhealthy skin. Consumption of jamun can hence eliminate impurities and deliver a healthy, supple, glowing and clear skin."
To make a home-made face pack using jamun, add equal quantities of jamun pulp, barley flour, amla juice and rose water to make an excellent face mask for oily skin. Leave it on for about 20 minutes and then wash it off, this mask will avert excess secretion of oil making your skin less greasy, because of its natural astringent properties. 
Jamun seed face mask
Instead of relying on over-the-counter products, you can easily make an anti-pimple face mask at home using jamun seeds. To make this face mask you will need to dry jamun seeds and then grind them to make a fine powder.
Dr Karkhanis suggests mixing the jamun seed powder with some milk and applying it to the affected area. Wash it off after some time. Regular application of this homemade mask will gradually give you acne-free skin.
---
Photo: Shutterstock