What do Academy Award-winning costumier Ruth Carter and India's ace couturier JJ Valaya have in common? Creating wearable art with exquisite craftsmanship is what binds these two extraordinary designers together. In addition to being worn by celebrities and royalty, Valaya's creations have now ventured into the captivating world of the recently released Marvel Cinematic Universe (MCU) movie, Black Panther: Wakanda Forever.
This is the second time the couturier is collaborating with Carter, the first one being Coming 2 America - the sequel to the 1988-American blockbuster, Coming To America. "She is a fabulous costume designer. But what surprised me was how respectful she is, for me that made a big difference. The association started a few years back when Ruth Carter's team were looking for a partner in India on creating costumes for Coming 2 America. They discovered us and that's how we got working together. And now, this is our second project in Hollywood and with Carter, this one is extremely special in more ways than one," Valaya tells.
Behind the scenes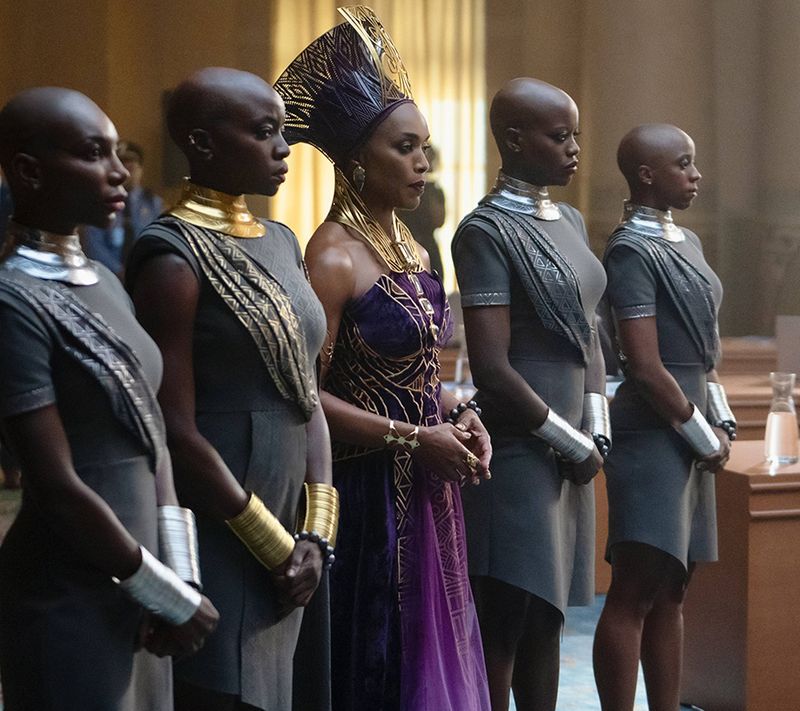 While Valaya's first Hollywood costume design included an amalgamation of magnificence and regality, his second one with Black Panther: Wakanda Forever saw him dressing Queen Ramonda, a key character played by actor Angela Bassett.  "We worked on 70 per cent of all of Queen Ramonda's looks in the film. The simpler pieces, I think there were two or three casual ones that were handled by Ruth herself out of LA," the couturier tells.
A dramatic narrative shift occurs when the character takes over the helm of Wakanda during a turbulent time after King T'Challa's death, played by actor Chadwick Boseman, whose untimely demise in 2020 altered the plot of the film. The queen is now re-introduced as someone who is strong and intentional with her outfit choices - replete with gowns in Valaya's signature antiquated silk threads, metal work, with subtle glitter - all that indicate resplendent yet elegant looks that are almost museum-like. "The rest of the looks in the movie is fairly futuristic or semi-casual, but when it comes to Queen Ramonda, especially in Wakanda Forever, she has to appear authoritative and take hardstands, it was very important to reflect the character in that way," he shares.
For example, in one of the first scenes in Wakanda Forever, when the queen visits the United Nations, she arrives in a regal purple halter-neck gown with moulded gold high collar and matching ornamentation. Like most world leaders, you'd expect royalty to also wear a suit to such an appearance, but Ramonda establishes through her looks that she dresses only for herself.
Bassett wore four outfits created by Valaya during the film, showcasing a rich colour palette, statement embellishments and intricate craftsmanship. "I think the maroon flowy gown one where she's sitting on a throne would remain my number one," he says. "But then, I also enjoyed the ivory one that we did for the funeral that was also very dramatic and different."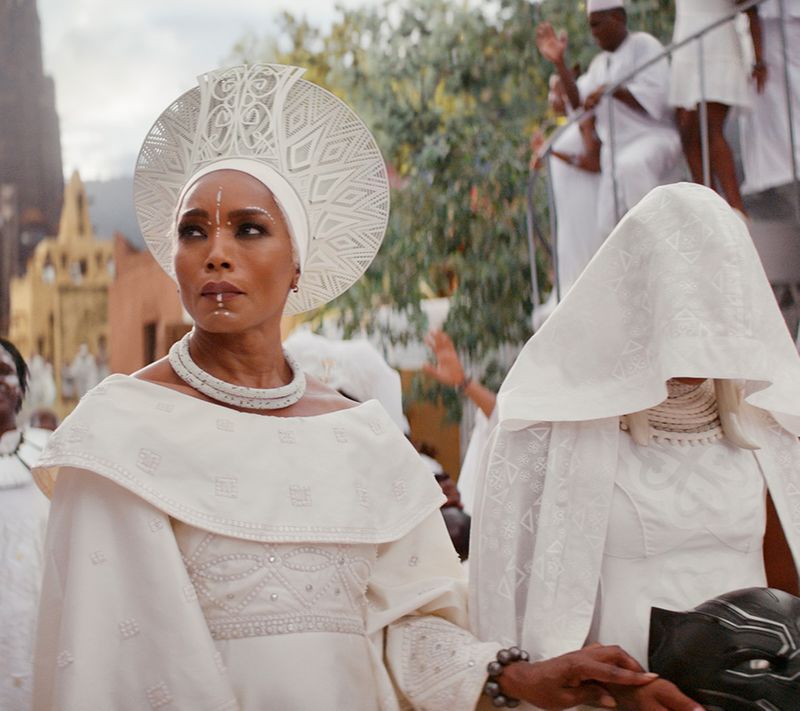 Even with Valaya not being on the film sets, understanding the sensibilities and nuances of the character helped him capture Ruth's distinctive aesthetics. "All the clothes were made in our studios and factories in Delhi. We started right from pattern making and then got down to making the muslin samples which were then sent to LA for fittings. We got feedback, they were tweaked, and then started parallelly developing the fabrics and the prints that required another study because we had to be culturally, historically and correct to some extent. Of course, it's fictional, but we had to develop the craft. There was a lot of to and fro involved," he shares. It was imperative for him to maintain the highest quality parameters for his designs in order to execute the right vision for the film. Despite the time-consuming process, the results speak for themselves: Queen Ramonda's elaborate costumes were a scene-stealer, often capturing the strength she possessed.
Creating the new Wakanda with Ruth Carter
Regality, grandeur and magnificence are what best describe ace couturier JJ Valaya's designs who was addressed as the 'Armani of India' by Ruth herself in a recent interview. "We are all about craftsmanship which is why Ruth came to us. She recognised that we have a skill, which is unique, and she respected and honoured that. Carter, besides being an extremely talented individual, is also very warm, welcoming and very respectful of the partner she chooses to work with." 
Costumes have been integral to the film's distinctive aesthetics for which Carter won an Academy award for Black Panther (2018). A good chunk of the new sequel film has women in central roles holding veteran positions of power - brought alive with Carter's vision. Along with Valaya - a selected few joined the sequel's lineup of designers, handpicked by Carter - including designs by French luxury fashion house Hervé Léger, Dutch designer Iris van Herpen and athleisure brand adidas. "I think this is really what matters, where your skill is sort of recognized and celebrated beyond boundaries. We were humbled to be included as a third brand," Valaya adds.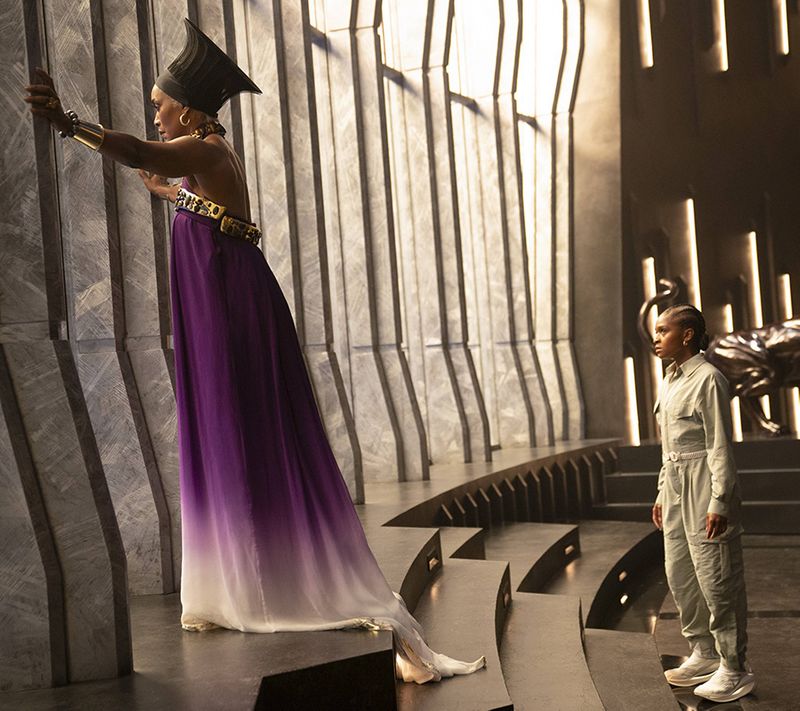 Having worked with Carter two times now, Valaya is well aware that actually thinking creatively about fashion comes with the territory. "The primary difference that I noticed was, besides of course the professionalism, the humility and the respect. I think that completely changes the energy of a situation when you are working together on something wonderful. I have often missed that because I've noticed in India, especially success does seem to go to everyone's head much faster (probably) than in the west and that starts to reflect in one's attitude. In variably, it affects the energy but when it comes to working with Hollywood/LA with Ruth, and her team who were very forthcoming, helpful, meticulous in their planning and detail oriented. So, I think one not only enjoys the feeling of being able to create something wonderful but also the entire journey, interaction and everything that comes with it," he highlights.
Where east meets west
If you look carefully into Queen Ramonda's costumes, a lot of Indian influence can be seen in the way Valaya's signature designs brought out the opulence, matching the true grandeur of a monarch. It's also a moment of celebration of the country's skills.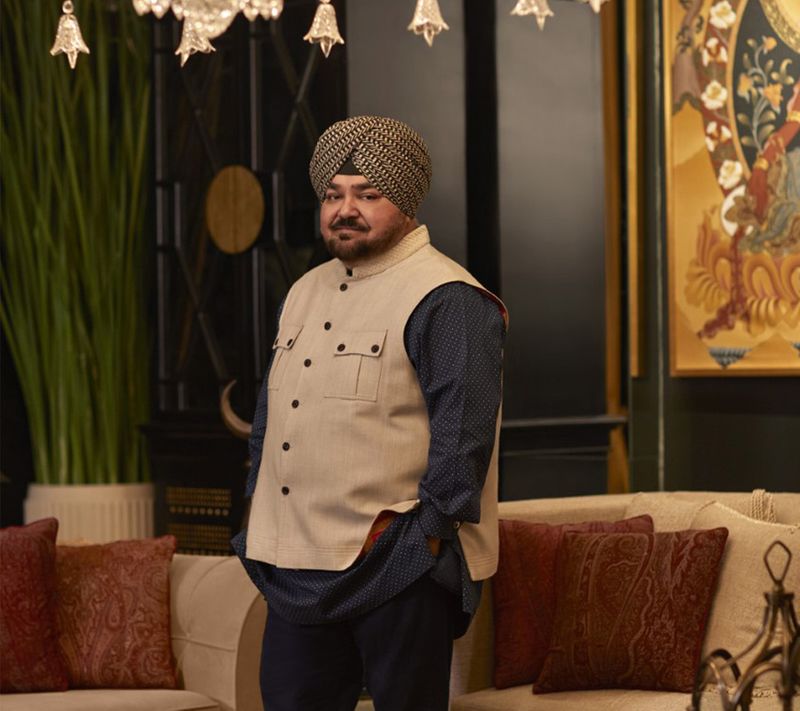 "This was the joint process, the east came from us and the west came from Ruth; it was a blissful harmony that the two of us could relate, respond to and create something wonderful together. The signature well, if JJ Valaya is involved in something, obviously our signature gets carried forward and I think that's what attracted Ruth in the first place, so I don't think that we had to change too much from who we were and what we do but simply we had to adapt to a completely new world which is Wakanda - a fictional sort of journey but a true magnum opus," Valaya explains.
Movies and fashion may go hand in hand but a film's costume lives on and it is that one aspect that takes a film's look a notch higher. "When it comes to movies and costume design, you're talking about taking forward the vision of a director which then gets channelised into the costume designer and the partner," he shares. For Wakanda Forever, it was about elevating what audiences thought they knew about both - fictional and non-fictional worlds and showcasing how two vastly different cultures are maybe more alike than they are different.
While signing off, however, Valaya also hints that there may be a third project with Ruth Carter in the pipeline.
---
Photo: Marvel Cinematic Universe; JJ Valaya