Although the hustle and bustle of the travel season has finally dawned upon us, packing for a trip has always been stressful—something that we all brush off to the end of our to-do lists. But packing the right travel essentials can also be tricky, especially when it comes to taming your mane. And let's face it: those small, complimentary bottles of shampoo and conditioner at hotels have never done any good to the hair. 
Haircare can be a challenge on vacation days, but not - if you let your favourite travel-sized products do the deed. Why mini and travel-size? Because this helps in packing worthwhile and essential hair care products, without having to compromise on the quality of the product and taking up too much space. But, which mini haircare essentials need to be a part of your holiday itinerary? Let's find out. 
What should a haircare travel pouch include?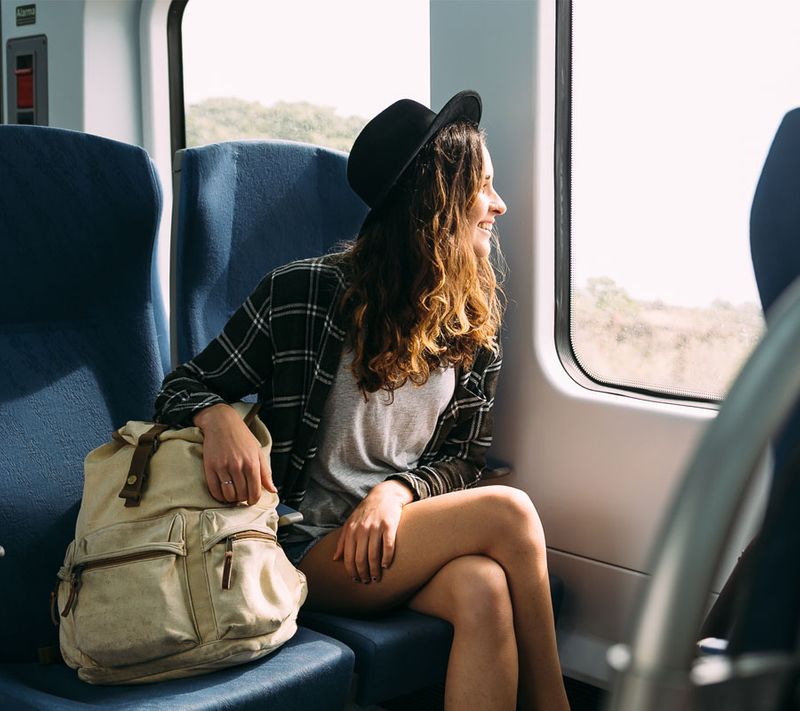 Who doesn't love a good hair day, especially on vacations? Although an arsenal of shampoos and conditioners is pivotal for it, Dr Noopur Jain—founder and consultant dermatologist at Skinzest, Gurgaon—suggests an essential travel kit must also include a hairbrush, hair oil, leave-on serum, and styling products. "While on vacation, your hair already goes through environmental changes, that eventually make it dry and dull. Five minutes of massaging hair with a light oil, then rinsing your hair with lukewarm water and a chemical-free shampoo can make a lot of difference. Take a mini bottle of a deep conditioner that lets you have a frizz-free look throughout the holiday. Get a leave-in serum with SPF to give your hair the shine and protection from the harmful UV rays that may lead to hair damage," Dr Jain shares.
Your haircare travel kit requires varying attention depending upon your destination and hair type. "Beach vacations tend to come with a lot of wind, sun, sand, and saltwater that can harm your hair. A deeply nourishing shampoo and conditioner are necessary to prevent the dryness that salty water causes. Hilly regions, on the other hand, have a cold and dry environment that can lead to an itchy or flaky scalp, split ends, and hair fall. To avoid damage, before each wash, massage your scalp with oil and wash your hair every two days. Since deserts have ample sunlight with dry wind blowing, pack haircare products with SPF so your hair doesn't lose all its shine because of the weather. Lastly, carry a scarf with you so you can cover your hair," she advises. 
Holidays are mood-boosting, but sometimes it makes our hair behave unpredictably. Ofcourse, none of us wants the famous 'Monica in Barbados' look from Friends on a holiday. Hence, your products must be filtered according to your hair type too—after all, no one wants to deal with frizziness, flyaways, and dehydrated strands while on vacation. The solution? "Those with curly and wavy hair should pack a hydrating shampoo and deep conditioner along with a gel-cream that will hold your locks, and make them look glossy and manageable. Frizzy hair can be managed using leave-in conditioners, and moisturising hair products, but avoid using heat-styling products. Managing straight hair is comparatively easier than the rest. People with straight hair also tend to have an oily scalp, so avoid buying products that add extra oil. Pack a bottle of dry shampoo and avoid washing your hair too often as it can result in overproduction of oils," Dr Jain suggests. 
These are the best travel-sized haircare kits to pack
Now that you know what you need to keep your mane in check, here are some TSA-approved haircare kits you can look into:
1. Mini Hair Ritual, Forest Essentials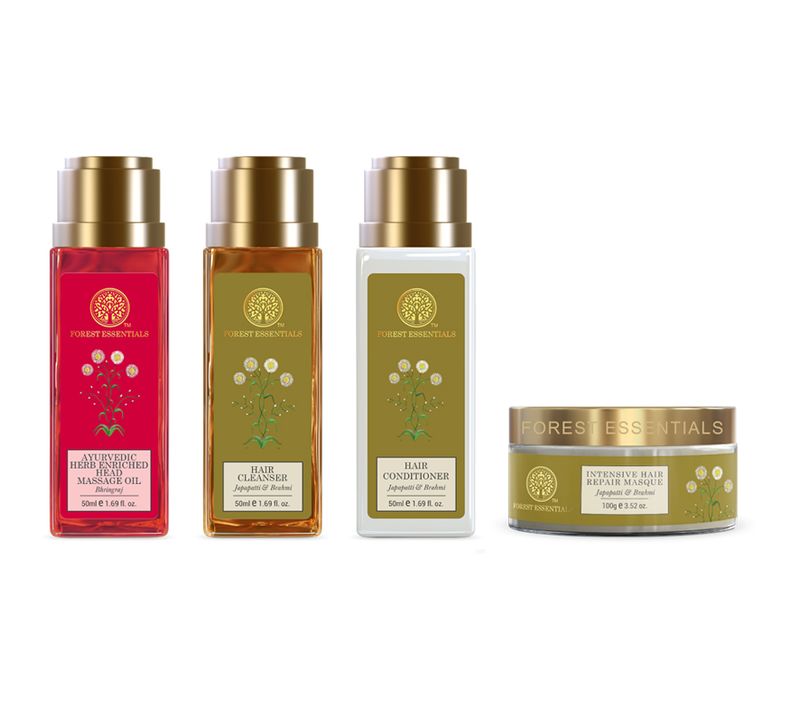 In Ayurveda, healthy hair is an expression of a balanced Ayurvedic dosha i.e. when your hair is glossy, beautiful, and strong—even on vacation. Forest Essentials' mini haircare ritual kit for nourished hair is enriched with freshly squeezed banana pulp which is blended with Ayurvedic herb infusions of methi, hibiscus, and coconut milk for a silky smooth texture and lustrous finish. This immersive kit includes hair massage oil, cleanser, hair masque, and conditioner. It's formulated for all hair types, but especially for dry, damaged and chemically-treated hair.
2. Hydrating Travel Kit, Moroccan oil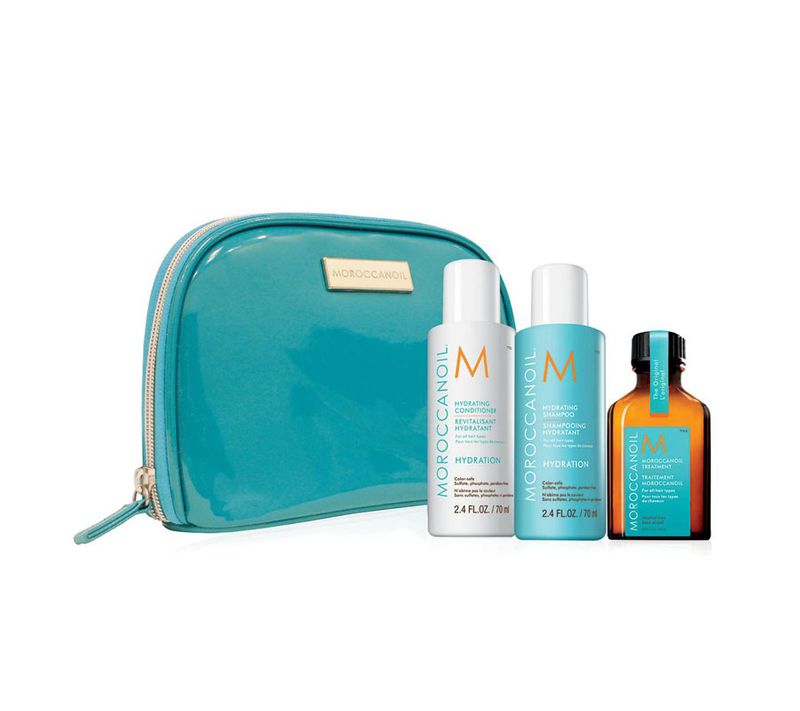 Shipped with a clear TSA-friendly cosmetic bag, the hydrating travel kit by Moroccanoil does what the title says—infuses dehydrated, dry lifeless hair with the much-needed moisture. Along with a hydrating shampoo and conditioner, it also features a Moroccanoil treatment, which is the ideal foundation when it comes to hairstyling. 
3. Mini Hairfall Control, Brillare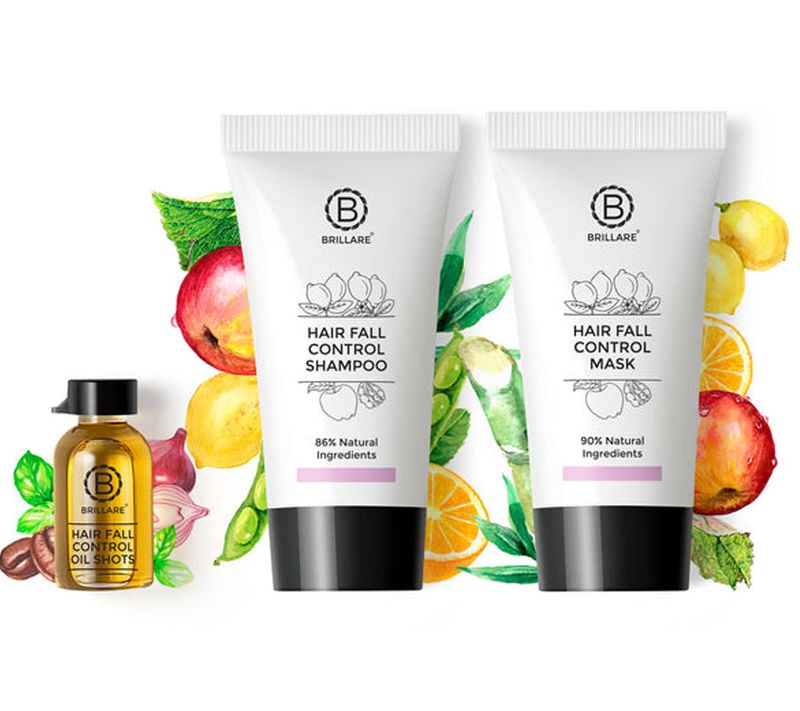 This mini hair fall control set comprises a complete hair and scalp care solution—shampoo, conditioner and hair oil shots. It's an affordable haircare set that features soy protein, and vital plant extracts—including basil— as the active ingredients that control hair breakage and excess scalp oil secretion. All you need is one minute from the start to rinse—it's definitely a quick hair treatment on the go. 
4. Travel Co-Wash & Conditioner, Manetain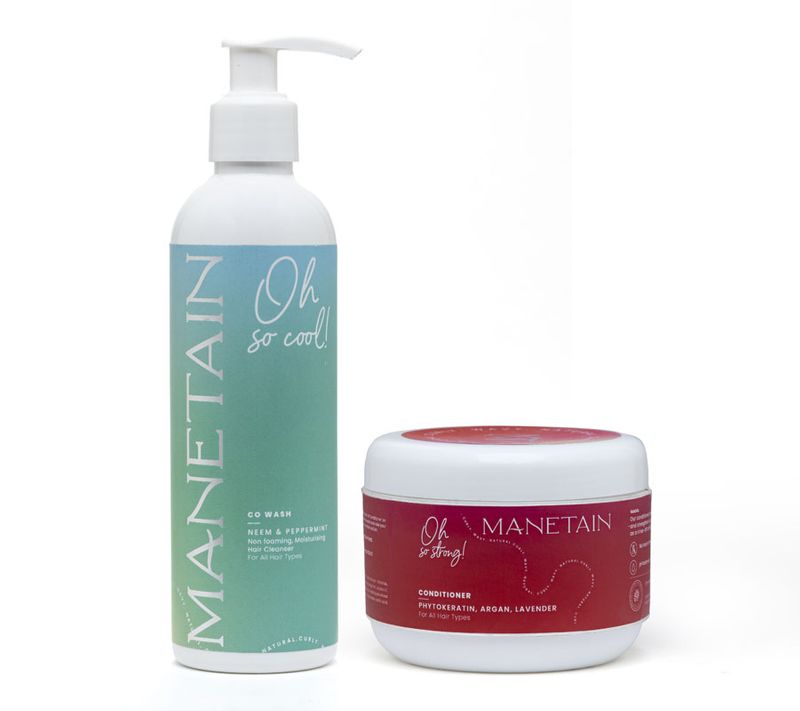 Complete with a deep conditioning treatment, the kit includes a multipurpose conditioner that can be used as a rinse-off conditioner, deep conditioner, and leave-in conditioner and a co-wash designed specifically for curly hair. Enriched with the nourishing goodness of argan, jojoba, and lavender oils—this travel set guarantees your coils will never lose their moisture and shine. 
5. Quinoa Travel Kit, Biotop India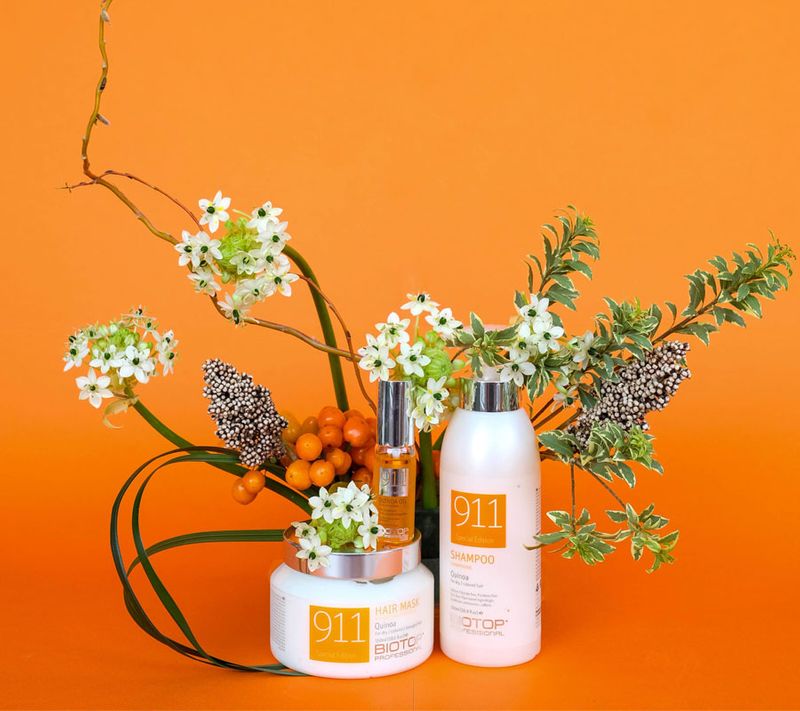 With the goodness of all nine essential amino acids, quinoa is a superfood that your hair craves. Biotop Professional India's 911 Quinoa range— available in a travel-sized kit—comprises a shampoo, revitalising hair mask, and a serum. This powerful rejuvenator pack locks in moisture to reduce split ends and breakage. Additionally, it also gives bounce and shine to your hair for a perfect 'vacation' look. 
6. Haircare Essentials, Arata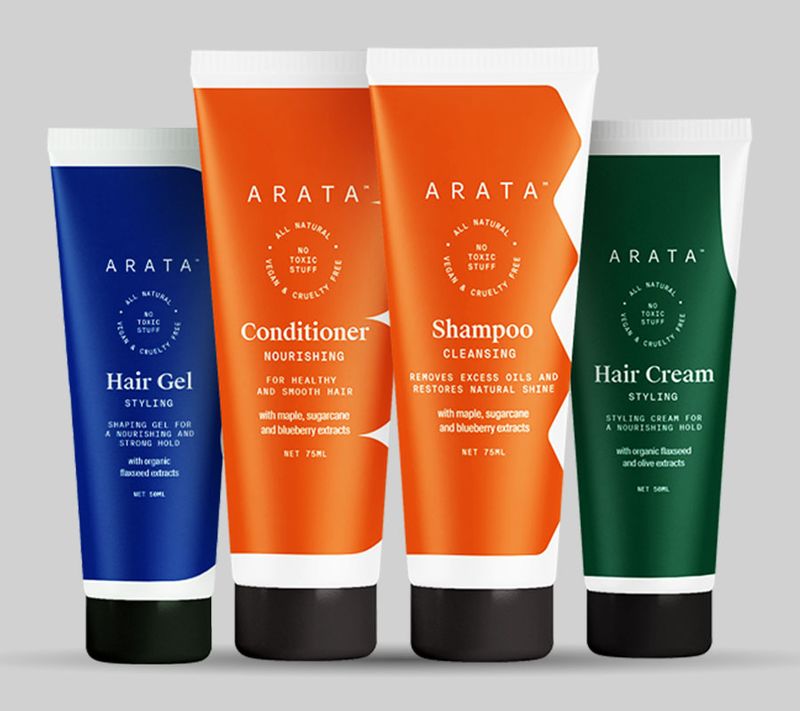 You can truly kiss dry, malnourished hair goodbye with this essential kit from Arata. The kit gives a dose of plant-based nourishment with a four-step cleansing, detangling, styling, and sculpting routine with an antioxidant-rich hair conditioner, cleansing shampoo, hair cream, and hair gel. Moreover, it offers a taste of the brand's entire line of top-rated hair creams and gels for your big purchase.
7. Ayurvedic Frizzy and Dry Hair Trial kits, Just Herbs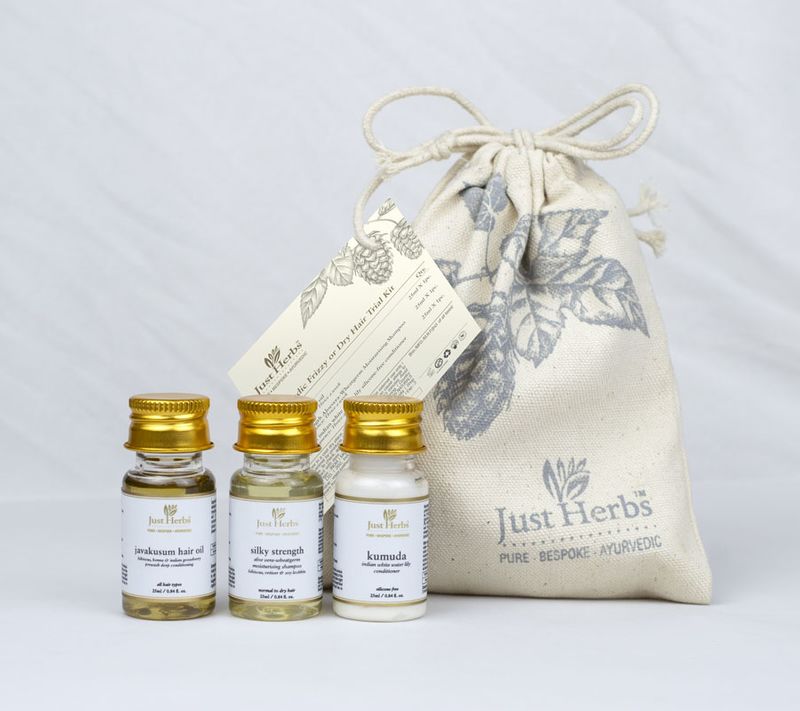 No frizz, no dry strands, and perfect for travelling—these mini Ayurvedic haircare products from Just Herbs come in a convenient, TSA-approved travel pouch containing a potent hair oil, moisturising shampoo, and a smoothening conditioner. The key ingredients include hibiscus, amla, indigo, and aloe vera which help to repair dryness, split ends, and frizzy hair on the go.
8. Travel Haircare Kit, Newsha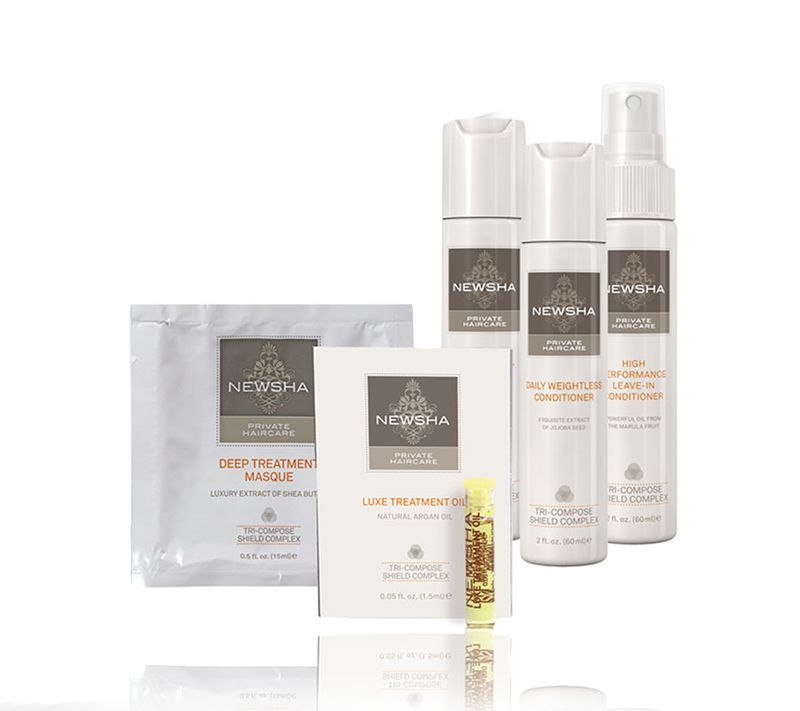 This travel haircare kit from Newsha will make you forget your dull hair woes. The kit has a deep treatment mask, shampoo, leave-in-conditioner, daily weightless conditioner, and luxe treatment oil to offer you happy hair days. Isn't this one of those travel haircare kits that has it all?
9. Ayurvedic Hair Care Travel Pack, Amrutum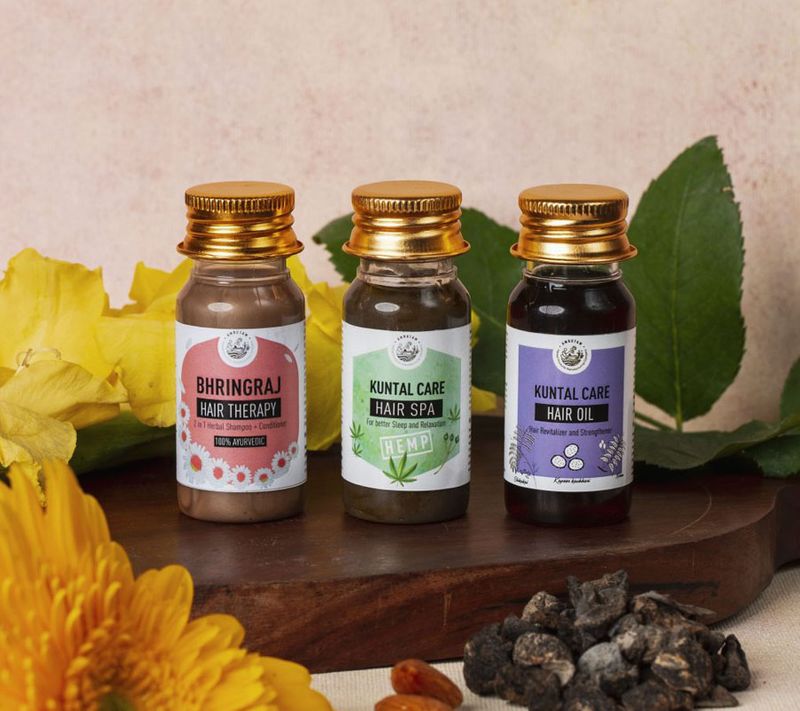 Amrutam's haircare travel pack contains three products: their travel-friendly Bhringraj Hair Therapy 2-in-1 Shampoo and Conditioner along with a hair spa mask, predominantly made of hemp, and hair oil with neem and kapur. These travel-sized products are made for those with dry, frizzy or damaged hair and guarantee your hair looks its best as you enjoy your getaway.
10.  Hair Spa Kit, Plum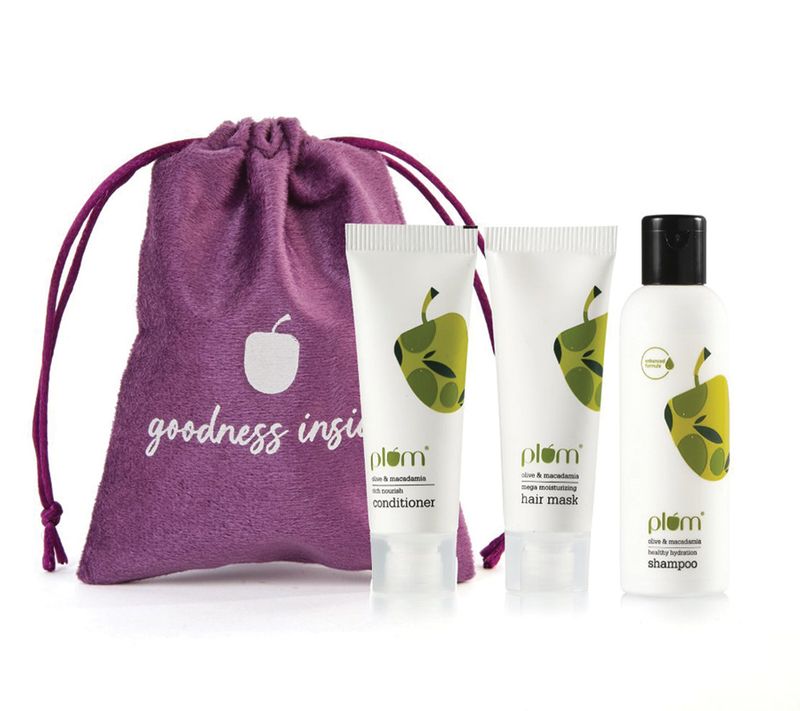 This hair care kit by Plum, which comes with a travel pouch, has a shampoo, conditioner and mask—all in mini sizes—enriched with plant-derived keratins, olive, and macadamia oils that nourish dry, damaged and chemically treated hair.
11. Travel Minis, L'Occitane En Provence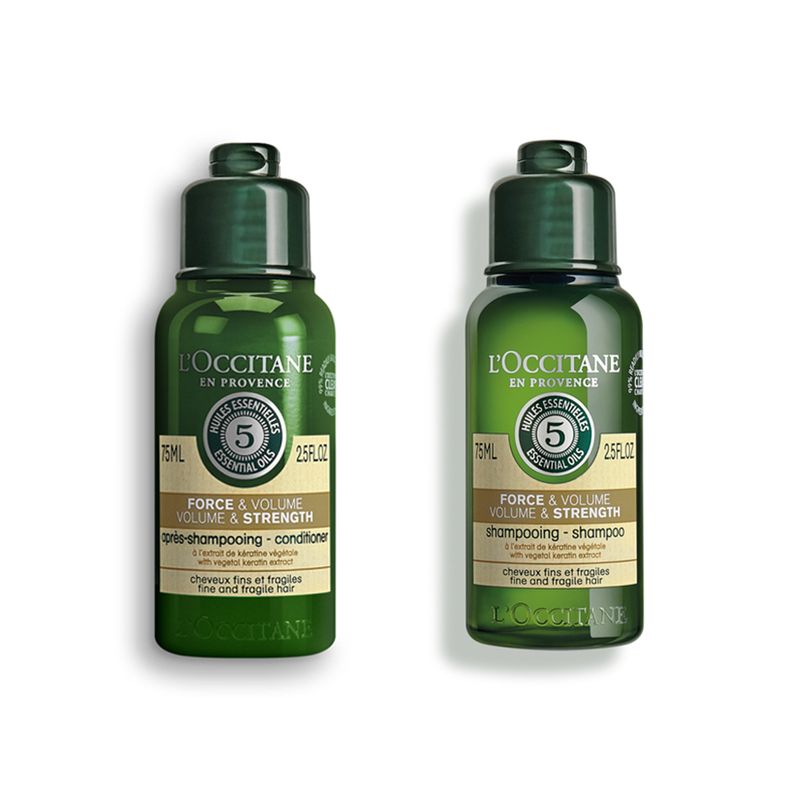 Although this doesn't come as a kit, this travel-sized shampoo and conditioner work to strengthen the fragile hair during your holiday. Moreover, the duo works to give your hair more substance - letting it look bouncy and voluminous.
---
Photo: Shutterstock; Featured brands