The term that comes to mind when one thinks of Rimzim Dadu's creations is 'wearable treasures'. "When people describe my work as wearable art, I feel vindicated." she shares.
When you look at metals such as steel, you probably would never imagine that they could be moulded into garments. "Routine bores me and somehow I am always attracted to the unexpected. It's good to have a bit of a rebel in you - it pushes me to break norms and conventions," she brings to notice. That's why Dadu's profound designs are still so unique in the Indian fashion industry. 
As a designer, she has always been an experimentalist - manipulating materials such as steel, leather and cord to her liking into sculptural drapes and other innovative silhouettes. Even after 15 years of her eponymous label, Dadu gets excited when she gets to work with something new. "Every time I come across a new material, I get excited. People expect niche and unique surfaces from us and that keeps me and my team motivated," she explains. It does make sense for Dadu to call her studio 'The Lab', "We are always experimenting with materials to create new textiles and that is why my team likes to call my studio, The Lab."
Anyone who meets Dadu for the first time would take the petite designer for a quiet person but someone who wears her confidence with subtlety. And why not? After all, she continues to reimagine materials in ways that are unexpected and unconventional in today's fashion world - forging a unique design language that is instantly recognisable as Dadu's signature. And definitely worn and loved by who's who of Bollywood-from Alia Bhatt, Karisma Kapoor to Sanjana Sanghi.
Fashion is art, for real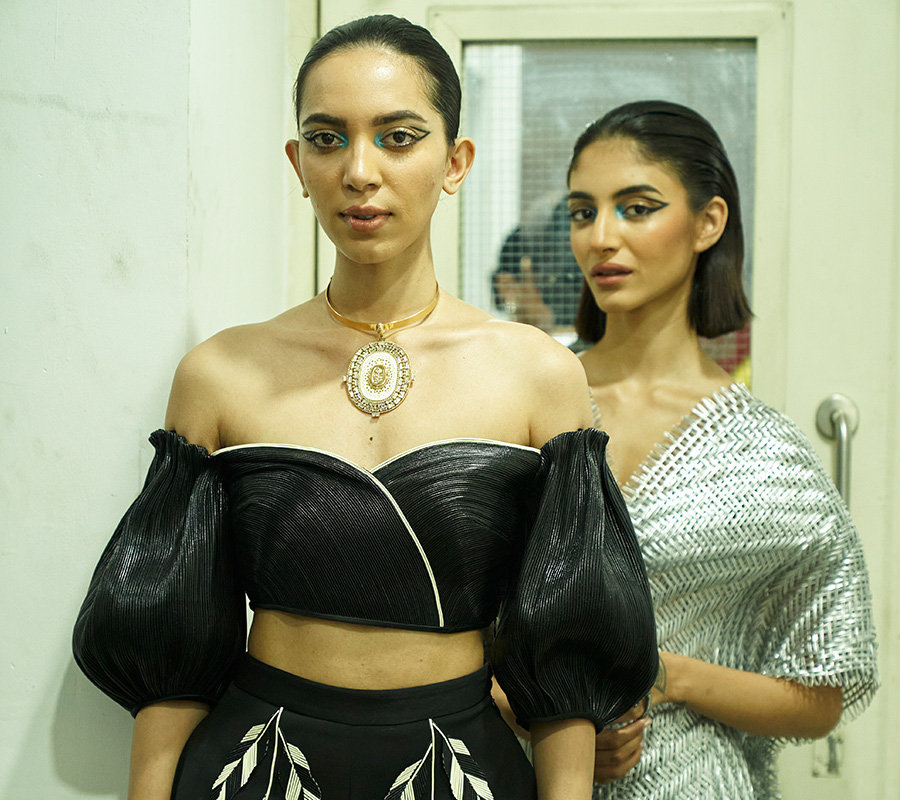 If you see a particular 'fashion trend', it won't be on Dadu's radar. And this echoes the same when it came to celebrating 15 years of her label last month. She decided to stage a beautiful textile exhibition and fashion show in a museum. It is because she knows museums around the world have given fashion, which is often considered frivolous, a nod of gravitas.
At the Kiran Nadar Museum of Arts (KNMA) Saket, New Delhi, her special Art X Fashion showcase was a crowd-pleaser. "The exhibition and the show was the perfect backdrop to look at my last 15 years with gratitude, honesty, and also through a critical lens," she adds. It started with the opening of 'Rite of Passage', an exhibition of her work followed by a runway collection, showcased by models, artists and actors Vijay Varma and Tara Sutaria as the showstopper. 
Dadu also decided to walk through the lanes of nostalgia, bringing out her archival pieces. Also included in the textile showcase were rejected design swatches that illustrated the difficulty in achieving the desired result. It was also marvellous to watch her karigars showcase the various techniques behind her exemplary designs. "This milestone gave me a chance to revisit my work with a new perspective," she opens up.
As part of her runway presentation, Dadu featured pieces highlighting her trademark textile cording technique in solid-coloured skirts, tops, dresses and draped saree-skirt hybrids; there was also Indian charpai or cord reimagined outfits and metal wires sculpted as dresses, lehengas and jackets for men.
Even the showstoppers embodied Dadu's signature experimental outfits. Vijay opened the show, dressed in an overlay jacket with signature hair-thin metal wires styled with a V-neck shirt, and wide-legged pants, while Tara drew the curtains in a signature ensemble comprising a lehenga embellished with leaves made from cord and a halter-neck blouse with further cord detailing.
The making of Rimzim Dadu
"I knew from an early age that I wanted to make clothes," the designer admits. She may have started her label 15 years back, initially called 'My Village', but her pursuit of creating unique garments began when she was five years old. "My fascination with materials and surface texturing started at a very early age at my father's garments exports factory. I was around five when I started visiting the factory every day after school and I would watch the embroiders and tailors do their magic."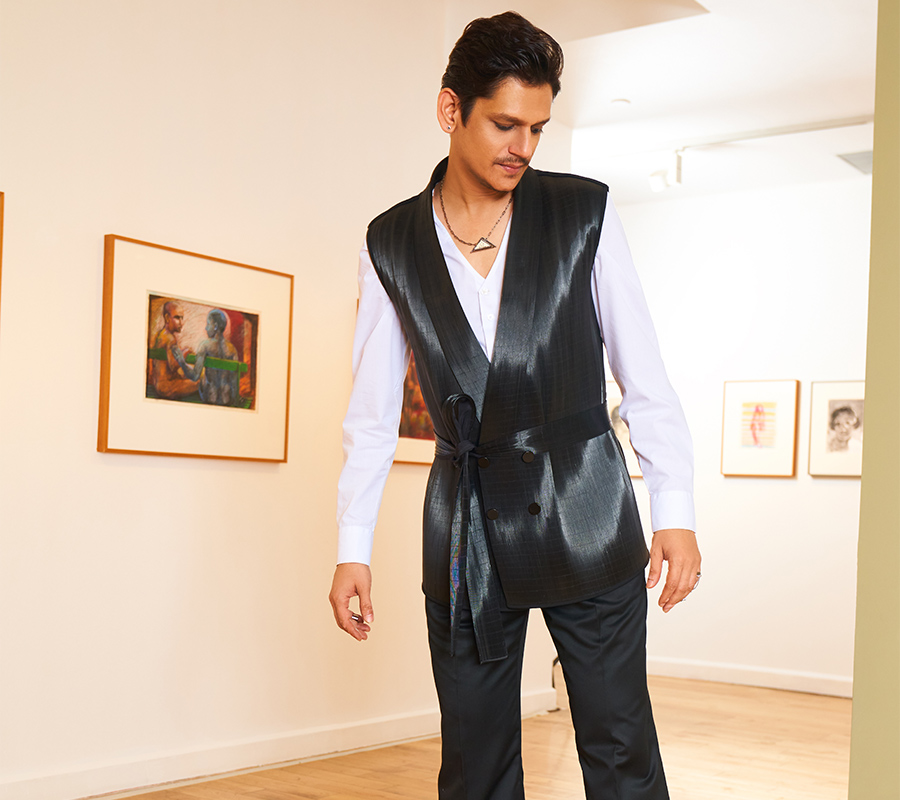 It was in the year 2007 that she made her debut at the Gen Next show at Lakmé Fashion Week and there hasn't been looking back since then. "I feel butterflies in my stomach before every show," she shares, "The set becomes a form of self-expression for me as an artist. My shows are always elaborate and as I create artworks - from kinetic lights to 3D projections to creating a life-size maze - and I use them as the backdrop to present my collections."
Her fascinating and distinct design language is synonymous with wearable art - take patola work done in leather, jamdani in silicone, ikat in metal wires, leather, chiffon, cord, repurposed zari fringes and even paper to name a few. Dadu's constant experimentation also led to one of her most cherished career moments - having her leather patola work featured at the Victoria & Albert Museum for The Fabric of India exhibition in 2015. But her modesty continues, "I have not really reinvented handloom textiles. I have just taken inspiration from them and tried to reimagine them in a modern landscape."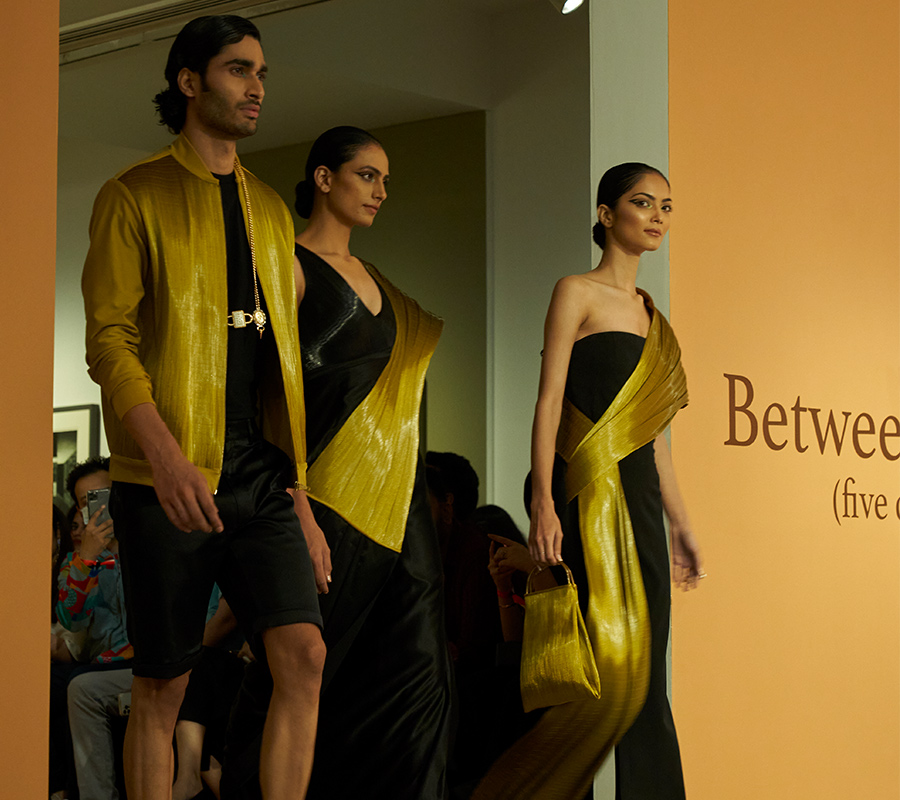 However, there's no doubt the metallic saree continues to be her winning design, and perhaps the garment that has become most synonymous with the designer. "The deception of fluidity in structure and structure in fluidity is something that excites me," she tells. An emerald-blue and black metallic drape was worn by actor Sonam Kapoor during the Cannes Film Festival'16. This metal pallu, constructed of thin steel wires sewn together, has a liquid sheen and contrasting colours that have become a Dadu signature. "The foliage-inspired saree we launched at the Lakmé Fashion Week has also been really well received. It has to be our sarees, followed by our lehengas, menswear tuxedos and Nehru jackets," she tells more.
Crafting a Rimzim Dadu signature
Like anyone else, this writer has also been curious to find out how Dadu lets these materials come into play to create her own textiles. I had a lot of questions in mind such as how these materials shape the human form so beautifully, whether they are too delicate to be worn and danced with and most importantly, how long it takes to craft a precise piece, let alone a whole collection.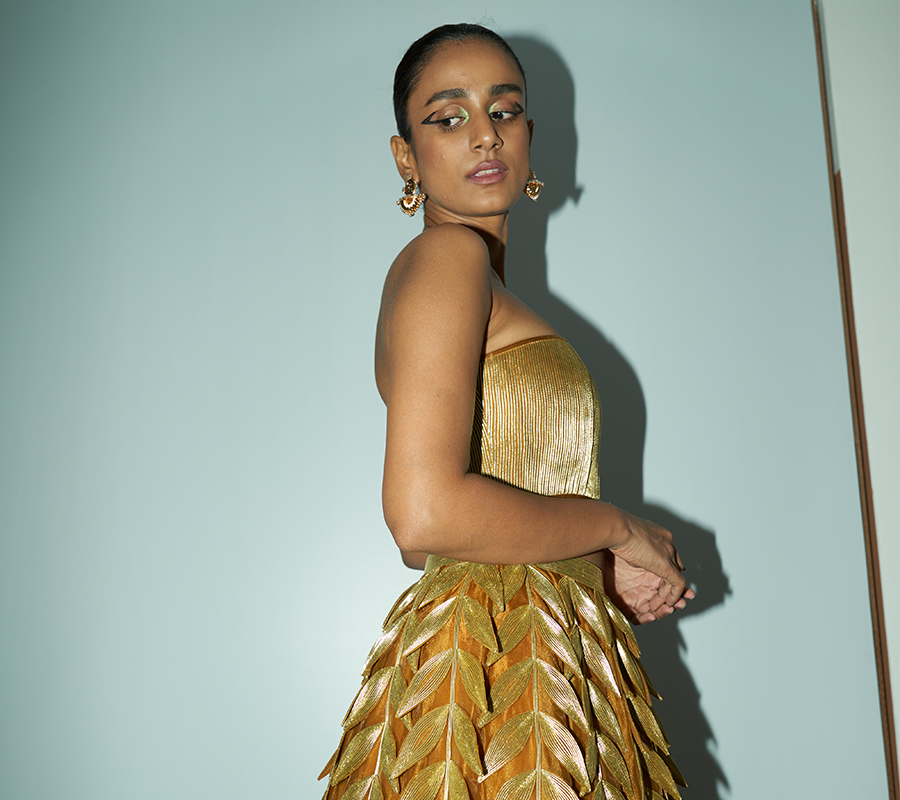 Dadu explains patiently as she takes me through the process behind her beautiful yet labour intensive creations, "We follow a detailed process. We break apart materials and then put them back together in different ways and study their behaviour - how they sculpt, and how they fall. Once we are happy with a textile, we try them on human form. So, it's a lot of trial and error before we decide on a silhouette. We strive to make our clothes technically perfect and comfortable to wear." However, the making depends on each garment. Sometimes, it takes anywhere from six to eight weeks, sometimes even longer.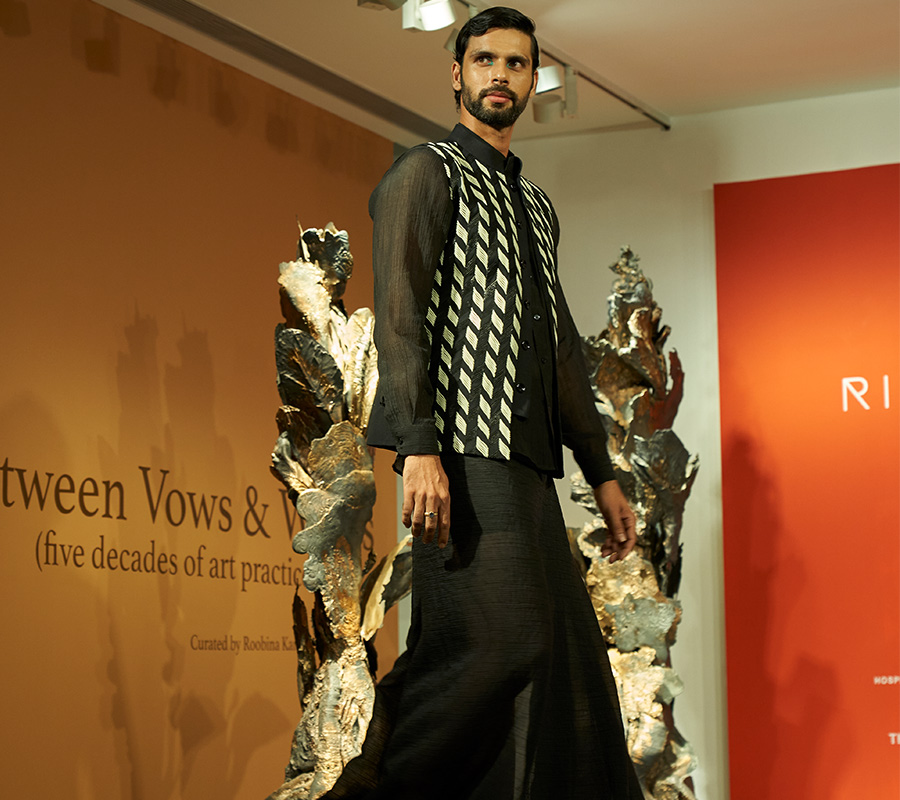 For Dadu, the end result must always be an innovative piece. "Making the person trying on something in metal and seeing them go, "oh I didn't know it would be so soft and comfortable" is something that drives me to constantly push myself and my muse - the materials - further and further," she says excitedly. Functionality and comfort are as important for her as are the textiles. "Maintaining our pieces is also easy, just simple dry clean would do. It looks delicate but it's often not and that's what I like," she assures.
The last few years have been significantly busy for the label, launching from accessories, and menswear to bridal. "The response has been really overwhelming. We launched these categories in the past year but we had been working on them for a while - for a few years actually. So, it was a gradual process. I wanted to create pieces that make our grooms and brides stand out in a crowd and help them own their personalities," she shares. Given her signature design, you could really identify a 'Rimzim Dadu' bride or a groom in a crowd.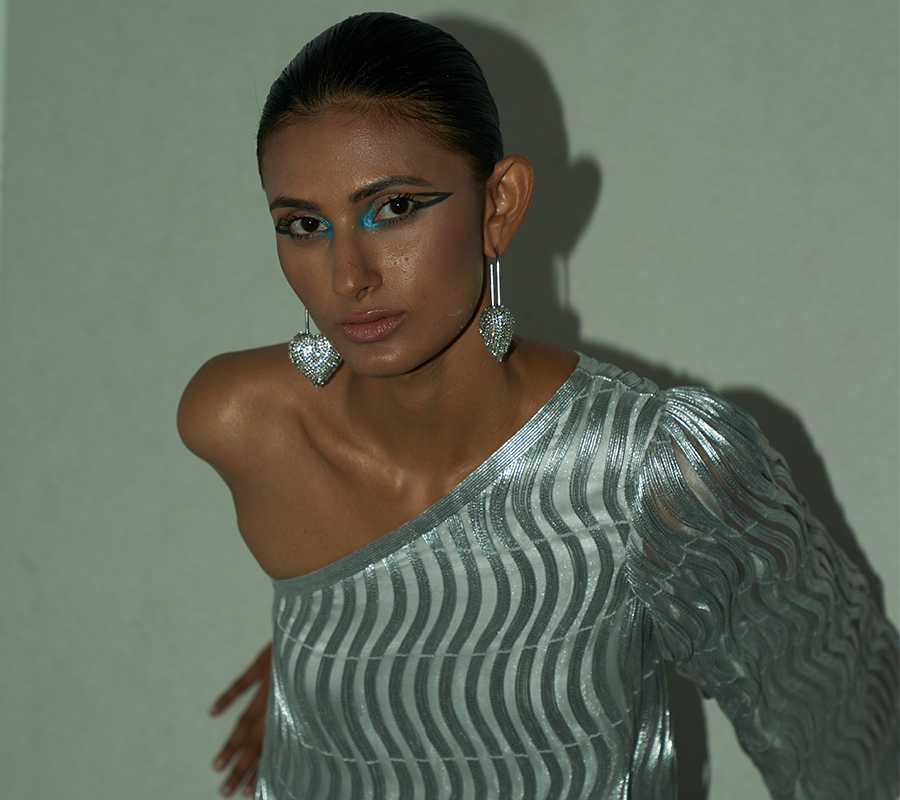 In spite of the many years since her father gave her this one advice, she continues to adhere to it, "He told me to always be unique and different and I have hung on to that ever since." Dadu keeps experimenting with materials and bringing newness to her unique design language even after 15 years. "I can't really predict the future, but what the last 15 years have taught me is that it's extremely important to stay true to your core ideology to stand out in the market," she delves more.
"There is so much more that I want to do. I definitely don't want to be restricted to just clothes and fashion," she adds before signing off.  As an ever-evolving designer, Dadu is content to remain at the confluence of fashion and art - an identity she is not eager to shed. 
Photo: Rimzim Dadu