Veteran designer Ashish N Soni, who is known to break away from stereotypical norms, recently celebrated his eponymous label's 30th anniversary. To a large extent, even after 30 years, he has been able to inject newness into classic silhouettes without making them look gimmicky or unwearable.
From the beginning of his brand's launch, Soni has focused his design language on creating something subdued, yet bold enough that holds your attention - ensembles you can transition through the day and night. But as a designer who specialises in versatile wearables, how does he let his designs follow their own paths when collaborating with a high-street Indian clothing brand?
The designer's latest endeavour is a collaboration with the fashion retail brand Indya, through a fall-festive edit, which launched on August 10. Doing what the designer does best, the capsule collection is all about stylish separates with razor-sharp tailoring. Stating that fashion collaborations are essentially important while bringing together two different brands and their best offerings, he said, "there are so many factors that come into play when you're doing a collaborative line. Not to mention that you have to keep the spirit and signature of both the brands at play. They, sort of, allow both the parties to enhance and bring a new spin to both the designers' language."
Setting the tone for the season of festivities and taking his edgy aesthetics to occasion wear, the collaboration is a documentation of keeping up with the changing times of glamorous contemporary outfits with exceptional detailing.
Inside Ashish N Soni X Indya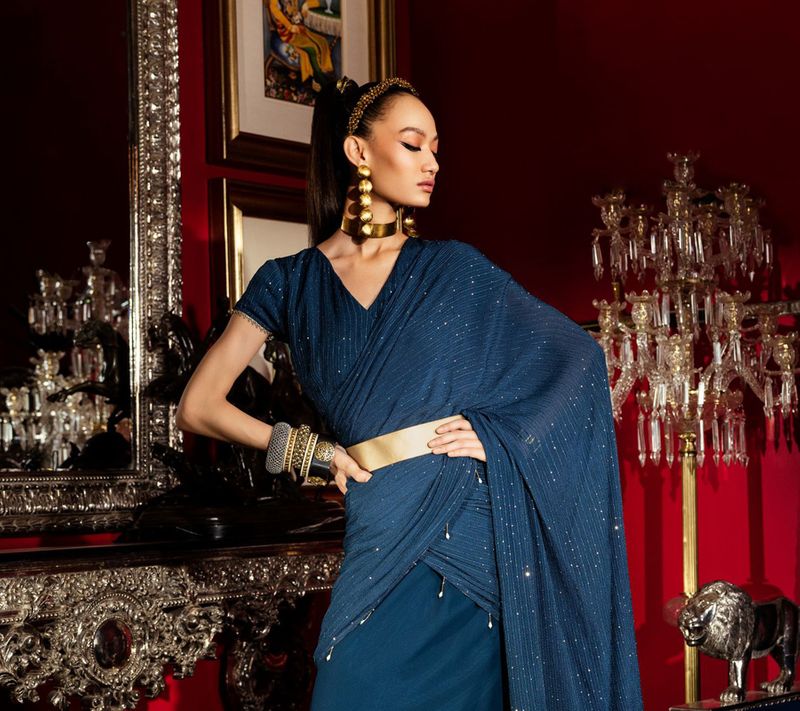 Adding new-age styles to Indian wear that we wouldn't typically see is one of the goals for both the brands. A hallmark of Indya is that it offers affordable ethnic fusion wear while maintaining the panache that one would find in designer clothes. However, this collection carries Soni's minimal yet bold design language, giving the brand a much-needed update for a look-book with a modern understated vibe. 
The glam closet include brazen pantsuits, sleek pre-pleated sarees, belted jumpsuits with attached drapes, capes, billowing skirts and a host of other genre-bending styles. "I wanted to keep the collection in the whole evening-wear zone, especially given the fact that we are doing a mid-August launch, where we are heading right into the festive season. I also wanted to keep the overall mood board occasion-driven and ceremonial. The ensembles are ornate and not basic wear that you could easily intermix to wear for different occasions." he explains as he takes us through the collection.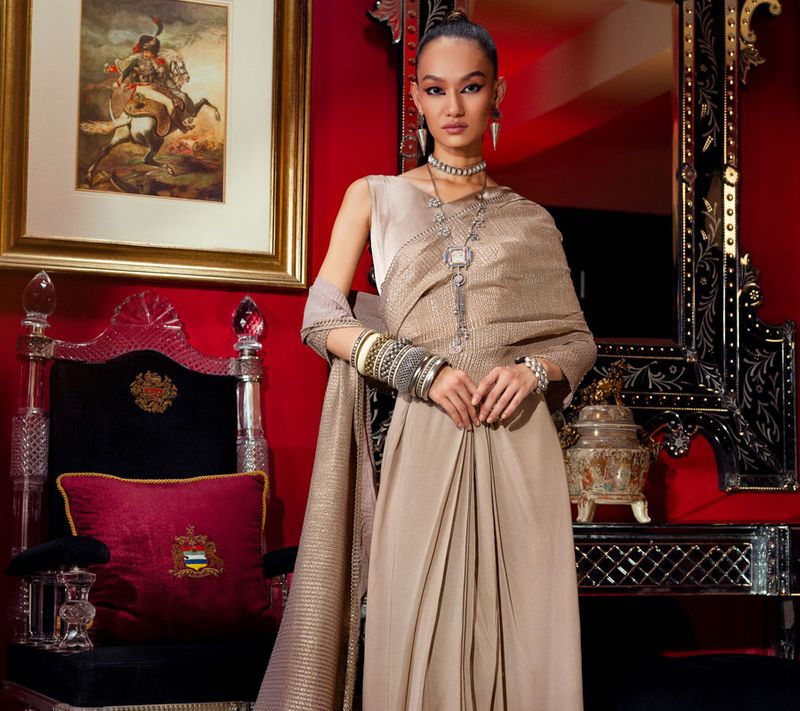 Moreover, the colour palette is an eclectic mix of classic ivory and black, rich jewel tones and muted pastels. What caught our eye most was the exquisite brocade threads, tonal sequins and riveting surface prints in this Indya collection. Priced between Rs 1,200-4,200, it does serve as a good opportunity for fashion lovers to indulge in minimal yet stellar craftsmanship through festive fusion wearables. 
"For collaborations like these, it takes more than just design. A lot of thought process goes behind ensuring that the final product that comes out is exciting for the consumer and that, they will find it new and worth investing in," Soni explains. The options in this collection allow you to wear them on a trans-season basis.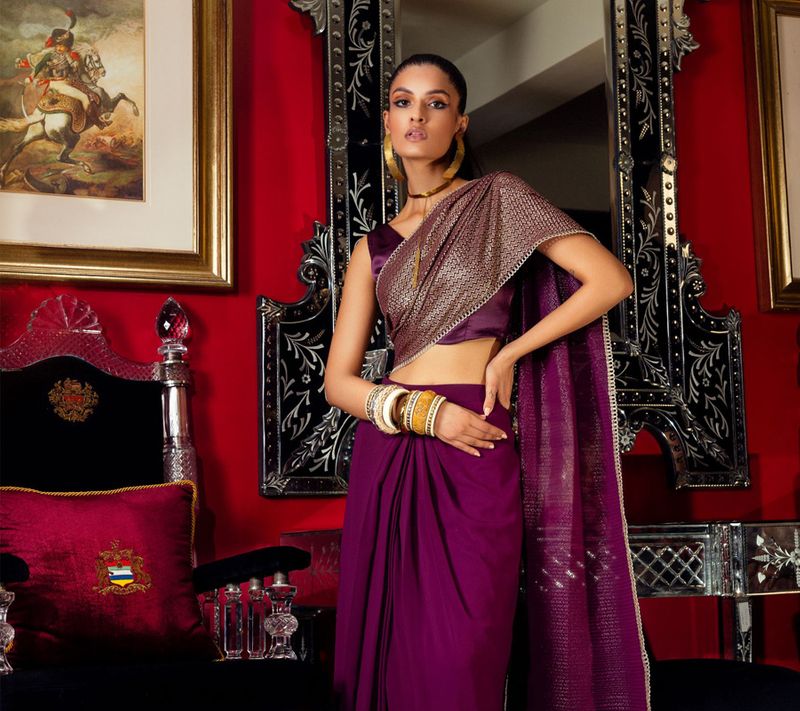 The collection speaks a global design language with ensembles in contemporary cuts and streamlined silhouettes with feminine details that can take one through festive soirees with utmost glam. 
Decoding today's festive wardrobe aesthete
"The pre-pleated saree looks are a favourite and they are a rage now. Whether it's for day functions or eveningwear, they really transition well for all times," the designer adds. A staple of Indya's product line, there are a lot of pre-draped sarees in this collection as well that are quite interestingly styled with strappy blouses, giving a very modern edge and avatar to an otherwise regular saree look.
Soni is aware that the modern Indian consumer is now looking for ensembles that are visually commanding, keeping this festive edit punctuated with riveting embroideries, techniques and prints - that most of the patrons are drawn towards. Adding about his special piece from the collection, he tells, "The brocade pantsuit is my favourite and the suits are well-loved by people nowadays. It's something very signature from our archives, which we've translated into evening wear. Whether you wear the jacket with a saree or the trousers with your own shirt - it's a multi-functional piece that looks elegant however styled."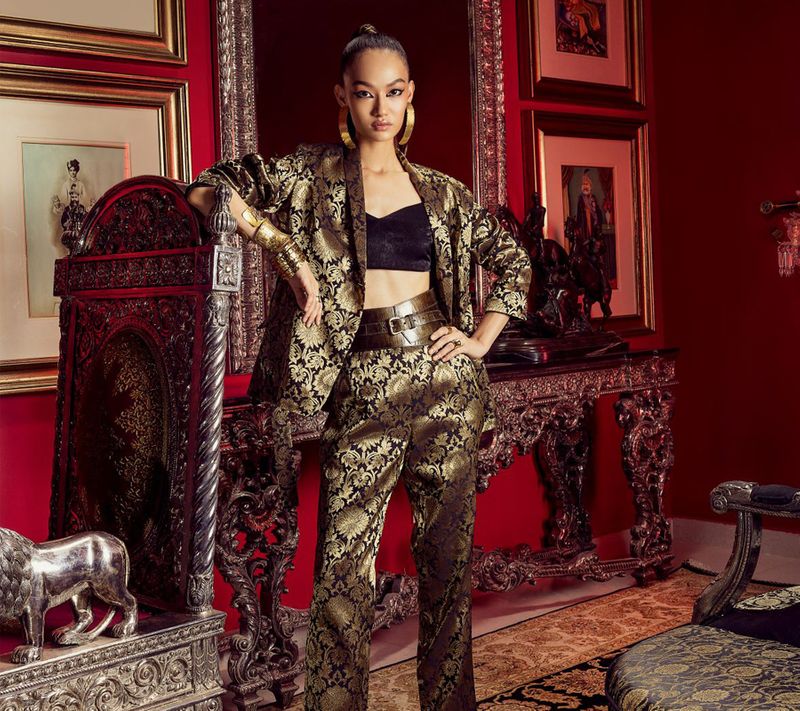 On being asked how accessories can transform a look, he suggests wide belts can add the perfect touch of glam to both Indian and Western wear. "We have used a lot of wide belts in this collection and you would see them trending this season.  It's that one accessory that's not dependent on one's height. And every time you style your look with a belt, it works because it condenses your waistline. No matter what your size, you look a size smaller while accessorising with belts," he adds. "A lot of thought has gone into creating these looks for the collection, focusing on accessorising with belts in gold and silver." 
With a balanced mix of bold yet sophisticated brocade weaves, tonal sequins and dramatic foiling, the collection weaves the magic of understated exuberance. He further explains, "With designer wear, people perceive it to be a one-time wear. That was my biggest benchmark when I was designing this collection - that's not how I perceived it to be. Because if you were to invest in these pieces, you could wear them on multiple occasions in numerous ways."
Reaching a newer audience
Soni also added how this collaborative collection would help in increasing his customer base, "Because of a higher price point, as a designer, I wasn't able to reach a bigger audience. Indya comes with a wider reach across so many pin codes and delivery across the world - it opens up our market, especially given that we don't do these price points in our main line."  
The collaboration focused on creating a collection incorporating both brands' aesthetics, but the creation of an affordable designer line that appeals to the modern woman remained the highlight.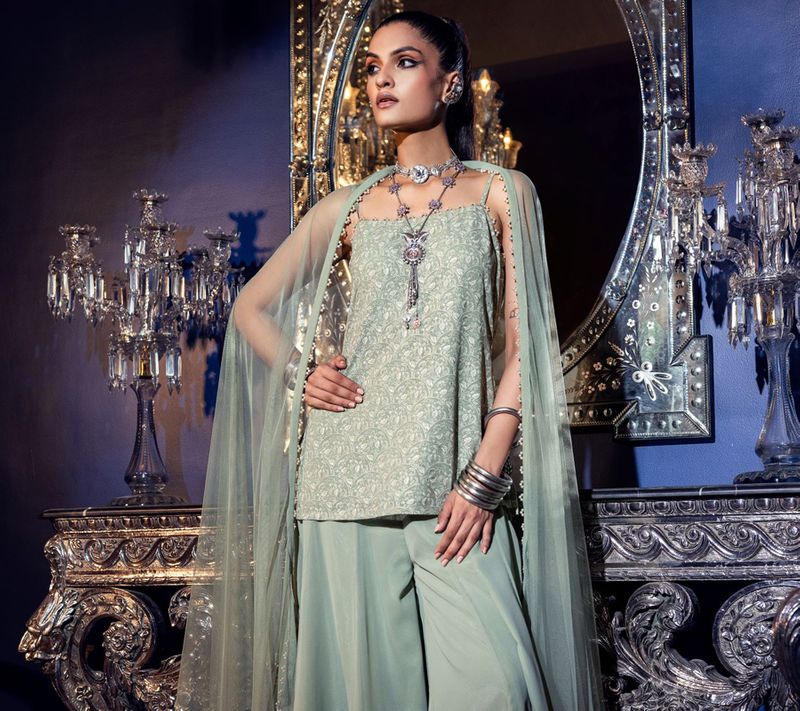 "The biggest challenge while doing this collection was working with completely different kinds of budgets for fabrics and embellishments. In terms of choosing fabrics and all of that, we really had to work and develop, keeping the price points, in mind. And I think more or less, we managed to achieve that. We've used some interesting georgettes, muslins and seen how those fabrics feel at hand before processing with the final design. We went through all those steps prior to actually getting the final samples. And I realised that this setting is similar to what we would have done with a different fabric for a higher price point. This is a collection that I am happy to be associated with and put my name on," Soni shares more. 
When designers collaborate with high-street brands, they get access to new audiences, almost an 'aspirational' group - those who typically cannot afford luxury but aspire for the brands, the lifestyle and the looks. The key to any brand's success is remaining relevant to the target consumer and resonating with them at a time when their demands are amid a shift such as the pandemic.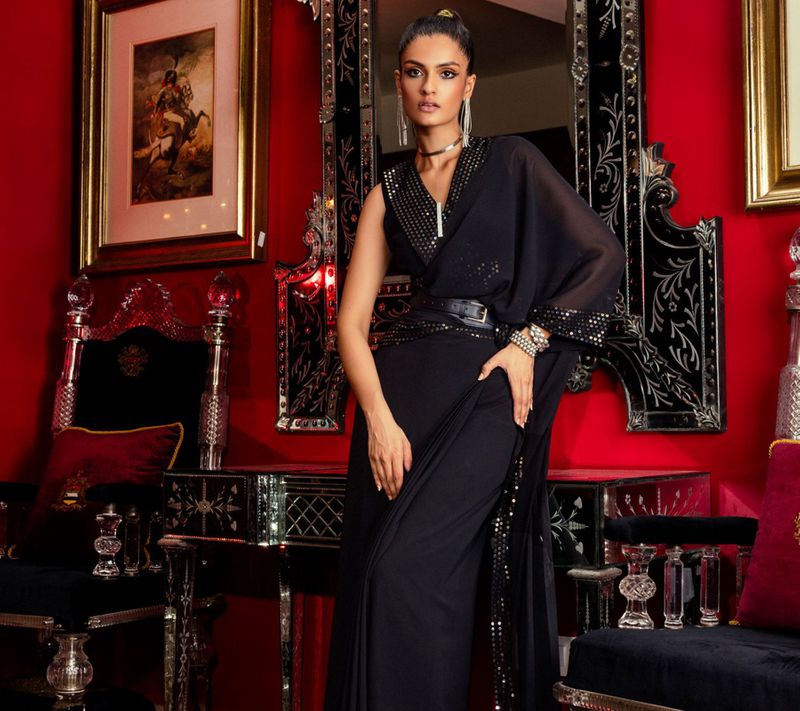 "As a designer, I always look forward to working on projects that challenge me to step out of my comfort zone and this collaboration with Indya presented me with an opportunity to do just that. Indya's contemporary design values merge beautifully with mine and we've created a traditional Indian wear line with a chic and modern edge, making the Ashish N Soni signature more accessible now," he signs off. 
The collaborative festive collection will be retailed at Indya's exclusive brand stores and the brand's website.
---
Photo: Indya