Bold prints, vibrant hues, and intricate details - that's how we'd like to define Mumbai-based SVA Couture's spring-summer 2022 collection. Just in time for the vacay and wedding season, this collection is for every man and woman, who is in pursuit of an endless summer. Titled 'Saanjh', this new range of designer ensembles is chic and trendy and can be worn to a garden brunch, resort, or even a wedding function; it is timeless and trans-seasonal. We attended the launch of 'Saanjh' at the label's store in Fort, Mumbai, and got the chance to speak Paras Modi, one half of Bollywood's favourite designer duo - the other half being Sonam Modi, his wife - and the co-founder of the couture label SVA, launched in 2013.  
During our quick conversation, Paras spoke about the inspiration and idea behind SVA's latest range along with some fashion tips for men to stay on top of their fashion game this season. Here are the excerpts from the interview.
1. Tell us about the spring-summer collection 'Saanjh' and what was the inspiration behind it?
Travel has always been one of the core focal points at SVA Couture. Sonam and I often reference our trips and holidays while ideating the mood board of our collections. And this time, it was the scenic Sri Lanka, which we visited recently. There, we witnessed one of the most surreal sunsets, and the colours almost instantly brought a whole summer story idea to our mind. 
'Saanjh' is designed for both men and women. The contemporary Indo-western silhouettes evoke the post-pandemic mood of statement dressing without compromising on comfort.
Drawing inspiration from the impressionistic summer skyline, this soulful and optimistic outing celebrates the idea of a carefree summer and the festivities, which resonate with this joyous time. Lightweight, breezy, and wearable without compromising on SVA's unparalleled craftsmanship - this spring-summer 2022 canvas conjures up the joy of exotic beach holidays in its purest and chicest form.
2. How have you incorporated the elements of sunset in your designs? And what are the highlights of the 'Saanjh'?
That surreal Sri Lankan sunset was the take-off point for the collection. The big round butta motif, which we've extrapolated stunningly on a few of our pieces is inspired by the sun. We've named it the 'Ravi' (Hindi for sun) print and the motif evokes a bright, crisp sunny day – a day when one wants to sit back, relax, and listen to great music in the company of friends.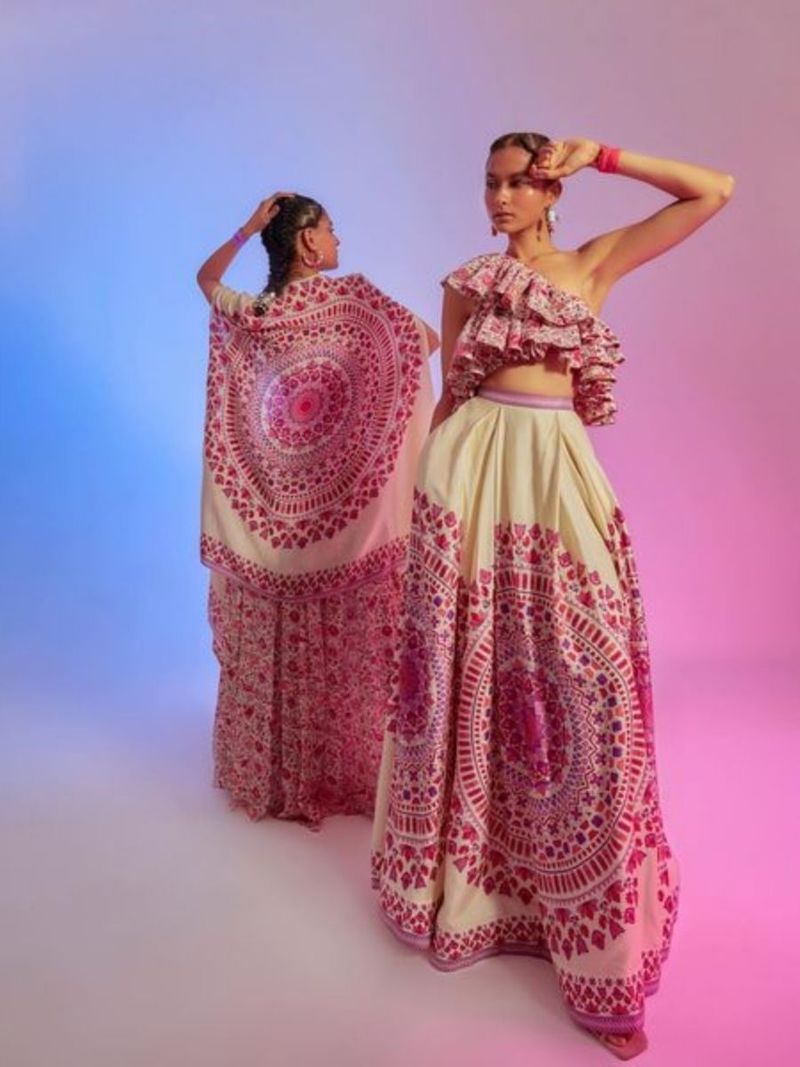 The colour palette of 'Saanjh' consists of twilight-soaked hues to softer shades of beach skies kissing the shoreline. Think lilac, coral, bright purple, and sunset orange. These colours make a multi-sensory impact. The addition of strong metallic accents in our designs depicts the sublime reflections of the sun that lend a theatrical edge to the collection. The aim is to evoke a feeling of wearability and inspired a mix-and-match mood.
3. What are your favourite pieces from the collection and why?
My favourite is the shacket. Shacket is a cross between a shirt and a jacket. And it is fast becoming an occasion wear essential. Inspired by military overshirts, this understated item combines warmth and style to let you have the best of both worlds. 
4. What are the fashion trends that you think will pick up this summer wedding season?
From oversized shirting to ballooned silhouettes; a continuation of the puff sleeve trend as well as kaftans, as the mood-boosting styles, will remain till the end of the year. Our signature silhouette like the one-shoulder drape saree and drape dresses will continue to rock too.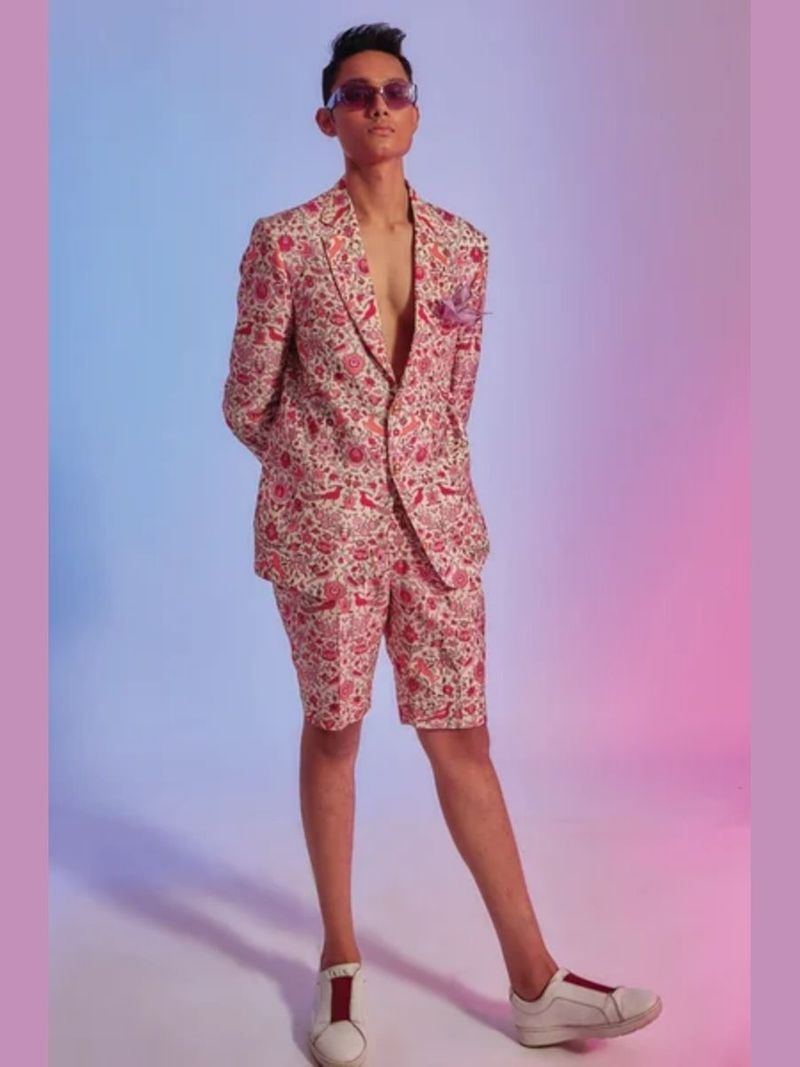 5. Are there any different rules for beach wedding fashion for men?
Men's attire should strike the perfect balance between formal and relaxed when it comes to dressing up for a beach wedding. Wear either a suit or a long-sleeved shirt and tie with a jacket and a pair of slacks. Opt for solid colours, avoid black, cream, and white.
A summer suit is a perfect solution. Consider a breathable fabric such as linen. And make sure you select a stylish yet comfortable pair of shoes. 
6. What are the most common mistakes men make when curating their looks?
Men always choose neutral looks and don't experiment much with their outfits. They can always choose prints and colours, and SVA is all about prints and experiments with colours in which men can really stand out.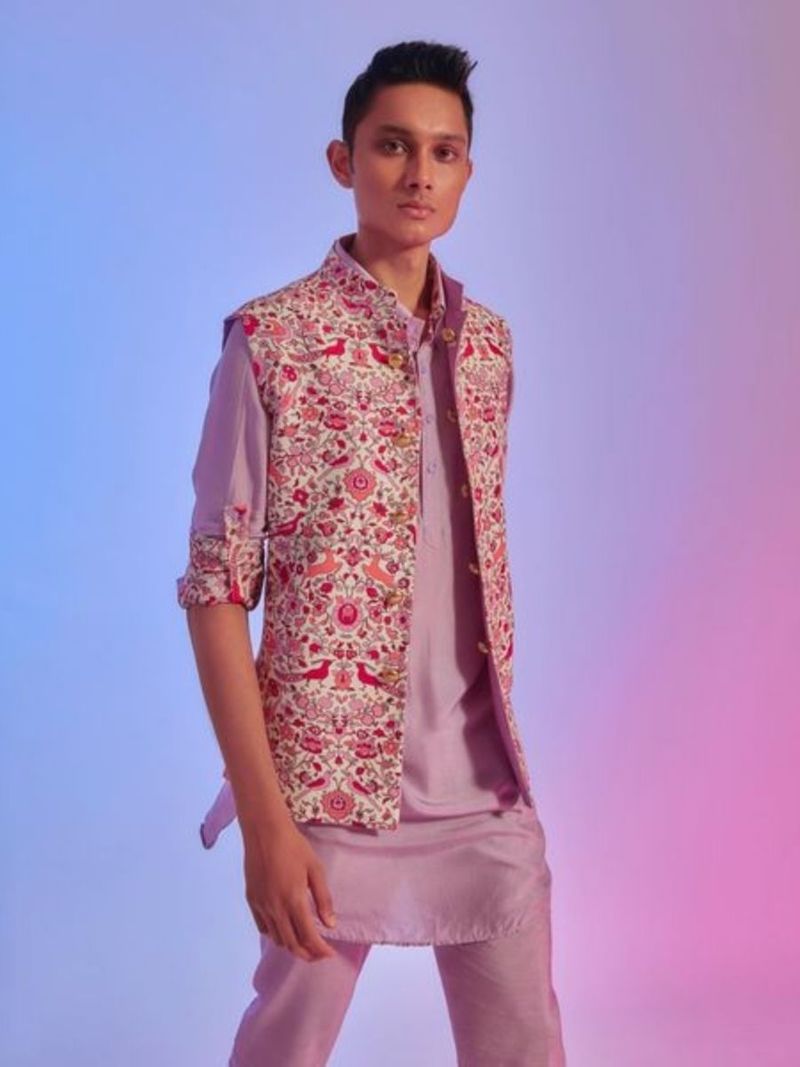 7. Lastly, please share a few tips on accessorising for men this wedding season.
Men can go for some poppy pocket squares and funky brooches. 
---
Photo: SVA Couture